Human trafficking in northeastern Nigeria is a topic I've written extensively about, but I didn't know how frequently traffickers targeted internally displaced persons camps until one day in January when I got a note about two girls who were setting off for Italy. Nor did I know that their story would prompt a seemingly simple move to decrease the risks of trafficking for IDP camp residents: providing more water.
The girls had packed their bags and were about to leave an IDP camp in Madinatu, a town in Borno State home to some 5,000 people who fled Boko Haram violence. The camp is not far from the city of Maiduguri, the birthplace of Boko Haram. The girls were planning to travel southwards to Benin City to meet a woman who had promised them jobs as hairdressers in Italy. Abdul Ahmed, a member of the Civilian Joint Task Force (CJTF), a vigilante group that helps the Nigerian military fight the Boko Haram insurgency, reached me through Facebook to tell me all this.
He had read an article I had written a week earlier about a teenage girl who became a victim of human trafficking after escaping from Boko Haram. He asked if I would talk to Glory and Blessing (their names have been changed to protect their privacy), both 17, about the risks they were about to take and inform them that many women tempted by the prospect of work abroad end up exploited as sex workers.
I pulled up that article he had read, attached another story I had written about human trafficking, and asked Abdul to print the document and give it to the girls to read. When they did, they jettisoned their travel plans and unpacked their bags.
As I soon found out, they weren't the only girls who had met traffickers while fetching water.
I met the pair a week later. Their story began during a daily trek out of the camp to fetch water.
"The woman stopped us one morning just as we were approaching the borehole and asked if we knew how to cook or braid hair very well," Glory recalled. "When we told her we could do both, she said she'll take us to Italy to work in a saloon."
As I soon found out, they weren't the only girls who had met traffickers while fetching water.
It was on a similar trip that 17-year-old Hadiza Bello – a resident of the Madinatu camp since Boko Haram attacked her hometown in 2016 – met a woman who asked her if she was interested in working as a maid in neighbouring Niger.
Bello said she had declined the offer because she didn't want to move away from her sick mother. "If not for my mother's condition, I would have gone," she told me. "It's good I didn't go because I would have become a victim of trafficking."
Aisha Mohammed told me that her 16-year-old daughter, Fatima, left the camp to fetch water in June 2016 and never returned. The last time anyone saw the teenager, she was talking with some women she had met on the way to the borehole. Aisha believes her daughter was trafficked out of Nigeria.
"She had told me a week before she went missing that some women wanted her to work in Niger," Aisha told me. "Her friends who went along with her to fetch water said she stopped to have a conversation with women she appeared to have met before, while the other girls continued to the borehole."
The water challenge
Getting clean water is a huge challenge for displaced people in northeast Nigeria. Last year UNICEF reported that 75 percent of water infrastructure in the region's conflict-affected areas had been destroyed, effectively leaving 3.6 million people without water.
In the Madinatu camp, a tanker provided by a humanitarian organisation delivers water daily. But the camp is the size of more than 20 football fields, so one tanker of water isn't enough; many residents have no choice but to look elsewhere, and nearly 1,000 people trek to the borehole each day.
Some 680,000 of the 1.7 million people displaced by Boko Haram violence in northeast Nigeria live in IDP camps, according to the government's National Population Commission.
Médecins Sans Frontières states that thousands of people, particularly women, are exposed to dangers when they venture outside IDP camps near the Borno towns of Gwoza and Pulka. Residents in those camps get a paltry five and eight litres of water a day respectively – far below the 50 litres per person recommended as minimum by the World Health Organization.
Every year thousands of Nigerian women and children are taken to Europe, Asia, the Middle East, and elsewhere in Africa and forced into prostitution and involuntary domestic servitude.
Leaving camps to search for water exposes IDPs "to all forms of violence", Luis Eguiluz, MSF's head of mission in Nigeria told me recently. "Because women are vulnerable, they can be easily exploited and sexually abused by people" who take advantage of their desperate situations.
Every year thousands of Nigerian women and children are taken to Europe, Asia, the Middle East, and elsewhere in Africa and forced into prostitution and involuntary domestic servitude – some from IDP camps in and around Madinatu.
Nigerian trafficking victims were identified in at least 40 countries, according to the 2018 United States Department of State "Trafficking in Persons Report." The report states that sex trafficking "is a major concern across the northeast," including in all IDP camps in and around Maiduguri.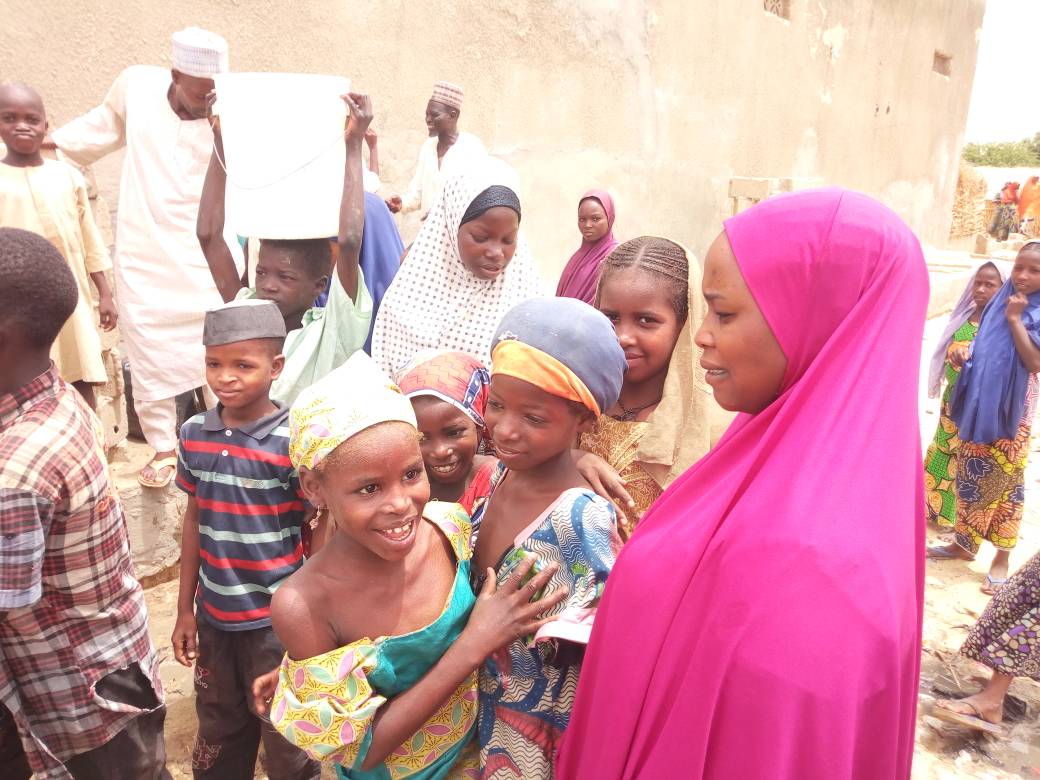 Raising awareness
In search of a solution, I began speaking with survivors of human trafficking living in the Madinatu IDP camp, and local community leaders.
Survivors include 15-year-old Nana Abdullahi, who escaped from her trafficker in Niger after he forced her into hard domestic labour. "He initially told me he was taking me to Kano [in northwest Nigeria] for a job, but we drove all the way to Niger," Nana, who fled to Madinatu when Boko Haram invaded her hometown of Bama in 2014, told me.
"When we got there he dumped me in a small house with so many other girls and ordered me to do all the house cleaning and cooking without paying me for it."
Thirty-five-year-old Maryam Haruna ended up in involuntary domestic servitude in Saudi Arabia after being told she was taking part in a pilgrimage.
"When we arrived in Saudi Arabia I was told I needed to work to pay back what was spent on my trip," Haruna, who was deported in 2014 after more than two years there, told me. "I was paid peanuts, yet I worked like a slave from early morning to very late at night."
Now, residents don't need to leave the camp to fetch water. In April, I helped launch "Up Against Trafficking", an advocacy and support group focused on educating displaced persons on human trafficking.
"The more you hear these messages, the better prepared you are to take on traffickers."
To help protect women and children from traffickers, we provide clean water to the Madinatu camp daily by pumping water from a borehole just outside the camp to a standpipe within it. The property on which the borehole is located is owned by one of our founding members.
Small donations from individuals support our group, helping to power fuel-running generators that pump the water and assisting survivors of human trafficking to start new lives, often businesses.
Women and children tend to gather at the pumps in the camp, making them ideal spots for raising awareness about the dangers of trafficking. Every week, members of "Up Against Trafficking" are there to explain the tricks of human traffickers.
One of our campaigners is Nana, the 15-year-old who escaped servitude in Niger. Speaking to a group of women at the borehole recently, she explained why raising awareness is important: "The more you hear these messages, the better prepared you are to take on traffickers."
First Person offers fresh and personal perspectives on crises. Please send submissions to [email protected]