Imagine at 50 years old having to leave a region you've called home your entire life. And imagine having to leave almost everything behind, including your livelihood.
That's the story of Oleksandr Dovzhenko, now 53, who left war-torn Donetsk at the height of Ukraine's almost four-year-old conflict to relocate in safer Poltava Oblast. There, he took over a folk arts workshop and produces large-format, traditional carpets. Through crowdfunding he plans to improve working conditions for workers and expand the business further with weaving workshops and an exhibition space.
Khrystyna Yatskiv used to work for a Crimean television channel in Simferopol until she felt no longer safe to report the news. She relocated to Kiev in 2014 to seek a job as a newsreader in the most competitive – and most expensive – market in the country. With the help of local friends she eventually landed a plum job as anchor with Espresso TV, which started broadcasting independent news during the EuroMaidan protests of 2013-2014.
After almost four years of displacement, the nearly two million people who have fled the Donbass region have their fair share of positive and negative stories to share. Along with several new surveys and studies, it's now possible to obtain a more accurate picture of their situation.
To be sure, the success stories of Oleksandr and Khrystyna are, sadly, the exception. The vast majority face a host of challenges – ranging from a lack of shelter and joblessness to difficulties crossing the 457-kilometre contact line and obtaining social benefits. Many complain of difficulties in obtaining residency permits, healthcare, and exercising the right to vote.
The OSCE's Special Monitoring Mission to Ukraine, which has international observers stationed throughout the country, says it has noticed "a process of integration and co-existence" between IDPs and host communities. However, returning home is not an option for most for as long as ceasefire violations continue in the east. So far this year, more than 400 people have been killed and injured. "As long as the ceasefire is violated, no one is safe," an OSCE official told a Kiev conference on IDPs this month organised by the Atlantic Council.
With about 1.7 million registered displaced people – about four percent of its total population – Ukraine has the ninth-largest number of IDPs in the world. Many live in non-government controlled areas (NGCAs) but cross back and forth on a monthly basis. That line they cross is now described as one of the most mine-ridden stretches of land in the world.
Still, according to UNDP Ukraine, as many as one million people pass through official crossing points along the contact line each month, often braving bad weather, shelling, demands for bribes, and waits of several hours.
No peace, no return
Many IDPs in Ukraine are vulnerable – a large percentage are the elderly, women, or children – and the poverty level is estimatd to be as high as 80 percent. Very few own their own accommodation and some 6,000 still live in collective shelters.
As time passes, IDPs are becoming more integrated into local communities and many say they don't plan to return home. A March 2017 World Bank report found that 34 percent of IDPs in Ukraine plan to stay put outside the conflict zone.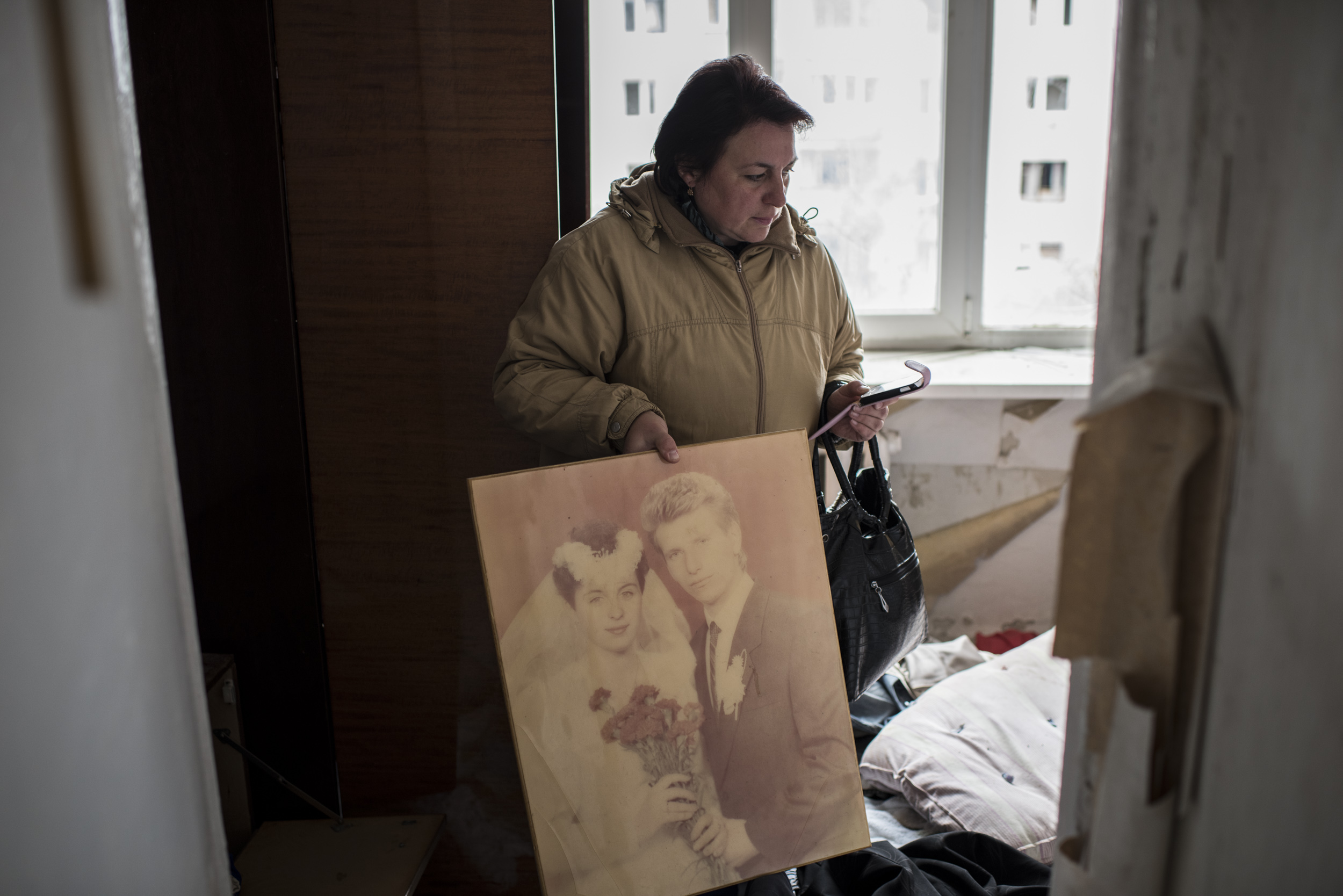 Without lasting peace it is easy to understand why. I first met Tetiana in the fall of 2015 in the frontline town of Pisky, which faces the flashpoint of Donetsk airport. I accompanied her on an impromptu, emotional inspection of her ransacked and heavily damaged flat to retrieve personal belongings such as wedding photos. The village is on the government-controlled side and Tetiana's access is at the mercy of Ukrainian soldiers, who use the neighbourhood as a base to fire back at the rebel side. Seeing the scale of the damage it is hard to imagine families moving back into Pisky.
And yet, Tetiana has it lucky – at least comparatively. Seventy-seven-year-old Rayisa Isikova, a pensioner and former resident of probably the most bombed-out town in eastern Ukraine, Shyrokyne, cannot return as the threat of mines and constant shelling makes it too dangerous. Incredibly, some relocated residents of Shyrokyne – formerly home to 2,000 people – can actually see the daily rain of five or six shells falling on their town from apartment blocks on the eastern fringes of Mariupol.
With tens of thousands in the same predicament as Tetiana, who lives in a safe village away from the front line, Ukrainian government officials need to put into place new long-term policies for IDPs that ease their settlement into new areas and help with the important issues of residential permits and pensions (at the moment an estimated 350,000 IDPs are without pensions). Because of the lack of clear legislation, changing residency or status can trigger a loss of benefits.
Lack of assistance
Critics say the national government has so far taken a minimalist or piecemeal approach to addressing the needs of IDPs; a dedicated ministry was established in April 2016 but it remains poorly resourced and politically weak. NGOs and UN agencies have helped fill the gap, but appeals remain severely under-funded.
There's also a need for reconciliation in order to smooth integration of IDPs into host communities, especially further away from the Donbass region.
"IDPs are perceived by the host communities as the reason for increased rental prices and for creating a competing demand for available accommodation," says one report. I've heard first-hand locals in Kiev blame a surge in arrivals from the east for creating unwelcome business competition to exacerbating traffic.
Instead of being viewed as a burden, analysts and representatives of NGOs dealing with IDPs say that IDPs should be regarded as potential bridge-builders between occupied and government-controlled areas of Ukraine. Many either travel to the east, speak frequently with friends and relatives behind the contact line, or post frequently on social media.
The authors of an Atlantic Council report perhaps put it best:  "We argue that Ukraine's displaced persons can and should play a role in a sustained peace process, and many are already building bridges and fostering local reconciliation."
mb/ag