UN Secretary-General Ban Ki-moon released this week his vision for how the world can better serve those in need: a cohesive and coordinated aid architecture that more efficiently links emergency relief with development and invests more – both politically and financially – in preventing crises before they happen.
At a time when – as Ban himself admitted – "many express doubt in the ability of the international community to live up to the promises of the United Nations Charter to end wars or to confront global challenges," his vision is meant to guide governments, UN agencies and the rest of the $24 billion aid industry to adopt major changes at the upcoming World Humanitarian Summit (WHS), the culmination of a nearly three-year consultation process aimed at improving aid delivery to those affected by crises.
See: Humanitarian reform: What's on - and off - the table
Some have described it as inspirational, an "ambitious framework" with a "bold vision". But for others, it is "naïve", with much "waffle" and "gaping holes" – including failures to tackle the question of UN reform head on, to protect the independence of humanitarian action in politicised environments, and to adequately represent the key issues that emerged in the grassroots consultations.
First things first
The long-awaited report, One Humanity: Shared Responsibility, paints a compelling picture of the terrible state of affairs in a world with record numbers of displaced people, major civil wars increasing, and a rising number of extreme weather events associated with climate change. The necessary political leadership to deal with these challenges is too often triggered only by "immediate, narrowly defined national security and economic interests", Ban writes. 
Refreshingly, he focuses primarily on preventing crises in the first place, addressing the concerns of some aid workers who had earlier voiced frustration that by focusing exclusively on aid delivery, the WHS process was missing the point: why not tackle the root of the problem?
"He emphasises the need for crisis solutions, for leadership, for preventive diplomacy, for tackling the root causes – so that this production of misery is stopped earlier and not just fixed as an afterthought or by way of charity," said Claus Sorensen, who advises the president of the European Commission on humanitarian affairs. "It's this notion of ending needs to avoid charity... And I think that's the right approach," Sorensen, formerly the director-general of the European Commission's humanitarian aid department ECHO, told me.
Ban also highlights the importance of preventing massacres of the likes of Rwanda, Sri Lanka and Syria by speaking out about mass atrocities. That said, stronger language in an earlier draft of the report, in which he encouraged all UN staff to "act with moral courage in the face of serious and large-scale violations, rather than remaining silent in exchange for humanitarian access" was weakened in the final draft. Similarly, an earlier statement that "as an international community we continue to fail" did not appear in the final publication.
Sense of direction?
In its substance, the report has "something for everyone", as one senior humanitarian official put it. It hits on all the key subjects: gender, protection, international humanitarian law, preparedness. But it fails to prioritise between the 122 recommendations listed or provide an overarching sense of direction.
"There are a lot of recommendations, of which many are useful, but by the sheer volume of them, it becomes a bit unwieldy at times," said one Western donor.
"There is so much in there: What is it that we're actually going for?" the senior humanitarian official asked. "This report is a menu. What are the main priorities politically that are going to be taken forward? Where are the commitments?"
"It would have been good to focus on what the UN can do, what member states can do," she went on. "At the moment, it's a bit of a jungle."
But for Mukesh Kapila, a professor of humanitarian affairs and adviser to the WHS Secretariat, "the Secretary-General can't do more than say to the world: 'Look, here's the nature of the problem. Here's the nature of the gaps. If you're really interested in solving these kinds of problems, these are things that need to happen'."
"Humanitarian principles under attack"
The main thread of Ban's vision is a new "common approach" that would see humanitarian and development agencies respond as one. This emphasis has been particularly welcomed by governments as they have long complained that people in need are not best served by siloed approaches. Setting agreed collective outcomes over a multi-year horizon and asking, as Ban suggests, "What does it take to achieve this outcome and by whom?" will be music to the ears of those who have been pushing for better leveraging of the complementary of roles available within the diverse network of humanitarian responders.
But I hear at least three major concerns.
First, development work is linked to national governments. Some worry that in conflict situations like Sudan or Syria, humanitarian aid that is not kept distinct could fall prey to politicisation and lose its independence. As one NGO manager put it, in Ban's approach, "the humanitarian principles are under attack." The International Committee of the Red Cross, well known for not taking sides in a conflict, noted its concerns when it said during the launch of the report that "in some cases, it is politically and emotionally impossible or dangerous for local actors to be neutral and impartial." Its representative also pointed to the "totalising" tendency of the UN. 
"I would fundamentally warn against [the shift towards working with governments] where there is war and where assistance is going through politicisation and militarisation and securitisation because then people are not getting the attention nor the support they deserve," Jan Egeland, a former UN under-secretary-general for humanitarian affairs and now the secretary-general of the Norwegian Refugee Council, told me.
But even if solutions to this dilemma can be found (Ban does not offer any), can a combined approach actually work on a practical level? "To do joint data analysis across the political, the development, the human rights, the humanitarian [sectors] when you have crisis sounds all well and good in theory. The reality when you're responding is that we've been struggling to do common data analysis and planning just among the humanitarians," the senior humanitarian said.  
And thirdly, would this not inevitably lead to an even more mammoth bureaucracy than the labyrinthine machinery that already exists today? And would that be in the best interests of the people aid agencies are trying to help?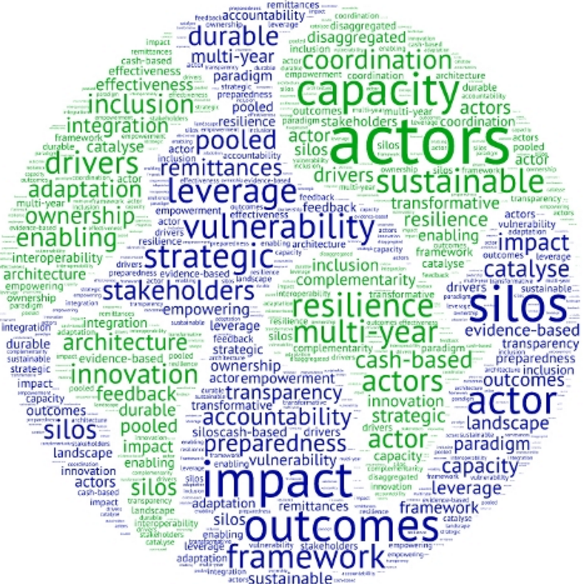 We ran the report through our buzz-o-meter – the methodology we developed to gauge the degree to which a humanitarian report uses buzzwords, jargon and clichés – and found "sustainable" "preparedness" and "resilience" top of the list.
But lofty concepts of humanity, shared responsibility and solidarity are a common theme in Ban's vision. "There is no better investment to make than in humanity," he says. For some, this is a valiant effort to "reset the norms for humanity" at a time when, as the report puts it, the brutality of today's conflict threatens to lead the world to "regress to an era of war without limits". Others are less impressed by the rhetoric. "This could have been written by Michael Jackson," one senior NGO official said (recalling: "You are not alone; I am here with you").
And unlike some of the previous reports in the process, the concept of "humanity" is not clearly defined. 
Rather than the very specific definition of the term – grounded in international law and humanitarian principles – to alleviate human suffering, "suddenly humanity is just something for everybody," the senior humanitarian said.
Idealistic vs. concrete
There are some concrete recommendations in the secretary-general's report, such as the suggestion that states commit to reducing internal displacement by half by 2030. But the framework for achieving those goals is unclear. For example, should states agree to common humanitarian goals, in the same way they did with the Sustainable Development Goals?
"If you look at all the recommendations, do they give sufficient answers to the problems that the report itself describes?" the Western donor asked. "I'm not sure of how far there is something behind every recommendation. Is the machine on the UN side ready to follow up on all of this? How realistic is it?"
When asked during the report's launch in New York about how any of this would be implemented, Ban said his under-secretary-general for humanitarian affairs, Stephen O'Brien, would contact governments to discuss how to take key aspects of the "Agenda for Humanity" forward, and focused in specifically on a few key issues: displacement, a new business model for the humanitarian sector, an international financing platform to address protracted crises, and respect for international law.
But when O'Brien identified the topics against which "concrete commitments" would be discussed in roundtables among heads of state or other high-level politicians, the list went on and on: political leadership to end conflict, addressing and reduction displacement, building resilience in protracted crises, strengthening responses to natural disasters, protecting women and girls, investing in humanity…  
Thus far, O'Brien, who is leading this reform process, has resisted calls by member states to identify concrete proposals and outcomes, in an effort not to prejudge the grassroots consultation process. During the launch of Ban's report, he did, however, announce a "commitment database" that would be published online in the lead-up to the Summit, allowing all actors to make their pledges public.
Voices of affected communities 
The WHS process was meant to put people affected by crises at the heart of humanitarian relief. Global consultations with some 23,000 people around the world across various sectors – costing some $24 million – were meant to ensure diverse and grassroots points of view were included.
The secretary-general's vision was never meant to fully reflect those consultations (which are instead summarised in a separate synthesis report), but some worry that key issues that have been consistently raised throughout the process – empowering local responders, protecting humanitarian principles, being more accountable to beneficiaries of aid, and getting closer to the ground – are given short shrift. 
"All of these issues that were so key are really downplayed," the senior humanitarian said. As just one example, the Charter4Change, a concrete proposal for localising humanitarian aid, is not mentioned at all.
But if there is one common criticism of the secretary-general's vision for change, it is that he is "a bit light-weight" or "not too specific" about the changes to areas under his direct responsibility, namely reform of UN mandates seen to overlap and to drive narrow institutional thinking. He does open the door slightly by stressing that "it is time to focus on demand rather than provision of supplies, and on collective outcomes and comparative advantage, rather than project delivery and 'mandates first'."
But as one donor put it: "If mandates should no longer be the dominant factor, surely that should have some implication for all the organisations you are heading?... How do you take that forward as the highest chief of the UN?"
So will this report be a game-changer? Like the World Humanitarian Summit itself, much depends on what governments, UN agencies, NGOs and Ban himself are willing to actually do. Oh, and a reminder: the summit is just over 100 days away. 
For more, see: Humanitarian reform: What's on - and off - the table
ha/bp/ag