The rumble of suitcases and the cacophony of voices echo around the baroque interior of Przemyśl's nineteenth century railway station as people seeking refuge from Ukraine wearily emerge from trains pulling into the normally sleepy Polish border town.
So far, the mass exodus of people from Ukraine – a country of 44 million – is the most visible humanitarian impact of Russia's invasion, which began early on the morning of 24 February. But top UN relief officials are warning of worse to come as the Russian advance continues. 
In the first four days of the conflict, at least 520,000 people – mostly Ukrainians, but also students and workers from Africa, South Asia, and elsewhere – exited the country, a staggering rate that could see numbers reach five million if the fighting continues.
"I have worked in refugee crises for almost 40 years and I have rarely seen such an incredibly fast-rising exodus of people – the largest, surely, within Europe, since the Balkan wars," Filippo Grandi, the head of the UN's refugee agency, UNHCR, told the UN Security Council.
Ukraine's EU neighbours are welcoming those seeking refuge with open arms, and the EU is preparing to grant Ukrainians who escape the right to live and work in the bloc for up to three years without having to apply for asylum. 
People are queuing in long lines of cars and crowding into train stations, waiting for an opportunity to leave. In some places, the wait time to reach the border is estimated at three to four days. Most Ukrainians seeking refuge are women, children, and the elderly. The Ukrainian government has barred men between the ages of 18 and 60 from leaving the country, ordering them to stay and fight.
Some women and men are also choosing to stay behind, while others who might want to leave have no way out – many of them taking refuge in bomb shelters, basements, and subways stations as Russia bombards cities and towns.
Meanwhile, tens of thousands of Ukrainians who were living in other European countries are crossing back into Ukraine in order to join the fight. "A week ago, I was driving a lorry in Germany," Igor Miliowski, 49, told The New Humanitarian while standing in a line of women and men waiting to enter Ukraine. "Georgia, Crimea, Syria, and now he is attacking civilians in Ukraine; [Russian President Vladimir] Putin must be stopped and tried at The Hague."
Inside the country, details of the humanitarian situation are less clear. Hundreds of civilians have already been killed – including children – and thousands have been injured. The exact count is unknown, and expected to rise. At least 160,000 people have also been internally displaced since the invasion began, and the UN said the fighting has caused significant damage to critical infrastructure, disrupting medical services and food supply chains.
UN agencies, including the World Health Organization, are mobilising funds to help Ukrainian civilians and provide urgent medical supplies. On 1 March, the UN is launching a humanitarian appeal to help scale up the aid response. But there are concerns about whether that aid will be able to reach those most in need during ongoing hostilities. 
"We need assurances from parties to the conflict that humanitarian workers and movements will be protected even during the most severe days of the conflict and not waiting for the conflict to subside. Even now, even today, we need to provide those protections," Martin Griffiths, the UN's top humanitarian official, said on 28 February. 
Already, before last week's invasion, 13,000 people – including 3,400 civilians – had died in a conflict that had been simmering for eight years between Russian-backed separatists and the Ukrainian military in the eastern regions of Donetsk and Luhansk. More than 850,000 people remained displaced, and almost three million required emergency assistance: 1.3 million in government-controlled areas and 1.6 million on the separatist side.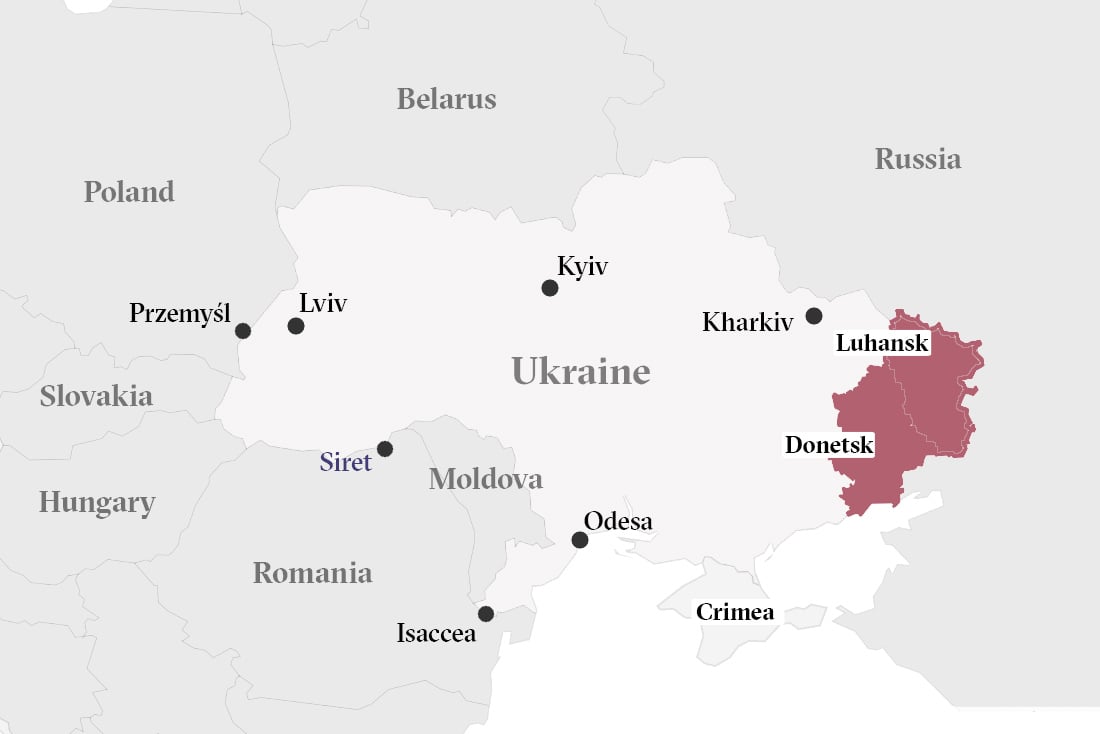 The UN and aid groups began making contingency plans for the potential escalation of conflict as tensions rose at the end of last year, but the invasion and the vast needs emerging have caught many in the sector unprepared, leaving them to play catch up to fast-moving and unpredictable events. 
"Honestly, some started working on [contingency plans] only in January or the beginning of February, when there wasn't enough time," Sergey Sayenko, emergencies coordinator for the Czech NGO People In Need, told The New Humanitarian. "I think most didn't believe in the risk."
Since encountering stiff Ukrainian resistance, Russian forces now appear to be shifting tactics. On 28 February, they accelerated their bombardment of residential areas and looked to be preparing to lay siege to Ukraine's capital, Kyiv, and other major cities – developments that will likely cause civilian casualties and suffering to dramatically increase.
"As we all feared, civilians are already paying the price. The scale of civilian casualties and damage to civilian infrastructure, even in these very early days, is alarming," Griffiths said. 
At the borders
"I still don't believe we are here," Anna Kozhuharova, a 23-year-old Ukrainian, said, standing on the station platform in Przemyśl waiting to pass through Polish border control. Three days earlier, she had decided to make the dash from Kyiv to the border along with a friend.
They left amid air raid sirens and the distant rumble of explosions and reached Lviv, a city in western Ukraine, just in time to catch a train to the border. From there, what is normally a three-hour journey from Lviv to Przemyśl took around 20 hours. 
At least half a dozen vastly overcrowded trains have been arriving in Przemyśl every day, greeted by throngs of volunteers handing out tea and fielding questions. Some hold aloft signs offering free rides to cities across Poland and beyond. Piles of donated bottled water, diapers, and clothes line the walls. Phone chargers protrude from every spare electricity socket, enabling frantic calls back to friends and family still stuck in Ukraine's spiralling warzone.
Kozhuharova, who had a shop selling handmade jewellery in Kyiv, now plans to travel to Warsaw, Poland's capital, where friends have offered to host her while she figures out her next steps. But her relief at getting out is mixed with worry for family members who have stayed behind. "I tried to convince my parents to come to Poland, but they don't want to risk the journey. Now they stay in the shelter," she said. 
In addition to Przemyśl, where trains are arriving, eight border crossings between Ukraine and Poland are open to pedestrians and people in cars, according to Anna Alboth, one of the founders of Grupa Granica, a Polish organisation that supports refugees and migrants. 
"There is no way to coordinate it anymore. But nobody is left without food and medicine and help."
Despite having discussed what would happen if Russia invaded Ukraine, "nobody really thought that it will happen so fast and on such a scale", she said. 
As a result, nobody was really prepared when people began crossing the border en masse. Polish authorities have set up processing stations at all the border crossings. Once Ukrainains are registered, there are thousands of Polish people offering them places to stay and rides to different parts of the country. 
The whole situation is chaotic, but "it's beautiful to see", Alboth said. "It's one big mess, so it's not coordinated. There is no way to coordinate it anymore. But nobody is left without food and medicine and help. This is the good thing."
There are reports, however, of African students being treated roughly and blocked from crossing by guards on both sides. The discrimination is not surprising to Alboth. Grupa Granica formed in response to the humanitarian crisis on Poland's border with Belarus that started last summer. In that case, Poland responded by deploying troops to the border to prevent asylum seekers and migrants from entering and building a $400 million border wall. 
"Now, Poland is behaving like it should behave," Alboth said. "To be honest, it's very bittersweet to see that it is possible if there is will of state."
Humanitarian needs and response
In terms of aid, the most intense need at the moment is inside Ukraine. Cars are backed up for more than 10 kilometres on the Ukrainian side of the border crossing that meets the Romanian town of Siret. The wait time to cross is more than three days, according to Vlad Gheorghe, a Romanian member of the European Parliament. 
Tens of thousands of Ukrainians, and thousands of people from countries such as Morocco and India, are waiting to cross, and "there aren't more than 20 border guards to handle this," said Gheorghe, who spoke to The New Humanitarian by phone on 27 February while visiting the border.
"People are getting frustrated. You need to realise that they've been waiting for two, three days, or even more," he said. "Yesterday, we had shots fired, warning shots, by the border guards because people tried to overcome the barriers."
Ukrainian volunteers from church groups and villages close to the border are trying to attend to the needs of people while they wait.
"They've organised themselves and they're providing basic help, like hot soup, hot tea, some sandwiches, some basic hygiene products," said Gheorghe, who is trying to figure out a way to bring an abundance of supplies donated by Romanians to Ukrainians and others waiting in the cold to cross the border. 
"The situation near the line of contact is worse because no one is going there now; organisations have left, no one is helping."
A lot of the focus so far has been on people fleeing to neighbouring countries and on major cities, but "it's really important to remember that there are still many people stuck in active combat situations, in the crossfire, and they might be some of the most vulnerable and some of the people with the greatest need," said Ole Solvang, director of partnerships and policy at the Norwegian Refugee Council (NRC). "A real challenge for the whole humanitarian sector will be to try to reach those people in the hard-to-reach areas and not just help the people who are easiest to get to." 
Videos and photos posted online raised concerns about the use of indiscriminate weapons – such as cluster munitions and multiple launch rocket systems – that cause significant damage to infrastructure and houses and also lead to civilian injuries and deaths, Solvang added.
Humanitarian conditions for people living close to the line of contact that divided separatist and government-controlled areas in eastern Ukraine are some of the most dire. "The situation near the line of contact is worse because no one is going there now; organisations have left, no one is helping," Yevhen Vasyliev, project coordinator of the Ukrainian NGO Vostok SOS, told The New Humanitarian. 
Despite the long-standing conflict in the east, there are not enough bomb shelters and the infrastructure to evacuate people is not in place, according to Sayenko from People in Need. 
"They have nowhere to go," Irina Stepanova, who has worked for several NGOs in eastern Ukraine, said of vulnerable populations in Donetsk and Luhansk. "They will just sit in basements like they did in 2014. Nothing has changed."
Much of the response so far is being carried out by local organisations. "Local NGOs and the Ukrainian Red Cross are working tirelessly to support civilians and evacuation operations. 
"Health workers are working day and night to care for the injured. Aid organisations are providing psychosocial support to traumatised children and delivering first aid kits," said the UN's Griffiths.
Vera, a resident of Mariinka, a town near Donetsk, said residents had been sitting in their basements for days, listening to heavy shelling: Water supplies to the area had been cut off since 19 February, and bread, fresh produce, and meat was no longer available in shops. 
Vera had bought flour to bake her own bread, and – unlike others in the region – she had access to her own well. "We're used to it," she told The New Humanitarian. "We just have to hope somehow that common sense will prevail and this will all stop."
Andrew Connelly reported from Przemyśl, Poland, and Lily Hyde from Kyiv, Ukraine. Additional reporting from Eric Reidy in Boston, US. Edited by Andrew Gully.