Climate-linked disasters are unleashing greater levels of damage, but billions of dollars in climate change commitments may be eating into regular aid budgets that poorer countries rely on, campaigners say.
A UN report released this month confirmed that 2019 was the second-warmest year on record, and the end of the warmest decade ever. The World Meteorological Organisation report underscored how climate-fuelled dangers like heat waves, floods, and storms are exacting a growing humanitarian toll – threatening food security and worsening displacement.
But while the losses mount, activists say wealthier countries – who have promised up to $100 billion a year to tackle climate change in poorer nations – are consolidating their climate funding within their overseas development aid, or ODA. This means climate funds are increasingly dislodging humanitarian and development budgets normally used to respond to disasters or relieve poverty, rather than adding to existing aid.
"Raiding aid budgets to pay for climate commitments is not in the spirit of what countries are signing up to and the pledges they have made," said Danny Sriskandarajah, chief executive at Oxfam GB. 
"It is really important that climate finance is seen as additional to ODA commitments, and whilst there are some overlaps, we must 'climate-proof' the ODA investments."
Funding is one of the thorniest issues on the climate agenda. During last December's UN climate summit, COP25, vulnerable countries hoped to secure so-called "loss and damage" financing to compensate for mounting disaster destruction. The meetings ended with no new commitments after pushback from wealthier nations.
But even accounting for already promised climate funding has been divisive.
As climate negotiators prepare for this year's COP26 climate summit, scheduled for November in Glasgow, activists say countries must ensure that existing climate funds add to aid budgets, rather than divert spending from other crucial sectors.
Climate funds 'displace' lifesaving aid
Ten years ago at the COP15 summit in Copenhagen, countries pledged to provide $100 billion a year by 2020 to help the nations least responsible for climate change fight its growing threats. Developing countries expected that climate money would be "new and additional" financing on top of existing ODA.
But an Oxfam study, released in 2018, found that most donors were counting their climate finance as part of their overall commitments to increase ODA to 0.7 percent of national income – a long-standing but largely elusive aid target.
As a result, climate funds were taking up a growing share of traditional aid rather than adding to it, representing 21 percent of official ODA by 2016, according to Oxfam.
"The climate finance developing countries receive is already at risk of displacing ODA spending on education, health and other lifesaving areas," the report concluded.
Read more → Why climate finance matters to the humanitarian sector
Switzerland is one example. The country counts its funding for climate projects as part of its overall ODA, which also includes humanitarian aid, spending for refugees in Switzerland, as well as demining and peacebuilding programmes. The country's ODA was at 0.44 percent of gross national income in 2018, and its aid budget has been declining since 2016.
The Swiss Alliance of Development Organisations, or Alliance Sud, has been critical of the government's funding reductions amid growing climate concerns.
Jürg Staudenmann, the group's climate and environment chief, said funding for climate projects is taking money away from other crucial priorities.
"Redirecting more climate funding has meant that there is less funding for new initiatives in classic sectors such as education, health, and civil society strengthening," he said.
Aid groups seeking Swiss funds for new projects, he said, "know that a climate project has more chances to get the funding green light at headquarters, compared to any project idea that could not be linked to any climate benefit at all".
The United Kingdom – host of this year's climate summit – is another example. Last September, the government announced a package of more than £1.3 billion (about $1.6 billion) in climate funds from its development budget. This included money for British scientists to test clean energy technology, and some £220 million to save endangered animals.
Some have questioned whether such funds should come from development assistance budgets at all.
"A climate project has more chances to get the funding green light at headquarters, compared to any project idea that could not be linked to any climate benefit at all."
Alison Doig, the head of global policy at the NGO Christian Aid, said there is a "lack of transparency" on how UK aid is counted.
"They have been leaning towards sprinkling aid and calling it climate finance, which blurs the line between aid spending and climate transformation money," she said.
But others downplay concerns over combining climate funding with traditional humanitarian and development aid.
"What else is climate finance than development aid?" Franz Perrez, Switzerland's chief climate negotiator, told TNH. "If you help farmers in Africa to develop seeds that are resistant to heat and which can be used when the climate has changed, isn't it helping them to develop and adapt?"
Perrez nonetheless said that more funds – both climate finance and traditional aid – are needed, and some of it must also come from the private sector.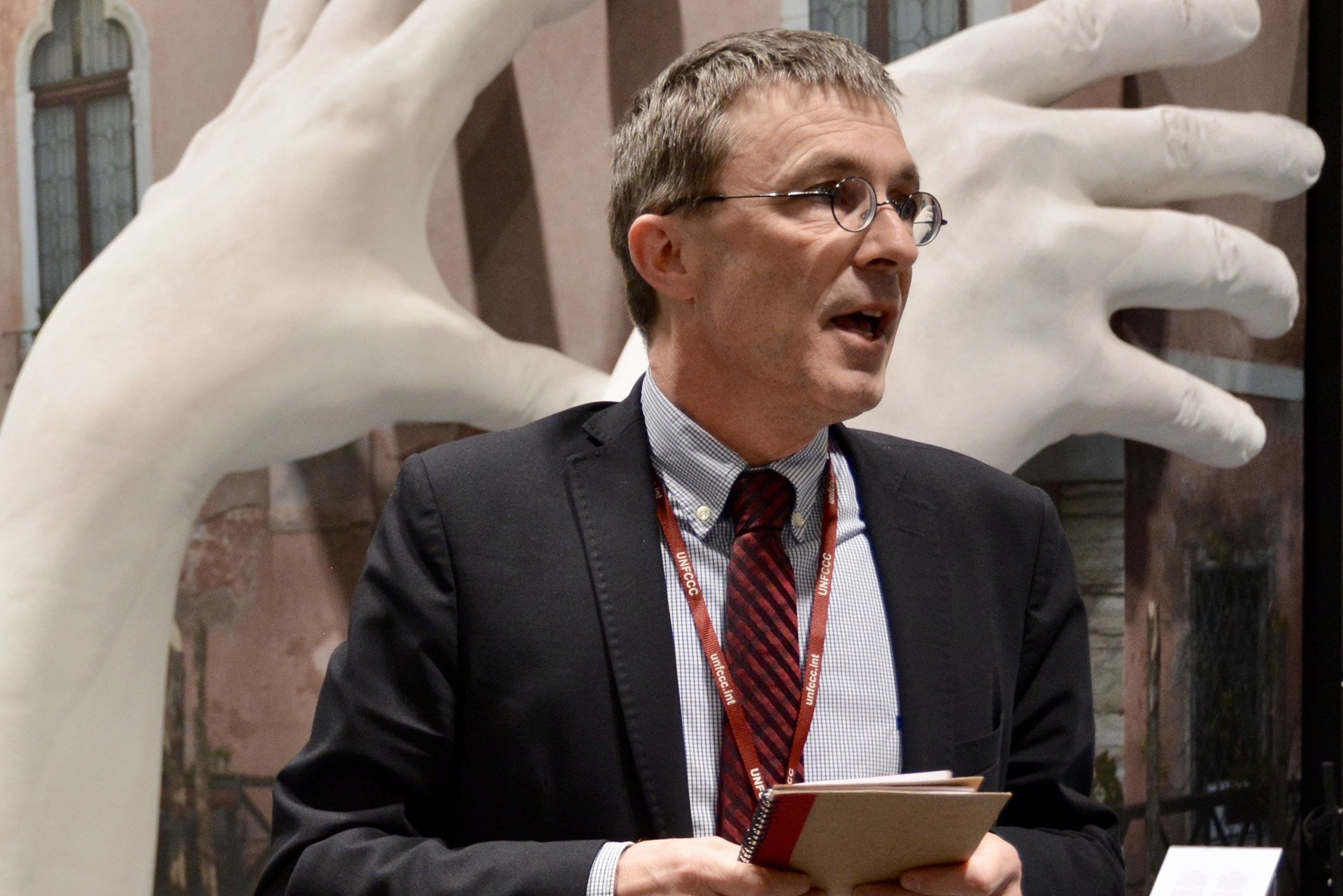 No agreement on what makes funding 'new'
Part of the problem is there's no clear definition of what "new and additional" funding means. 
The original 1992 UN Framework Convention on Climate Change – the precursor to later climate treaties, including the 2015 Paris Agreement, where countries solidified their $100 billion funding promises – specified that climate funds should be "new and additional resources". But, in practice, it's up to each donor to define.
Countries like Sweden – as well as many climate campaigners – say climate financing should be on top of the 0.7 percent aid targets. Sweden's ODA was 1.04 percent in 2018, and climate funding represented about 12 percent of this, according to its biennial report filed to the UNFCCC in December.
Other countries' definitions can be more vague. Australia, for example, says its climate finance comes from "new and additional aid budget appropriations passed by the Australian Parliament on an annual basis".  
The UK says it is "committed to providing support that is transparent, transformative, and in line with the needs and priorities of developing countries". 
Switzerland says its development assistance is shifting toward "an enhanced focus" on climate change, which it calls "a remarkable progression compared to previous efforts", adding: "Switzerland therefore considers its provided climate finance as new and additional."
Romain Weikmans, a researcher on climate finance at the Université Libre de Bruxelles, said countries need clear baselines to establish what constitutes "new and additional".
"The absence of a consensus within the UNFCCC on this leaves it to the discretion of contributing counties as to how to implement their climate finance commitments," he said.
This lack of transparency, he added, has resulted in "an extreme mistrust" among developing nations.
Read more → How to connect the data dots on climate loss and damage
No matter how it's defined, funding for climate adaptation and mitigation measures has so far fallen short of the $100 billion target. An analysis last year by the Organisation for Economic Co-operation and Development, or OECD, estimated climate finance for developing countries at about $71.2 billion in 2017.
And Oxfam says less than one fifth of promised climate funds are actually reaching the countries that need it the most. Its 2018 report estimated that only 18 percent of public climate finance went to so-called least developed countries. 
Additionally, most climate funds are focused on mitigation, or cutting carbon emissions, whereas vulnerable countries are often looking for funding to adapt to the growing disaster risks driven by climate change.
"We are getting to a point where we are simply not insurable," said Janine Felson, a Belizean diplomat and the climate finance lead for the Alliance of Small Island States, a bloc of countries pushing for disaster damage funding at COP summits. "The scale of adaptation finance available to us is just too little."
With insufficient climate funding on the table, disaster-hit smaller countries increasingly have to borrow money to rebuild.
"We are not seeing an expansion" of funds, Felson said. "We are just seeing monies moved around and accounted for differently."
Harjeet Singh, the global climate lead at the NGO ActionAid, said scaling up finance is critical to countries hit by climate change: "If we try to repackage money and it is not helping poor people and people in poor countries who are not responsible for the crisis, we are actually betraying them and leaving them in the lurch."
pdd/il/ag