Lubna*, a Pakistani Christian, says religious persecution forced her to flee her native country. But as an asylum seeker with no legal status in Thailand, she now lives in constant fear of arrest.
The 35-year-old mother of two small boys left Pakistan more than four years ago, hoping to find safety in the sprawling Thai capital, Bangkok. But here, frequent crackdowns on undocumented migrants also sweep up refugees and asylum seekers: her family was detained for four months before a local NGO pushed for her release last December. She and her two children were freed; her husband remains locked away.
"We are still very afraid of being found. I am always thinking of police and scared that they will come," she told The New Humanitarian in her studio apartment.
Asylum seekers like Lubna come to Thailand fleeing conflict or persecution. But many soon discover they have little protection and few rights in their adopted homeland.
Thailand is not a party to the 1951 Refugee Convention and has no national legal framework on refugees. In practice, this means Thai authorities do not distinguish between asylum seekers and illegal migrants – so those fleeing out of fear for their lives are often arrested in police raids, especially some of the estimated 5,000 urban refugees living in uncertainty on Bangkok's margins.
Asylum seekers are often faced with a stark choice: return home to danger, or remain in legal limbo indefinitely.
It's a similar story in other parts of Southeast Asia: Thailand, Malaysia, and Indonesia host more than a quarter of a million refugees and asylum seekers. But resettlement options are limited and asylum seekers are often faced with a stark choice: return home to danger, or remain in legal limbo indefinitely.
Advocates that work with refugees say the Thai government is planning changes that could give more protection to refugees and asylum seekers and help ensure that children aren't locked away in detention centres. But there's still a disconnect between proposed government policy and police actions, leaving people like Lubna and her sons hiding in the shadows.
"We just stay inside and wait," she said.
Immigration crackdowns and detention
Thailand hosts some 98,000 refugees. The vast majority fled conflict in eastern Myanmar and have lived for years in nine refugee camps spread along the Thai side of the border.
But for Lubna and other urban refugees in Bangkok, Thailand is often seen as a transit point for asylum seekers hoping to move onward or be resettled elsewhere once gaining refugee status. The majority are religious minorities facing persecution in Pakistan, Vietnamese minorities, and others from parts of Africa and the Middle East.
"It's easier to get tourist visas in Thailand than many other places, so they come in and then choose to overstay," said Naiyana Thanawattho, director of Asylum Access Thailand, an organisation that advocates for human rights and empowerment for refugees.
Read more: Southeast Asia's urban refugees
The UNHCR says there are some 176,000 refugees and asylum seekers in Malaysia, as well as 14,000 in Indonesia. Most live in urban areas.
Many asylum seekers come to Southeast Asia hoping to move elsewhere once gaining refugee status, but there is a growing backlog and the prospects of resettlement are slim.
The UNHCR office in Indonesia has warned refugees that resettlement opportunities are "limited".
"There are simply far more refugees in Indonesia than there are places for resettlement," the agency said in a pamphlet distributed to asylum seekers and refugees in 2017. "You should therefore understand and accept that you may never be able to benefit from resettlement from Indonesia, and you should consider all other options available to you including returning to your country of origin."
But in recent years, authorities in Thailand have conducted frequent crackdowns on overstaying migrants regardless of their refugee status. Police often target and stereotype people of African and South Asian descent. Naiyana told TNH that entire families, including children, have been locked up in Thailand's notorious immigration detention centres.
Amnesty International reported that conditions inside these centres are "appalling" and "worse than prison". Southeast Asia-based Fortify Rights have documented overcrowding, unsanitary conditions, and inadequate health services for detainees.
Lubna described her family's four months in immigration detention last year as "miserable".
"It was so crowded that we could not sleep properly and we had to take turns laying down. Sitting was also uncomfortable as we were so close together," she said. "The water wasn't clean enough to drink and smelled badly.
"It was hard to go to the toilet and use the washroom. You really couldn't take showers because they were not designed well for women," she said.
TNH attempted to reach the immigration bureau of the Royal Thai Police for comment, but the department did not respond.
In July, dozens of Pakistani Christians, including children, were arrested in a police sweep in one of the biggest recent crackdowns, said Naiyana, who believes the raids are not an appropriate form of enforcement.
"The police will have to deal with this," she said. "However, they don't have the right law to work with refugees for now."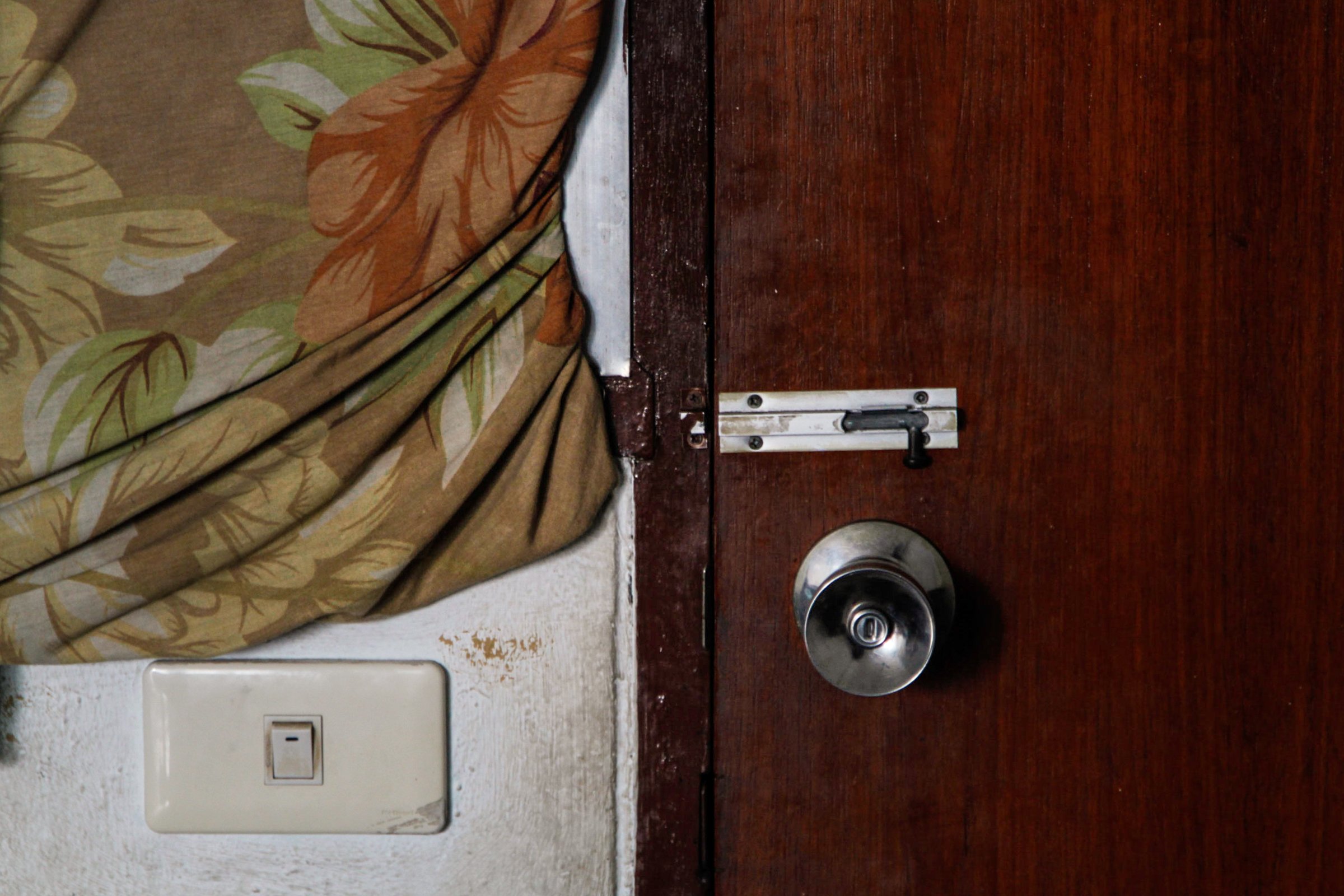 Advocates hope changes are coming
Puttanee Kangkun, a human rights specialist with Fortify Rights who has been working closely with refugees and the Thai government for years, believes Thailand is starting to take the plight of urban refugees more seriously.
Authorities this year established a new division under the immigration bureau that will look to protect refugees and asylum seekers, Puttanee said, adding that the government has also discussed providing access to healthcare, education, and possibly job opportunities for asylum seekers and refugees.
In January, the Thai government signed off on a plan to release children detained in immigration detention centres.
Thailand is also discussing a new regulation that would introduce a screening method to distinguish refugees and asylum seekers from other types of overstaying migrants, Puttanee said. Currently, the UN's refugee agency conducts status determinations and issues identity cards to asylum seekers and refugees, but UNHCR officials say these provide no official protection in Thailand – card-holders are still arrested and put in immigration detention.
Read more: Children in detention
Rights groups say Thailand's January signing of a Memorandum of Understanding aiming to end the immigration detention of children "edges closer to respecting refugee and migrant rights".
Caroline Gluck, UNHCR's spokesperson in Thailand, said the Thai government appears to be making sincere changes.
"The MoU provides a framework for the release of all children detained in [detention centres] in Thailand," she said. "… UNHCR hopes that parents who have been detained will soon be released and all separated families reunited."
But some say the measures don't go far enough: refugee fathers are still detained, while mothers have been charged an "exorbitant" 50,000 baht, or more than $1,600, to reunite with their children, according to rights groups.
The regulation is waiting for approval from Thailand's cabinet; local NGOs and rights groups are hopeful that it will be passed by the end of 2019.
Puttanee calls it a "transition period of progress" for the government.
"This is a very significant year for refugees, particularly urban refugees in Thailand," she said.
"The key thing is refugees should not be arrested. They must be protected. This should be a priority of the government and police. If you have refugee status, then you shouldn't be arrested."
But even with this progress, refugees and asylum seekers like Lubna live in a desperate state of limbo.
Her husband is still behind bars: he has now been in detention for more than two years.
Lubna keeps her sons close and hardly moves from her tiny apartment. She's afraid of arrest, unable to work or send her kids to school, and unwilling to return home to Pakistan. All they can do is wait.
"It's very difficult living as a refugee here," she said.
(*Lubna's name has been changed to protect her family's identity.)
(TOP PHOTO: Lubna, a 35-year-old asylum seeker, fled religious persecution in Pakistan, but faces arrest and uncertainty in Thailand. Refugees and asylum seekers are often swept up in immigration police raids.)
cq/il/ag
UNGA 2019: What matters to you?
We're headed to New York for the United Nations General Assembly, and we want to take your ideas with us.  What issues should be in the spotlight? What 'big question' would you ask attendees? Who do you want to hear from?
Tell us with this quick and easy form. Or email us at [email protected]