In July, thousands of refugees in Bangladesh's crowded Rohingya camps did something they were barred from doing back home in Myanmar: they voted in an election.
Some 8,000 people headed to the polls in Nayapara camp, part of the densely packed Rohingya settlements now home to more than 900,000 refugees. They elected committee members and leaders to represent them in front of Bangladeshi authorities and aid groups.
"Elections are important because they help build ownership and make refugees partners in determining their future," said Paer Westling, senior camp management officer with the UN's refugee agency, UNHCR, which is spearheading a move to roll out further elections throughout the camps.
The camp election scheme stipulates that a minimum number of committee leaders must be of either gender – a quota ensuring that Rohingya women have a rare chance to lead. In Nayapara, 44 percent of the committee members elected in July are women, the UNHCR said.
But Flora Macula, head of UN Women in Cox's Bazar, questions whether all the newly elected women will truly have a say within their own communities, at least initially. In Rohingya society, most women are expected to stay home. Refugees and aid groups say women have been threatened for volunteering or working with NGOs in the camps.
"The community is not yet ready," she said. "But we are working on it."
The elections are intended to encourage more representative leadership – and upend the prevailing system, which rights groups say is unaccountable, dominated by unelected men, and prone to corruption.
Currently, most of the camps are represented by appointed leaders known as majhis, who Bangladesh's army hurriedly installed as the population mushroomed with the influx of 700,000 new refugees fleeing a Myanmar military purge in August 2017.
But simply replacing the majhi system with elected leaders hasn't been straightforward.
Refugees and aid groups say former majhis still wield influence, undermining the work of the newly elected men and women. Organisations that work on gender issues say women, especially, may struggle to gain acceptance in conservative Rohingya society and need to be better supported as they earn new responsibilities. Some groups warn that criminal gangs and militants are also vying for de facto control of the massive camps.
Replacing the majhis
There have long been widespread calls for the majhi system to be abolished and replaced with more representative leadership. So far, elections have been held in four of the 34 camps, which are fused together over steep hills and flood-prone valleys.
In Nayapara and one other camp mostly home to refugees from previous influxes from Myanmar, residents have voted for their leaders since 2015. Last June, polls were held for the first time in two other camps built for newer refugees. The UNHCR said it hopes elections will reach other camps "in due course".
A briefing by aid groups working on protection issues in the camps said "serious allegations of corruption" are increasing. These include complaints of extortion, such as majhis demanding money for refugees to be added to vital aid recipient lists. The male-dominated system is particularly problematic for women, with majhis acting as a "buffer" between refugees and aid groups.
"Women are not represented and therefore are not participating in decision-making," the briefing warned.
But overhauling this system can't be rushed, according to Macula.
"I am against rapid change," she said. "We have to go step by step and do no harm."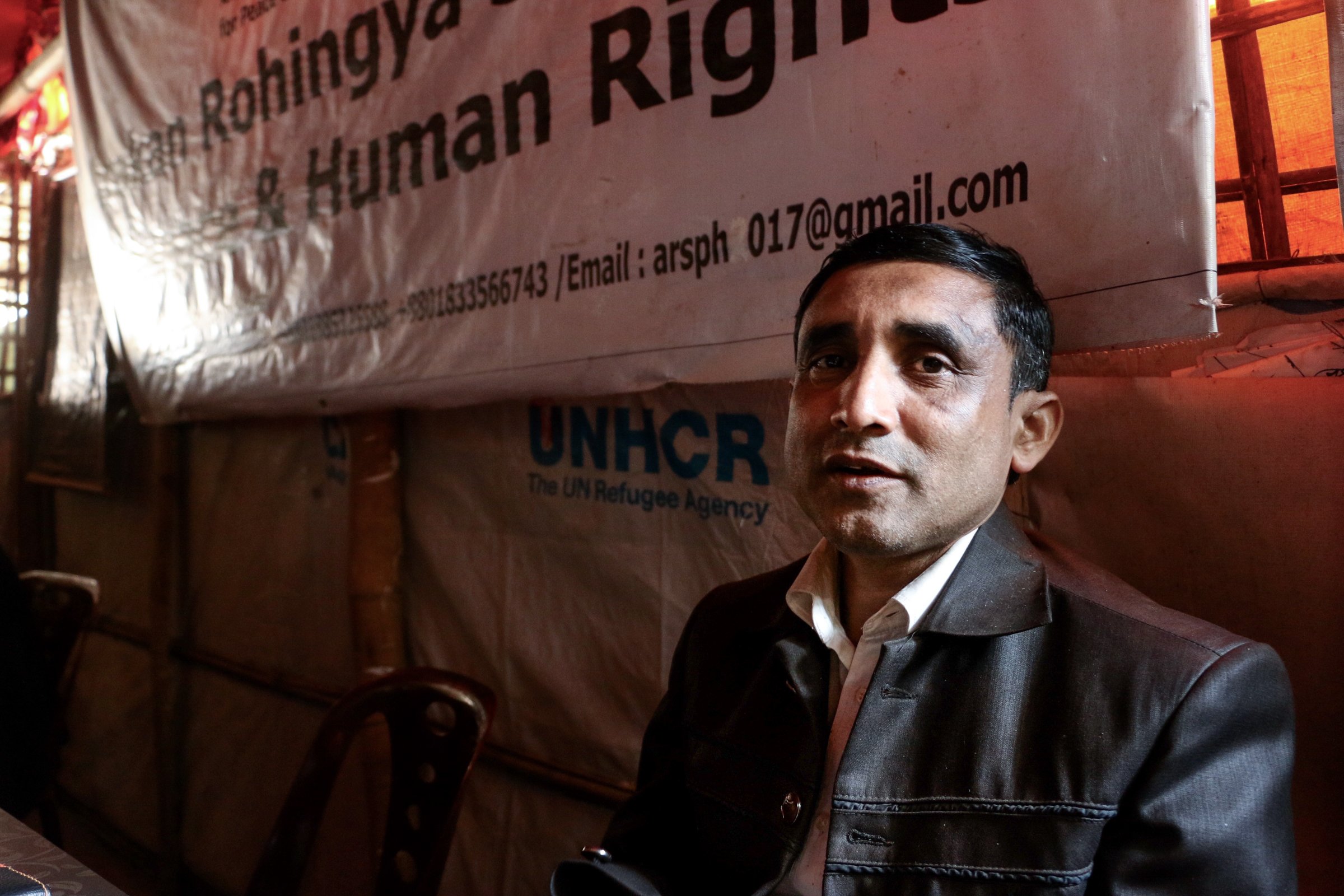 The elections process started without UN Women's input, she said, but the organisation is trying to help by training Rohingya women in leadership skills, including some of the newly elected women.
There are also practical concerns: the camp committee positions are unpaid, and women, in particular, have the burden of balancing their volunteer workload with childcare responsibilities, Macula said.
The UNHCR's Westling said that many refugees in areas with elected leaders still seek out the former majhis when they want things done. And the Bangladeshi army still goes through the majhis when interacting with the refugees. While distribution of aid like food vouchers is coordinated through camp committees, donations from the government or private individuals in Bangladesh are often handled by the army.
"It will take time until the refugees turn to the elected leaders," Westling said. "These changes don't happen overnight."
Still, some prominent Rohingya see the benefits of the promised elections.
Mohib Ullah heads the Arakan Rohingya Society for Peace and Human Rights, which is part of a growing civil society in the camps. Mohib has addressed the UN Human Rights Council as well as US President Donald Trump – but he himself was never elected, despite becoming a voice for his community.
"If there are elected leaders and the refugees don't like what they do, they can decide not to vote for them again," he said.
(TOP PHOTO: The Kutupalong Rohingya refugee camp in Bangladesh's Ukhia district.)
vh/il/js/ag