Despite criticism, the UK has only partially reversed a cash aid freeze in northeastern Syria and is still suspending monthly allowances to tens of thousands of displaced people that were halted last month to avoid the risk of diversion to members of so-called Islamic State.
About 120,000 people are displaced and living in the largest camps across northeastern Syria, which is controlled by US-backed Kurdish forces, according to an estimate from humanitarian data initiative REACH.
Of those, about 70,000 are in al-Hol camp in Hassakeh province – most arriving in the last few months from the last pocket of IS-controlled territory to the south as the group was defeated in decisive battles near Baghouz in March.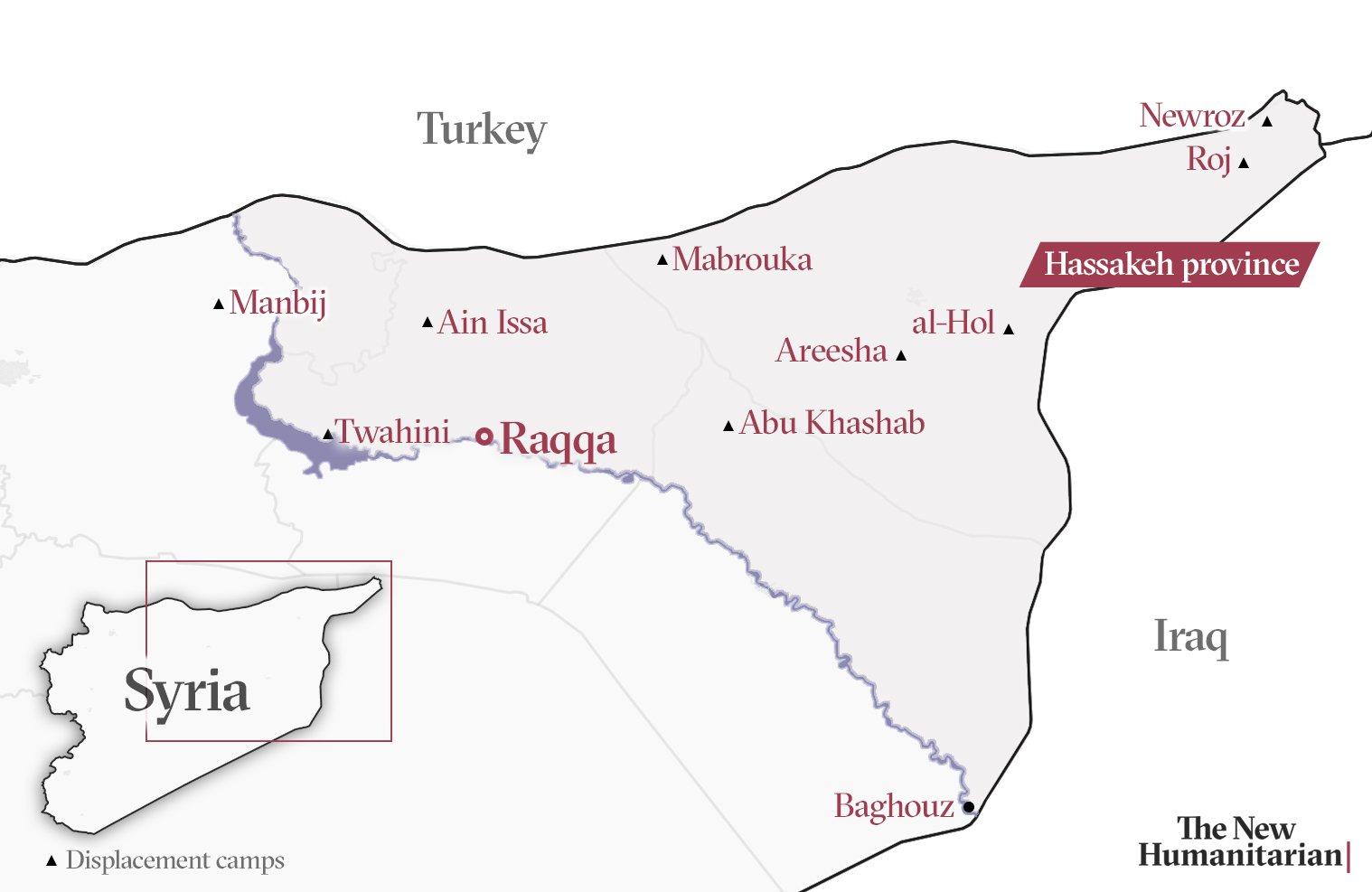 Al-Hol residents have never been receiving cash aid but DFID, the UK's government aid agency, paused all aid programmes that involved money transfers in the northeast early last month – a suspension that does affect another 50,000 people who were forced to flee their homes at earlier stages in the Syrian war, many to get away from areas of IS control.
Aid groups working in the region – as well as a DFID source – told The New Humanitarian that UK government financing of some cash-based projects in the northeast was allowed to resume last week.
This includes funding for "cash-for-work" programmes that pay local labourers to rehabilitate schools and water networks, small business grants that cover rent and operating costs, and payments to support families that foster children.
But the money DFID had been providing to families in camps or informal settlements, via NGOs, is still on hold.
Halting cash stipends is a "precautionary measure following the territorial defeat of… [IS] and the evolving situation," said a DFID spokesperson, adding that the pause "remains in place in all camps for displaced people in northeast Syria".
DFID's move ended what are effectively cash top-ups for tens of thousands of poor families, who typically also receive food rations. The stipends come in the form of banknotes, or through a local money transfer service.
Counter-terror or politics?
The DFID freeze followed the scattering of people, including wives and children of militants, when the last remaining area of IS control in Syria was recaptured.
The flight of people meant militants may have been able to escape undetected and dispersed into the wider community, heightening fears over aid being diverted to terrorists – a concern that has impacted aid programmes elsewhere in Syria.
"We don't help people according to ideology."
At an 18 April press briefing in Geneva, the UN's regional coordinator for Syria, Panos Moumtzis, said the UN's position was clear: residents of al-Hol are civilians in need and "we don't help people according to ideology".
But Moumtzis also acknowledged discomfort among donors to the Syria aid effort after the exodus of people from IS territory to al-Hol. Referring to the possibility of helping those who were – and could still be – IS sympathisers, he said: "Many capitals were worried."
Karen Peachey, director of the Cash Aid Learning Partnership, known as CaLP, said evidence shows that the risk of cash being diverted is no greater than the risk for other kinds of aid. "All humanitarian assistance, especially when delivered in fragile and conflict-affected areas, carries with it some risk of misuse," she added.
Analysts and aid workers told The New Humanitarian that the UK policy shift was likely politically driven; fuelled by fear of negative media coverage as much as by the conceivable misuse of cash.
"Nobody [in the aid world] wants to be part of a Daily Mail story," said Tobias Denskus, who teaches development communications at Sweden's Malmo University. The mass-market UK newspaper and website has a "well-established discourse that any type of aid is basically a waste of taxpayers' money", he added.
The case of British citizen Shamima Begum has sparked particular debate in the UK. Begum is one of several thousand foreign women with their children now at al-Hol who had voluntarily joined IS, and who married IS militants in the field. (Two thirds of the al-Hol population are under-18, according to the UN).
Should cash aid reach these women, and from there be used in a terrorist action, the combination of aid diversion and "ISIS brides", even if far-fetched, would be what Denskus called both "a perfect Daily Mail story" and a "PR disaster".
The cash aid trend
Worldwide, an increasing proportion of humanitarian aid is given as money rather than goods such as food. It allows people to choose for themselves what they need.
When the UK payments abruptly dried up last month, some Syrians in Hassakeh province's Areesha camp protested, saying they could no longer afford daily necessities or pay off debts.
Fe Kagahastian, who helps coordinate agencies working on cash-based programmes in the region as part of Norwegian Refugee Council's global roster of cash experts, said another donor has stepped in to fill the cash aid gap left by the UK in northeastern Syria.
While this means disruption was minimised, she said that residents of Roj, Newroz, and Twahini camps are among those still likely to miss the $15-$60 per month (depending on family size) they had been counting on during the Muslim holy month of Ramadan.
Given that camps are "where some of the most vulnerable people are", the continued suspension remains "worrying", Kagahastian said. "By giving them cash, we gave them purchasing power; the ability and choice to buy fresh food."
The freeze runs counter to the UK's position as "a leading proponent of cash-based aid", according to Peachey. "Study after study shows" that cash "is often the way people prefer to receive assistance, and is more cost-efficient in many contexts," she said.
An NGO official familiar with the situation in northeastern Syria, who requested anonymity because of the sensitivity of the subject, also stressed the point that it's not only cash aid that can be misused, as other assistance is typically swappable in some way. A taxpayer might perceive diverted money as worse, as it takes an "extra mental leap" for the public to imagine how a bag of food can be used "to buy an AK-47", they said.
'Right aid, wrong place'
A DFID source, who requested anonymity because they were not authorised to speak to the media, said the decision to pause cash transfers in northeast Syria's camps was due to "the potential risk of diversion". They added that the policy would remain under review.
Overall, the UK's aid spending in northeastern Syria comes to 40 million pounds ($52 million) this financial year. The DFID source said cash makes up only a "very minor" share of the UK's relief in the region.
"Programmes occasionally appear to be closed based on negative media headlines, despite performing well."
A 2017 Daily Mail article examined the rise of DFID-funded, cash-based aid. The piece called a project where British funds contributed to allowances for poor families in Pakistan "astonishing", arguing that cash-based aid was in general "extraordinary", widely corrupt, and benefited authoritarian and corrupt governments. In a sound bite that stuck, a British MP called it "exporting the dole".
That same year British parliamentarians hit out at DFID for being too easily swayed by media criticism, saying: "programmes occasionally appear to be closed based on negative media headlines, despite performing well." A committee called on the department to be more clear about its "reputational risk appetite".
Nevertheless, Denskus said he could understand why a politician might be prudent to avoid the risk, however remote. "I can almost see the headline," he said in a phone interview. "It's probably the right kind of aid in the wrong place."
(TOP PHOTO: Displaced people in Hassakeh province's al-Hol Camp.)
bp/as/ag