Aid groups working in Myanmar's crisis-hit Rakhine State are scrambling on how to respond if the government pushes forward with controversial plans to create new internment camps for displaced Rohingya, documents obtained by IRIN reveal.
The internal papers shed light on the urgent, behind-the-scenes debate aid groups are having in the wake of a refugee crisis that has pushed almost 600,000 Rohingya from northern Rakhine State into neighbouring Bangladesh over the last two months.
A 4 October "working document" shows that international NGOs are drawing up a list of likely scenarios and "red lines" – clear deal-breakers that would force humanitarian groups not to offer aid in the proposed camps.
But there is disagreement among the NGO representatives over what would constitute a clear red line, the document shows. There is also "no common agreement" on what the policy should be in a number of possible scenarios: if Rohingya are forced into the camps; if Rohingya are relocated there from elsewhere in the state; if there is no viable resettlement plan; and if Rohingya are unable to move freely – a widely expected aspect of the camp proposal.
"There are folks who are focused on the pragmatic, humanitarian imperative stuff... and there are people who are wanting to follow a more principled path"
Central to the discussion are fears the proposed camps will mirror conditions in existing displacement camps in central Rakhine that rights groups have likened to "open-air prisons". The once-temporary camps were created after communal violence displaced 140,000 people – mostly Rohingya – in 2012. Five years later, barbed-wire fences and barricades still keep the camps on lockdown.
"Like 2012, it appears that displaced populations will be forced into overcrowded and underprepared camps that are 'controlled' or administered by the military," the document states. "Any new camps are likely to be established as a temporary solution but like [central Rakhine State], end up as a permanent situation of segregation from other communities."
This underscores the debate about what should take precedence when it comes to aid in the restrictive camps: the obligation to help a vulnerable population, or the need to hold back if direct involvement could entrench abusive conditions.
"That debate is dominating how the agencies are approaching this," a senior humanitarian source with knowledge of the discussions told IRIN.
"There are folks who are focused on the pragmatic, humanitarian imperative stuff, where the government is seen as the main duty bearer," the source said. "And there are people who are wanting to follow a more principled path where they might not engage."
Representatives from NGOs including Save the Children, Care International, Plan International, Oxfam, the Norwegian Refugee Council, the Danish Refugee Council, Solidarités International, Trocaire, the Lutheran Word Federation and Action Against Hunger were included in the discussions. The agencies did not reply to IRIN's request for comment.
Freedom of movement
Plans for the camp form part of Myanmar's resettlement solution to a crisis that has seen almost 600,000 Rohingya surge into Bangladesh since 25 August, when a group of Rohingya militants attacked border areas in northern Rakhine. Myanmar's military has been accused of a grossly disproportionate response, launching what rights groups call a "scorched-earth campaign" to root out and raze entire Rohingya villages.
Myanmar's de facto leader Aung San Suu Kyi said in a speech earlier this month that Myanmar could resettle Rohingya refugees – pending a murky citizenship verification process. But plans for this are vague, even while aid groups in Myanmar scramble to prepare.
Government spokesman Zaw Htay told IRIN that authorities would set up "temporary camps" as part of the resettlement process. Some camps would be located near a checkpoint at Taung Pyo Let Wea by the Bangladesh border – an area in which Amnesty International has accused the Myanmar military of planting landmines.
Zaw Htay told IRIN the camps would be a short-term solution for the returning refugees.
"The international community will rue the day if they decide to go along with this plan"
"They can return to their places of origin. At the same time, we are constructing new villages for Bengali people who come to return to our country," the spokesman said, using the government's preferred term for Rohingya, who are seen as interlopers from Bangladesh despite a long history in the area.
Asked whether Rohingya in the camps would be allowed to move freely, Zaw Htay said: "After the verification process, they can get freedom of movement according to existing laws."
However, only 2,000 Rohingya have been granted any form of citizenship rights under a previous verification process, according to the Kofi Annan-led Advisory Commission on Rakhine State.
Phil Robertson, deputy Asia director for Human Rights Watch, called Myanmar's camp proposal "a human rights disaster".
"The international community will rue the day if they decide to go along with this plan," Robertson told IRIN. "To put it bluntly, this is a plan for an open-air Rohingya prison, surrounded by barbed wire, hostile security forces and hateful Rakhine communities. The international community should boycott this proposal and demand that the right to return means going back to the locations where people lived before this latest wave of ethnic cleansing, and rebuilding there."
When asked about the establishment of new camps, Stanislav Saling, a spokesman for the office of the UN resident coordinator in Myanmar, said: "The return of IDPs and refugees should be voluntary and to the places of origin where they have the highest prospect of rebuilding their lives."
Do no harm?
In an internal position paper obtained by IRIN, the UN's refugee agency, UNHCR, also stressed the need to "avoid camps" in northern Rakhine.
"The establishment of camps or camp-like situations in northern Rakhine would carry considerable political, ethical, humanitarian, human rights and financial risks and should be strongly advocated against, regardless of their alleged temporary nature," the UNHCR stated in the September paper, which recommends "key messages" for the international community.
The refugee agency said the principle of "do no harm" should take precedence: "The need to respond to immediate humanitarian needs should not make the international community lose sight of the longer-term consequences of today's actions on the future of affected communities. These consequences should be considered from the start."
But it's unclear whether there will be a consensus among the 77 individual aid groups active in Rakhine before the August violence.
The 4 October working document warns that the government will insist on leading any humanitarian efforts, likely "picking and choosing" international counterparts while imposing greater restrictions.
It also outlines key questions still up for debate among the major aid groups: "Given the experience in [central Rakhine State], what constitutes doing harm? What are [the] alternatives?"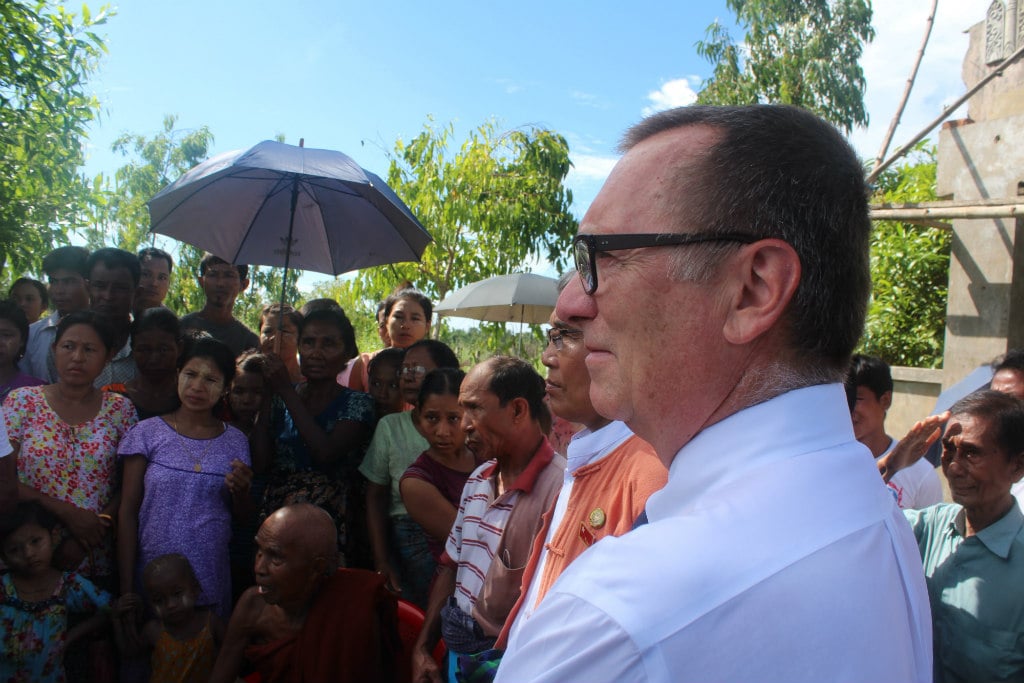 'Things won't go back to as they were before'
While aid groups debate the camps, they're also grappling with the more existential question of how to engage with a government that has grown increasingly resentful toward the international community amid intense criticism.
Related stories:

Internment fears as Myanmar plans new camps for scattered Rohingya

Rohingya exodus puts pressure back on UN rights probe
Long before the most recent violence, UN agencies were mired in an internal debate in Myanmar that has pitted development objectives against human rights concerns – mainly over the Rohingya issue. Divisions recently came to a head with the announcement that the UN's resident coordinator in Myanmar, Renata Lok-Dessallien, will be replaced at the end of the month. As IRIN reported earlier this year, an April 2017 memo sent to UN Secretary-General António Guterres warned this "dysfunctionality" was leading to the "growing irrelevance of the UN in guiding and defining the international community's efforts to address the challenges confronting Myanmar." 
On 17 October, senior officials from UN agencies and international NGOs met with Jeffrey Feltman, the UN under-secretary-general for political affairs, who was in the country for consultations with the government.
"We have to admit that things won't go back to as they were before," one senior aid official said, according to minutes of the meeting obtained by IRIN. "We need to redefine our role, our partnership with the government and the people."
Feltman told the meeting that the UN can come across as "arrogant", which the civilian government "deeply resents".
"[Myanmar's government] resents the fact that the UN/INGOs still think they're needed," Feltman said, according to the meeting minutes. "The government has realised the international criticism is not going to go away without some action – but they still want to do it independently. It may be that the action opted for by the government does not meet UN standards and we have to ask ourselves what our response will be if they do ask for help."
(TOP PHOTO: The office of an aid agency in a displacement camp for Rohingya outside Sittwe in Myanmar's Rakhine State.)
es/il/ag