It was nearly midnight when I got the call. So panicked was the voice on the other end of the line, it took me a few moments to recognise Monasar's voice. "Come now! Come and help us! The missile attacked us," he yelled.
I rushed out to my find my motorbike and then set off as quickly as I could, weaving my way across the pitch-black city. As I got closer to their home, there were new explosions – one no more than a kilometre away. Was that a second bomb near where they were hit?
After what felt like a lifetime, I arrived at the area, or what was left of it: a jumble of metal and concrete spilling out onto the street for several metres.
Time and again, I called for Monasar and his family, screaming at the top of my lungs. Silence.
Over the past six months, as a Saudi Arabian-led coalition has bombed the city I call home, targeting Houthi rebels and breakaway parts of the military, I've been to dozens of bombsites. Even as a Yemeni, it is hard not to become desensitised. Every day I wake up to hear that 10 people were killed last night, or 20, or 40. It almost stops feeling real.
More than anything you focus on protecting those you care for. I am a journalist working in a war zone, but I am also a husband, a son and a father.
While I have stayed in Sana'a, I moved my family out to a village away from the airstrikes, so I don't get to spend as much time with the children as I would like. "When will you take me to the park, Dad?" my five-year old son also asks me lovingly every week. The reply is always the same: "When the war stops."
For those who have stayed, I warn them constantly not to go too near military sites or even government buildings to avoid getting caught in a strike. So I thought I had done everything I could to protect those I loved. Then came Friday night.
Monasar is a distant relative, but he works with my cousins Hamzah, Ahmed, Ali and Mohammed.
They also knew the risks. Saudi bombs have hit residential areas dozens of times, while the Houthis too have fired from close to civilian homes. So the family moved back to our village a few months ago. But, like most Yemenis, just being away from the frontline doesn't protect them from suffering. More than 80 percent of Yemenis are in need of aid, and the family was desperately short of money and fuel.
In anticipation of the Eid al-Adha holiday, which will be celebrated by Muslims across the world this week, they returned to the city to sell raisins. With the few dollars they made, they hoped to buy stocks for the coming months and, if they had enough left over, maybe a few Eid dresses and sweets for their kids. Their shops have been shuttered for months, so they sold their produce from their cars or on the streets.
They had been sleeping in those same cars when the strike hit. There weren't any obvious military sites nearby. It is impossible to know if the strike missed its target or if the Saudis thought they were hitting something else. It doesn't really matter.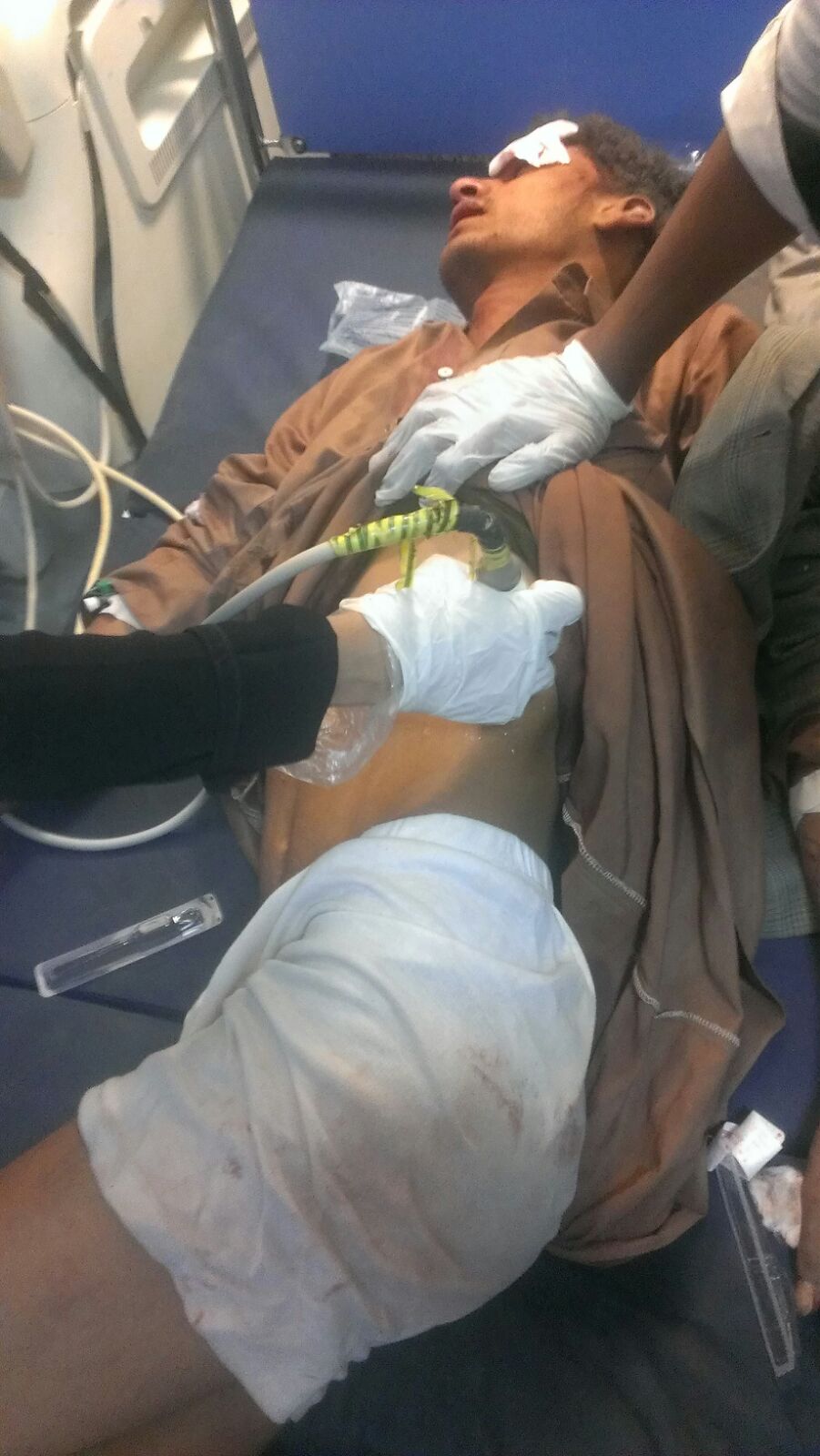 As I yelled out, I eventually saw two limping figures. I recognised Monasar, but the other person's face was distorted and caked in blood and dust. As I hoisted them both onto the motorbike I asked: "Who are you?" "It is me, Hamzah," he said, his eye badly wounded.
After what felt like a lifetime, we arrived at the Al-Thawrah public hospital. Doctors started to treat Hamzah, so I went in search of my other cousin Ahmed. Someone said he had been taken into surgery as he was seriously wounded.
In my rush down the hall, I narrowly avoided a gurney wheeling a charred body to the morgue. A few metres later, I saw another relative and asked about Ahmed. "He is there," he said, pointing grimly to the body I just passed.
The funeral was held in our village the next day, with Ahmed's wife and three children in tow. But that night in the hospital, in some way I didn't believe it was real. I needed to see his body to feel it, to understand.
Walking into the morgue, Ahmed's body was lying on the ground next to at least five others. "Why don't you put them in the freezers? " I asked. "It is already full," the doctor replied.
Seeing my shocked face, he said: "It seems this is the first time you have come here. We are in a war, we receive dozens every day."
am/aj-ag