As the flood emergency deepens in Pakistan, now affecting nearly 2.3 million people, humanitarian teams have mobilized to work alongside local government authorities to assess needs in the worst-affected areas.
Late monsoon rains earlier this month hit the mountainous areas of Gilgit-Balitstan and Pakistani-administered Kashmir, unleashing a torrent of water flowing into Punjab's agricultural heartlands. Swollen rivers breached flood defences, sweeping away thousands of villages as the
"super-flood"
surged south, wreaking havoc throughout Punjab, the country's most populous province.
The government's National Disaster Management Authority (NDMA) says 312 people have died, with 2,275,000 affected and nearly 1.7 million acres (687,965 hectares) of crops lost. Punjab Province declared a state of emergency as the flood spread through central areas, with Jhang District hit hardest. 
At a distribution by the Pakistan Red Crescent Society (PRCS) in the government high school at Vanike Tarar, where 250 households received food rations, Sher Muhammad, 85, looked on with a sense of bewilderment: "I have not seen such a flood, not since around the time of partition [1947]." 
Backed by the International Federation of Red Cross and Red Crescent Societies (IFRC), PRCS has been one of the first organisations to respond, working across eight of the 10 districts affected in Punjab. Muhammad Saleem, PRCS Punjab secretary, said: "We are aiming to provide food to those worst-affected in the days ahead, initially for 13,000 families."
Access has only been possible as flood waters have subsided - and the first PRCS distribution of food rations in Punjab took place in Hafizabad District at the weekend.
The district lies southwest of Lahore, where a flood surge spilling from breaches in the river Chenab engulfed more than 130 villages. Some have been washed away permanently, according to District Coordinating Officer Muhammad Usman. He acknowledged the efforts of the local administration and the District Disaster Management Authority (DDMA) which have been working with the armed forces to coordinate evacuation and rescue operations.
Over 500 roads under water

Access had been a major issue, with more than 520 roads under water across Hafizabad District. The area affected within this district alone totals 385 square miles (620sqkm), with 150,000 people affected. One third of those were without shelter, according to provisional estimates.
Saleem said the flooding has hit Punjab harder than the disaster of 2010, with huge volumes flowing directly into its agricultural heartlands from seven breaches in the river Chenab. 
In nearby Jhang District the flood waters remain high - water having flown from multiple breaches in flood defences. A further food distribution took place from the back of a truck at one of the few points accessible in the village of Jindyana Than Sadar.  As the waters here begin to recede, the damage is acutely apparent among a sea of mud.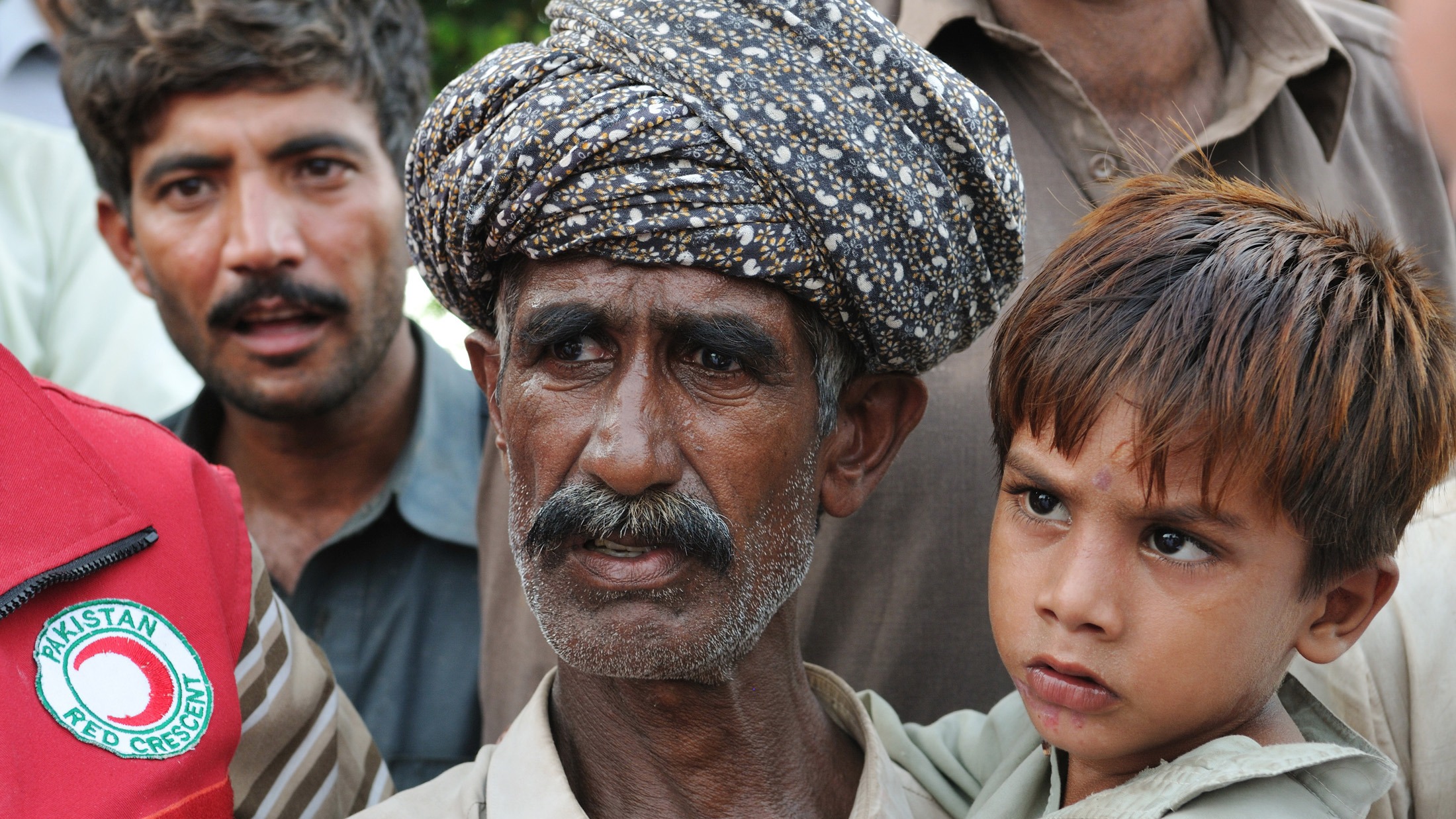 201409171306210140
Villager Bashir Ahmad, 42, said his wife and five children escaped the high flood by climbing trees. His house now gone, he said he was not aware that the flood would be so severe. The last time his village was affected was back in 1992. "This is worse," he said, surveying the meagre possessions he has been able to salvage from the mud. "It came suddenly," he adds. And his crop of sugar cane has been ruined by the more than five feet (1.5 metre) surge. 
A few miles away villagers have yet to receive assistance. The flood is only just receding and the surrounding farmland still lies under three feet of stagnant water. Here the community of tenant farmers constructed an array of flood walls, dykes and channels over the years. It was not enough to stop the flood, but limited the damage. 
Years of work destroyed
Farmer Sahib Khan's two-bedroom home was washed away. His five acres of crops are lost. He has the look of a defeated man, who has seen years of work destroyed within a few days. "The children are growing weaker with each passing day," he said. They, along with other youngsters in the village are suffering from diarrhoea, eye infections and skin disease, said the 64-year-old.
His neighbours have suffered similarly, though most of their livestock were moved to the higher ground on top of the nearby flood wall. But the villagers here have no food, limited water and no access to medicine. 
Khan says the people were taken unaware by the speed of the flood. "There were warnings," he said. "But people do not want to leave everything they own, worked for over many years." So the community hoped its own flood defences would protect them. Yet they failed to stop the torrent of water.
IFRC senior field coordination officer Kamran Ali Kashif said that although the immediate flood surge had largely passed through Punjab, it was only the start of the emergency which was likely to bring a range of additional hardships and further threats.
"Food is the immediate priority and fresh water," he said. "But there are other issues, including risks to health in the days ahead as those affected are exposed to sickness," Kashif said. Water, sanitation and hygiene needs are acute, as is shelter for many currently living in the open, he said. And restoring livelihoods is a key issue in the months ahead if communities are to recover.
Rapid assessment training of UN and NGO inter-agency teams, also including government officials, has been taking place in five districts across Punjab, and data collection is planned to start this week, according to the UN Office for the Coordination of Humanitarian Affairs.
Meanwhile, the flood surge is still pushing south, threatening millions more vulnerable people in upper Sindh Province.
ag/jj/cb
---
This article was produced by IRIN News while it was part of the United Nations Office for the Coordination of Humanitarian Affairs. Please send queries on copyright or liability to the UN. For more information: https://shop.un.org/rights-permissions