In the aftermath of Haiti's 7.0 magnitude quake, one of the Caribbean's largest antiretroviral (ARV) programmes is struggling to resurrect itself from the rubble.
The Haitian government estimated that 24,000 Haitians were accessing ARVS before the quake, now, fewer than 40 percent of those on treatment have been able to access ARVs, according a recent
UNAIDS situation assessment
.
Reports by UNAIDS, the World Health Organization and key ARV providers in Haiti paint a picture of uneven treatment access in the early recovery period, and fears of new infections and drug resistant HIV and tuberculosis (TB) are rising.
Haiti
has an estimated HIV prevalence rate of 2.2 percent, second only to Bahamas in the Carribbean and one of the world's highest outside of sub-Saharan Africa, according to UNAIDS.
Treatment disruptions
A joint assessment by UNAIDS and the Ministry of Public Health found that ARV treatment centres were still not fully functional in three of Haiti's hardest hit departments (administrative districts) - Ouest , Sud-Est and les Nippes.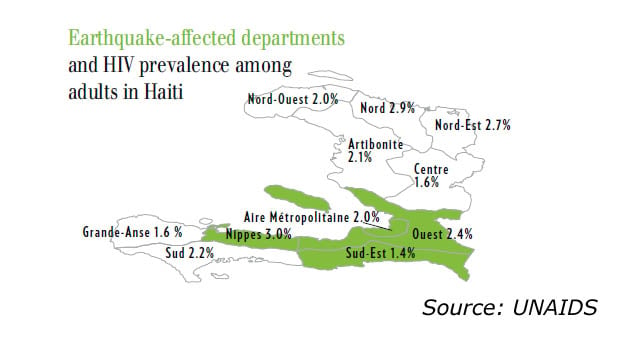 201003031329020473
Photo: UNAIDS
Haiti's hardest hit departments, shown in green, housed the bulk of the country's HIV services
A UNAIDS report released late last week said although the three departments housed the bulk of the country's ARV sites, they were all reporting low attendance. Tim Martineau, director of UNAIDS Programme Effectiveness and Country Support Department, said community workers and networks of people living with HIV no longer had the resources to trace lost patients.
Prevention of mother-to-child transmission
(PMTCT) services in these departments has also been affected, some for as long as two weeks. "In institutions assessed by the [joint] team, it was reported that in many instances babies and mothers have not received ARV drugs during and after delivery," Martineau said.
"The major challenge was that the maternity buildings were damaged, and deliveries were taking place under suboptimal standards, making the PMTCT process impossible to implement," he told IRIN/PlusNews. 
UNAIDS said it would take an immediate injection of USD$70 million to keep
HIV services
running for the next six months, but Martineau noted that the US President's Emergency Plan for AIDS Relief (PEPFAR) has already pledged its annual commitment to Haiti. 
He also noted that there are indications that USAID will increase its commitment later in the year. The
Global Fund to Fight AIDS, Tuberculosis and Malaria
made money available in the immediate aftermath of the disaster and was looking at ways to adapt their programming in Haiti to post-quake conditions.
In contrast, the recent assessment found that clinics in these departments operated by the Haitian Group for the Study of Kaposi's Sarcoma and Opportunistic Infections (GHESKIO), one of the oldest medical NGOs fighting HIV/AIDS in Haiti, were operating at 80 percent capacity.
Treatment under fire
GHESKIO provides HIV and TB treatment nationally and its ARV patients include 60 percent of those enrolled in Haiti's national ARV programme, according to its director, Dr Jean William Pape, who said the organization had been able to account for most of the patients across its 28 ARV sites nationwide since the quake.
Pape credited experience and planning for this success. "You need to plan for crises - we've had political uprisings,
periods of violence
[and] hurricanes, so we regularly give patients two weeks of additional drugs, including TB drugs, because these crises usually last a couple of weeks."
Managing disasters and averting potential disruptions is part of treatment literacy at
GHESKIO
, where patients are given emergency phone numbers and told where alternative treatment sites are located in case it becomes too dangerous to visit their usual clinic.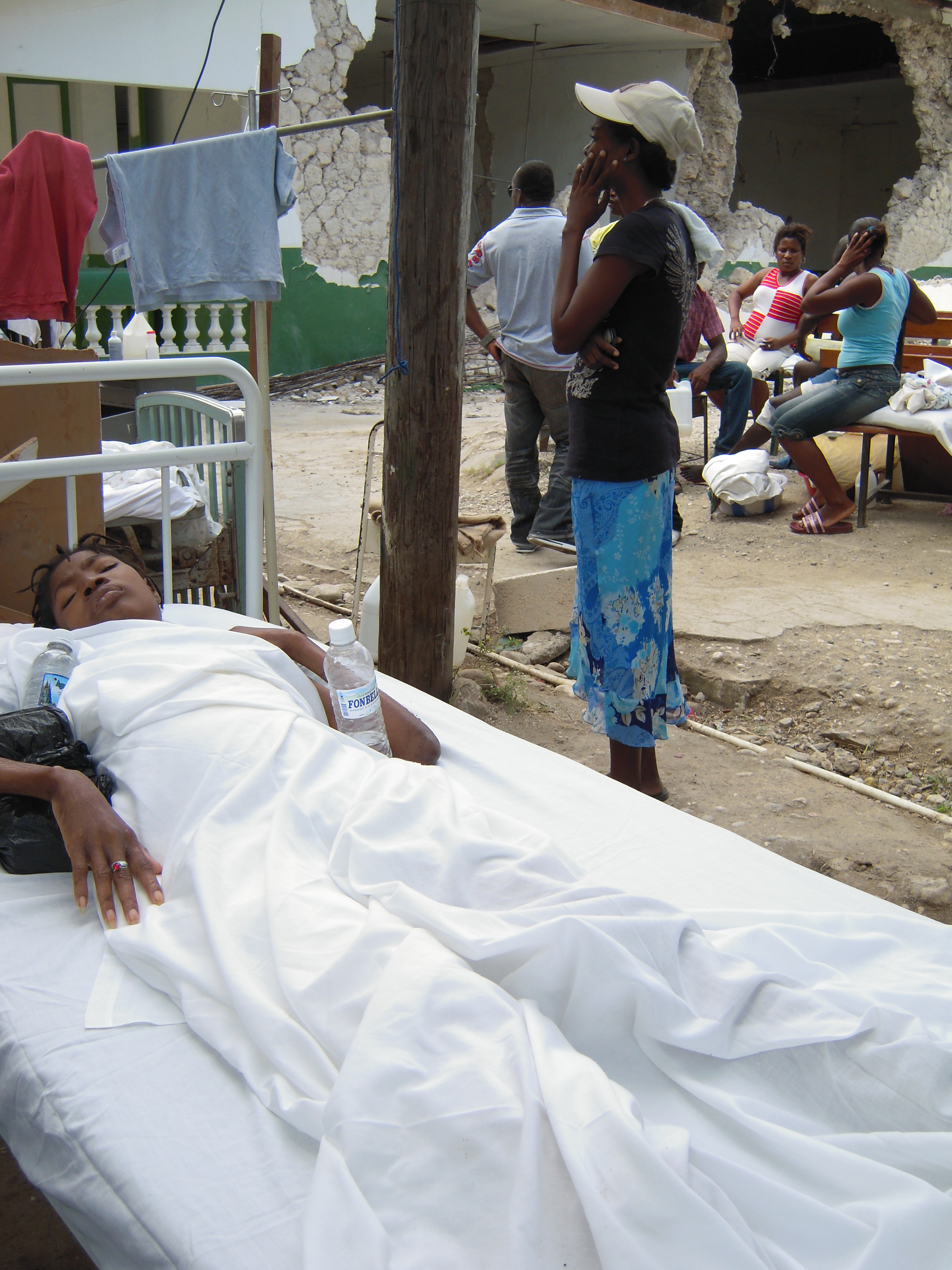 201001300129470318
Photo: Phuong Tran/IRIN
ARV initiation has slowed as patients seek medical attention for wounds and fractures
The organization has been able to reach most of its patients via mobile phones, but Pape added that GHESKIO also uses what it called the "correspondent" system - using neighbours to trace lost patients - although this has worked less well since the earthquake, as people have moved out of hard-hit Port-au-prince. The organization has also broadcast information on how to access treatment on national radio.
GHEKIO is fortunate to have retained capacity that many other sites have lost, such as the ability to perform CD4 counts – a measure of the immune system's strength required for starting treatment. Pape said treatment initiation has slowed since the earthquake, and that many people had come to GHESKIO's field hospital in need of care for fractures, wounds and other injuries.
A population in flux
Partner in Health (PIH), another medical organization, works in departments such as Artibonite, which were farther from the quake's epicentre. Joia Mukherjee, medical director of PIH, said most of their patients had not missed ARV doses, and that with post-quake
migration out of Port-au-Prince
she expected their patient load would rise. CD4 count testing is also available at PIH facilities.
"We are still seeing migration out of Port-au-Prince and I think this will eventually become circular," she said. "What some of our colleagues are saying is that many [are returning to the capital but] are choosing to leave their
children
behind because they feel the city isn't safe for kids."
PIH has started issuing patients with
health passports
– pocket-sized versions of recent medical records – to facilitate treatment across departments. "We are probably going to see a lot of people going back and forth as they try to put their lives back together, and that's always a risk factor for HIV," Mukherjee told IRIN/PlusNews.
New realities, new risks
Since the earthquake, PIH has temporarily moved into four major camps for the displaced in the capital, Port-au-Prince, working alongside
GHESKIO
to help service an estimated 80,000 people. Mukherjee said there was little time to lose in addressing the new paradigm of HIV risk caused by displacement, and averting new HIV infections.
"In the camps we're finding new cases and are referring those people to GHESKIO ... clinics where they can access treatment in the long run. If you see the way people are living, there's no way that sex is not being exchanged for things like money, food, shelter or security," Mukherjee told
IRIN/PlusNews
.
PIH has launched a prevention campaign aimed at young people in the camps, and UNAIDS has called for prevention programmes to be revitalized and tailored to post-disaster circumstances.
As part of the prevention push, the United Nations Populations Fund (UNFPA) has begun distributing post-exposure prophylaxis kits to
rape survivors
in and around Port-au-Prince, but UNPFA Regional Communications Adviser, Trygve Olfarnes, said demand has been low.
Haiti has the highest per capita TB burden in Latin America and the Caribbean, according to the World Health Organization. Mukherjee said poor living conditions and
problematic access to food
made TB a looming threat.
Pape has set up a TB field hospital, as GHESKIO has the only laboratory that can perform even basic TB tests such as smear sputum microscopy. The government of Haiti is working with GHESKIO to set up TB services in camps housing the city's displaced people.
llg/kn/he
---
This article was produced by IRIN News while it was part of the United Nations Office for the Coordination of Humanitarian Affairs. Please send queries on copyright or liability to the UN. For more information: https://shop.un.org/rights-permissions