West African diplomats were due in Togo on Saturday to try to bring an end to a political crisis, sparked by disputed elections results that brought urban warfare to the streets of the capital and other towns this week. Faure Gnassingbe, the declared winner of Sunday's presidential elections and son of Togo's late authoritarian leader, said that the West African nation was not headed for civil war and that he wanted to work with the defeated opposition. "If they refuse tomorrow, then I hope that the day after tomorrow they will accept," the 39-year-old, whose father Gnassingbe Eyadema ruled for almost four decades, told French daily Le Monde in an interview published on Friday. Youths armed with rocks and machetes fought days of pitched battles with soldiers and riot police in opposition strongholds of the capital Lome and other cities after the election results were announced on Tuesday. The opposition has refused to recognise Gnassingbe's win, saying the election that brought him to power was deeply flawed, with soldiers carting off ballot boxes and masses of opposition supporters left off the voter register. Emmanuel Bob-Akitani, the candidate for the six-party opposition coalition who has declared himself president, told the Togolese they must prepare to fight with their lives. The Togolese League of Human Rights said at least 50 people had died across the country since Tuesday's results, and more than 200 had been wounded. It added that these numbers could well rise. "It's difficult to establish a more accurate toll because there are those that are in hiding and those that have disappeared," Adote Akwei, the head of the group, told IRIN by telephone on Friday. He said scores of people had been detained by security forces but any request for information from the authorities was met with "radio silence." Gnassingbe said on Friday he did not believe the country would spiral into the sort of chaos that has engulfed much of West Africa over the past decades. "I don't think that Togo is going to tip into civil war," he told Le Monde. "I have confidence in the security forces."
Thousands continue to flee abroad
But thousands of Togolese have headed to the safety of neighbouring Benin and Ghana. The UN refugee agency (UNHCR) on Friday estimated that almost 7,000 people had fled the political violence, up from 4,000 just a day earlier. "UNHCR is urging Togolese politicians to find a peaceful resolution to the current crisis and to avoid triggering a humanitarian emergency," spokesman Ron Redmond said in a statement. The Economic Community of West African States (ECOWAS) said it was sending a delegation to Lome which would include its executive-secretary, Mohamed Ibn Chambas; Niger's Foreign Minister Aichatou Mindaoudou; and the Nigerian Minister of Cooperation and Integration in Africa, Lawan Guba. "The delegation is being despatched by the ECOWAS Chairman, President Mamadou Tandja of Niger in continuation of ongoing efforts by the region to resolve the crisis in the country," the 15-nation body said in a statement. Togo sank into chaos on 5 February when Eyadema died. His son seized power with the backing of the army but eventually quit and agreed to hold polls after intense international pressure and violent protests at home.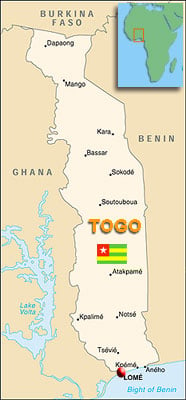 3012444
Sporadic violence continued in the build-up to Sunday's polls and even before Togo's election results were announced, Nigerian President Olusegun Obasanjo said he had brokered a deal where the two sides would form a government of national unity. But less than 24 hours later fierce fighting erupted in Lome and elsewhere, including the eastern coastal town of Aneho 45 km away, and Atakpame, 130 km north of Lome. Despite the violence, diplomats said a unity government was still the blueprint for solving Togo's political crisis, and Gnassingbe was sticking to that line. "Reconciliation is a long process," Gnassingbe was quoted as saying by Le Monde. "We don't go overnight from a regime that lasted 38 years to a new one. But we are continuing our efforts to set up a transition government."
Government of national unity?
However, Gilchrist Olympio, the main opposition leader who delegated Bob-Akitani his proxy after being banned from contesting the election himself, said the opposition would not stomach being a puppet. "It's out of the question being a second-class citizen," he told IRIN by telephone from Ghana. "The opposition says no to Faure." "We want a new opposition-government structure which would organise new elections... presidential and legislative, with all that that entails: revising voter lists, distributing new cards, using indelible ink," he added. One western diplomat in Lome said he expected the opposition to propose to ECOWAS that interim president Abass Bonfoh stay on as leader, but that Gnassingbe would not accept that. The streets of Lome were calm on Friday, with much of the debris from the violence cleared away, leaving just the odd scorch mark as a reminder of the week's turbulent events. A small amount of traffic was on the roads although most shops kept their doors shuttered. And the seaside city remained tense. "It appears calm to the eye but the repercussions are continuing," Akwei of the Togolese League of Human Rights said. "Just now as I'm speaking to you, we're getting reports of soldiers systematically going into houses in opposition neighbourhoods and beating people up." Foreign institutions have also been targeted. Diplomats and residents said armed men had shot their way into the German cultural centre, before setting fire to it and gutting the inside. Togolese government officials have criticised the Germans for supporting the opposition, and flyers have been circulating in Lome, accusing the German ambassador of being a "drug-dealing Nazi". Although the mass street violence has now subsided, many protesters have vowed that their struggle is not over, and there could be fresh street fighting next week when the definitive election results are pronounced by the constitutional court. The provisional count gave Gnassingbe 60 percent of the vote and Bob-Akitani 38 percent. "They (Saturday's talks with ECOWAS) are not going to stop the violence," one diplomat remarked gloomily. "The violence will start up again with the official announcement of the results."
---
This article was produced by IRIN News while it was part of the United Nations Office for the Coordination of Humanitarian Affairs. Please send queries on copyright or liability to the UN. For more information: https://shop.un.org/rights-permissions