Russia's war has had a devastating impact on healthcare provision in Ukraine. The World Health Organization (WHO) has recorded more than 1,100 attacks on its healthcare system since the invasion began on 24 February 2022, and more than one in 10 Ukrainian hospitals have been directly damaged by the war. 
In some areas occupied by Russia, people have had little or no access to medicine since late February 2022. Where Russian forces have retreated, lack of transport and utilities, and the dangers of shelling and landmines, complicate the restoration of even basic health infrastructure.
Inhabitants of villages that have been retaken by Ukraine have to make expensive, difficult, and dangerous trips to less damaged areas for medical services – or wait for volunteers and aid agencies to risk bringing medicines and doctors to their frontline regions.
Over the past six months, The New Humanitarian travelled with Alliance for Public Health (AHP), a Ukrainian NGO, to a dozen villages and towns near the front lines in the Kherson and Kharkiv regions in the east and southeast of the country.*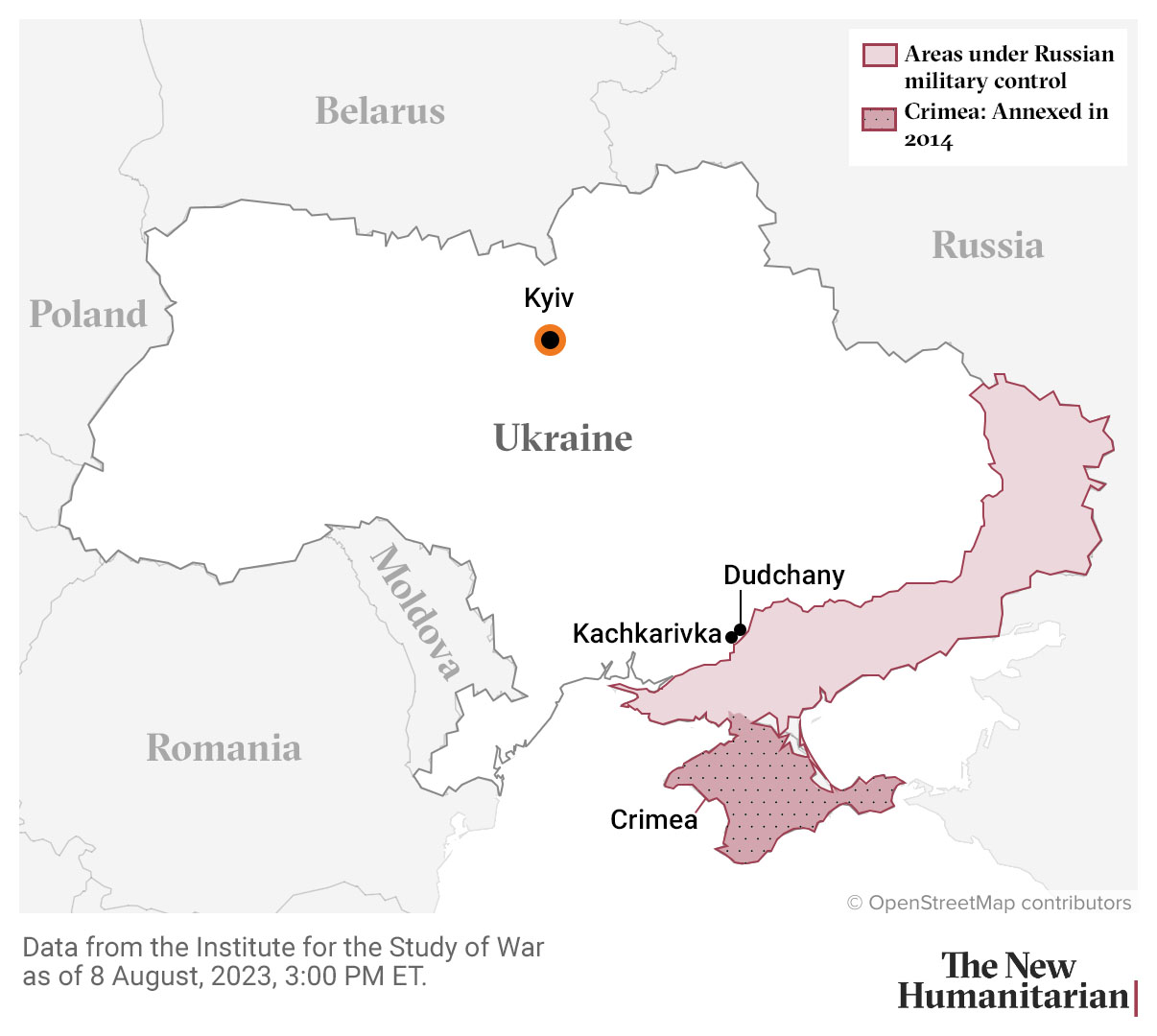 APH is one of several organisations sending mobile clinics – vans kitted out with medical equipment, tests, and medications – to formerly occupied areas. The vans are staffed by doctors and nurses who conduct tests, make diagnoses, and prescribe medicines. The convoys, driven by volunteers, also deliver free home first aid kits and other humanitarian aid.
Even before Russia's full-scale invasion, healthcare coverage was poor in many rural areas of Ukraine, especially the Donbas region in the east where the war has been ongoing since 2014. Not enough doctors, poor public transport, and poverty meant people put off dealing with health issues, often until it was too late. 
Now, the stresses of full-scale war, months of sheltering in damp, unheated conditions, and a lack of testing or prevention for infectious diseases are compounding health problems. People can't afford medications even if they are available, or lack internet and delivery services to get them for free from the government's Affordable Medicine Programme. 
In areas visited by the convoys, The New Humanitarian found local people trying to survive, and even gradually rebuild their lives, amid the devastation left by occupation and from ongoing Russian attacks. More than half of the pre-war populations of these now-liberated villages have fled. Most who remain – although far from all – are pensioners who have nowhere to go, or who refuse to leave the homes and small family farms they've built and tended over decades.
"There are a lot of traumatised people," said Volodymyr Shlonskyi, a general practitioner who fled his home in the Kherson region in February 2022, leaving behind a thriving medical practice. 
Shlonskyi's hometown is still occupied by Russia and was catastrophically flooded when the Kakhovka dam was destroyed on 6 June. Shlonskyi travelled with an APH medical team to different parts of Kharkiv and Kherson between December 2022 and May 2023. "Depression, stress, and worry – especially among older people – and chronic diseases [are] getting worse," he said. 
'We stole our own medicines'
Kachkarivka is one of the villages The New Humanitarian visited with APH in the Kherson region. At the beginning of 2022, the community was about to open a new hospital. It was supposed to be located in renovated clinic buildings and serve several villages along the right bank of the Dnipro river, where it widens into the Kakhovka reservoir.
Then war intervened. When Russian forces invaded, the doctors who were to have run the hospital – a couple, expecting a baby – managed to flee before the village was occupied. Over the next nine months, Russian forces turned the clinic buildings into a headquarters, a military hospital, a rubbish dump, and a bombed-out ruin. 
Kachkarivka was liberated in November last year. But with almost daily shelling from the Russian army dug in seven kilometres away on the other side of the river, nothing has replaced the planned hospital or the village's now-closed pharmacy. The wrecked and looted clinic remains a monument to occupation.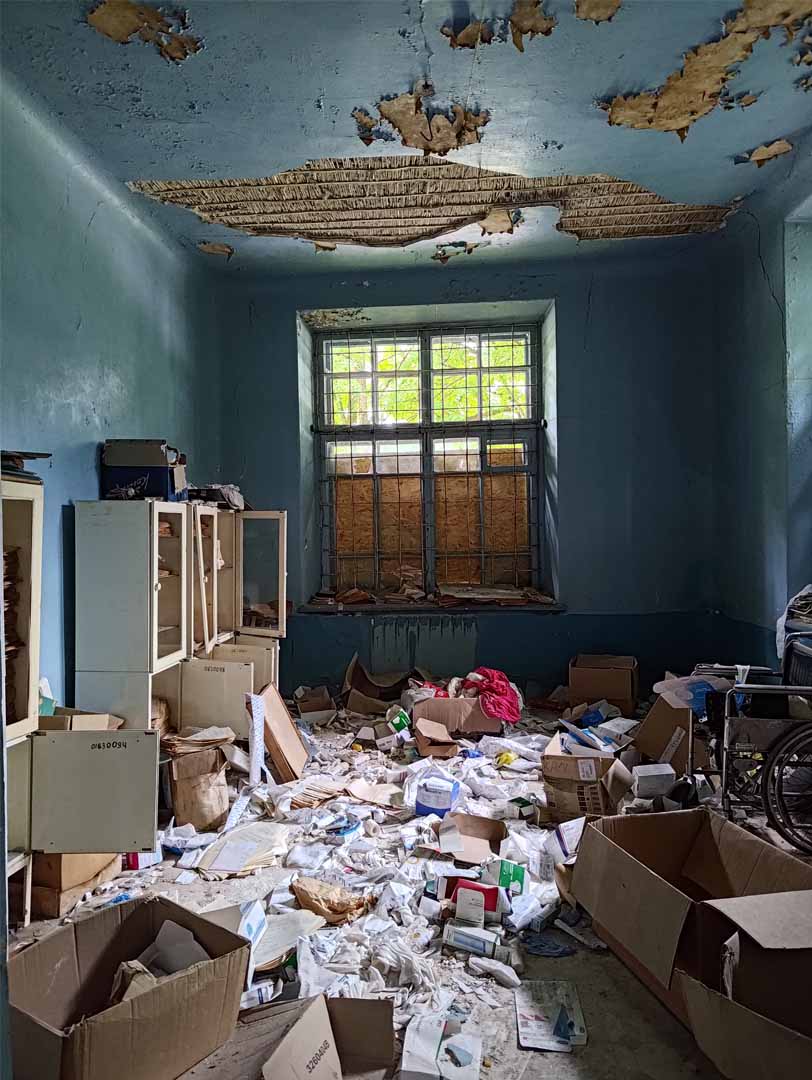 Inside one building, broken glass and medical supplies – including syringes, face masks, and COVID-19 tests – still litter the floor amid Russian military ration packages, children's pictures sent to Russian soldiers, and the burnt remains of a Ukrainian flag. "They broke everything open and threw it around and ruined it and smashed it up," said Natalia Butivchak, a nurse, and the village's only remaining medical worker. "This is what Russia brought us."
Humanitarian aid from Ukrainian and international agencies has poured into these liberated areas. In Dudchany, 15 kilometres upriver from Kachkarivka, the club sports hall – one of the only municipal buildings still more-or-less undamaged by shelling – is stacked high with bottled water, food parcels, clothing, and packaged prefab houses. Local people have received small one-off cash payments from international agencies. But there has been no electricity since last October, and the delivered drinking water can't provide for agricultural needs since the destruction of the Kakhovka dam reduced the water supply.
The availability of medical care and medicines is another issue that humanitarian aid hasn't been able to resolve in these areas. Visiting teams can provide primary care and refer patients for secondary or tertiary services if necessary. But in the frontline conditions, they know that their referrals may never be followed up.
"I see cancer patients who can't get treatment at all now, and they die," said Ivan Chervynskyy, an oncologist who works with the mobile teams.
Locals are doing their best with what they have: Dudchany's small primary medical centre is still operating despite a hole in the roof from a New Year's Eve missile strike.
Olena Petyakh, the village's paramedic, who stayed throughout the occupation, prescribes the free medications she gets from volunteers and from the local administration that tries to cater for the 500 remaining inhabitants – out of a pre-war population of around 2,000. She also organises transport for patients to the nearest hospital – 40 kilometres away – all while caring for her own elderly mother, who has cancer.
The Russian forces that occupied Dudchany constantly searched Petyakh's house and took over her medical centre for their headquarters. "We stole our own medicines," she said, describing how she hid supplies that Ukrainian volunteers had managed to deliver by burying them in the garden and up the chimney. 
The ambulance she used to transport villagers injured by shrapnel through more than 20 checkpoints to a hospital – also in Russian-occupied territory – was finally confiscated in September last year by Russian soldiers, who gave Petyakh an ultimatum to leave or be arrested. 
Three days later, Ukrainian forces retook half of Dudchany. For a month, the front line ran right through the village, until the other half – along with Kachkarivka further downriver – was also retaken by Ukraine.
"I'm describing it now, and I'm getting goosebumps," said Petyakh, as she talked about neighbours tortured in Russian detention, or who disappeared only to turn up dead after the Russians retreated. "It seems as if it didn't happen to us, like it's a movie or something."
Providing care amidst violence and disaster
Chervynskyy – who was displaced from Donbas after it was occupied by Russia in 2014 – and fellow doctor Svitlana Fedorova, from the mobile clinics, agree that understanding the experience of people living in de-occupied territories, and providing basic psychological support, can be as important as medicines. 
"They are alone," Chervynskyy said. "They need somebody to talk to: someone in their family died; someone went missing; someone stopped treatment for chronic illness. It's very important for these patients. First of all, they are people, not patients."
The mobile team returns to the same villages regularly, so they can see the effect not only of their treatment, but also of the violence and disaster the war continues to bring to these communities.
"Any state of joy after de-occupation has worn off, and the anxiety has gone deeper." 
The New Humanitarian made a second visit to Dudchany and Kachkarivka with Fedorova and Chervynskyy in late June, three weeks after the Kakhovka dam downriver was destroyed. The water that used to edge the villages, and that separates them from Russian forces, had receded to a distant stream. A heavy rotting smell wafted from the exposed reaches of mud and sand. 
An even bigger disaster loomed: Village leaders were compiling lists for evacuation in case the Zaporizhzhia nuclear power station, about 90 kilometres away, is blown up by Russian forces. Although clearly panicked, few were agreeing to go. They said they have already survived so much. 
"Any state of joy after de-occupation has worn off, and the anxiety has gone deeper," said Fedorova, a head doctor from Mykolaiv whose warm, no-nonsense attitude coaxes many villagers to talk about their fears and frustration. "They don't feel there is any place in their own country anymore where they can be safe."
The previous night, Kachkarivka was bombarded from over the river. More houses were destroyed and a cow was killed. People still came to the convoy of three white vans – parked where they can't be seen from the Russian positions – to get a first aid kit or a consultation. Many villagers thanked the team, and some brought gifts of home-grown vegetables or eggs. But the visiting doctors and drivers also sometimes have to bear the brunt of people's anger and grief about the war, or handle those who have sought to ease their distress with alcohol.
A woman in her forties called Antonina burst out crying after Chervynskyy diagnosed a problem with her thyroid gland. "I don't know how to keep on living," she said. "We lived here without bothering anyone. And now, I just don't know."
At first, it seems like a reaction to his diagnosis. But she carried on: "At a quarter to eight, [the shells] were already falling. We went down into the cellar. And exactly at eight, one smashed into our house." 
A missile the previous evening flew right through her family home and into a neighbouring yard. "If we'd been in the house, all three of us would have been killed: my son, and my husband, and me. We'd all be dead. And that's how we live: every minute in terror, every minute shaking, just not knowing what will be next."
"But we're going to live, aren't we," Chervynskyy, who has also lost a home once to the war, said to her encouragingly. "We're going to reduce all this stress and take the medicine and go to an endocrinologist for tests, right?"
"Of course. I'm going to try to live, to survive," Antonina agreed with the doctor. She tried to smile. "I want grandkids, I don't want to die."
*The author was working with Alliance for Public Health writing case studies about the organisation's programmes at the time these trips took place.
Edited by Eric Reidy.