Syria's crushing economic downfall has impacted just about every aspect of life, including things many would rather not talk about. The cost of menstrual products has soared so high that the often-taboo topic of period poverty is starting to creep out into the open, as women resort to dangerous methods to get by while others step up to try and help.
In 11 years of conflict, the tumble Syria's economy has taken recently has been its steepest yet, with already-high hyperinflation worsening in late 2019 (in tandem with neighbouring Lebanon's financial collapse): The UN says nine in ten of the nearly 22 million Syrians are now in poverty, and a record 60 percent risk going hungry this year. 
Prices of basics like food and fuel are up – driven higher by the conflict in Ukraine – forcing families into difficult decisions about what to buy at the market. The cost of disposable pads – the most popular and widely available choice of menstrual products in Syria – has increased by leaps and bounds since 2011, meaning they're often left out of the shopping basket. Many women are instead forced to use rags and scraps of whatever fabric they can spare to absorb their periods, which can result in a variety of health problems, including bacterial infections.
Read more → Lebanese women fight period poverty with eco-friendly solutions
Eman, a mother of three daughters from Damascus, told The New Humanitarian that buying enough pads for her entire family has become a heavy emotional, physical, and financial burden. Together, their needs come to almost $5 a month, in a country where the average monthly salary is lower than $40. "We can't afford that. There was a time when I had to choose between buying food and pads," explained Eman, who asked to use a pseudonym out of respect for her family's privacy.
Her daughters switched late last year to "using rags and other pieces of cloth instead of pads", Eman said, adding that they "stay home from school or university on those days, unless it's urgent… the discomfort is indescribable."
Pre-war, a locally made pack of four disposable sanitary pads cost between 15 and 25 Syrian pounds, one cent by today's exchange rate and 11 cents back then. By 2019, prices had jumped to between 600 and 1,000 pounds, depending on the brand and size. Since then, they've reached 2,500 to 4,000 pounds. That's between $1 and $1.50 at least once a month by the official exchange rate, a cost that is out of reach for many Syrians.
Enter Utopia, a small NGO that has been hand-sewing reusable pads in its small workshop in the southwestern city of as-Suwayda since the start of the year, offering a cost-efficient and eco-friendly solution to women like Eman and her daughters. 
Eman heard about Utopia when she was visiting family in the area – neighbours had been using and talking about the pads, and she ended up buying a few when she was in town. Each pad cost her 1,000 Syrian pounds, or around $0.40. It's still an investment for her, but one she's glad she made. "It made such an immense difference," Eman explained. "The initial cost is big, but the long-term savings are bigger – not to mention the reassurance that one won't leak while in public."
A limited but growing operation
That's exactly what the women of Utopia were hoping for when they rented their as-Suwayda workshop in November, and got to work in January, thanks to 10 million pounds – or $2,700 – raised from wealthy Syrians at home and abroad.
Inside the humble premises last month, three women sat with their backs arched, leaning over sewing machines and stitching plain white reusable pads for as long as the brief electricity supply allowed.
The workshop, along with the rest of the city and much of Syria, gets about one hour of electricity followed by five hours off, the result of government rationing of the limited power supply from Syria's war-ravaged power plants.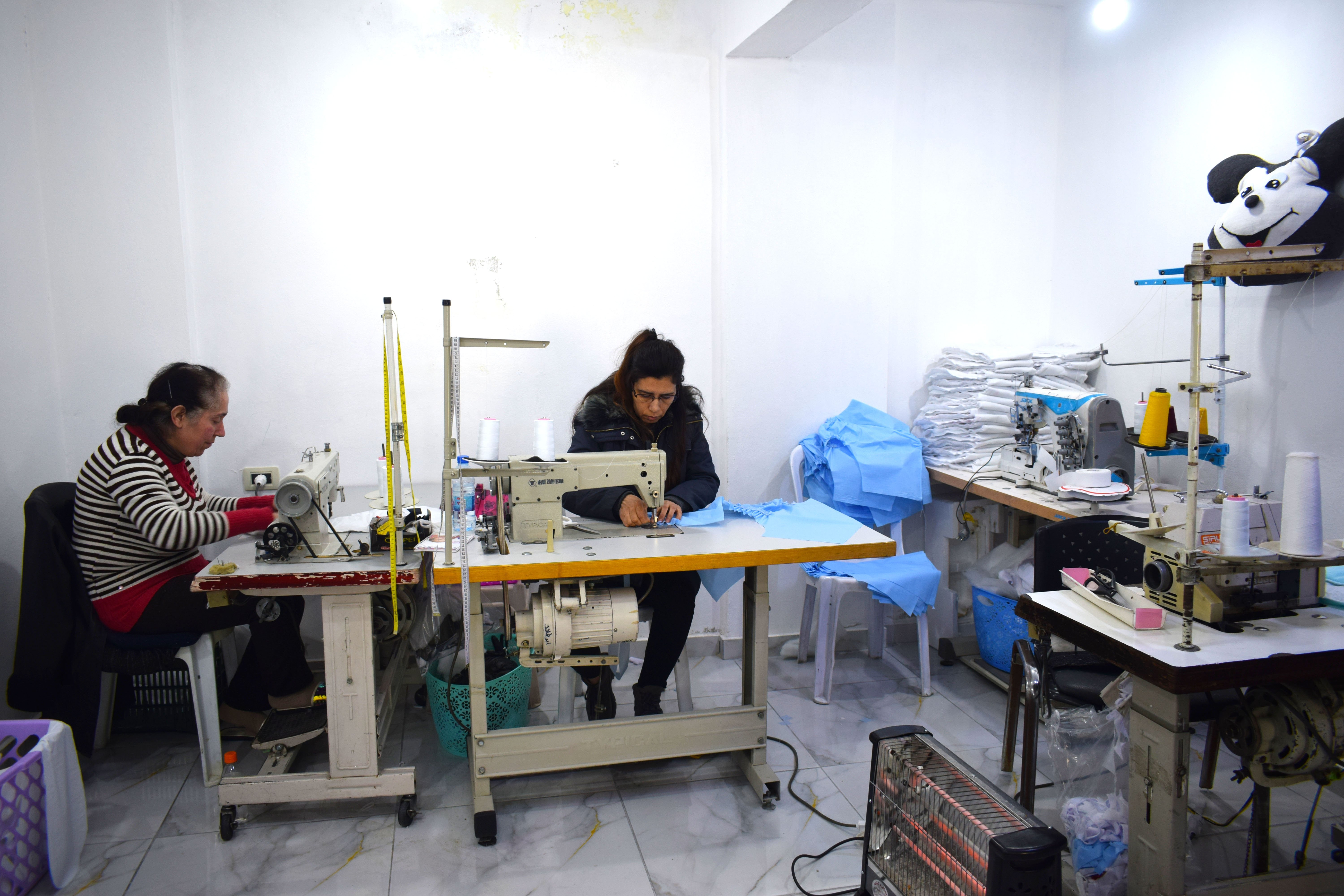 This leaves Utopia's small team with just that hour to sew the fabric they've prepared and cut out during the time they're without power. "Electricity is a big challenge as it slows down production," said Nadia Nasr, the manager of the workshop.
The 20 or so pads they make a day has so far been enough to meet demand: in total, Utopia has sold or donated around 370 reusable menstrual pads, plus 900 nappies for babies and elderly people. But more people are seeking out the pads as word of Utopia's products spreads. According to Nasr, 120 menstrual pads and 800 nappies were sold in April alone.
Before it got into the menstrual pad game, Utopia had done a variety of aid work, including distributing food and medication, and funding education for students in need. This continues, but Nasr said: "It's this growing need among women, and the discomfort and panic that they live through each month, that brought about the idea of creating longer-lasting, cost-efficient menstrual pads."
Utopia says it is the first place in Syria to make and sell reusable pads, which are largely alien to Syrian society. Nasr explained how they sell the pads at the manufacturing cost of 1,000 pounds each, and are only able to keep the price down by sourcing materials from Aleppo, where they cost less than in the capital or as-Suwayda itself.
"We, too, experience this difficult economic situation and have heard endless stories from families struggling to afford their needs of sanitary pads and nappies for their babies and elders," she told The New Humanitarian.
'An ignored topic'
Utopia hopes that making and distributing their pads can help fight stigma, given what activists say is a dearth of information and a reluctance to discuss the problem of period poverty inside Syria.
"It's an ignored topic, but it's there and it's widespread," Haneen Ahmed, a Damascus-based feminist activist, told The New Humanitarian. "It's not just the difficulty of obtaining sanitary pads; it's also obtaining painkillers," she added. "These items have gotten increasingly unaffordable throughout the years of war, but more so in the past two years."
Utopia's work has become even more vital given that international and local aid groups have struggled to provide enough assistance of any kind, let alone menstrual pads, alongside ballooning poverty rates. 
Arab Women's Society, a local NGO in the eastern province of Deir Ezzor, has been working with the Syrian Arab Red Crescent and the Syria Trust for Development to distribute hygiene kits, including menstrual pads, to families in their area. 
But Mayyada Sarhan, the society's director, told The New Humanitarian that fewer women and girls had been receiving such assistance across Syria: "Limited donations, and the sheer number of those needing such relief, means that aid only reaches a very limited percentage."
The society managed to hand out around 20,000 kits in 2018, the year after Deir Ezzor was liberated from the so-called Islamic State. After that, the NGO and its partners switched tactics – in part because of the pandemic – requiring women in need to apply for aid, including these "dignity kits". Sarhan said the society and its partners now hand out menstrual and other hygiene supplies to 1,200 women in her region, three times a month. She estimates this only covers a fraction of the poorest women in rural parts of Deir Ezzor. 
Sarhan added that some families were resorting to marrying their daughters off at a young age to reduce expenses, including period supplies. Given the massive countrywide gap between need and supplies, Utopia's efforts are commendable, she said, even if they are starting slow and small.
While most Syrian women aren't accustomed to reusable pads, Sarhan thinks the scale of period poverty means that "to those women in need, it makes no difference if pads are reusable or disposable pads. So long as they don't leak."
Ahmed, the feminist activist, agrees. Reusable pads, she said, aren't a taboo in Syrian culture or religion. "They're just not customary," she said, noting that widespread deprivation has eased women into the idea, with some people making their own versions of reusables from pieces of mattresses. All it would take for the idea to gain greater acceptance, she thinks, "is proper advertisement".
Pad washing challenges
For now, Utopia is relying on word of mouth and social media to get the message out, although Nasr hopes the group will be able to expand its assistance in the coming months. 
Seham, a mother of a one-year-old from as-Suwayda who asked that her surname not be published for privacy reasons, found out about Utopia's pads on Facebook. Until then, she had been dealing with her period with bits and pieces of her son's diapers. 
Her period, she said, "gets more stressful, upsetting, and uncomfortable with the economic situation we live in".
At first, Seham found the idea of reusable pads strange, but she figured they were worth a try. "It's an unusual option, but other women are using pieces of rags and cloth, so I considered these," she said. "And it saved me a lot of valuable money."
Reham, a 20-year-old student at the University of Damascus, also began using Utopia's products out of desperation, after searching online for cheaper alternatives that wouldn't leak or cause infections. She couldn't afford pricey store-bought brands, and said the less expensive options irritated her skin.
"My period gets more stressful, upsetting, and uncomfortable with the economic situation we live in." 
Reham, who also did not want her surname published, said some of her female friends teased her for using resusables instead of store-bought pads. "Syrians have gotten used to consuming ready-to-use items they see promoted in commercials, which makes reusable pads an unusual concept," she explained. "Having to wash pads is reminiscent of old times, of something our great grandmothers used to do. But at this time, it's my best option."
Washing the pads isn't always easy. The lack of electricity that the women who make Utopia's pads and diapers deal with also impacts the women who use them. Given shortages of power and fuel, many women struggle to properly wash reusable pads, as boiling hot water becomes a luxury.
Both Seham and Eman described cleansing these pads after each use as "the real challenge", firstly washing them in cold water, then in boiling water, before leaving them in the sun to dry.
The fact that the pads can be washed and reused is a selling point for Nasr, who said it is also among Utopia's aims to ease Syrians into considering eco-friendly products. 
That said, she acknowledged that the environment isn't at the top of her customers' list of priorities as they struggle to make ends meet during war and extremely difficult economic times. As Seham put it: "It doesn't matter that they're eco-friendly. They're pocket-friendly."
This article was produced in collaboration with Egab, which connects journalists from the Middle East and North Africa with news organisations worldwide.
Edited by Annie Slemrod.
Read more about...