Awful conditions facing refugees on Lesvos have been widely reported in recent winter months, but asylum seekers on another Greek island, Kos, say the situation in and around their overcrowded detention centre is no better and their plight is being ignored.
In Kos Town, the island's main hub, boarded-up beach bars and sleepy hotels await the tourist influx of the summer. A 45-minute drive away at the Pyli detention centre, 3,745 asylum seekers are spilling out of a space designed for 816, according to data from the Greek Ministry for Citizen Protection.
"We feel like ghosts here; no one sees us," said Aymen Alkhawlani, a 28-year-old Yemeni, as he peered through the barbed wire that surrounds the camp. 
More than 4,100 migrants and asylum seekers reside on Kos – the largest numbers are from Syria and Palestine, according to data provided to The New Humanitarian by UNHCR. Most arrive on small boats directly from Turkey, but some have been transferred to ease congestion on other islands.
The Greek authorities say asylum seekers must wait on Kos until their claims are processed. This can take over a year, although the claims of those who meet certain vulnerability criteria – such as being from a female-only family or a survivor of torture – can be processed quicker.
"You can't eat the food a lot of the time. It's undercooked, it's like food for animals, not for humans."
Pyli is the only facility on Kos for housing asylum seekers. Due to the overcrowding, residents have been constructing makeshift shelters outside the official perimeters of the camp.
Residents are allowed to leave the camp, but they can't leave the island until they are given what is known as an "open card" by the local asylum office. This process can take months, sometimes over a year, and is not guaranteed to all.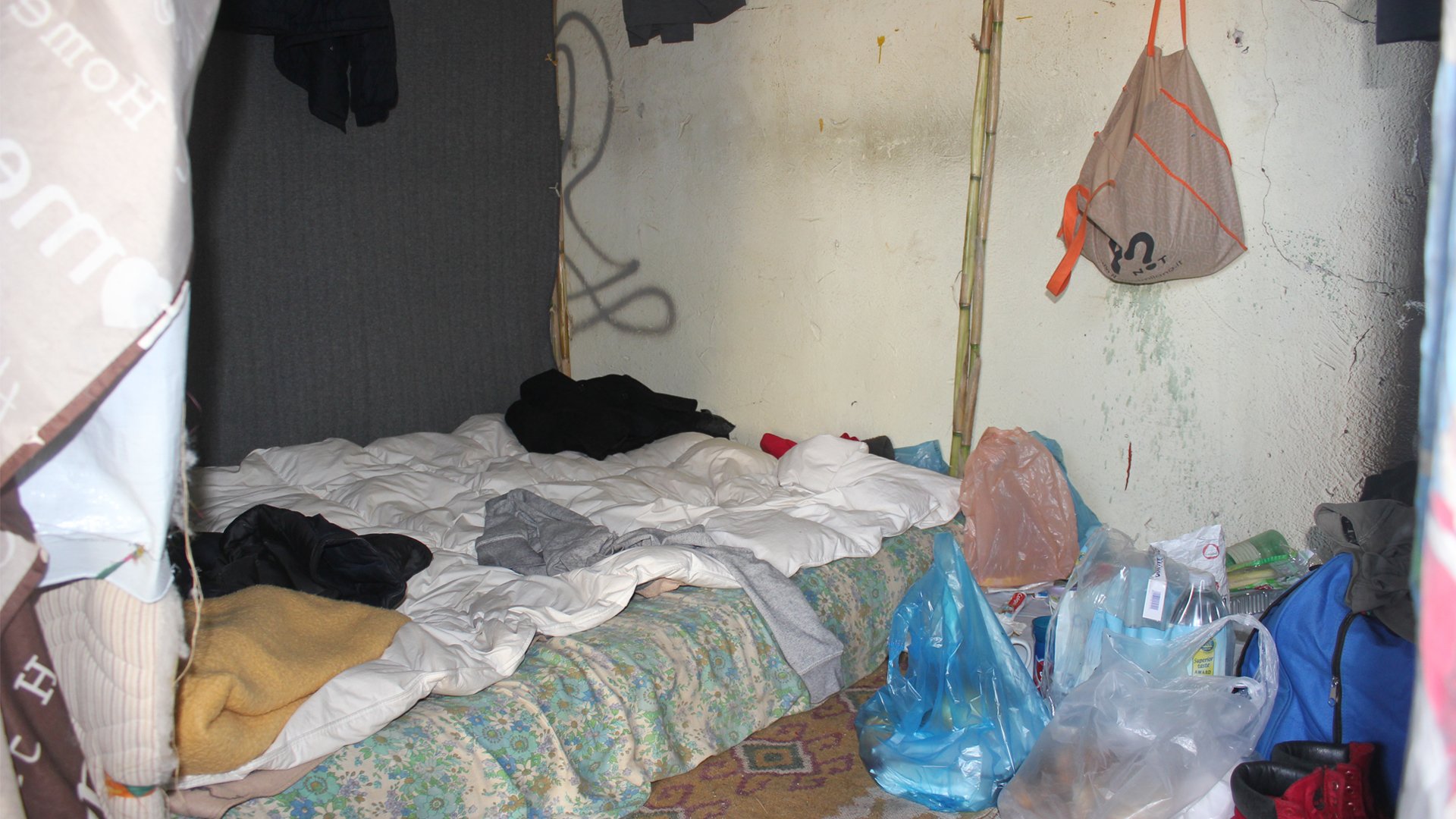 "This is a house for a mouse, not for a human," said 40-year-old Yasser Qabani from Taif in Saudi Arabia as he walked around a crumbling stone building where families with young children have fashioned makeshift homes from tarpaulin, using blankets as divisions between each living space.
"You can't eat the food a lot of the time," Qabani said, as children played with an old tyre on the concrete ground in the winter sunshine. "It's undercooked, it's like food for animals, not for humans."
Two catering companies contracted by camp authorities provide three meals a day at Pyli – one of nine so-called EU migration "hotspots" in Greece and Italy for new arrivals from Turkey and North Africa.
Behind the abandoned building at Pyli is a larger one, which has no windows or capacity for natural light. Around 100 people were living in this space – the rooms were divided by bits of fabric and the only cracks of light appeared from holes in the ceiling where large amounts of water had come flooding through during recent rainstorms.
"It was like a tragedy," recalled Qabani. "Most of the tents collapsed and they had to rebuild them again after the rain."
Lack of assistance
When TNH visited in December, camp residents expressed surprise at seeing a journalist. Unlike other Greek islands in the Aegean like Lesvos and Samos, Kos, which lies in the more remote Dodecanese, has received relatively little media attention. Compared to other Greek islands with large refugee populations, there is also relatively little NGO presence here.
The UN's refugee agency, UNHCR, said KEDU (Kos Education) – a school run by its local Greek NGO partner, ARSIS – is providing non-formal education near the camp to around 100 children aged roughly seven to 18. UNHCR was unaware of any children in the camp in formal education.
Michael Goldhahn, founder and president of Flying Help, an NGO operating on Kos since 2015 that distributes non-food items such as winter clothes and blankets, said that apart from his organisation, UNHCR, and Pyli's government employees, he was aware of only two other NGOs working on the island: ARSIS, and Kos Solidarity, which helps with aid distributions and runs integration programmes such as Greek language classes. 
"The reason for the bad conditions on Kos is not due to the Greek authorities or the government; they are doing the very best that they can," said Goldhahn. "The main reason is the lack of European solidarity."
Greece has been given substantial financial aid to help the people arriving on its shores (some figures put this as high as €1 billion), but it has been left largely alone to process and host the large numbers of migrants and asylum seekers now living in the country.  
In 2019, there were a total of 59,591 sea arrivals to Greece, compared to 32,494 the previous year. The majority of these arrivals were to Lesvos, which saw 27,108 people arrive on its shores across the Aegean from Turkey.
Issues with overcrowding became increasingly urgent in the second half of 2019 as island camps swelled well beyond their official capacity. The Moria camp on Lesvos is currently housing some 19,000 in a facility intended for just 3,000. On Lesvos, there are more than 80 organisations working with refugees, according to a spreadsheet posted on the Facebook page for volunteers.
Read more → Winter warnings for Europe's largest refugee camp
In October, the Greek government announced plans to move at least 20,000 people from the camps to the mainland by the beginning of 2020. Data from UNHCR showed that between October and December a total of 14,308 were moved, but the latest reports suggest the number of new arrivals on Lesvos mean little progress has been made in reducing the overcrowding there.
The Greek government has also announced plans to open three new camps – on Lesvos, Chios, and Samos – and to enlarge the camps on Kos and Leros. Details on how this will be achieved, however, are still unclear. Greek Prime Minister Kyriakos Mitsotakis has consistently asked for more support from the EU. At a meeting of the centre-right European People's Party in the Croatian capital of Zagreb in November, Mitsotakis spoke of the strain the large numbers of arrivals were putting on the country. "We are about to reach our limits," he said.
Goldhahn said families on Kos living in the overspill outside the camp at Pyli needed proper accommodation soon. "We need to act very quick – today, not tomorrow – to provide for families and children living outside." He said his charity, which already has around 10 local volunteers, needed more volunteers to help with the deteriorating situation on the ground and the growing population of the camp.
'A rat bit my wife'
The camp's overspill has extended not only to abandoned buildings next door but also to the hill opposite where residents have constructed tents out of UNHCR tarpaulin. They told TNH there is no access to any official sanitation facilities outside the camp. "After 11pm, when the official camp is locked, they can't use the toilet so they have to go on the hill," explained Alkhawlani, who said he sleeps in a hut with 14 other people. Alkhawlani showed TNH a toilet block, but the door, he said, was always locked.
For drinking water and showering, there is a pipe above a cement trough about a 10-minute walk from the camp. Next to it is a grove people use as a space to wash and, sometimes, as a toilet. There is no access to electricity for residents living outside the camp, which means they can't charge phones or have any kind of heating in their tents in the winter months. During the December visit, TNH counted more than 300 people living in these conditions outside the main camp.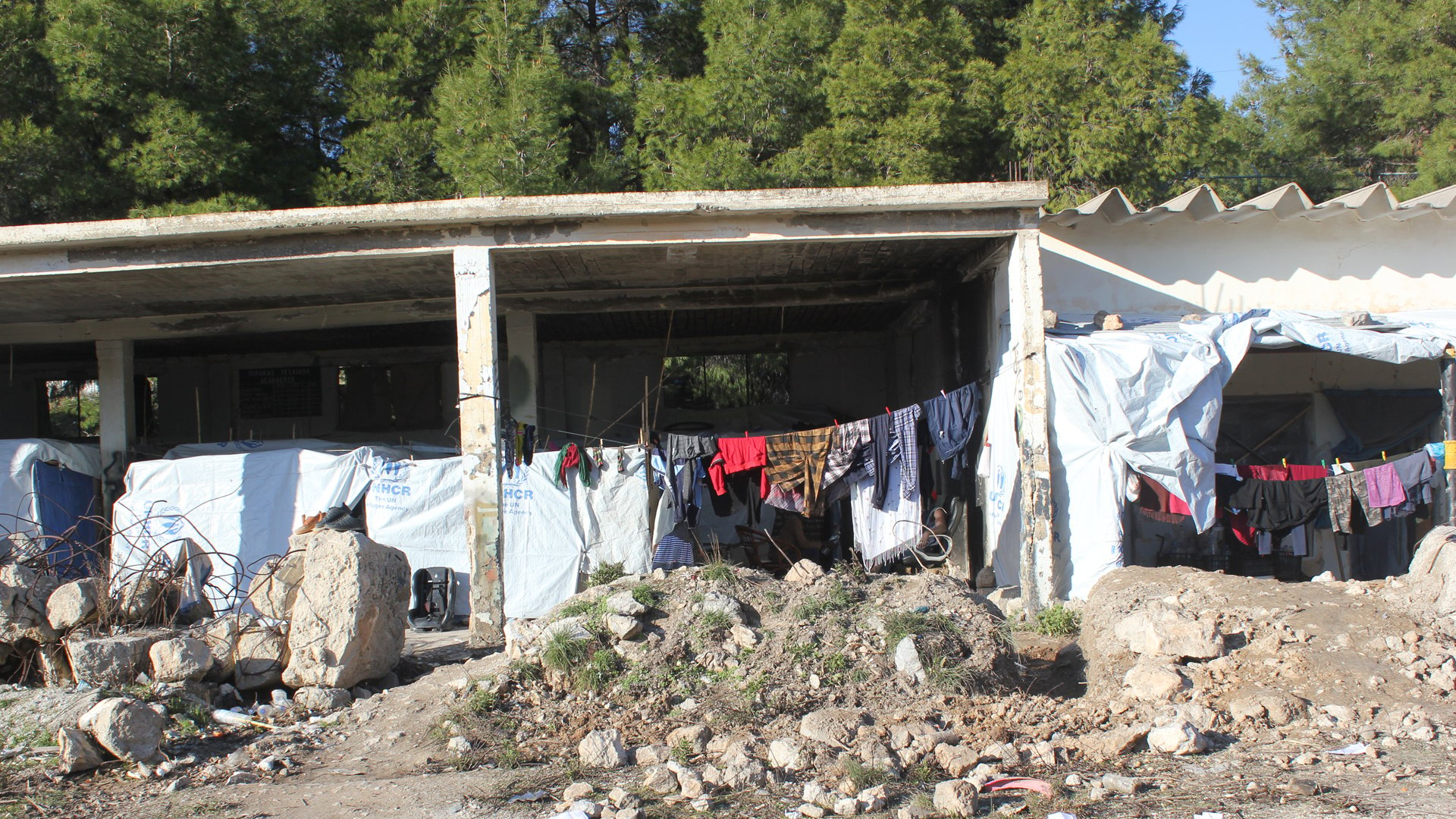 "As a father, I'm suffering a lot because I can't even give my children the very basic things that they need," said Haider al-Husseni, a 40-year-old Iraqi. "We have been sleeping next to large piles of rubbish, and a rat bit my wife a few weeks ago." Al-Husseni showed TNH photos of the rubbish piles he and his family had been sleeping next to inside the camp. "I don't feel like I'm human here," he said, watching his children push each other on the swings in the playground near Pyli..
TNH was also shown pictures and videos of conditions inside the camp. They mirrored conditions outside: people crammed into poorly constructed and flimsy tents, and intense overcrowding. 
Jalal al-Hausi, a camp resident from Iran, said he had been beaten by police for building his tent in the wrong place. "I was told I wasn't allowed to build my tent in one place and the police hit me whilst I was building it. I asked where else should we build it. We have no other choice. The police then asked me: 'Why did you even come here?'" he said.
"But authorities in Iran killed many members of my family. We ran away from there to find a safe country, but instead we found ourselves here," he said. "I see no future at all." 
'I would prefer to die in Syria'
Boris Cheshirkov, a spokesperson for UNHCR in Greece, told TNH that Kos and all the Greek islands needed urgent attention and that the UN's refugee agency, which supports the Greek's government's efforts to house and provide for asylum seekers, was concerned about conditions for people living in the Pyli camp.
"With over 3,500 now at the Pyli reception centre, which has capacity for just 700, the situation cannot be addressed with the present resources on the island," he said. 
"We got here, at the gate of Europe and it was like a bigger hell than we used to live in. I would prefer to die in Syria than be here."
Cheshirkov noted that 2,400 people had arrived on Kos since August 2019, compared to just 259 who had been transferred to the mainland. 
Repeated requests for comment from Greece's Ministry of Citizen Protection went unanswered at the time of publication. 
"It was like going through death to come here," said a 29-year-old asylum seeker from Syria who has been in Kos for eight months and preferred not to be named. "The sea is like an octopus, it could take you at any moment. Then we got here, at the gate of Europe and it was like a bigger hell than we used to live in. I would prefer to die in Syria than be here."
Among many issues cited by the Syrian was the challenge his pregnant wife faced in getting medical care in the camp, where a government-run clinic of reportedly one doctor, four nurses, and four psychologists has to cater for more than 3,700 people. 
Alkhawlani told TNH that camp residents sometimes had to pay for their own taxi to the hospital. This, he said, included a pregnant woman who, even while in labour, was told to take a taxi because there was no ambulance available for her.
At the end of 2019, a report from Refugee Support Aegean, a charity that raises awareness about refugee issues on the Greek islands, highlighted disparities between the attention and assistance those on Kos receive compared to those on Lesvos and Samos. 
"The hundreds of refugees living inside and outside the hotspot in Pyli are desperately trying to have their voices heard in order to move on with their asylum process and receive the necessary medical and legal support," the report said.
Standing in the shadow of the growing camp on the remote hillside, Alkhawlani was sanguine. "We are not optimistic about our future," he said. "But thanks for coming to talk to us anyway."
kf/ag