A catastrophic earthquake on 12 January, 2010, crushed much of Haiti's capital, Port-au-Prince, in one of the worst natural disasters ever to strike a populous urban centre. Ten years later, the Caribbean nation is on the brink of another, very different, crisis.
Nearly four million people are facing severe hunger. Many are among the tens of thousands still displaced from the 7.0-magnitude earthquake that struck a decade ago, killing more than 100,000 people – some estimates say more than 300,000 – and leaving 1.5 million homeless.
Although billions of dollars in foreign aid poured into the country after the earthquake, prolonged periods of drought since 2014 have crippled local agricultural output, flooding the market with expensive food imports.
Trade and delivery routes have also been repeatedly blocked – first by the lashing winds of Hurricane Matthew that wiped out roads and destroyed much of the south's coastal infrastructure in 2016, and most recently by violent protests that paralysed government, caused road blockages, and prevented food and water deliveries.
Inflation has also risen, making it difficult for people to afford even the basics. In the past year alone, the price of rice, beans, and sugar has increased by 34 percent. Haiti ranks 111 out of 117 countries on the 2019 Global Hunger Index.
It is predicted that some 55,000 Haitian children under five will suffer from malnutrition this year – 11,000 from severe malnutrition – a constant worry for Mucsone Thales who survived the earthquake and now works multiple jobs to care for his three-month-old daughter.
"Because of all of the issues in the country, I try to save some money for these moments," said the 34-year-old. "But now with my daughter – she's eating through my savings."
Giuseppe Loprete, head of mission for the UN's IOM migration agency in Haiti, said the country keeps facing a cycle of familiar challenges.
"We are still not over the old challenges," Loprete said. "Now we are in a situation where we have unrest, political instability, and food insecurity. There are still some displaced from the earthquake, still some people not assisted after Matthew."
A looming crisis
After the earthquake, Haiti had a Global Hunger Index score of 48.8 in 2010. While it improved in the six years that followed, the trend has regressed. It now measures 34.7.
The World Food Programme – one of several UN agencies and NGOs that lost staff in the earthquake – has warned that new clusters of the population may face emergency food conditions in 2020. Last year, half the population was already considered malnourished.
Since September, many WFP programmes have been suspended because of road blockages linked to protests calling for the resignation of President Jovenel Moïse.
Moïse, other government officials, and heads of private firms have been accused of embezzling $2 billion from Petrocaribe – a cut-price-oil aid programme Venezuela offered to several Caribbean countries. The funds were supposed to go to infrastructure development and health, education, and social programmes, and although the protests were directed at Moïse, they fed into years of simmering anger over the little progress that has been made since the earthquake.
The protests have eased in recent weeks, but only 60 percent of schools have reopened since the unrest. WFP provides 300,000 children in 1,200 schools nationwide with hot meals.
"The current food security situation is dramatic, and... there is no hurricane, no earthquake, this time," said Antoine Vallas, a WFP spokesperson. "It is the result of an economic crisis and socio-political unrest, and it is projected to quickly deteriorate without urgent assistance."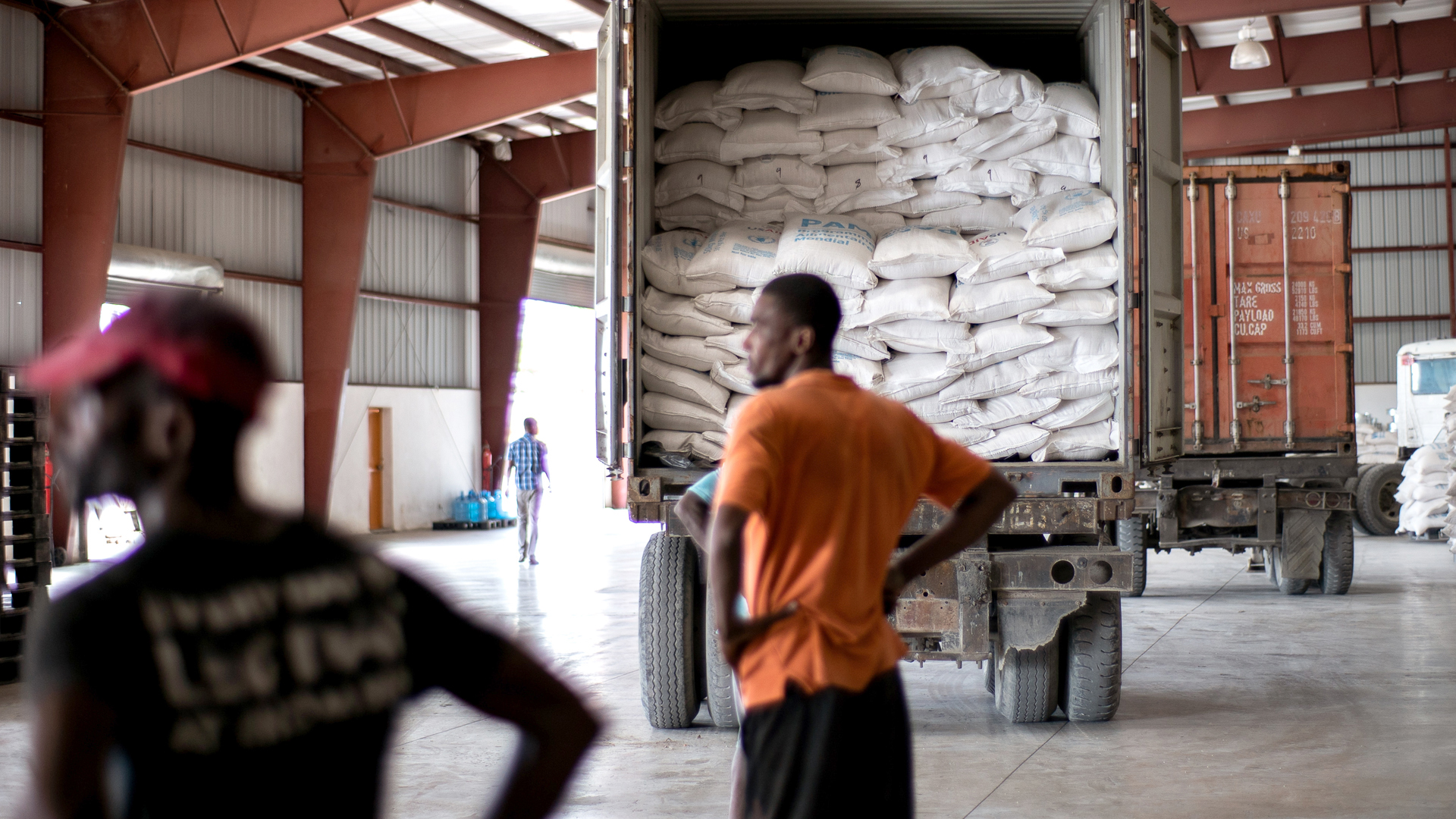 According to the National Coordination for Food Security, which conducted a nationwide study in August with the help of WFP and the UN's Food and Agriculture Organisation, one in three Haitians are in need of food assistance and some one million people are living with severe hunger.
With some roads still impassable, WFP launched a three-month air operation in late November. Last month, however, a cargo ship was briefly delayed due to gang activity around the port – another obstacle that has impacted humanitarian work and prevented consumers and vendors alike from buying or selling food.
"Kids can't go to school, you can't find work. You go to a market like Croix des Bossales to try and buy some sweet potatoes or plantains and all of sudden you are surrounded by gunfire."
Eventually, WFP was able to deliver more than 22 containers of rice, beans, and oil to Gonaïves, the most populous city in northwestern Artibonite – Haiti's historic breadbasket region that has been plagued by food insecurity, unrest, and failing crops.
Hungry and scared
The northwest, and some urban areas in the capital, such as the overcrowded seaside shanty town of Cité Soleil, have been especially hard-hit by food insecurity.
Along a narrow passageway in Cité Soleil, TNH encountered Mickerlange Noisy, a single mother of seven children. She buys and sells rice in the market, but, with increasing prices and insecurity, she has not been able to make a profit for the last few months.
When Noisy tries to go to the market at Croix des Bossales, she said it is almost certain there will be gangs of robbers with guns in hand. Sometimes she doesn't know how she will feed her children.
"It feels like you're on your own in Haiti," said Noisy, 40. "Kids can't go to school, you can't find work. You go to a market like Croix des Bossales to try and buy some sweet potatoes or plantains and all of sudden you are surrounded by gunfire."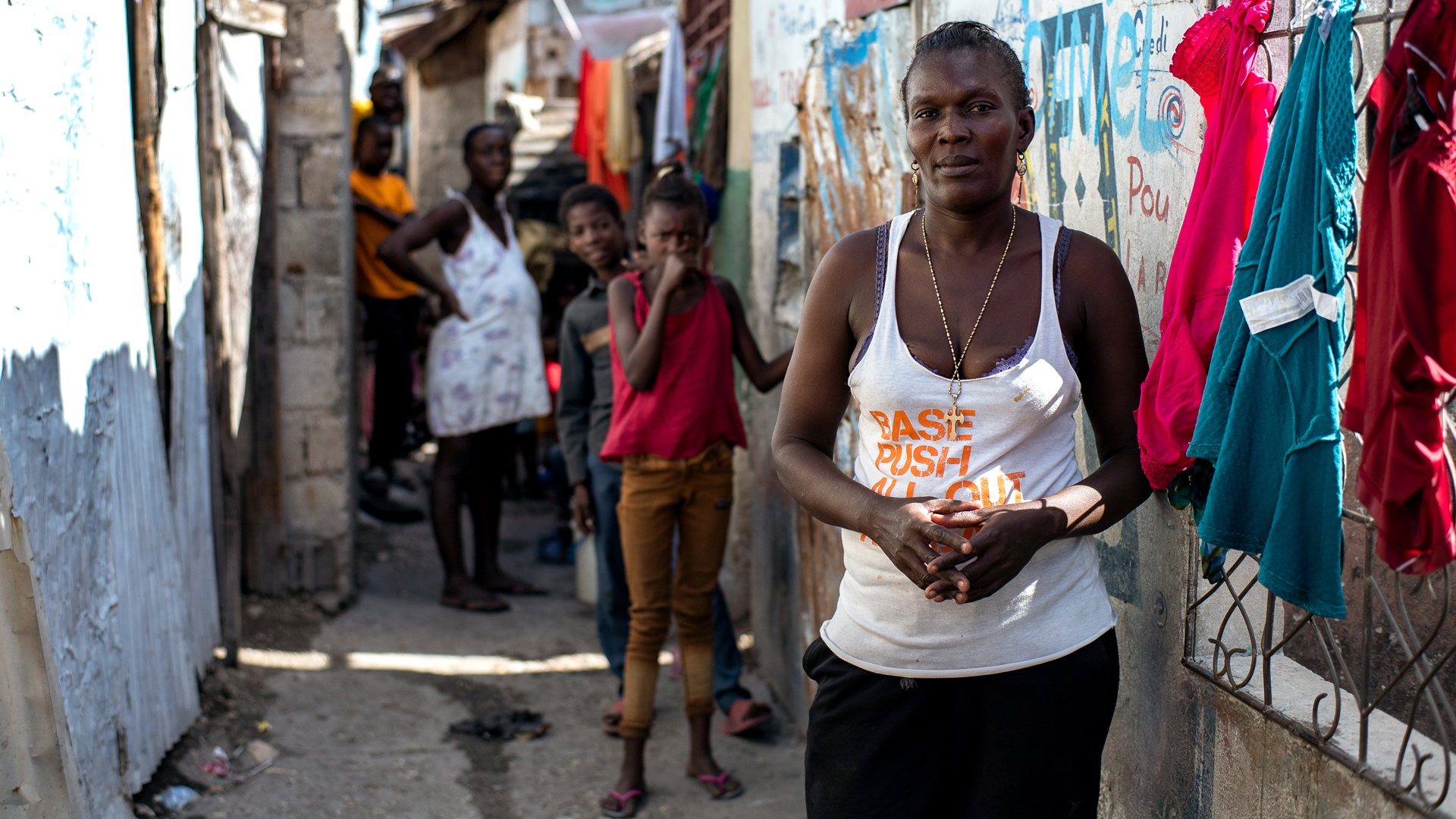 The earthquake should have been a wake-up call for vulnerable populous cities like Port-au-Prince to better prepare for future disasters, but Haiti's urban centres have only grown since 2010 and little has been done to improve general building practices or rethink building in overpopulated or disaster-prone areas.
The population of Cité Soleil, for example, has swollen since the earthquake, and the 32,788 people displaced from the disaster are living in 22 sites in or around the capital. Nearly one million people in the capital alone are facing food insecurity.
With rampant deforestation, Haiti is also prone to mudslides, floods, and other events. It is considered the most vulnerable country in the Caribbean and Latin America to disasters brought on by climate change.
Hope squandered
Following the earthquake and some 300,000 injuries, 10.2 percent of Haiti's GDP went to investing in health: the highest it had been in 20 years. Current health investment is at an all-time low of 5.3 percent.
With 800 health centres across Haiti, UNICEF is seeking more than $3 million to scale up intervention efforts to tackle malnutrition, according to Leonard Kouadio, a health officer with UNICEF.
"The crisis we are in now is a combination of natural, economic, and socio-political factors."
A large hospital – one of the first big projects approved after the earthquake – has yet to open.
Inflation is also looming large for Haitians unable to afford food.
"With the gourde (Haiti's national currency) depreciating, the crisis we are in now is a combination of natural, economic, and socio-political factors," said Harmel Cazeau, who is in charge of food security coordination at the Haitian Ministry of Agriculture. He said inflation could surpass 22 percent in the coming year.
Jobs are also hard to find, and investors have largely stayed away due to the political instability.
Elmode Augustin survived the earthquake a decade ago, but has struggled since.
The 32-year-old mother of three was working as a maid for a family on the first floor of their three-storey home when the house came crashing down upon her. She said she was buried beneath rubble for three days until she was pulled out.
Now, she sells second-hand clothes along a street. She says she hasn't been able to send her oldest to school and struggles to buy food for her children. Although she was injured in the earthquake, she says she can't afford follow-up medical treatments for her injuries.
"I haven't been to the hospital since the earthquake," Augustin said. "I need to see a doctor about my eyes. There's always this residual pain in my back and legs from that day, but I haven't been back since."
jo/pd/ag