Gaps in dead body management have been left badly exposed by COVID-19: bodies left outside homes for days before being collected; family members picking through piles of decomposing corpses outside hospitals to try to identify loved ones; mass, unmarked graves dug for the poor and the homeless.
Forensic experts say a lack of guidelines and contingency planning contributed to morgues and funerary services quickly becoming overwhelmed – particularly in Latin America, but also in Iran, and even New York – and are calling for lessons to be learnt for the future. 
They told The New Humanitarian that dead body mismanagement has serious implications not only for so-called deathcare workers but also for broader efforts to contain COVID-19, and for grieving families, and societies, struggling to come to terms with the pandemic.
Early signs of trouble came when residents in Guayaquil, Ecuador's most populous city, began reporting bodies on the streets at the end of April. Shocking images soon followed in May, of people sifting through dozens of unidentified bodies in open containers outside city hospitals. The family of one 74 year-old woman was even told she had died and was sent ashes, only for her to be found alive in hospital.
Oran Finegan, head of forensics for the International Committee of the Red Cross, said the ICRC aimed to remind authorities of the importance of communicating clearly with people about care after death, and of helping people deal with what was a "traumatising situation".
"We have to look at the impact this has on the communities, in terms of uncertainty, the loss of their loved ones, and the need to ensure the dignity of the dead," he said. "The dead themselves matter, and it is very important that they be afforded a dignified burial, or a process aligned with their cultural or religious beliefs."
Data collected by the Financial Times shows the scale of the problem that morgues in the worst-hit urban areas have been dealing with. In Guayaquil, deaths increased 332 percent compared to previous years; in New York, 364 percent; and in Bergamo, in northern Italy, 496 percent.
"The dead themselves matter, and it is very important that they be afforded a dignified burial, or a process aligned with their cultural or religious beliefs."
In Latin America, from Ecuador, to Manaus – Brazil's gateway city to the Amazon – to Mexico's Guerrero state, these spikes in fatalities have often meant new mass graveyards have to be dug as there are not nearly enough spaces in existing cemeteries.
But how the dead are handled can also affect the response in more far-reaching ways, including data-gathering on the number of fatalities to understand the trajectory of the outbreak.
In Peru, for example, investigative journalists found the COVID-19 toll from two funeral homes – one in Lima and another in Callao – to be more than three times the official toll for the two entire cities, as private crematoria were being asked to collect the bodies and were recording the cause of death on handwritten notes.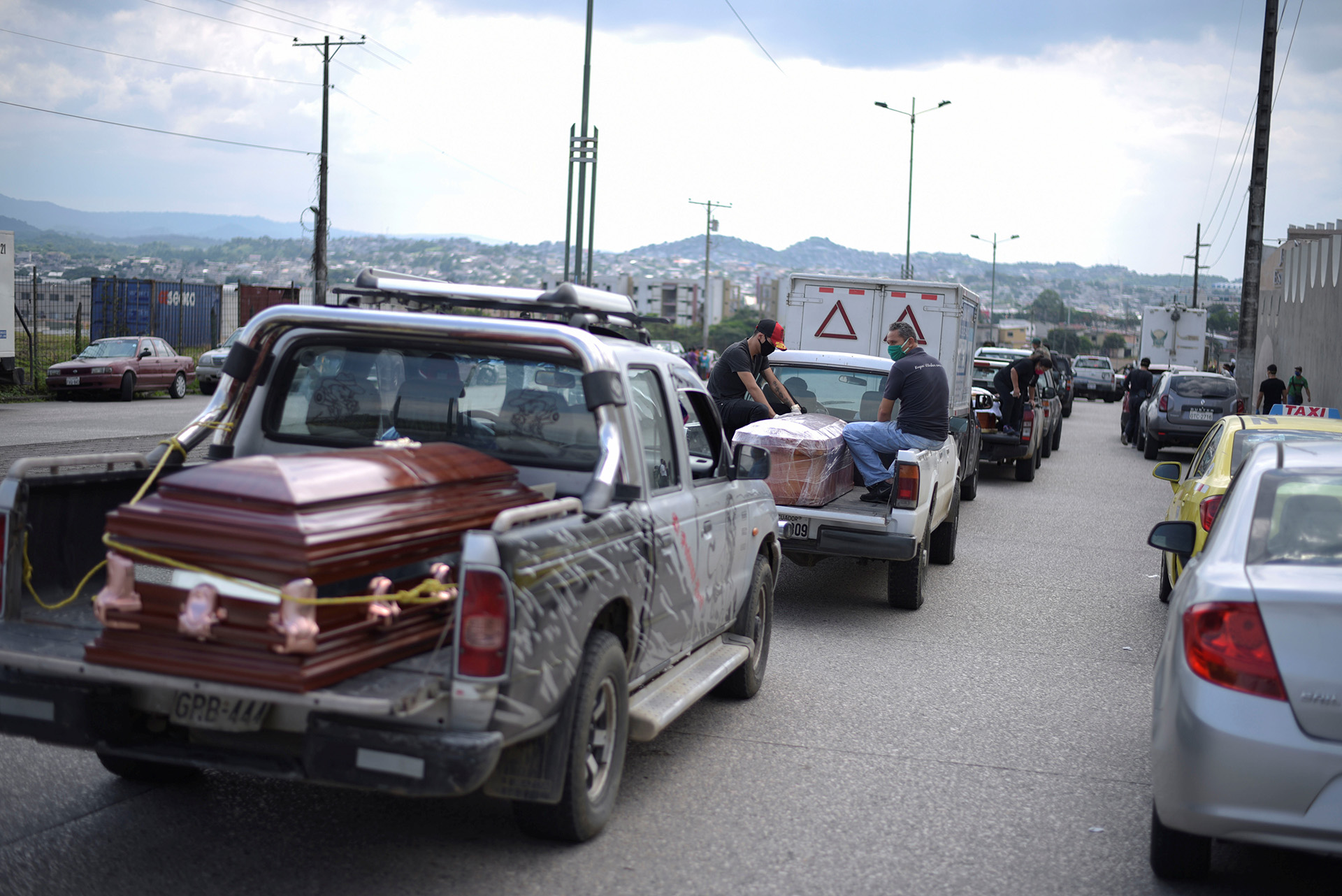 'It's prepare, prepare, prepare'
Forensic experts said many of the problems encountered by countries like Peru, Brazil, and Ecuador could have been avoided with sufficient preparation, including having and following effective pandemic contingency plans.
Such plans should have included: ensuring deathcare workers had enough personal protective equipment (PPE) and COVID-19 tests; building local capacity for specific roles, notably body handlers and forensic specialists; and putting in place coordination systems.
They should define how personnel should protect themselves to avoid infection from the dead, explain when post-mortems may be required – particularly when the cause of death is unclear – and how identifications should be conducted. Additionally, experts said, the plans should lay out best practice for recording data, body storage, helping relatives and loved ones, and ensuring dignified burials.
"What we are seeing now is a daily catastrophe," said José Luis Prieto, a forensic pathologist in Madrid, comparing the pandemic to a sudden disaster like a plane crash – only one that repeats itself, day after day, for weeks.
Prieto, who also works as a consultant for the ICRC in Africa and Latin America, said most countries would have had existing catastrophe contingency plans, but they are intended for mass casualties when the cause of death is clear. COVID-19 has demonstrated that such plans alone are not enough.
The doctor explained how the sheer volume of deaths puts enormous strain on every stage of the process: just as health officials in hospitals are under huge pressure to issue certificates with the correct causes of death to accurately reflect the mortality rate of the outbreak, so those responsible for transferring bodies for cremation and burial, taking extra precautions, quickly become overwhelmed by the sudden rise in demand for their services.
Finegan said the "awful" scenes in Latin America demonstrated why good contingency planning is so important and how, without it, efforts to respond to and contain outbreaks can be impeded.
"If no preparedness system is put in place, the ability to respond will be even more challenged," he said. "What we need to do is engage with authorities and work with them."
Deadly past emergencies, especially large-scale natural disasters, have often led governments to pledge to institute robust preparedness systems, but Finegan said such plans are often forgotten.
For example, 10 years after Haiti's devastating quake in 2010 that killed some 200,000 people, the country still does not have a national disaster risk management plan, and even its small seismic observation office lacks funds.
"A potential exists to learn from experience, but we need to see countries actually doing that, and going the extra mile to put in place preparedness measures," Finegan said. "If there are three things that need to be done, it's prepare, prepare, prepare. It's not too late to do that here. The sooner we engage, the better the context will be."
Did assistance come too late?
In April, the ICRC published guidelines that addressed COVID-19 response planning, including technical recommendations for healthcare and deathcare workers on the proper use of PPE, body bags, disinfection of non-disposable equipment, dealing with unidentified bodies, and the precautions to take in a dead person's home when collecting the body.
The ICRC also published recommendations for dead body management in respect to Islamic Law and Hinduism. Islamic ritual washing of the body, or ghusl, for instance, may be performed but only if protective measures are in place, and bodies in Hindu funerals should not be embalmed.
The Pan American Health Organisation (PAHO), the Americas arm of the World Health Organisation, issued coronavirus guidance in early April. It noted, "the need to activate an inter-agency dead body management plan, which must be an inter-agency process which includes civil authorities, civil protection, police, forensics team, funeral homes, cemeteries, the health sector, logistics and communication."
Diego Cazar Baquero, an Ecuadorian journalist and editor of La Barra Espaciadora, an online magazine, said that while written recommendations may have come too late from international groups, he also felt PAHO began to retreat from its engagement with the government in Ecuador just at the wrong time.
As the situation worsened, instead of picking up the Ecuadorian government for "partial measures", the WHO response was "lukewarm" and repeated "the same recommendations" to Ecuador that it was giving to all countries, he said.
Despite being one of the first countries in the region to impose strict lockdown measures to limit the spread of virus, Peru has the third highest mortality rate from COVID-19 in Latin America and the second largest number of confirmed cases behind Brazil.
Jorge Vásquez, a forensic pathologist at the central morgue in the Peruvian capital of Lima – until 2017 he headed Peru's disaster response forensics team – expressed frustration at the country's lack of preparedness, coordination, and governance.
He explained that he and other local specialists submitted a national COVID-19 response guide on 27 March, including guidance on the purchase of PPE, but the Peruvian authorities failed to approve a comprehensive plan – including his recommendations – until mid-May.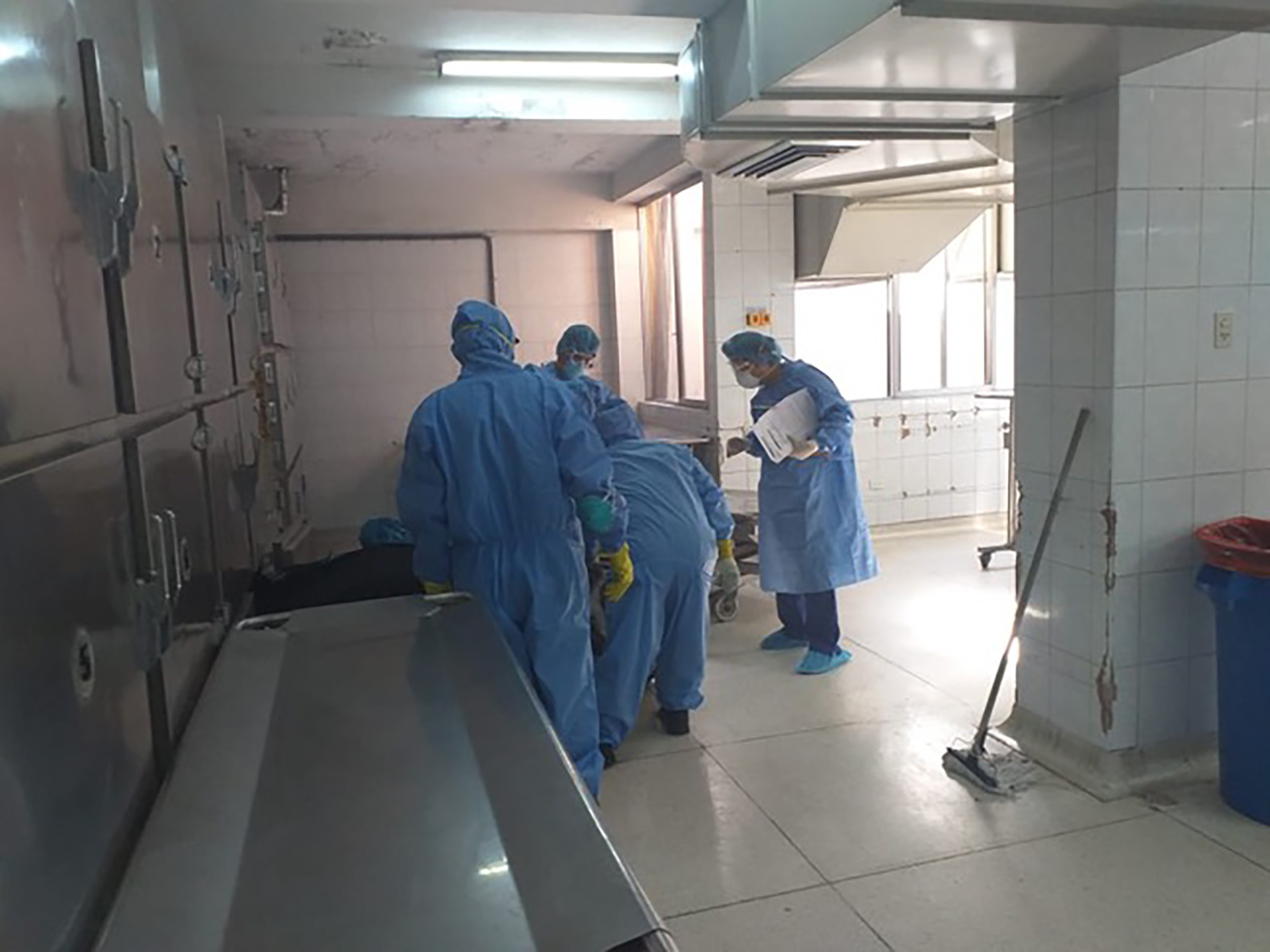 Fear of infection
Forensic pathologists are more exposed than most to the coronavirus and must, like everyone else, take 14 days off work if they become infected.
However, Finegan, the ICRC's forensics chief, stressed that the risks to the general public of COVID-19 infection from a dead body are "generally not high". 
When there is a sharp rise in fatalities, "people fear that the dead will become a great risk for the community", he said. "We then see a rapid disposal of the corpses and mistreatment of the dead. It is a natural reality of events where people are uncertain of what is happening."
Michelle Bachelet, the UN high commissioner for human rights, acknowledged that families are often overwhelmed with fear in such circumstances.
"We need to look at it with a human rights lens," she told TNH. "But also we need to ensure protective equipment for all the people who are doing essential work, and that their right of health and their right of life is guaranteed."
A recent study by the Institute for Andean Political Studies (IEPA) estimated that the number of deaths attributable to COVID-19 could be four times higher in Lima alone than official numbers suggest.
According to Ojo Público, an investigative online publication, between the end of January and March, Peru sold 33 million surgical masks to China. During this time, the WHO declared a pandemic. Shortages of masks, meanwhile, increased in the country.
"In the end, we will all be infected. We are just in God's hands."
In April, the ICRC donated PPE to Peru, including N-95 masks intended for use by forensic workers, but the masks never reached them. According to internal records seen by TNH, the donated masks were distributed to prosecutors within the national public prosecutor's office, which the forensics department is part of. Instead, the forensic doctors received plain surgical masks, which don't offer the same level of protection from infection.
As the epidemic worsened, Vásquez said forensic doctors became increasingly overworked and fewer assistants showed up to work, possibly due to concerns over the risk of infection.
On 25 May, in Chiclayo, a coastal city of over half a million in northern Peru, forensic workers at the city's morgue protested against the lack of PPE and rapid coronavirus tests. 
On a recent evening in Lima, Vásquez, meanwhile, worried how he was going to get to work, as his forensic service has not been provided with enough drivers.
Unable to get a taxi, he worried he may have to take a police car to work – not an ideal option, as more than 170 Peruvian police have already died from COVID-19. "This is the state of our service," he said. "In the end, we will all be infected. We are just in God's hands."
pdd/ag