A record number of Afghans with physical disabilities are seeking specialised medical care as their country's decades-long conflict continues to kill and maim. But the main providers of prosthetic limbs and rehabilitation are still aid groups – not the government itself.
Shabobo is one of the latest casualties of Afghanistan's war. Earlier this year, her left leg was blown off when a rocket struck near her home in Laghman Province, in the country's east. Pregnant at the time, Shabobo lost her baby and suffered burns on both legs. She was eventually brought to Kabul after her wounds became infected.
"It was a crossfire between the Taliban and the government," recalled the 30-year-old, sitting in a wheelchair outside her room at one of Kabul's main healthcare centres for war injuries. "I saw the rocket hitting, then I passed out."
Afghanistan's health system is itself a casualty of a long conflict. The rising number of amputees like Shabobo is one clear sign: She isn't seeking treatment at a public hospital, but at a facility run by Emergency, an Italian NGO that specialises in treating war wounds.
The UN says 10 million Afghans – more than a quarter of the population – lack "regular and sustained access" to basic health services. And specialised care, such as treating and rehabilitating amputees, is even more elusive in government-run hospitals and clinics.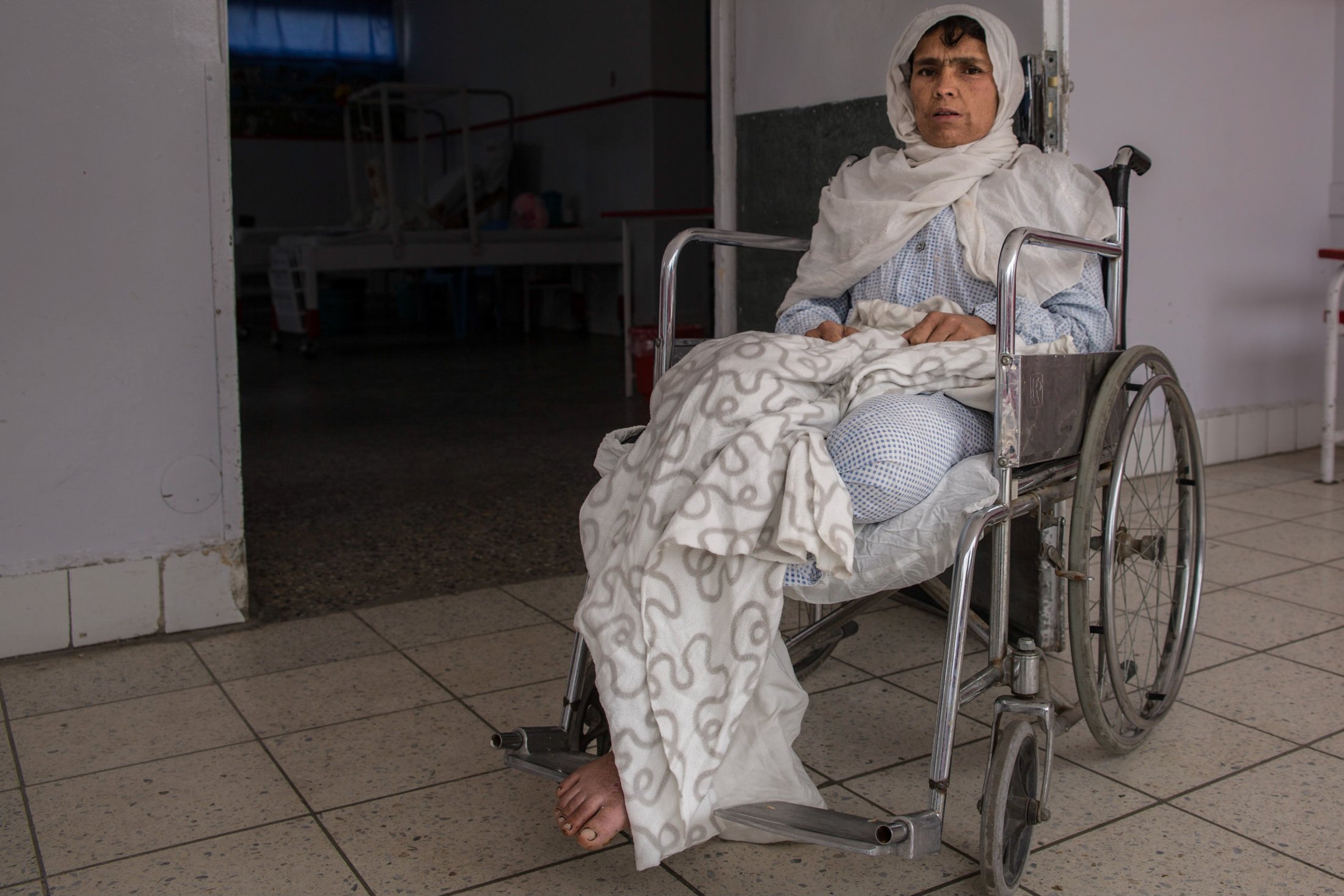 Last year, Emergency's two biggest hospitals admitted more than 6,600 patients – its highest annual total since starting operations nearly two decades ago.
Across town, the International Committee of the Red Cross runs Kabul's main centre outfitting wounded Afghans with prosthetic limbs. The ICRC says a record 12,000 new patients sought help at its Kabul prosthetics centre or at its other clinics around the country – the most since the ICRC started working here 30 years ago.
"Humanitarian organisations have done the job since the start," said Najmudin Helal, head of the ICRC's Kabul orthopaedic centre. "The government is currently not in a position to take the lead."
The ICRC fills more than half of Afghanistan's demand for prosthetics each year. In 2018, its medical staff supplied more than 22,000 artificial limbs and other orthopaedic devices – along with the rigorous treatment that accompanies rehabilitation. Roughly 85 percent of the disabled patients who come for help are amputees – and the numbers are rising.
"The war is still ongoing, so amputations will increase," Helal said.
A frayed health system
Around 1.5 million of Afghanistan's estimated 33 million population have some kind of physical disability, according to a 2015 national health survey. Many are survivors of the country's swelling insecurity, sustaining wounds from landmines, explosions and gunshots.
The rising number of amputees seeking help mirrors soaring casualty figures nationwide. In 2018, civilian deaths and injuries from conflict neared 11,000 – the highest yearly total the UN has ever recorded.
"There's no government hospital near my home where I can receive treatment, and most private clinics are expensive and can't deal with amputees."
But the country's health sector lacks both funding and qualified staff. Much of the hands-on work is overseen by the government but fuelled by donor funds, then outsourced to non-governmental organisations.
This is the case especially in rural areas contested or controlled by armed groups like the Taliban. Private clinics have also mushroomed across the country to fill gaps in the government healthcare system.
Wahid Mayar, spokesman for Afghanistan's health ministry, says roughly three percent of the national budget is spent on health – or the equivalent of $5 per citizen each year.
"Our main problem is security," he said. "Most of the budget is spent on it."
Afghanistan's public hospitals still provide the majority of emergency trauma care, Mayar said.
But this leaves NGOs to take on the lion's share of specialised services like rehabilitating amputees.
"Most doctors don't have an upgraded knowledge, and those who studied abroad are not used to working with the old facilities available in government hospitals," said Naweed Hamkar, a surgeon who worked for years in a public hospital in Kabul before leaving the country last month.
He believes health projects run by humanitarian or development groups are too short-term to make a lasting impact, while the government health system is frayed by corruption.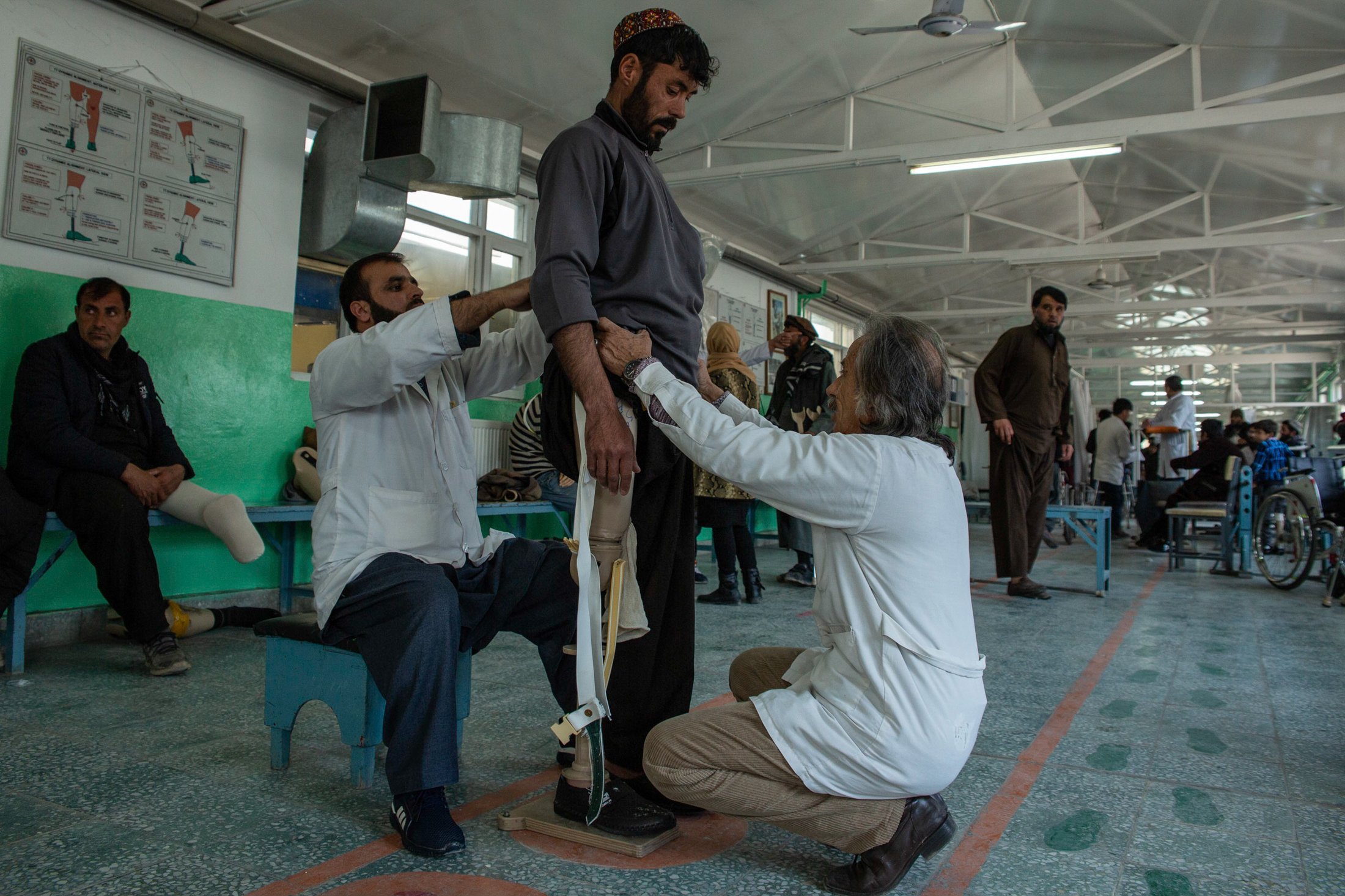 "There is no follow-up. Even if equipment is bought for rural areas, it's either stolen or used for private purposes after a few months," he said.
"Medical practice is not improving in government hospitals. It's rather going backwards."
Still, aid groups say local expertise treating patients with physical disabilities is growing, even if the government-run services fall short.
Most of the staff members at the ICRC's Kabul orthopaedic centre are Afghan amputees themselves; they've been trained to manufacture, fit, and provide physical therapy to other survivors.
There's a similar shift at Emergency's trauma hospital, which was filled with patients recovering from gunshot wounds and blast injuries one recent morning.
"Ten years ago we had a large number of international staff," said Dejan Panić, Emergency's programme coordinator. "Now about 80 percent of them are Afghan. The ultimate goal is for the government to fully take over. We're only dropping a seed, but it's a significant one. We're building capacity for the worst, but are hoping for better days."
Out of reach
Ali Ata, a 36-year-old former police officer, lost both his legs 10 years ago in a Taliban attack. After his hospital recovery, he moved to Kabul from his home in Wardak Province, west of the capital, solely so he could access specialised care.
"There's no government hospital near my home where I can receive treatment, and most private clinics are expensive and can't deal with amputees," he said.
Sitting on a bench at the ICRC centre, he rolled up his shalwar kameez – the traditional Afghan dress – to reveal two prosthetic limbs and a pair of blue sneakers.
But even in the capital, hospitals and clinics are still out of reach for some. Omid Nasimi, 23, lives in Kabul's Kheir Khana neighbourhood, a crowded informal settlement lined with unpaved roads, narrow alleyways, and small brick houses home to migrants and families displaced by conflict.
Nasimi suffered back pain for years, before he finally spent his savings to undergo surgery in a private hospital six years ago. He woke up with a spinal cord injury, unable to walk on his own. Now, he relies on a mobile health team from the ICRC's orthopaedic centre. Government health programmes offer mobile polio vaccine clinics in his neighbourhood, but their teams don't include anyone specialised enough to help him.
"The closest hospital is still too far," he said during a physiotherapy session at his home.
(TOP PHOTO: Staff at the ICRC's orthopaedic centre make artificial limbs. Most of the employees are amputees themselves; they started as patients before training for a job helping others with disabilities.)
sg/il/js