At a time when more lives than ever are upended for longer periods and the traditional aid system is struggling to keep up, new players are unapologetically redefining what it means to be a humanitarian – and inviting others to join them.
In an IRIN event convened in Davos on the opening day of the World Economic Forum's annual meeting, leaders from the private sector, philanthropy, aid organisations large and small, and civil society shared their takes on the need to shake up what one called a "smokestack industry". View the full recording of the event here.
"We tend to discredit when people come with a different background," said Jérôme Jarre, a Snapchat and Vine celebrity turned humanitarian. "In fact, that's exactly what the space needs. We came [from] outside of the box. We didn't know the process, what it means to be humanitarian."
As he told IRIN Director Heba Aly, who moderated the discussion before an audience that included entrepreneurs, aid workers, and others from the private and public sectors: "We didn't know the rules, so it was easy to break them. And we basically had a white canvas, which is the best place to start when you want to create change and innovation."
In 2017, Jarre and other social media influencers raised $2 million in 48 hours to respond to the pending famine in Somalia. He went on to found Love Army, a collection of celebrities and social media influencers who have raised $9 million from their followers for humanitarian projects around the world.
Listen to Jérôme Jarre on the value of outsiders
The urgency to make room for new players and new ideas is clear, Peter Maurer, president of the International Committee of the Red Cross, said: "The gap between what is needed today and what we are able to provide by the traditional model of doing is just enormous, and we have to recognise that we are failing millions of people whom we are not able to service."
'New' and 'old' models of aid
Tara Nathan, executive vice president, humanitarian and development at Mastercard, said she had seen a "positive trajectory" in the relationship between the private and humanitarian sectors, with a growing discussion around engaging the private sector, especially at the senior level. However, turning those high-level discussions into action on the ground will remain difficult until "that cultural message of trust between public and private permeates throughout the ranks of the organisations," she noted.
"We collaborate very well at panels," she added. "How can we bring that collaboration down into the field, where we're actually side-by-side implementing solutions, addressing refugee needs, addressing the needs of the local communities?"
Listen to Tara Nathan on partnerships between the private and humanitarian sectors
For some, tension around 'old' and 'new' is rooted in finding the balance between passion and professionalism. It also arises, Maurer suggested, from a misunderstanding around the idea of collaboration. Rather than doing things together, humanitarian actors both old and new should be "trying to combine things that are complementary to each other".
Listen to Peter Maurer on 'collaboration'
The key is to allow both traditional and newer players to use their strengths. Tapping the expertise of the private sector through market-based initiatives that stabilise fragile situations – restarting economies and rebuilding healthcare, education, and other basic services to stave off future crises or move out of existing ones – is one place to start, several panelists and commentators from the audience suggested.
Another is to look at the humanitarian sector's push toward 'localisation' as more than a mantra and to begin listening to the people on the ground. Local responders like Mayuri Bhattacharjee often reach people in need first and understand cultural and social norms. Yet, she said, they are not always seen or listened to by larger international players. "We do find a seat at the table," she said, "but that seat is sometimes very low…. What we ask for is more visibility."
Listen to Mayuri Bhattacharjee on localisation and women
Jarre also emphasised the need to listen to the people on the ground. Not coming from traditional humanitarian backgrounds, he said he and his team spent time in Somalia and in Bangladesh familiarising themselves with the situations there, "always asking the same questions: "'How can we help you? Is this good enough? Do you have better ideas? How should we do it?'" The traditional aid sector needs to learn to re-ask those questions, he suggested, if it hopes to deliver the most useful aid most efficiently and empower aid recipients.
Changing with the times
Peter Laugharn of the Conrad Hilton Foundation noted that the traditional aid sector is "a bit of a smokestack industry" and needs to update its approach. "We're working in a system that was not set up to deal with the situation we've got now," he said.
He added that foundations, too, need to retool to be able to fund new humanitarian realities, such as complex emergencies and needs in fragile states; his foundation is taking a longer and wider view when determining what kinds of humanitarian efforts to fund. "Grant-making was set up mostly in the 19th and early 20th centuries," he noted. "You make a big annual grant, you ask for reporting a year later, and things move really slowly."
Listen to Peter Laugharn on the roles foundations can play
One private-sector company, Salesforce.com, looks to technology as a way to bridge old and new approaches. It encourages employees to donate their time and technical expertise to the humanitarian sector and elsewhere. Rob Acker, CEO of Salesforce.org, acknowledged that there "are questions on how do we collaborate in a multi-sector way." But, he said, "we work with humanitarian-sector organisations like Peter's [Maurer] to tap into that employee engagement talent and that technology, and work together better."
So are those employees and other citizen volunteers humanitarians? In the future, there may be no need to ask that question. As Nathan said: "I would love to see a world in which we all just consider ourselves humanitarians."
Highlights of the conversation, edited for clarity and length, are below. Watch the full event here.
Panelists
Rob Acker, CEO, Salesforce.org
Mayuri Bhattacharjee, founder, Sikun Relief Foundation, Assam, India
Jérôme Jarre, founder, Love Army, and social media activist
Peter Laugharn, president and CEO, Conrad N. Hilton Foundation
Peter Maurer, president of the International Committee of the Red Cross (ICRC)
Tara Nathan, executive vice president, humanitarian and development, Mastercard
This event was organized in partnership with Mastercard and the International Committee of the Red Cross.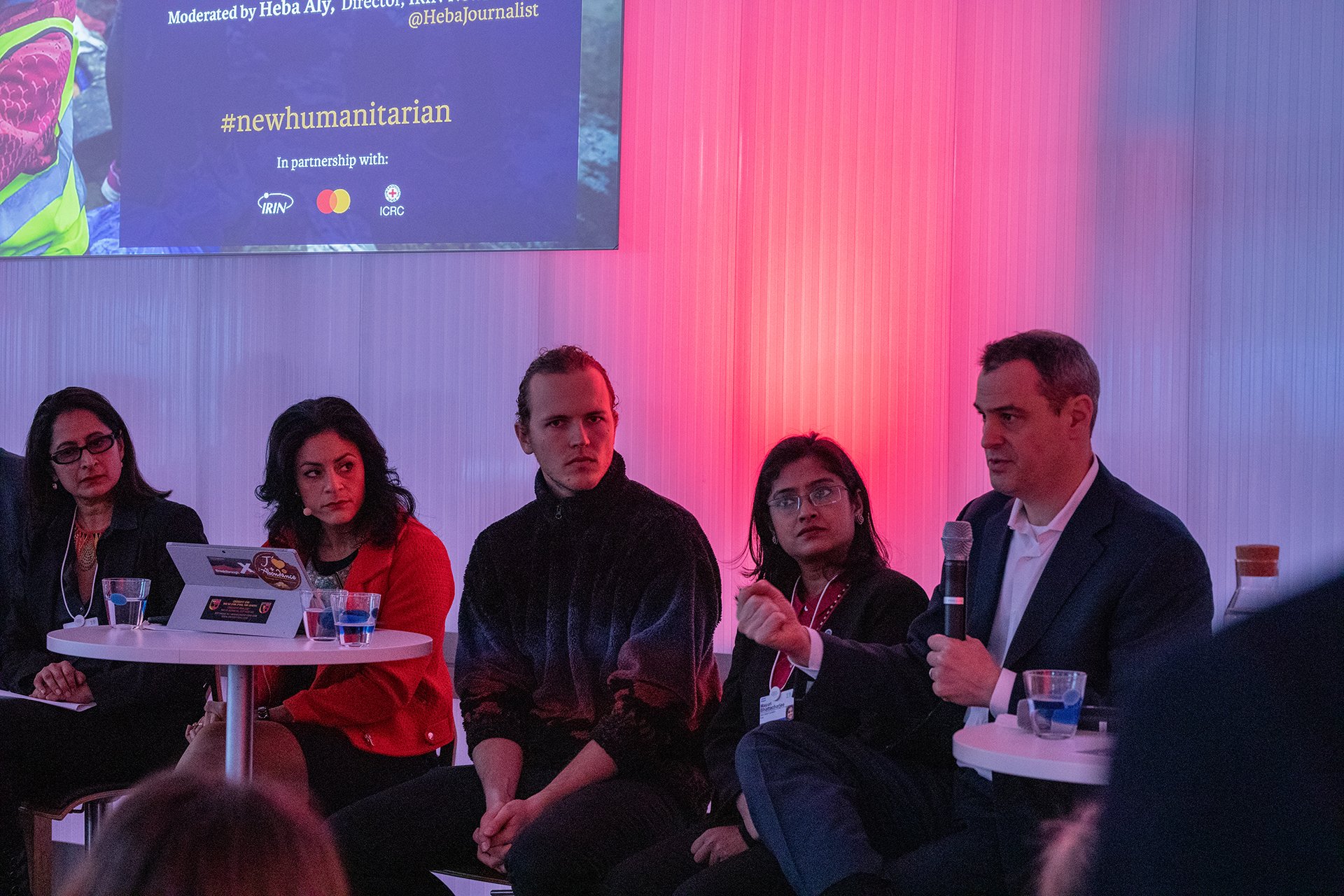 Tensions between 'traditional' and 'new' humanitarians
Jérôme Jarre: It doesn't take 20 years of humanitarianism to know how to help someone.… If your mom is starving, are you going to figure it out? What are you going to bring her, are you going to bring her a bag of rice? Are you going to bring her a restricted car? … Or are you going to ask her what she wants and really, really empower her?
Listen to Jérôme Jarre on aid agency branding
Peter Maurer: I'm deeply convinced that we need a new movement, which of course can come also from traditional organisations reflecting on what they have learned in the past and where the limits are, and are trying to reach out to new forms of investing and engaging in the humanitarian context.
Tara Nathan: Neither side is right or wrong. … We need to bring the dialogue from one of who's right and who's wrong down to practical, tactical means to collaborate. And collaborate cannot be a concept.… If we really think that we can leverage the private sector, it's not saying, "Is it private? Is it millennials or is it traditional?" It's saying, "What are the core competencies of the respective actors? And how do you bring them together in a tactical way?"
Corporate volunteers
Rob Acker: Employees are the new humanitarians.… The number one attribute that millennials look for in their job is to have purpose. And companies need to give them that outlet for purpose.… Our employees volunteer. They did about a million hours last year alone. They're helping the humanitarian space with technology skills, and technology has changed. We can connect, organise, scale. If you look at the 68 million displaced people in the world right now, you can create highly personalised outcomes for each and every one of those individuals.
Listen to Rob Acker on corporate volunteers creating purpose-built technology for the humanitarian sector
The role of the private sector
Nathan: There's a general acknowledgement that when you think about humanitarian, we need to think about development. We need to think about the journey, if you will, from humanitarian response through to development.… If you really want to address humanitarian needs, you have to go to the causes and conditions of what caused these situations to rise.
So how can we focus on building local market capacity in fragile markets as a means to obviate all sorts of crises in the first place, but then also to build resilience? When you start to talk about building local markets as a prevention, if you will, going into the causes of humanitarian crisis, that's when you start to think, "Well, that's a key role where the private sector can play a meaningful role."
Maurer: I'm coming from the Red Cross movement, and I am always reminded of the creation of this movement, which was not Henry Dunant [often considered the founder of modern humanitarianism]. It was the women of Solferino and Castiglione who, when confronted with 40,000 dying soldiers, mobilised themselves and created a humanitarian movement. …Civil society has to reclaim the humanitarian space. Then we can discuss good ways of moving forward.
The future
Mayuri Bhattacharjee: We suffer from something called the tyranny of distance: Every year floods happen, and every year citizens of Assam and people who were affected complain there's not enough media attention. I would like to change the future. I want media and also the local actors to respond… to at least be sensitive to this crisis which happens every year. Every year, 1.5 million people are affected in floods in Assam. And yet, we sometimes cry for attention.
Peter Laugharn: I would like to see innovation at the legacy level, if you like, and strengthening and deepening at the new entry-level.… We know what the overall mandate is and what we all need to rise to work on it together.
Maurer: We are out of balance. We need to find a rebalancing of the system, which gives a better deal for people. At the end of the day, it's not about the system. It's about whether we managed to service people in need and suffering from natural disaster and conflict. Whether we are able to serve them, that's the threshold of whether we are in a better balance in five, 10, 15, or 20 years.