Unusually heavy monsoon rainfall is driving severe flooding over large swathes of Asia, from northeast India and Bangladesh, to China, Mongolia, and Japan.
Floods have hit nearly 10 million people in South Asia, destroying crops and farmland, forcing evacuations, and killing at least 550 people in Bangladesh, India, and Nepal, according to the International Federation of Red Cross and Red Crescent Societies.
In Bangladesh, a third of the land has been submerged, hundreds of thousands are stranded, and more than 500,000 homes have been inundated, the UN reported. More than 100 people have died in floods and landslides in Nepal, where rapid urbanisation has also exacerbated disaster risks.
Heavy rains and floods have forced some 2.7 million people in China to evacuate, according to the EU's humanitarian aid arm, ECHO. Flooding around the Yangtze River basin this year has been "unprecedented", according to the state-run news agency, Xinhua. 
And in Mongolia food security is becoming a pressing issue for hundreds of evacuated families after flash floods damaged key arteries, the Red Cross reported.
The coronavirus pandemic has squeezed relief supplies and slowed disaster responses in many countries, while stumbling economies fuelled by lockdowns make it harder for many communities to recover, analysts say.
Floods are common – and traditionally key to agricultural productivity – during Asia's various monsoon seasons. But the humanitarian fallout has been particularly severe in recent years. 
The US space agency, NASA, says this year's flooding has been "excessive". A map tracking rainfall using satellite data, published today, shows some parts of Asia have seen more than 1,000 millimetres of rain since June.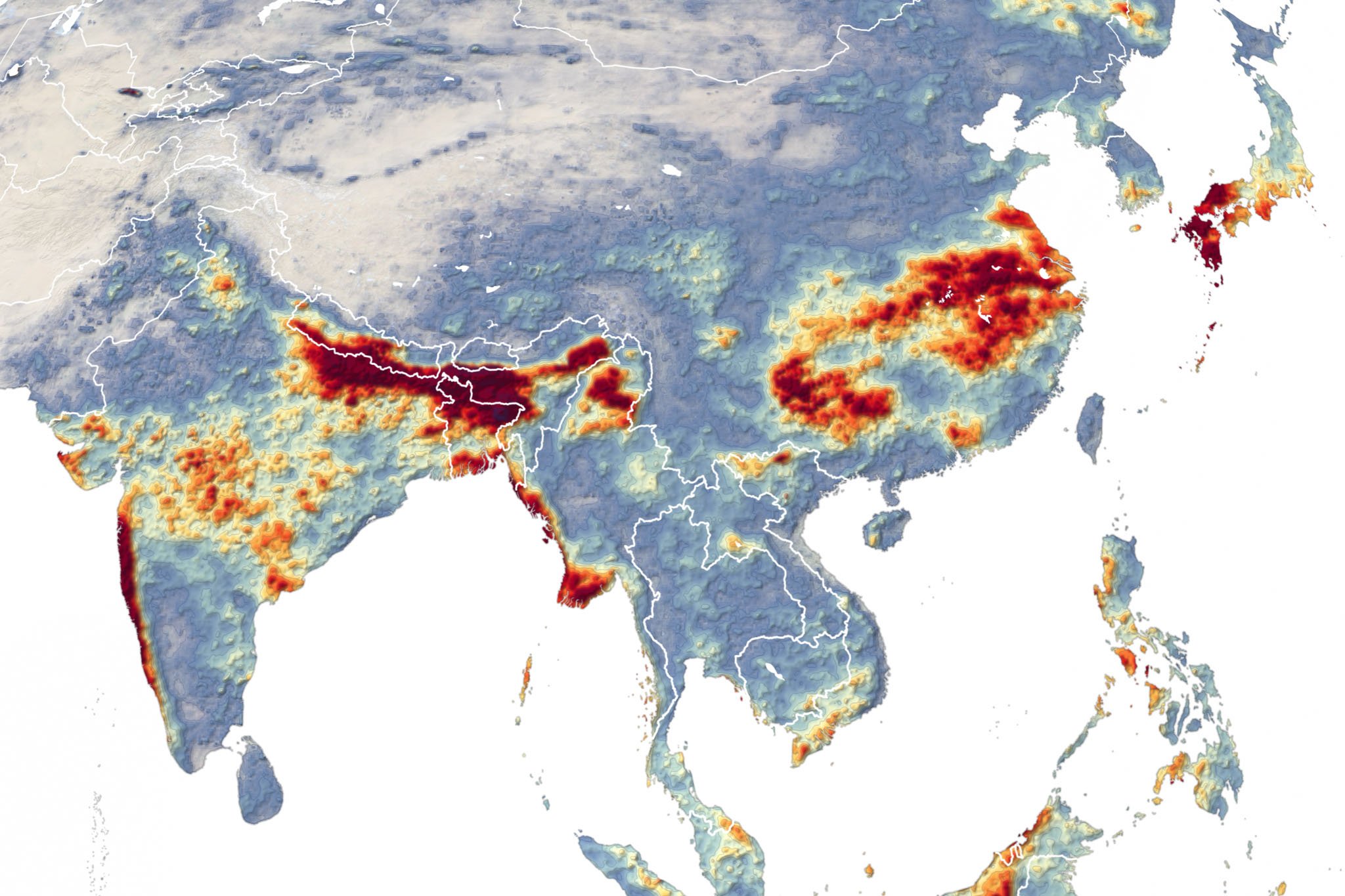 The UN's World Meteorological Organization said rainfall has been 150 millimetres above the norm in parts of north and northeast India this year, while parts of western Japan saw triple the month's average rainfall in a single week.
Scientists say climate change is making extreme weather more unpredictable and more intense. So-called "extreme event attribution" studies have zeroed in on climate change's role in specific disasters, including heavy pre-monsoon rains that hit northeast Bangladesh in 2017.
While many parts of Asia are now struggling with floods, some areas are conspicuously dry. Parts of Laos are seeing extreme drought conditions, according to the regional Mekong River Commission, and this month's rains are forecast to be below average.
Further down the Mekong system, in Cambodia, low rains and upstream hydropower dams have also delayed a yearly phenomenon. Monsoon rains cause the Tonlé Sap river to overflow and reverse course – fuelling inland fisheries and replenishing soil nutrients – but this year, the reversal could happen weeks behind schedule.
– Irwin Loy