On the main road into east Mosul, a rotting skeleton swings from a post outside a row of bullet-riddled shops. What was once a brain lolls horribly from an eye socket in front of a grimace of teeth – starkly white against blackened remains of flesh and skin decomposing onto bones. The corpse belongs to an alleged Islamic State fighter strung up by Iraqi soldiers in January as a warning to IS supporters hiding out in liberated areas of the city.
Even before being pinned to the post, the corpse was unidentifiable – its face and upper body mostly stripped of flesh. The caved-in skull and shattered ribs indicated brutality, but was this inflicted while the person was alive or dead? The body was one of several encountered during a months-long IRIN investigation that reveals extrajudicial killings of IS captives and serial violations of international law on the treatment of prisoners, with commanders at least turning a blind eye to frontline Iraqi troops taking justice into their own hands.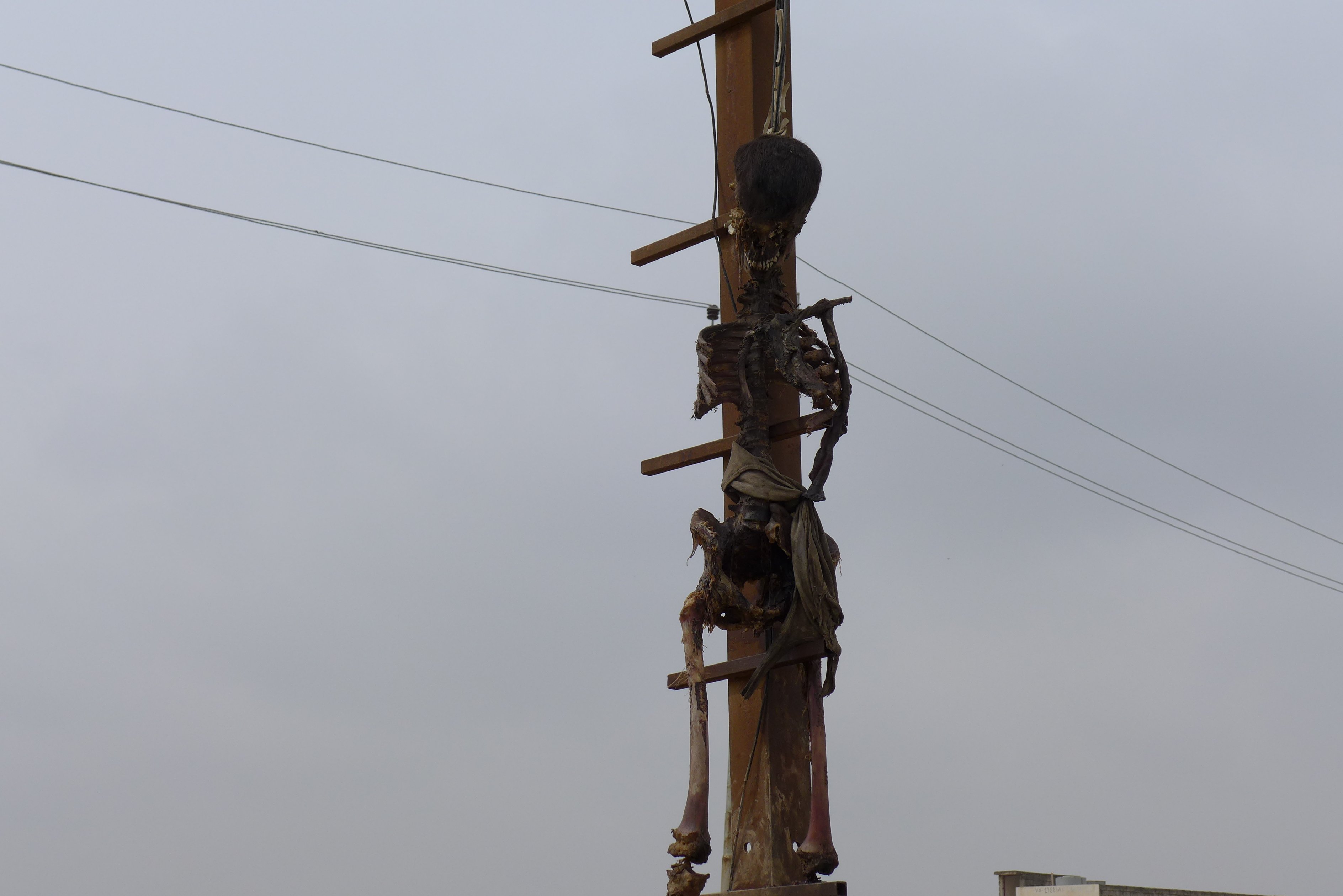 Towards the end of the battle for east Mosul, so-called Islamic State's last stronghold in Iraq, death was everywhere. In late January, on a wasteland patch in a residential area near east Mosul's Al-Salam hospital, two men wearing civilian clothing, their hands tied behind their backs, lay where they had been executed. One, kneeling facedown in the rocky soil, had been shot through the back of the head. The other – a man in his 60s – lay prone on his back, a close-range bullet hole gaping open in his face.
"They were with Daesh," a local resident told IRIN at the time, referring to IS by its Arabic name. "The [Iraqi] Army brought them here and executed them three days ago," he said, complaining how women and children were shocked and scared to see the bodies left like this.
Around one month later, IRIN asked frontline Iraqi troops about the fate of an Egyptian IS fighter captured during that morning's advance. "He'll be questioned then killed," one soldier, Mohammed, said flatly. Another, Abbas, interrupted to say the prisoner would be transferred to Baghdad. Mohammed insisted he would not. "No way are the Iraqi forces going to let him go and live in three-star luxury prison accommodation while we are being slaughtered on the front lines by Daesh car bombs and snipers."
A Mosul-based commander, speaking to IRIN on condition of anonymity, admitted that some IS captives are being shot dead near the front lines, often while military operations are ongoing. Others continue to be executed away from the fighting, presumably after interrogation, such as two men whose bodies were thrown into a ravine near Mosul airport in late March, in an area controlled by Iraq's federal police.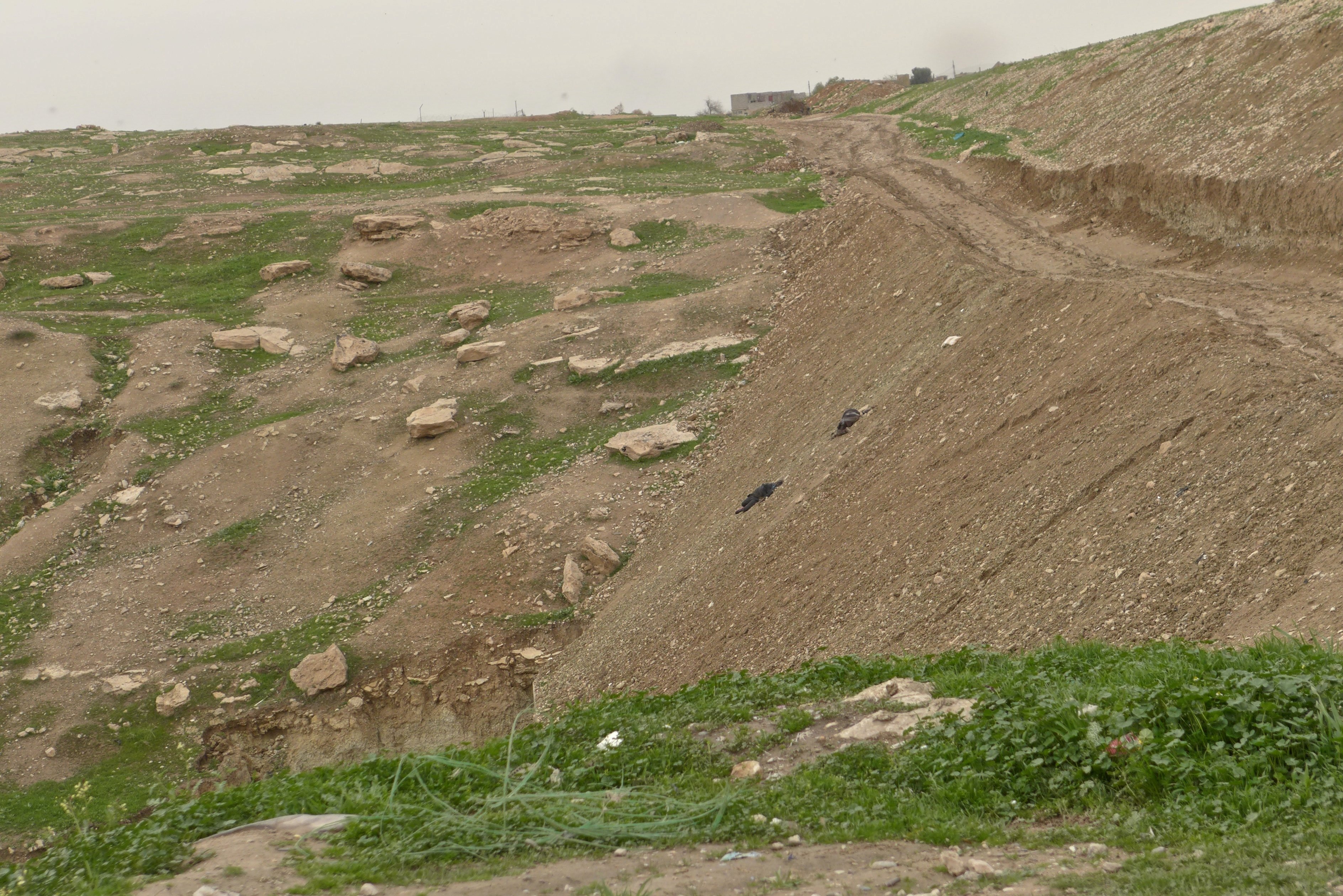 Above the law?
"Killing captured combatants or civilians is a war crime, as is the mutilation of corpses," Human Rights Watch's senior researcher in Iraq, Belkis Wille, told IRIN. "Iraqi criminal justice authorities should investigate all alleged crimes, including unlawful killings and mutilation of corpses, committed by any party in the conflict in a prompt, transparent and effective manner, up to the highest levels of responsibility."
Realistically, however, extrajudicial killings carried out by rogue military units or individuals on the edge of a conflict zone with few, if any, witnesses are unlikely to be investigated.
Ongoing accounts of IS barbarity in Mosul – the militants are said to routinely execute residents accused of collaborating with the Iraqi Army or caught trying to flee – do captured combatants and suspected IS affiliates no favours. The militants are viewed with hatred and disgust by the battle-hardened soldiers manning Mosul's front lines, where IS has resorted to multiple daily suicide operations, as well as the extensive use of IEDs and snipers, to defend the city.
"The Iraqi government should control its own forces and hold them accountable if it hopes to claim the moral upper hand in its fight against ISIS," said Wille. "Political, security, and judicial officials should work together transparently to establish the truth about any abuses that take place in the course of this battle."
However, investigating abuse is not the priority in Iraq right now, and some extrajudicial killings are apparently being overseen – or at least condoned – by senior military personnel. On one revealing occasion, a high-level commander with the Iraqi Army's Rapid Response Division told IRIN how his own interrogations of IS prisoners – both Iraqi and foreign – had produced some useful intelligence. Asked what happened to those prisoners after interrogation, he replied: "they were finished", before hastily asking the interpreter not to translate those words.
The number of extrajudicial killings of IS prisoners in and around Mosul about which IRIN was able to gain verifiable first-hand information was modest. Many more suspects are incarcerated in prisons across Iraq, where at least they stand a chance of facing official justice.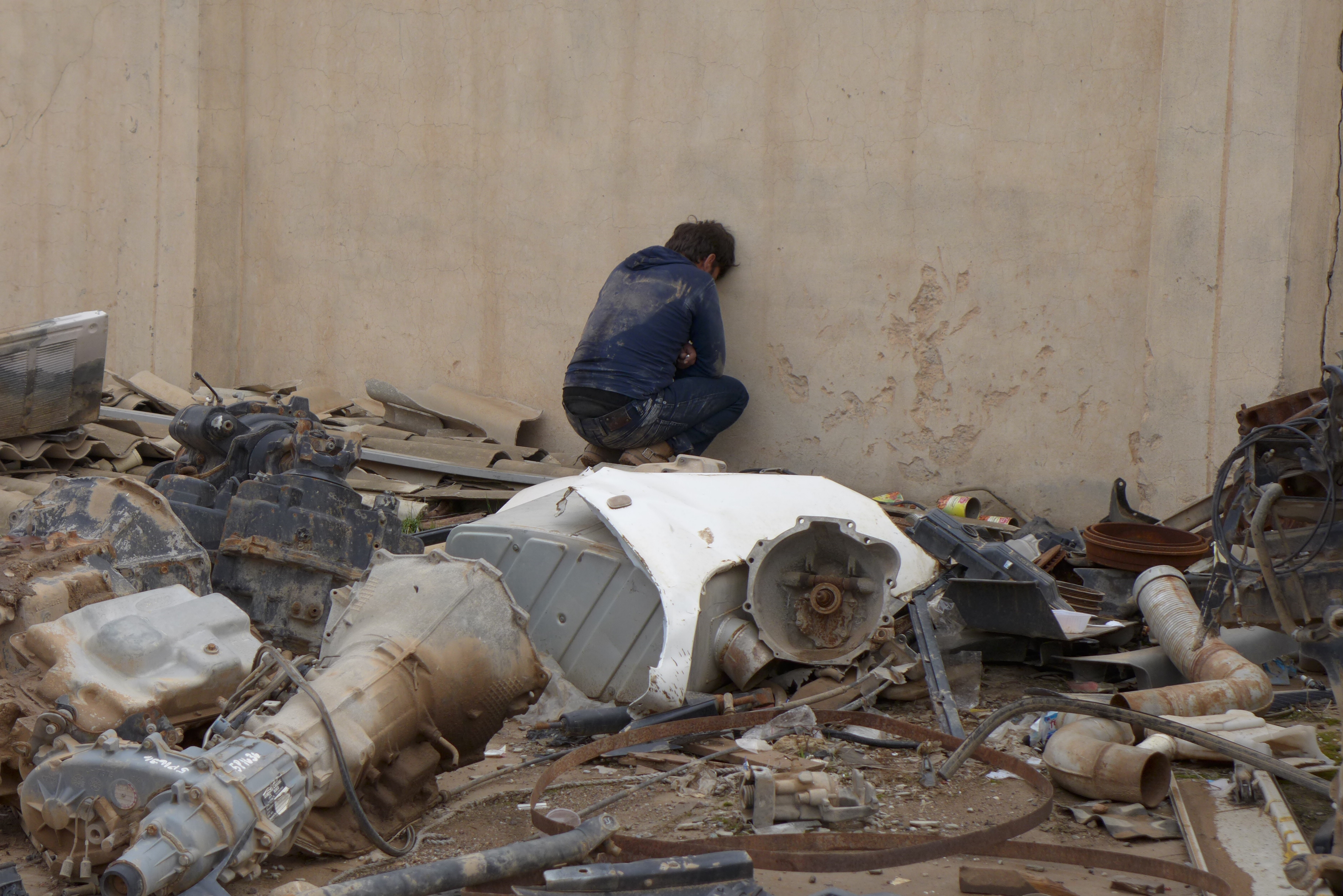 The Mosul-based commander said more than 1,000 alleged IS affiliates are being held in prisons in Mosul and the nearby towns of Qayyarah and Hammam al-Alil alone. High-ranking IS captives are transferred to Baghdad, he added. Iraqi security forces have been arresting IS suspects since mid-2014, so the number of detainees in and around Baghdad is thought to be large, and HRW were told that at least 910 prisoners had been transferred to the capital from three prisons in towns near Mosul. More than 700 IS suspects are also being held in prisons in semi-autonomous Iraqi Kurdistan, according to one commander of the Kurdish Peshmerga forces.
In a March report, HRW said that at least 1,269 prisoners suspected of crimes including affiliation to IS were being held without charge in "horrendous" and "degrading" conditions in three makeshift jails near Mosul: two in Qayyarah and one in Hammam Al-Alil. With chronic overcrowding, poor sanitation, and minimal access to medical care – which may have contributed to four deaths and two leg amputations – the facilities failed to meet basic international standards, the report said. It noted that few prisoners had access to legal counsel and some were being held unlawfully.
"The deplorable prison conditions in Qayyarah and Hammam al-Alil show that the Iraqi government is not providing the most basic detention standards or due process," said Sarah Leah Whitson, HRW's Middle East director. "Iraqis should understand better than most the dangerous consequences of abusing detainees in cruel prison conditions."
Selfies with the dead
The Mosul conflict has also unearthed disrespectful treatment of the IS dead, whether executed or killed during fighting. Public displays of bodies have become commonplace and are viewed by many soldiers as acceptable.
"These Daesh are not humans – just look what they did to hundreds of Mosul civilians," said one federal police sergeant, explaining why he thought it was reasonable that men in his unit had strung up an IS fighter from a lamppost for several hours after killing him. "We are only doing to them what they did to others, and doing this is a warning to anyone here who was with Daesh."
Publicly displayed IS corpses have become sickening local attractions.
By the side of a main road in east Mosul, children casually spat or threw stones at the corpse of a young IS fighter of Asian descent wearing military fatigues, his neck tied up to a broken metal structure with electrical cord. "There were five Daesh fighting here. This one was injured and the other Daesh ran away and left him," a young local man explained. "When the army came, they killed him and hung him here."
A passing taxi driver stopped his car to take selfies with the corpse, cheerfully explaining: "I'm going to put these pictures on Facebook and I'm sure I'll get a lot of 'likes'."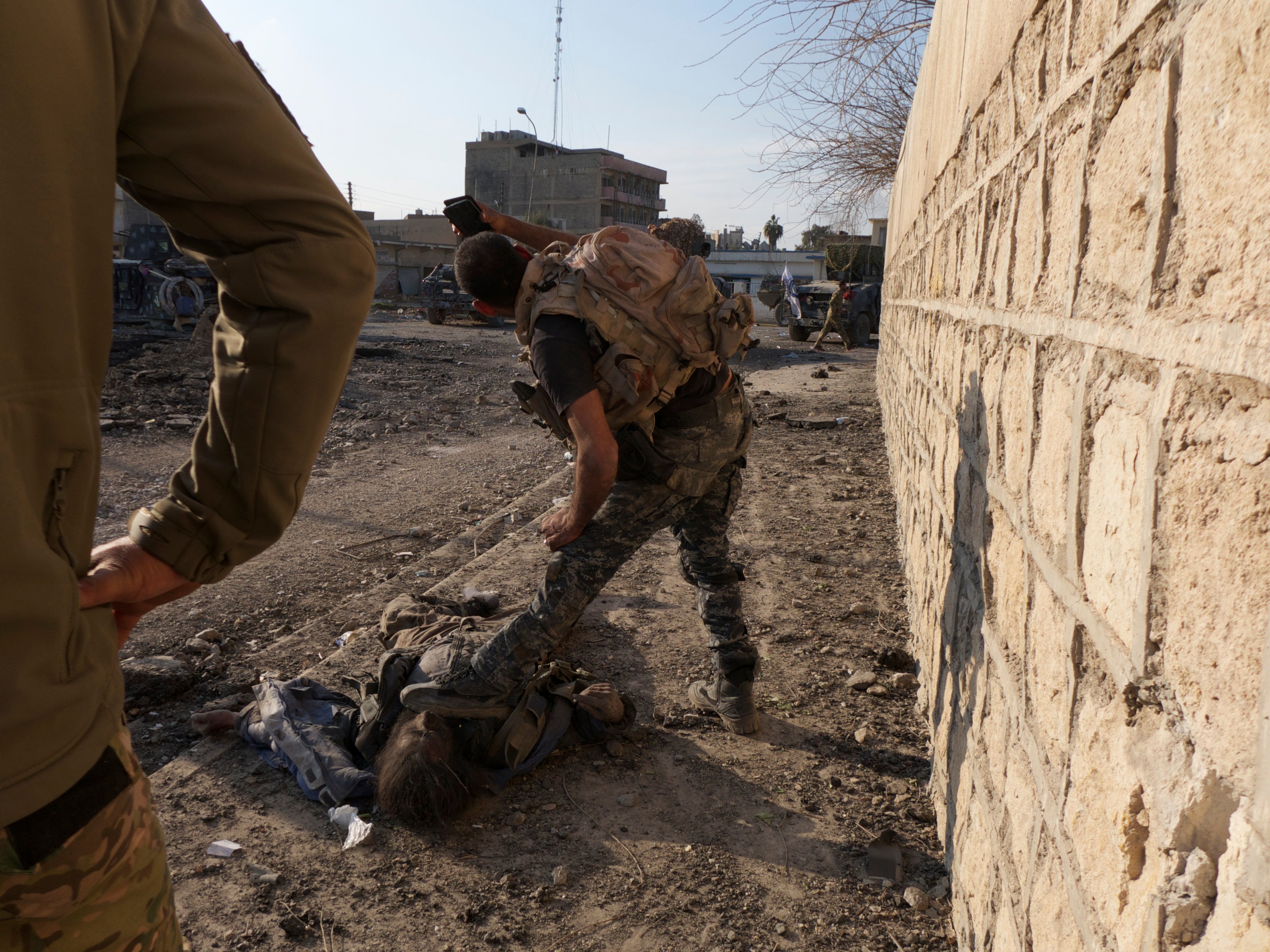 Selfies with dead IS fighters have become common in Mosul. Iraqi soldiers routinely post such images on Facebook, attracting 'likes', 'shares' and congratulatory, encouraging comments. When it comes to IS fighters, disrespectful behaviour around the dead – something forbidden by Islam and international law – has somehow become acceptable practice.
Near the still-active front lines of west Mosul, as the weather turns warmer and the stench of the IS dead in the streets becomes unbearable, bodies are increasingly set alight to curb the smell. This too is prohibited in Islam, and has also given rise to further macabre acts. "We made coffee on that dead Daesh," one young soldier said, laughing and pointing to a coffee pot resting on a smouldering corpse. "And we cooked our lunch on that one over there."
Mental toll
In 2009, the World Health Organization noted that mental health disorders were the fourth leading cause of illness in Iraqis over five years of age. The barbarity of IS and almost three years of conflict involving heavy civilian and military casualties and mass displacement have only exacerbated this mental health crisis. Earlier this year, IRIN reported that only around 80 clinical psychologists are practicing across the country.
SEE: Iraq's growing mental health problem
Many soldiers have been engaged in IS-related conflict virtually non-stop since mid-2014 and have witnessed friends and comrades being killed or horribly maimed by the militants. The battle for Mosul – now in its seventh month – is proving particularly tough, leaving Iraq's armed forces mentally and physically exhausted. Some soldiers confessed to IRIN their desire to exact revenge on IS captives or corpses.
After an advance towards west Mosul's old city in late March, IRIN witnessed a federal policeman approaching the body of an IS fighter. He started kicking him violently in the head, before setting fire to his hair and beard. "You think you're going to heaven?" he shouted. "There is only one place you are going, and that is hell!" A few other federal police officers joined in the mockery and took selfies with the corpse.
After filming the burning body on his mobile phone for a few minutes, the man who had set it alight started to break down. An older policeman put his arm around his shoulder, to comfort him. Together they crouched there in the late afternoon sunshine.
(TOP PHOTO: East Mosul residents say this man, along with one other, was suspected of IS membership and executed by Iraqi soldiers in January. Their bodies were left in a residential district of the city.)
str/ag
SaveSave