When "Mrs. E" found herself unable to conceive, desperate, she approached a member of her congregation. She had recently joined a church in the UK headed by Kenyan preacher Gilbert Deya.
Mrs. E, who was granted anonymity by British courts, was taken under the wing of Deya's wife Mary, and, after a number of counselling sessions, she travelled to Kenya for a second opinion. In October 2003, she returned to the UK with a child.
Mrs. E said she believed the child was a "miracle baby", but in November 2004 a judge in London found otherwise: he said the role of the Deyas was not miraculous, but "simple". The child, known only as "C", had no biological connection to Mrs. E. In the process of being convinced of a miraculous birth, the court heard that Mrs. E had been physically assaulted and money had changed hands. "C" was taken into the care of British social services as a victim of suspected child-trafficking.
While Mrs. E may have been guilty of naivety and wishful thinking, the Deyas' motive was, the judge told the court, "one of the most base of human avarices: financial greed".
Mrs. E's story lies at the heart of the troubling saga surrounding Gilbert Deya Ministries and its flamboyant and outspoken leader – one that appears to have tied British charity regulators, the Kenyan police, and the international justice system in knots for more than a decade.
During a month-long investigation in London and Nairobi, IRIN interviewed UK charity regulators and representatives of the victims, obtained land registries and legal documents, and trawled through public records, social media posts, and news reports. Here's what we uncovered:
At a glance
Despite a series of red flags, the UK Charity Commission has still not shut Gilbert Deya Ministries down
Deya's charity continues to flourish and recently sold London property worth £3.8 million
It spent no money on "charitable activities" last year; its books described as "a cocktail of bad accounting"
Attempts to extradite Deya to Kenya on child-trafficking charges have stalled
12 alleged child victims in Kenya stuck in care and legal limbo for more than a decade
When questioned, Deya called IRIN's reporter an "evil Satanist"
The preacher
Deya is a 63-year-old, Bentley-driving preacher. The self-styled "Archbishop", who claims to perform healing miracles at his services across the UK, has raised millions in donations and tax breaks since his charity opened in 1997. The charitable status of his church has already been investigated twice, and he has been fighting extradition to Kenya for years.
Allegations against Deya initially surfaced in the Kenyan media in 2004 and he has been wanted by Kenyan authorities since his arrest in the UK in 2006 to face allegations of child-trafficking. Police in Kenya allege that Deya's "miracle babies" are part of an international baby-snatching ring, connected to disappearances from hospitals in Nairobi.
A timeline of Gilbert Deya Ministries
Deya's wife has been in and out of court and prison in Kenya on child-trafficking charges. Mary Deya was initially arrested in 2005. In 2007, she was sentenced to two years in prison for stealing a child and one year for obtaining a false birth certificate. She was convicted in a second case in 2011. In 2014, Kenya's high court upheld her conviction, and, finally, in 2015, Mary Deya dropped a further appeal and continued to serve her time.
Gilbert Deya Ministries describes itself as a Christian charity that aims to spread the word of God. Its website, which presents Deya as a visionary ordained by God, refutes the "negative publicity" surrounding Deya's "miracles" stating: "the truth remains he has never [been] found guilty by the court of law in the UK".
In his 2003 book "Curses of Sexual Sins", Deya declares AIDS a curse, calls homosexuality an "abomination", suggests infertility may be caused by "generation curses", and tells the reader he can help them with "miracle babies".
When IRIN approached Deya and asked him about the allegations against him, we were told to never call the number again with such "negative foolishness".
"Can you just write that Bishop Deya said he doesn't talk with those people that are idiots; evil Satanist people like you," he told IRIN's reporter.
The missing babies
Kenyan police allege that several children were sold to Deya by women living in slums in Nairobi. According to Radik Malinskow, who works for child-trafficking charity HAART in Kenya, poverty has a large part to play.
"Some of those woman have several children to feed and often they find it difficult to accommodate a new child," he told IRIN. "The poverty in the slums is very high. Women find it very difficult to cope with the lack of economical resources and some of them have to survive on one or two dollars a day."
"If you are trafficking people, there is a good chance you will walk away with a small fine."
IRIN's investigation found that the 12 child victims of the alleged trafficking in Kenya cannot be adopted or moved out of their care homes until Deya is successfully extradited, and his case heard, according to Kenyan law. As such, the inability of British and Kenyan law enforcement to move forward in Deya's case has left the children in limbo for more than a decade.
"When they were brought here, they were between the ages of six months and two and half years. That was back in 2004," an employee at The Nest, the children's home in Nairobi, told IRIN on condition of anonymity.
Although the children have been in safe custody and attended good schools, many of them have now surpassed the age where they might be adopted. "Their birth certificate reads Gilbert Deya as a parent," the employee told IRIN.
Kenya has been on the US Department of State's watchlist for the last five years for failing to make sufficient efforts to tackle its child-trafficking problem. In 2010, the country introduced a Counter Trafficking Act, which brought in stiff penalties including life sentences for culprits. However, Malinskow said that a lack of implementation means perpetrators still believe they can get away with it.
"If you are trafficking drugs, there is a high chance you will be arrested and jailed for a long time," he said. "If you are trafficking people, there is a good chance you will walk away with a small fine."
Creative accounting
Despite the controversy surrounding the child-trafficking allegations and Deya's possible extradition, his ministries have raised more than £10 million ($12.98 million) in the UK over the past decade, some of it public money from British charity Gift Aid tax breaks.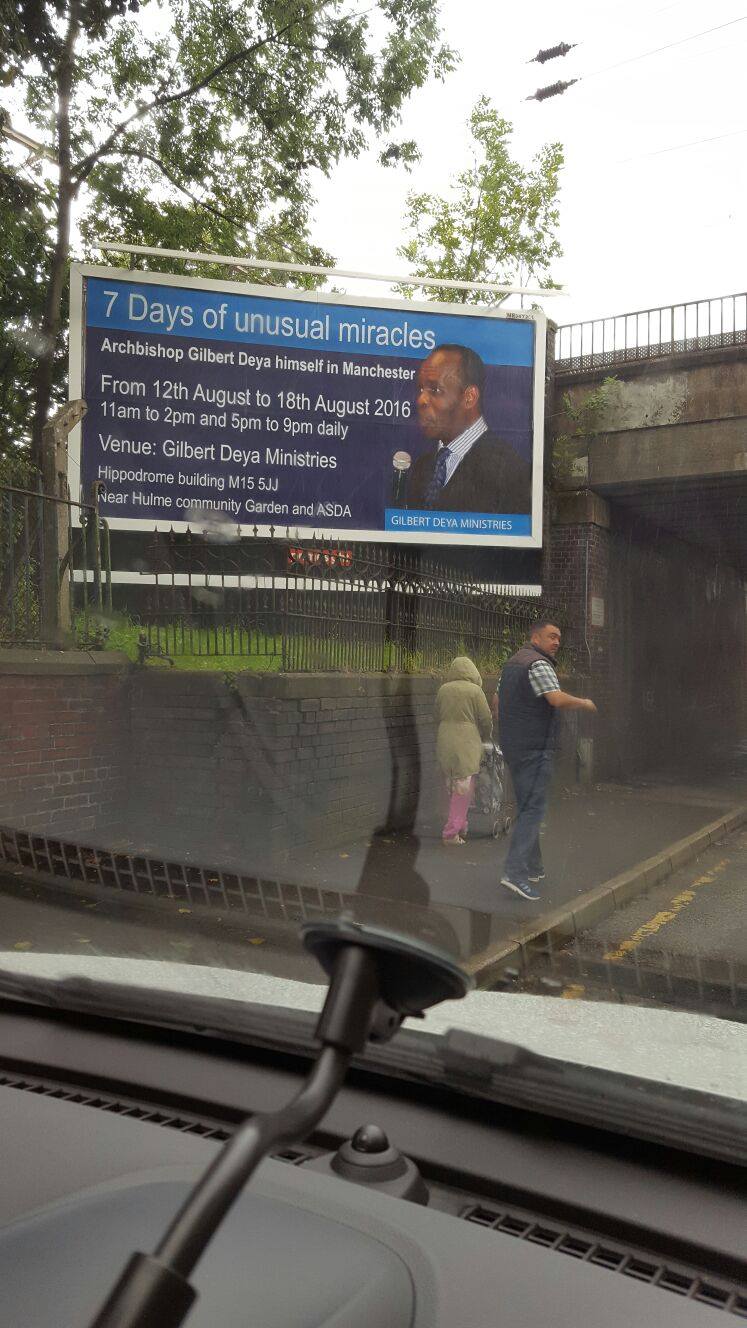 Gilbert Deya Ministries, which is based in London, has a number of churches across the UK, as well as a branch in Belgium. Publications by Deya and his church say there are also branches in India, Zimbabwe, and the United States. Deya has published books, maintains an extensive social media presence, and at one point ran a TV channel carried by Sky. Billboards for his tour in August this year in Manchester, UK, promised "unusual miracles".
In 2014, Deya's ministries had an annual income of more than £864,000 (some $1.4 million at the time). About 90 percent of this came from donations. An analysis of the ministries' accounts on the Charity Commission website reveals "a cocktail of bad accounting", according to Joe Saxton from nfpSynergy, a consultancy firm for charities. Typically, 70 percent of a charity's spending is on "charitable activities", and about one or two percent on governance costs. But, according to Gilbert Deya Ministry's own accounts, it spent nothing on "charitable activities", and its governance costs for 2014 were around 30 percent of its income.

"An awful lot of questions have come out of the accounts," said Saxton. "There are strange patterns of expenditure like writing off bad debts, and things that I can't think of a logical explanation for."
Regulatory failings
The England and Wales Charity Commission came under scrutiny in 2013 when a damning report by the National Audit Office found that the regulator failed to "identify and tackle abuse of charitable status." According to the report, even taking into account the limited resources that the commission has, it was still failing to carry out substantive regulatory work. The harsh review led to the commission vowing publicly, in 2015, to take "robust and decisive action where necessary, making better use of data and being bold in its use of statutory powers".
British charity regulators are already on the defensive after a series of recent scandals. These include a high-profile case involving Kids Company, a charity that was given millions of pounds of public money from successive governments despite years of allegations of inappropriate "therapies", lavish spending, and serious abuses of power. And the Scottish Charity Commission recently came under fire when a Sunday Post investigation revealed that trustees of Skotia Aid, a charity set up to help needy children in Sierra Leone, had for years used a business rates loophole to line their pockets whilst giving almost nothing to the children they were set up to help.
The Charity Commission launched two previous investigations into Gilbert Deya Ministries, in 2000 and 2004, but never shut it down.
In an email to IRIN, the Charity Commission confirmed that the 2004 investigation followed media interest in relation to the allegations of child trafficking. When IRIN asked for a record of the previous probes, we were told that the 2004 investigation was never made public as it may "cause severe prejudice to the charity" and was deemed "not to be in the public interest".
The Charity Commission closed its 2004 enquiry in September 2006 after it was satisfied that Gilbert Deya Ministries had made significant improvements. "The trustees took steps to review and improve the charity's financial systems and governance, ensure that charity funds are properly applied, file outstanding audited accounts and protect the charity's reputation," the charity commission told IRIN.
But following the investigation, accounts on the Charity Commission's website reveal that Gilbert Deya Ministries was late filing its accounts two years in a row. For 2012, the charity provided the regulator with its accounts 453 days late. The previous year, the accounts were 152 days late. Alongside this, the "charitable activities" expenditure, compared to its governance and legal costs, has dropped significantly. Its most recent accounts, in 2014, declare that it spent £0 on "charitable activities" in that year.
In August, the Charity Commission announced the latest investigation into Deya's operations, referring to issues related to "safeguarding" – a term used in connection with protection of children – whilst also raising concerns over the charity "selling olive oil to which it attributed healing qualities". It also said the trustees "have failed to report serious incidents to the commission and to provide adequate responses to the questions raised". Deya remains one of six trustees of the charity in the UK.
According to The Charities Act, the commission can remove charity status if it no longer considers an organisation a charity, or if a charity has ceased to operate.
Still in business
Whilst the controversy surrounding Gilbert Deya Ministries persists, the charity continues to grow. Official land documents obtained by IRIN reveal that the charity made more than £3.8 million ($4.95 million) from the recent sale of its property in Peckham, London. It has since moved its headquarters to a Greater London suburb, Sutton. Posts on the Gilbert Deya Ministries Facebook page claim that the charity also purchased 3.54 hectares of land in Sutton, on which Deya says he aims to build a hotel and a petrol station.
"We should never forget that Gilbert Deya's victims are innocent children who will have to live with his actions for the rest of their lives."
Meanwhile, attempts to extradite Deya to Kenya to face child-trafficking charges appear to have stalled. The Kenyan authorities requested his extradition in 2007. Deya appealed, stating that the extradition would breach his human rights and suggesting that his connection to Raila Odinga, the previous prime minister of Kenya, meant he could face torture back in his native country. Although he lost the appeal, the Home Office has never followed through with the extradition. In 2014, Kenyan media reported that one sticking point was that the UK had requested that Deya be held in one of two higher-standard prison facilities.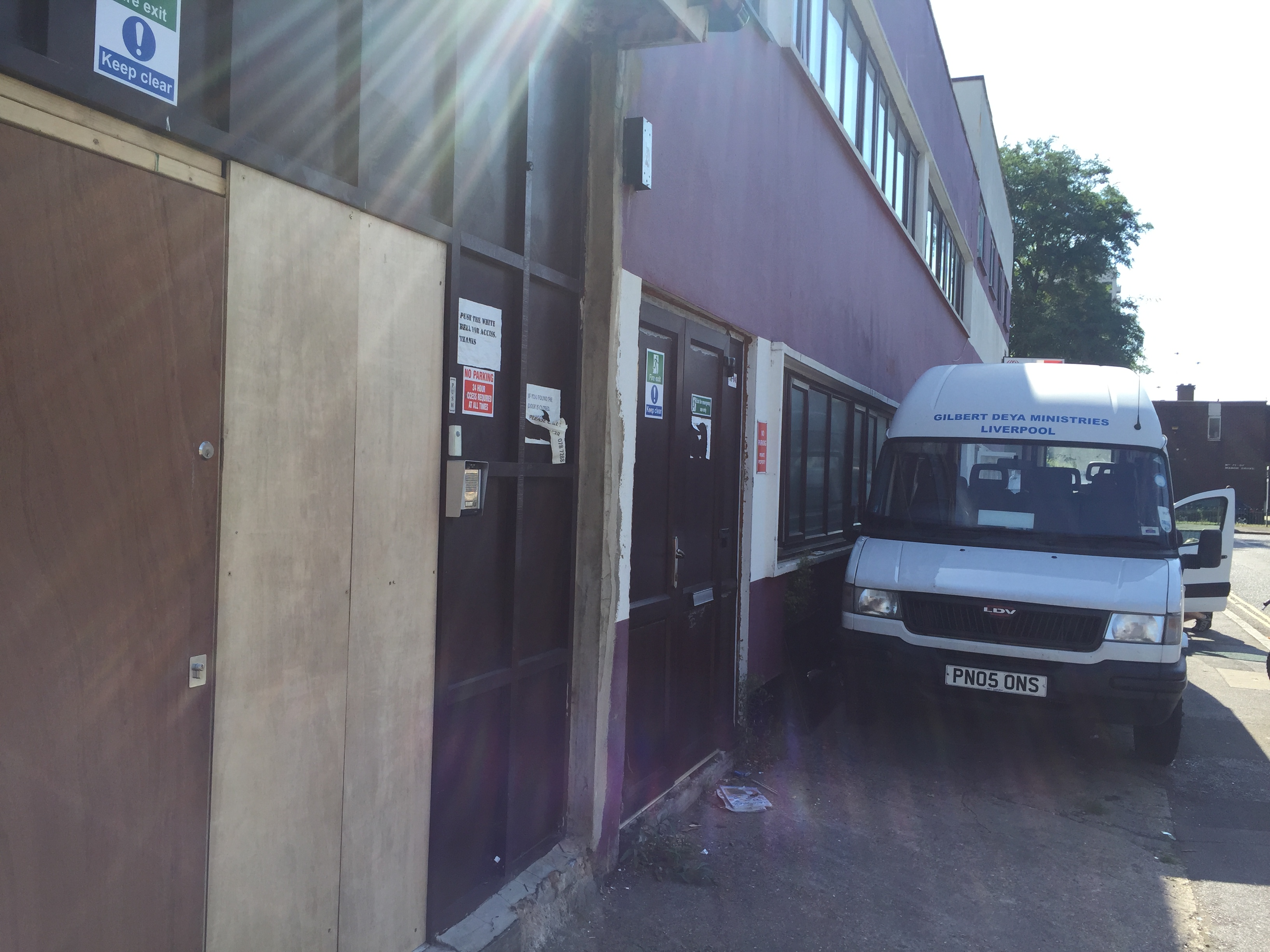 The most recent development came in early 2016, when the UK Home Office told Deya's local MP that it was "considering further representations from Mr. Deya" claiming that his extradition would breach the European Convention on Human Rights.
"I have been pressing Home Office ministers to take action on this truly dreadful case for many years," the MP in question, David Lammy, a member of the opposition Labour Party, told IRIN.
"Clearly there needs to be a review of how this despicable child trafficker and fraudster has been able to run rings around judicial and regulatory systems for so many years," he said. "We should never forget that Gilbert Deya's victims are innocent children who will have to live with his actions for the rest of their lives."
(Additional reporting by Mohammed Yusuf in Nairobi)
(TOP PHOTO: An image from the charity's Facebook page on the 2nd October shows Deya in costume. Credit: Gilbert Deya Ministries Facebook Page)
es/bp/ag