I walked among the graves of recently fallen soldiers in Yerablur, the Armenian military cemetery in Yerevan. I walked past the gatherings of family and friends who had come to mourn young men who died fighting for their country – or so they, and we, were told. I also walked past the graves of Armenia's revolutionary heroes of centuries past, Monte Melkonian and "General Andranik" – Andranik Ozanian.
It was January 2021. I had been travelling around the country since late November, having arrived days after Russia brokered a ceasefire between Armenia and Azerbaijan in their conflict over the contested region of Nagorno-Karabakh. Surprisingly, on that winter day, I was neither confused nor numb. I was upset and immensely angry.
I was angry not at the so-called enemy I had been taught to hate since childhood, growing up as a third-generation descendant of survivors of the Armenian genocide. I was angered by the spread of propaganda, especially via social media, emanating from the government of Armenian Prime Minister Nikol Pashinyan. I was angered by the 30 years of corruption of the former post-Soviet regime.
After weeks travelling through Armenia and Nagorno-Karabakh, I was there because I had to pay my respects. And standing in Yerablur, I saw faces, flags, and despair.
Around 5,000 Armenian men – many younger than I am now, 24 – perished in the most recent Nagorno-Karabakh war with Azerbaijan. In a country of a population of 2.9 million, that is quite a lot. Most were 18 to 20 years old, obliged to bear arms – probably confused and scared – and sent to the front lines with likely no ambition but to return to their families safe and sound. Thousands of others are now either disabled or suffer from PTSD, needing help they can't get.
In mid-December, I met Artyom at Vahanavank, a monastery close to Kapan, in the Syunik region of southern Armenia. He was 18 years old and about to be baptised before reporting to his military post in the outskirts of Stepanakert, the capital of the self-proclaimed breakaway Republic of Artsakh, or Nagorno-Karabakh. He had begun to serve his two years of compulsory military service a month before the war broke out.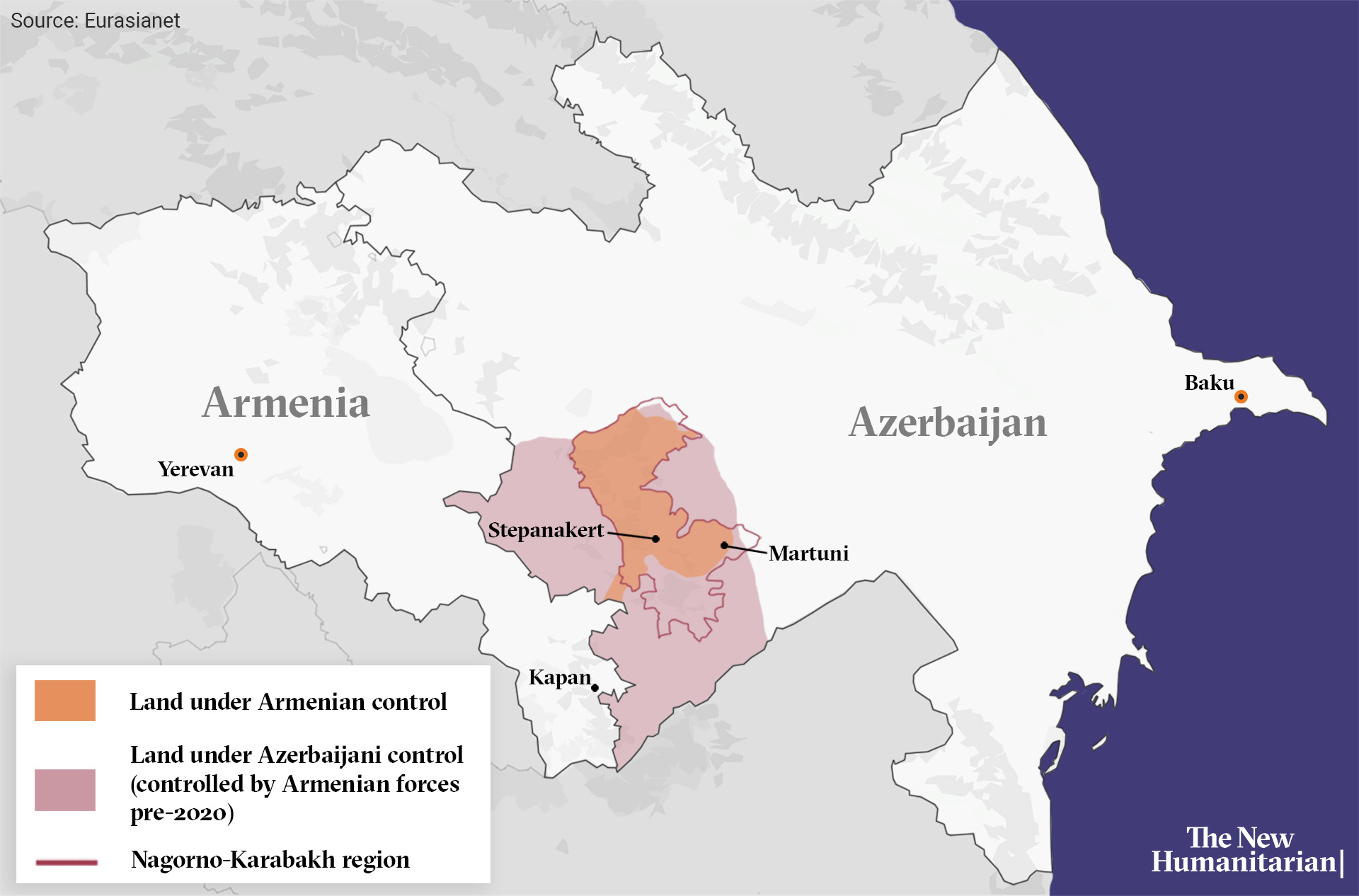 Speaking to Artyom, I did not see bravery; instead, I saw pain, sadness, and confusion. His family was there – his mother unable to sleep at night, and his grandmother with tears in her eyes as she tried to explain how she felt, knowing things could still escalate at any moment and her grandson was in danger.
Later, I made the nearly one-hour drive to Tandzaver, a village nestled on a dirt road linking Kapan to Yerevan. This small village had 23 men who had volunteered and vowed to protect it – and in turn the country – from any Azerbaijani advancement.
"Although we are not exactly close to the new border with Azerbaijan, we are indeed an hour away from Kapan, which is under imminent Azerbaijani threat," said Knarik, a local woman.
At dinner, her husband Hagop held a small glass of vodka in the air and cried out: "To peace!".
"To peace!" we replied.
Most of the local Armenians I spoke to did talk of peace, or khaghaghouchioun, with the Azerbaijanis, but there seemed to be a deep lack of trust. According to Knarik, the prospect of Azerbaijanis and Armenians living side-by-side again anytime soon is almost an impossibility.
On the front line
In late December, I spent a little over a week exploring Nagorno-Karabakh: a place I never really cared about despite its importance to Armenians worldwide and especially to my patriotic Armenian family. I firmly believed it was holding Armenia back on its path to prosperity, keeping the country from prioritising good and strategic relations with neighbouring countries due to nationalist aspirations. 
I discovered that Artsakh is crazy beautiful; I prefer it over rural Armenia proper. Residents of Stepanakert showed me great warmth, love, and hospitality, and I felt immense energy in that place.
I remember a family friend, an Armenian Orthodox priest in Beirut, telling me that I would feel some form of attachment to Armenia when I first moved there, maybe sadness, probably joy – yet I felt nothing. Armenia is a nice place, but not one I was able to identify with. Artsakh, on the other hand, taught me about the determination of a people striving to live with dignity and respect. I felt somewhat scared – for myself first, but also for the Artsakhtsi.
I visited a school that had been heavily bombed by the Azerbaijani forces. Only one part of the school was operating and the rest was in ruins. We met children, but also a refugee teacher of Russian from Hadrut – an ethnic-Armenian city that is now a ghost town under Azerbaijani control. The teacher explained that she could no longer visit her father's grave. The headteacher told us about the trauma the children still suffered from. 
That's when I felt numb: disgusted by the world's inaction – and mine.
During my last days in Artsakh, along with a group of journalists, I decided to visit Martuni – a town on the front line where skirmishes still erupted from time to time. On the way there, we stopped at a military post where about 20 soldiers were crammed into a small room. One told me the average age of the soldiers there: 19. 
Sitting with them, I understood that "the conflict zone" was much more to them: It was home.
I met Karen – who appeared to be in his mid-twenties and one of the eldest. He had studied physics and wanted to be a nuclear scientist; he also dreamt of visiting Spain. Others wanted to learn English, to travel abroad, to study this or that, to choose a career. 
Some boys – they were so young, it's hard to think of them as men – were so small, I could barely see them under their military vests. Both Karen and I are Armenian, yet he was wielding a gun and I had the Notes app open on my phone.
In Martuni, we stayed with local men, most of whom had been fighters in the first war (1991-1994). The town had been badly hit during the recent fighting, and the new border was less than a kilometre away from where we were staying.
Our hosts sang, drank, ate, and smoked – heavily! They spoke of the future, their hopes to live and to raise their families in the town of their ancestors, farming crops and cattle. 
Sitting with them, I understood that "the conflict zone" was much more to them: It was home. They had been among the first to experience the loss and trauma of this war. Now, they were hoping for peace, or their version of peace.
It was on my return to Yerevan that I visited the cemetery at Yerablur. There, I committed an unspeakable sin: I also grieved for the soldiers buried in an Azerbaijani military cemetery a few hundred kilometres away. Silently, I offered my condolences to their families too.
Even now, seven months later, I am still angry.
Reporting support from Kevork Hayrabedian and 14milimetros. Parts of this trip were facilitated by Birthright Armenia. Edited by Josephine Schmidt.
Read more about...