Hundreds of people who relied on crossing from northwest Syria's battered Idlib province into Turkey for life-saving medical treatment have been left in the lurch for two months by a COVID-19 related border closure, unsure when and if they may be able to get help again. 
Entrance to Turkey has not been an option for the vast majority of Syrian civilians for years, but an exception was granted to patients with serious illnesses – like cancer – that are difficult and often costly to treat in Idlib's war-devastated hospitals and clinics.
These patients could cross the border at Bab al-Hawa for free care in Turkey, courtesy of the Turkish government. According to numbers released by the authorities in charge of the Syrian side of the crossing, more than 500 patients entered Turkey for treatment in February.
That was until – to contain the spread of the coronavirus – the Turkish government closed the lifeline in mid-March, three days after Ankara confirmed its first COVID-19 case and two weeks before Damascus reported its own cases.
Among those now stuck in Idlib is 43-year-old Faisal al-Mustafa, who lives with his wife and nine children in a sprawling tented camp along the border. Six months ago, at the height of the Syrian government's Russian-backed bombardment of the rebel-held northwest, doctors diagnosed him with brain cancer. 
The nine-month offensive was paused by a ceasefire in March, but not before a million people were forced to flee in its final three months. More than 1,750 civilians were killed, and hospitals and clinics were ravaged in Idlib and its surroundings – home to an estimated three million people.
Al-Mustafa survived the bombing, but news of his cancer came as a shock. There was little chance of finding the complicated care he needed in Idlib, and even if there was a hospital able to take him on, he didn't have any money to pay. Since fleeing his hometown further south in 2014, where al-Mustafa made his living as a farmer, he has subsisted by borrowing money from relatives.
Like hundreds of people in northwest Syria suffering from cancer and a range of other chronic illnesses, al-Mustafa was allowed into a Turkish hospital via the Bab al-Hawa border crossing, with the bill footed by the Turkish government. 
Since mid-March, as cases of COVID-19 have multiplied in Turkey and Syria, only a handful of the most dire emergency cases have been allowed into Turkey.
After several months of crossing back and forth for free medical care at a hospital in Turkey's Antakya, including surgery, chemotherapy, and a three-month stay, "the treatment was helping," al-Mustafa told The New Humanitarian. 
But it soon came to an abrupt halt.
Since mid-March, as cases of COVID-19 have multiplied in Turkey and Syria, only a handful of the most dire emergency cases have been allowed into Turkey, said doctors in Idlib. Cancer patients are not among them. The closure was originally announced for two weeks, but it has since been extended, and a number of patients already in Turkish hospitals when the border shut have simply stayed on in Turkey, doctors said, though it is unclear how many. 
For now, al-Mustafa and hundreds of others who had gone back and forth between the countries for treatment are all but trapped. By early May, he said his body was growing weaker. He is in "a lot of pain", he wrote over WhatsApp. 
Destroyed hospitals, limited options
The past nine years of war have hit Syria's medical sector hard. In parts of the country controlled by President Bashar al-Assad, economic sanctions have deterred imports of certain pharmaceuticals, including cancer treatment drugs. A 2016 World Health Organisation assessment of oncology treatment in eight hospitals found "acute shortages" of specialised staff, equipment, and cancer care medicines in all the facilities.
Still, hospitals in government-held Damascus have remained an option for patients across battle lines in Syria – despite the risks involved in getting there. Health authorities from al-Assad's government reportedly announced in late April that they would secure transportation for cancer patients from the country's northeast – now mostly run by majority-Kurdish authorities – to Damascus, although the details of this plan are not clear.
But for al-Mustafa, going to Damascus was out of the question. He told TNH that two of his brothers were arrested by government security forces over the course of the war for perceived pro-opposition sentiment; one was killed, he said, and the other vanished long ago into the government's vast prison network. 
Travelling to the northeast is complicated and expensive, and crossing into nearby Turkish-administered areas of northern Syria is of little help. Hospitals there are not yet equipped to treat most cancer patients, Dr. Melhem Khalil, an oncologist in the area, told TNH by phone. 
Read more → Inside Idlib's bombed-out hospitals and clinics
That leaves just Idlib, where Syrian and Russian forces directly hit dozens of medical facilities during the offensive, bombing many out of service. Some continue their work despite myriad challenges; others now simply sit in ruins – unsalvageable piles of rubble. Among the bombed facilities are those that shared their GPS coordinates with the UN as part of a no-strike "deconfliction" list disseminated to warring parties. They were hit anyway.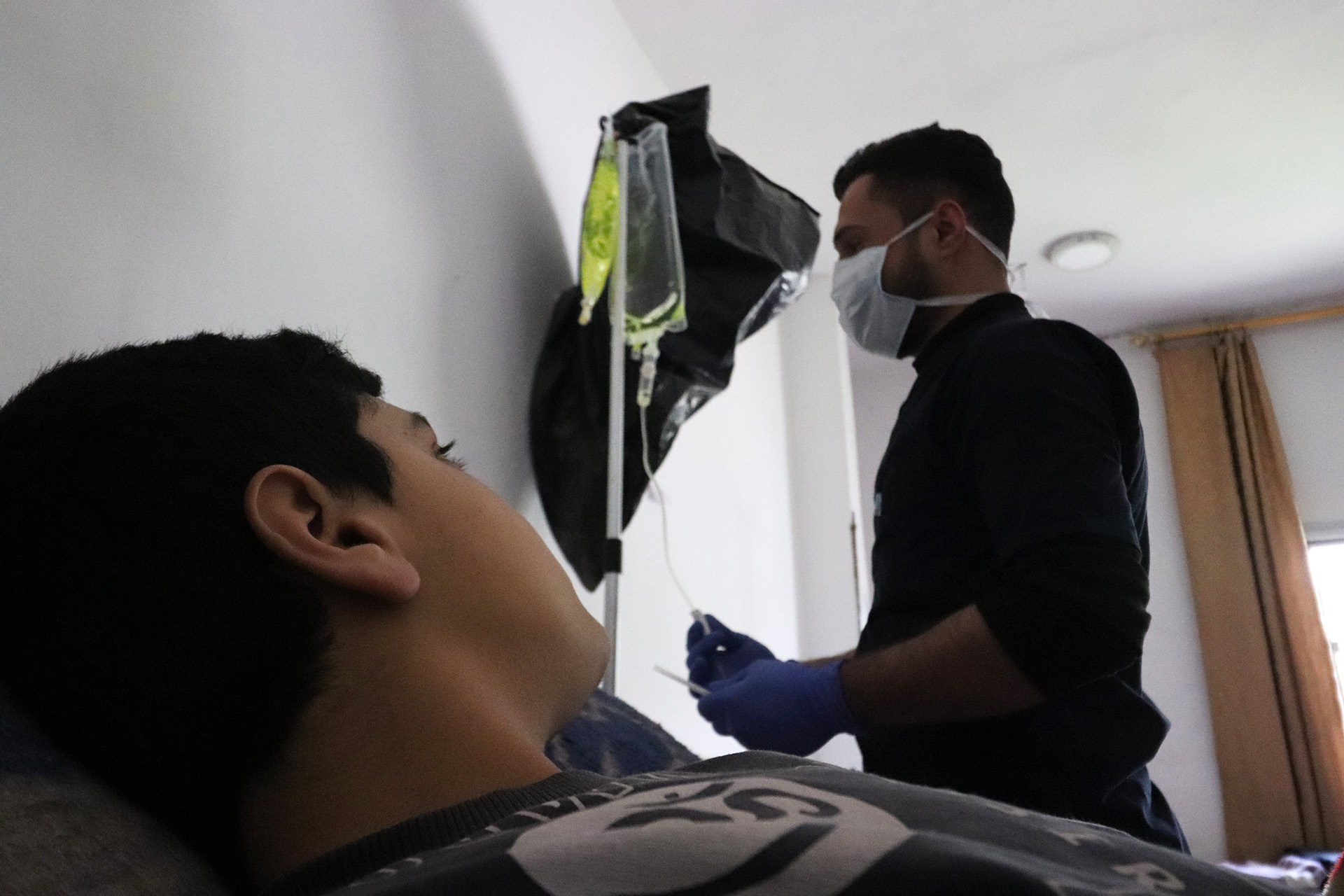 Hope among the devastation
For patients like al-Mustafa, treatment in Turkey had been one source of hope in desperate circumstances.
Numbers released by the Syrian side of Bab al-Hawa, which is controlled by civil authorities under the jurisdiction of the hardline Islamist group Hayat Tahrir al-Sham, show the drop-off in patient crossings. After 500 in February, an official infographic published in March – the month in which the crossing was closed – showed only 270 patients had been transferred to Turkish hospitals from Syria via Bab al-Hawa, little more than half the usual amount. 
A representative from Idlib's health directorate said by phone that the count was "reliable". Dr. Ayham Jamou, head of oncology at the Idlib Central Hospital in the provincial capital, also said the numbers published by Bab al-Hawa administrators appeared reasonable. 
By the end of April, the crossing reported a total of zero "cold case" patients – the Arabic term that encompasses chronic illness such as cancer and heart disease – had entered Turkey.
While the border remains open to trucks carrying humanitarian aid, and Syrians choosing to return from Turkey to Idlib can do so – as long as they enter locally run quarantine centres – movement from Syria to Turkey at Bab al-Hawa has all but stopped.
Doctors and officials involved with the medical transfers don't know when that will change.
"There is no other way for them (patients like al-Mustafa) to enter Turkey," said Dr. Basher Essmail, a dentist by training who runs the Bab al-Hawa crossing's medical coordination office.
Mahmoud Daher, head of the WHO's field presence in Gaziantep, southern Turkey, said the UN body "is in contact with the Turkish authorities on a daily basis" concerning healthcare access in Syria. He told TNH he didn't know when the crossing would re-open for anything other than "red alert only, emergency cases". 
Turkish officials in charge of their side of the crossing could not be reached for comment. The Turkish director of an Ankara-run military hospital in nearby Afrin, which Turkey has occupied since 2018, declined to speak with TNH on the halt of medical transfers. 
'I don't want to lose my daughter'
For some patients, diagnosis came too late to get into Turkey at all.
Lujein Steifaa, a toddler from rural Idlib, was diagnosed with leukaemia in April. By then, the border had already been shut for two weeks.
According to her mother, doctors told the two-year-old girl, who lives in Binnish – a bombed-out town a short drive northeast of Idlib city – she would need extensive treatment, including chemotherapy.
TNH met the mother and daughter in a children's hospital in Idlib city, where she has been spending most of her time since the diagnosis. Wilaa, her mother, looked exhausted, as Lujein sat next to her, giving blood for a test and cuddling a Minnie Mouse doll. 
A child cried in the next room over. 
Lujein now stays in the hospital full time, but it can't treat her on site. Instead, she visits a smaller private clinic in the town of Salqin, some 30 kilometres away, for chemotherapy sessions with Dr. Osama Abdelwahid, the only paediatric oncologist believed to be working in Idlib. 
"I don't have the money to keep paying for her medicine."
After diagnosing Lujein a month before, Abdelwahid said he was "optimistic" she may improve. Sending her to Turkey would have been ideal, he said, but her family has been lucky enough to get chemotherapy drugs from a charity pharmacy that receives international funding and gives medication out for little or no charge. 
But there's no guarantee the pharmacy will continue to stock the drugs, and Wilaa's daughter has months of treatment ahead of her. "I don't have the money to keep paying for her medicine," Wilaa said.
Just steps away from the children's hospital is Idlib Central Hospital, which is funded by the Syrian American Medical Society (SAMS), a US-based charity. The facility includes a specialised oncology wing. There, hundreds of patients seek out cancer treatment each month, according to Jamou, the hospital's oncology director. 
"It is the only such centre in Idlib providing cancer treatment free of charge," said Dr. Fadi Hakim, advocacy manager for SAMS' Turkey office. 
"Breast cancer, lymphoma, colon cancer: treatments for these cancers are available and free of charge" at the SAMS-run centre, Hakim told TNH by phone. But, due to a lack of funding and restrictions on obtaining some drugs, about one third of patients must buy their medications at local pharmacies administered by the clinic – and many can't or struggle to afford them.
And the hospital can't treat everyone. People with more complex illnesses, such as leukaemia and brain cancer, were previously transferred to Turkey for treatment. "That has temporarily stopped due to the COVID-19 situation," said Hakim. 
Hakim is particularly concerned about those patients, who he can't do much for. So far, he said, five patients with advanced cancer from his hospital have been unable to reach Turkey, making their last days "more difficult then they would have been".
Wilaa is afraid. Lujein's older sister died of an undiagnosed illness more than a year ago. 
"I don't want to lose my other daughter," Wilaa said, speaking from her chair at the children's hospital. 
In his tent in the border displacement camp, al-Mustafa is also increasingly worried. He has yet to seek medical treatment since the border closure. 
As his condition worsens, he says he may try visiting a charity pharmacy to see if there are any free medications that could help him. But, with no income in the camp and nine children to care for, al-Mustafa said his biggest fears extend beyond his brain tumor. 
"The things I'm most afraid for are [the livelihoods of] my children, my family, my loved ones."
mah-me/as/ag