Happy cries of children on reopened fairground rides in east Mosul echo out across the placid expanse of the Tigris River while Muhunnad, 27, stands on top of the ruins of his former home in west Mosul's Old City.
On the east of a newly built bridge, locals are returning home and new businesses are popping up – encouraging signs of post-war recovery. But all around Muhunnad's home on the west side is simply rubble.
This is where the final and most ferocious battle against so-called Islamic State in Iraq's second city took place, supported by intense and sustained use of airpower – a densely populated urban centre reduced to uninhabitable wasteland.
Where Muhunnad's house once stood lies a blackened child's head with hair still visible, and a disembodied pair of adult legs, rotting there ever since the city was finally liberated last July after an eight-month battle.
Last week at a Baghdad press conference, Prime Minister Haider al-Abadi talked about Iraq's "readiness for huge investment" following the defeat of IS. And this week's Kuwait International Conference for the Reconstruction of Iraq is expected to help lay the foundations for large-scale rebuilding – Iraq says it needs $88 billion to recover from the last three years of war. 
But as donors, politicians, and investors meet to discuss Iraq's future and talk big money, tangible help is yet to reach many residents, especially in places like Mosul's Old City where the needs are immediate and residents like Muhunnad have been left doubting government promises.
"Imagine, this whole area was full of homes and each home was full of people, many related, whose families had lived here for centuries," he says quietly. "This was the oldest part of Mosul, completely residential, and whole families are still buried underneath here."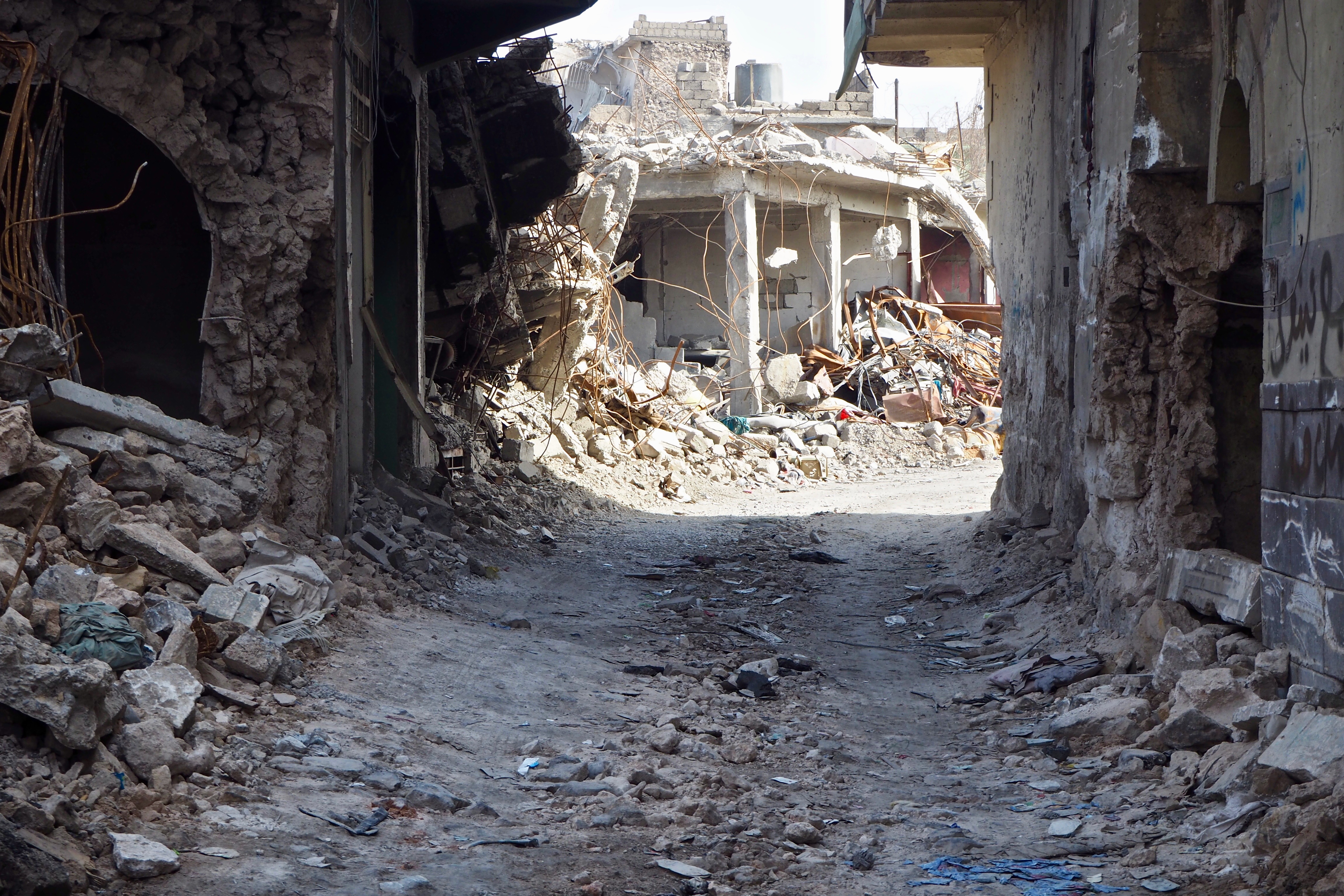 Desperate to get on, to start rebuilding his life, Muhunnad explains how he has only managed to speak to one official and how he was told simply to record evidence of the damage as then there would be an opportunity to submit a claim for compensation. 
"This is the third time I've come here, to take photos and record what happened to our home," he says. "We're not expecting anything from the government, but we will still do our part and record what remains here and our circumstances, and present it to them."
Confusing system
Muhunnad counts himself one of the lucky ones, even to be alive.
His family fled a month before liberation – the men swimming across the Tigris at midnight pulling an airbed on which the women were sitting. His youngest sister fell into the water and drowned. 
"At the end it was so awful, it was unimaginable," he recalls. "We were dying of thirst and starvation under constant airstrikes and fighting."
Despite producing photographic evidence and records of his situation, he has still not managed to extract any help from the government.
Speaking from Kuwait, Norwegian Refugee Council Country Director Petr Kostohryz told IRIN that the NRC was helping some Mosul residents with the complex process of submitting compensation claims to the Iraqi government. However, even when claims were deemed eligible, Kostohryz said there didn't yet appear to be any functioning system in place for actually disbursing funds.
The needs of those in Mosul's Old City, and in Iraq as a whole, go far beyond rebuilding – although for many it's the crux of the problem. 
"There is a lot of focus on the damage to key infrastructure from conflict and major rebuilding projects but… it is very important not to let this obscure other needs, which remain immense in west Mosul," UNICEF spokeswoman Laila Ali told IRIN.  
Even in east Mosul, which did not suffer the same level of damage as the west, life is far from back to normal. Ali said that in Nineveh province as a whole (Mosul is the provincial capital), less than 10 percent of healthcare facilities are operating properly.
Risk and reward
Kuwait is a world away from this flattened expanse beside the Tigris, where in streets lined with crumpled buildings and heaped-up vehicles wind through the Old City, children coated in unhealthy dust scour the rubble for scrap metal to sell. A cartload, including missile fragments and ammunition casings, can fetch between three and four dollars. 
A 15-year-old boy working alone with his donkey and shabby cart glances furtively at a shop once used as an IS weapons' store. It is crammed with metal ammunition boxes and blackened casings. Such a hoard is a tempting prospect, but the boy resists, saying he is cautious of unexploded ordnance or booby-traps potentially lurking in the ruins.
"Lots of people have been killed and injured since we started doing this work and many people are too scared to do it, but we have no choice," explains 32-year-old Mohammed, scavenging for scrap metal with two of his sons.
Mohammed's Old City home was destroyed in an airstrike and he has eight family members to look after. "We have literally nothing, and this is the only way we can get money for food," he tells IRIN. "And this is better than stealing, which is our only other option for survival right now." 
Collecting and selling what's left of the city is technically forbidden but weary local forces manning checkpoints often turn a blind eye.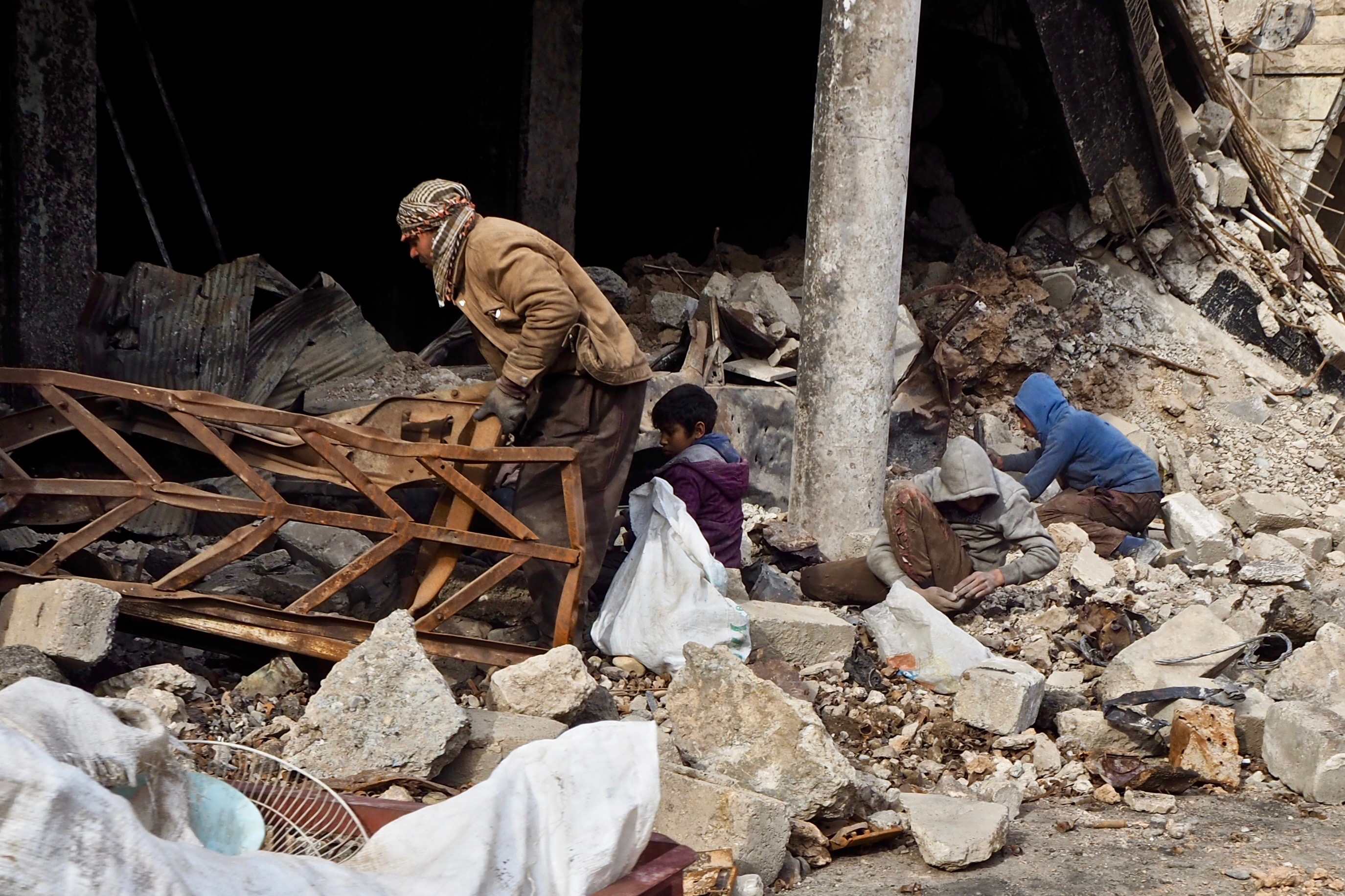 Across Mosul, children do menial jobs to support families who have lost older male relatives. Those fortunate enough to attend school usually have only around three hours per day of teaching time due to overcrowding. Education materials also remain in short supply. 
Imad, 48, injured by shrapnel, hobbles down a street with his son and a local boy who he has adopted after the child's entire family was killed in an airstrike.
The boys carry tatty schoolbooks in their arms that they have pulled from the remains of Imad's former home. The school they attend has no resources and Imad can't even afford to buy them pens and paper.
Some three million Iraqi children are not in school and one million are in need of psychological help. "The government must invest in its children," said UNICEF's Ali. "Otherwise it risks losing a whole future generation."
Mythical aid
Individuals, sometimes entire families, wander the streets of old Mosul, clutching yellow cardboard folders with photocopies of their IDs and medical letters, looking for aid groups they say had promised help.
"An international organisation promised us food and money today and we have been here since early morning, waiting, but no one came," says Saad Abdullah, 53. 
"The Iraqi government is useless, just giving us occasional promises with no follow-through, and we thought the international organisations would be better, but we are just getting more promises and more lies. No actual help ever comes."
Ahmed, 50, has the same problem. "Every time I hear international organisations are coming, I quickly go to that place but I can't ever find them, and every day I go home with nothing," he says.
An estimated 50 international NGOs work on the ground in Mosul, according to Kostohryz, who said that while NRC coordinates its efforts with around 15 major aid agencies, the rest continue to operate independently. 
"Perception is very important, and it only takes one NGO to make mistakes to spoil the perception of all organisations," he admitted.   
And those who do get help often can't do much with it.
Mohammed, 43, is one of many residents confused by the compensation system.
"They gave me a cheque for 480,000 Iraqi dinars and I have been trying to cash it for months but no bank will honour it," he says. "I don't understand, but it seems like you have to have good connections to actually get hold of the cash." 
Some aid agencies do distribute cheques for the equivalent of $400 as a one-off grant for eligible households, but these can only be cashed at a money transfer institution, a regional equivalent of Western Union, something which is clearly not widely understood. 
Local efforts
While the government encourages big business dollars and international investment at the Kuwait conference, on the ground resilient and resourceful locals who have savings or are able to borrow money are already self-funding smaller-scale reconstruction efforts.
Beside the collapsed walls of his pink-painted home in the middle of the terrible destruction, Bathar Qassim, 53, is rebuilding his bakery. "We started work four days ago and we hope to be baking bread after a fortnight," he says.
The bakery is hidden behind bomb craters and piled high with broken vehicles. All he wants right now is for someone to shift the vehicles – government representatives promised to pitch in "but nothing's happened, it's all lies", he says.
Qassim gestures across the road to a flattened area that he says was formerly an elegant Ottoman-era mosque. "I buried five members of my sister's family killed in an airstrike over there. Hundreds of people were killed just in this small area and 50 percent of the buildings have been destroyed and are beyond our capability to repair, including my own home."
"But we have to be strong," he says. "And we can't wait for the government. We have to get things moving now. Under IS, when the money ran out, we baked bread for free for the residents here and, once our bakery is fixed, we'll be baking for free again because no one here has any money left. And, once we've finished the bakery, we're going to dig a well for local people to use."
The NRC's Kostohryz said it was essential to invest in Iraq's human capital as well as major reconstruction projects.
"The Iraqi people are resourceful and resilient and, while the conversations in Kuwait have been focusing on top-down big infrastructure and investment projects, we are pushing for more focus on bottom-up reconstruction efforts, so local people can be part of the process and help determine their future," he told IRIN.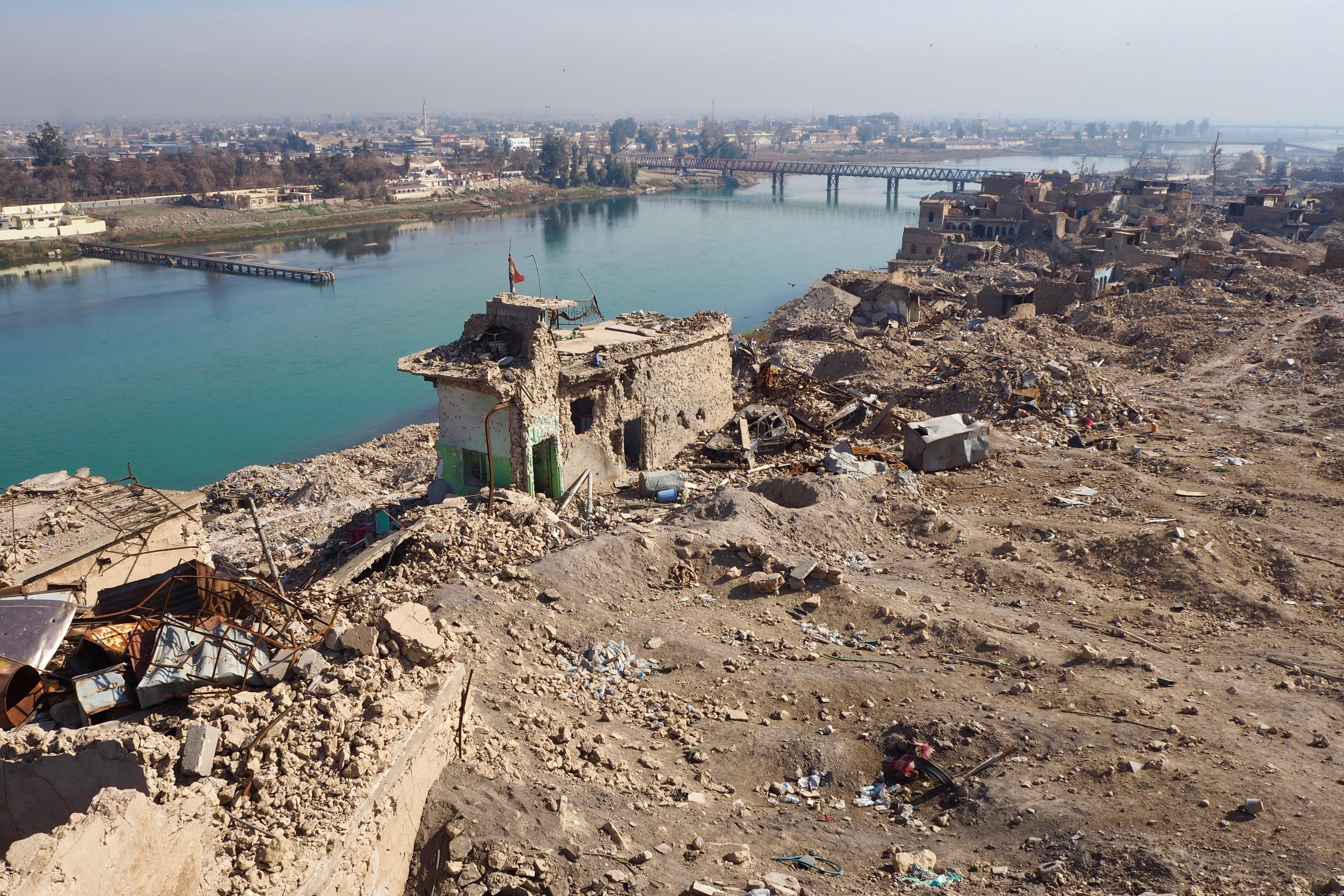 The poverty of the Old City's residents and the levelling of many hundreds of homes by the riverside means rebuilding there is largely impossible. Former residents are still struggling to recover the bodies of lost relatives. 
After taking some more photos on his phone and standing quietly for a while, Muhunnad turns to make his way back through the ruins of Mosul's Old City.
"The savings we had have all been used up, and now we need money to pay for our rented place," he says bleakly. "We have nothing left. We lost our homes, our jobs, and our money. We have no future."
tw/as/ag