Best intentions don't always translate into best practice, as David Dzama found out to his cost. At first, conservation agriculture seemed like the solution to the climate change-linked problems facing the smallholder farmer in Zimbabwe's Seke district, about 50 kilometres south of Harare.
Chief among these problems is food insecurity, which is now perennial in Zimbabwe, especially among rural smallholder farming communities.
This means farmers need strategic help adapting to climate change and to build their resilience.
But is conservation agriculture the way to go?
Its champions do not always see eye-to-eye with supposed beneficiaries, and claims that it has been a clear success don't appear to be backed up by the evidence.
"When donors introduced conservation agriculture to us, our hopes were raised," Dzama, 60, told IRIN. "They said it would give us good yields, and hunger would be a thing of the past."
Conservation agriculture (CA) is a way of farming that aims to avoid disrupting the structure, composition, and natural biodiversity of soil.
While CA can be applied to a wide range of crop types, it always shares three characteristics: keeping soil covered with residues from previous crops or specially-grown cover plant material; keeping tillage to an absolute minimum; and rotating crops regularly.
To avoid tilling, CA farmers are encouraged to dig shallow basins in the dry season, cover them with mulch, then sow at the onset of the first rains. This increases the chances of crops surviving dry spells and foreshortened rainy seasons because it reduces runoff and evaporation.
Proponents of CA argue that it is a climate-smart practice that promotes food security by increasing yields, especially on farmland that is not irrigated.
Need for solutions
Some 70 percent of Zimbabwe's rural population depend on agriculture for their livelihoods. According to the country's Climate Change Response Strategy, these livelihoods are threatened by ever more frequent and longer dry spells during the rainy season.
"The majority of rural Zimbabweans live in semi-arid zones and will suffer disproportionately from the emerging impacts of climate change and variability, including disasters associated with extreme weather events such as droughts, periodic flooding, disease outbreaks for both humans and livestock, and loss of crop lands," says the strategy document.
When it was introduced in Dzama's Seke community in 2009, almost every farmer took up CA, laboriously digging basins in the pre-farming season, covering them with plant residue, and planting when the first rains began to fall.
The international agencies that introduced CA also supplied free fertiliser and seeds as incentives to farmers to take up the more labour-intensive agricultural work required.
But while yields have generally been bigger on those portions of land given over to CA methods – generally between a third and a half of an acre – for many the boost is not enough to make much difference to their margins or indeed to overall food security.
Although some are doing well and have never looked back, two years later, Dzama and his neighbours, like a lot of other farmers in other parts of the country, have grown disillusioned and abandoned CA practices altogether.
'Dig and die'
 "We call it 'dhiga ufe' [a Shona phrase meaning 'dig and die'] instead of 'dhiga udye' ['dig for good yields'] as the donors referred to it. There is so much labour involved, yet the results have never been good. It's not worth it," Dzama told IRIN, explaining that CA involved the additional chore of weeding crops – in the absence, thanks to mass urban migration, of sufficient manpower to do so.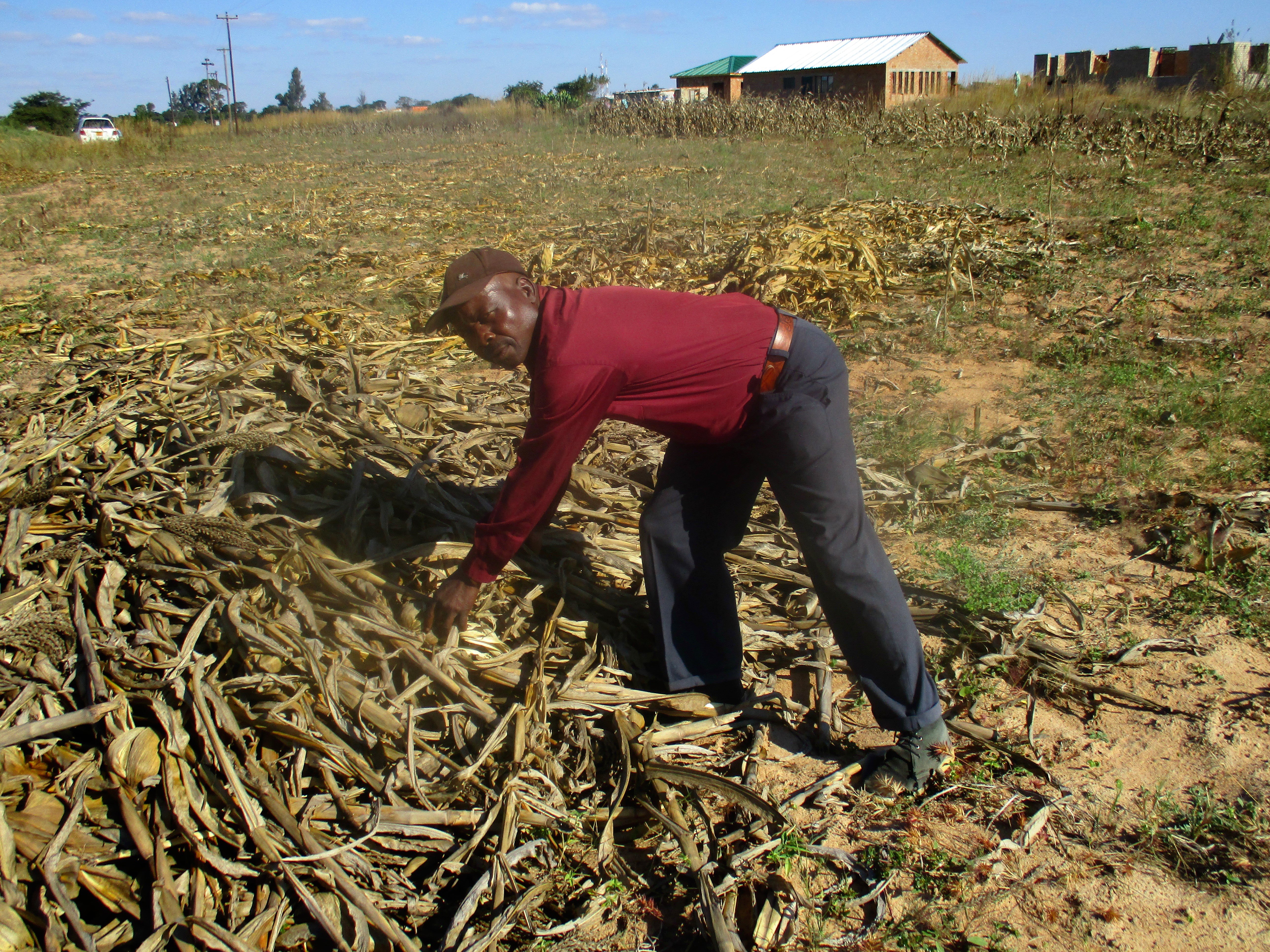 The UN Food and Agriculture Organisation (FAO), which plays the secretarial role in the Zimbabwe Conservation Agriculture Network (ZIMCAN) that also involves the government, concedes there was a significant drop-off rate but maintains that was just an early chapter in a CA story that will continue to evolve.
"In the mid-2000s a lot of input and extension support for CA saw many smallholder farmers coming on board – the majority being vulnerable farmers targeted for the use of humanitarian funds," David Phiri, FAO's head in Zimbabwe, told IRIN.
"A significant amount of these farmers dis-adopted from 2012, in particular when most of the input support was withdrawn," he added.
"However, beyond 2012 to date, we have seen a gradual increase in the number of farmers implementing CA without any input support, therefore being solid adopters and practitioners," said Phiri. "The observation of better performance in CA systems has convinced many farmers, and more and more farmers are recently appreciating the benefits."
The FAO says some 300,000 smallholder farmers have now taken part in the CA initiative in Zimbabwe.
The devil's in the data
While Phiri said most had "experienced yield gains", hard evidence for this is scarce, according to a 2015 study conducted in the Chipinge district of Zimbabwe's Manicaland Province.
"Most evaluations are largely self-assessments conducted by implementing organisations and their close partners, hence raising more questions on the authenticity or sincerity of the presented outcomes," said the study, based on a detailed survey and observation of 200 farmers, and published by the Zimbabwe Journal of Science and Technology.
The survey found that most farmers adopted CA "not for the good of it in fighting food insecurity but to benefit from free agricultural inputs and free food during trainings and meetings."
The report found that food security didn't improve among farmers who adopted CA (and in some areas actually worsened), but it did note that this was not so much a result of the shortcomings of CA as a concept but because of poor implementation.
Had there been more consultation with farmers, a rollout more tailored to local conditions, and a greater supply of hoes and picks, the results might have been more promising.
The evidence in Zimbabwe to date shows that "conservation agriculture is oversubscribed as a panacea to food security," it concluded.
Lack of resources
Indeed, some of those involved in rolling out CA are also disappointed. The government, which is a partner in the project, employs teams of agricultural extension workers to advise farmers about how to make the most of their plots.
"We don't have the resources to meaningfully implement CA here," said one such worker deployed in Mhondoro, a district some 80 kilometres south of the capital where hundreds of people were allotted smallholdings under a fast-track land reform programme in the early 2000s.
"The government gave us very small amounts of seed to distribute to the farmers and there is no fertiliser," said the worker. "[We need] a bigger team to properly demonstrate and educate people on how CA works, and to monitor what the farmers are doing."
The extension worker, who asked that his name not be published, was one of just three sent to promote CA in the district before the main 2016/7 farming season.
The farmers are indifferent too, he added. They lack adequate awareness of the benefits of CA and view it as a poor man's way of farming as it ends up requiring hoes and manual labour rather than tillage using animals or mechanised power.
FAO admitted that "availability and access to CA machinery remains a challenge."
More on the way?
Joseph Made, the minister responsible for agriculture and farming mechanisation, told IRIN the government was mobilising resources to ensure the success of CA.
"We are taking conservation agriculture seriously and are doing our best in the present circumstances to ensure that smallholder farmers, who produce most of our cereals, are supported to beat the adversities of climate change," he said.
"We are encouraging farmers to adopt conservation agriculture and working on ways to ensure that the financial sector funds them as part of our broader policy of boosting farming, which forms the backbone of our economy."
Made would not say how much money had been allocated to CA, but Zimbabwe is currently facing an economic crisis marked by a cash crunch and an inability to fund key projects.
To overcome the burden of intensive labour, efforts were being made to promote mechanised CA by using animal- and tractor-drawn equipment, in addition to training in the better use of manual tools, said FAO's Phiri.
Farmers in areas like Mhondoro and Seke, however, are yet to enjoy the benefits of mechanisation.
Dzama's neighbour, Tilda Magaya, a 34-year-old single mother, is one of the few in her community still toiling away with a hoe to dig basins.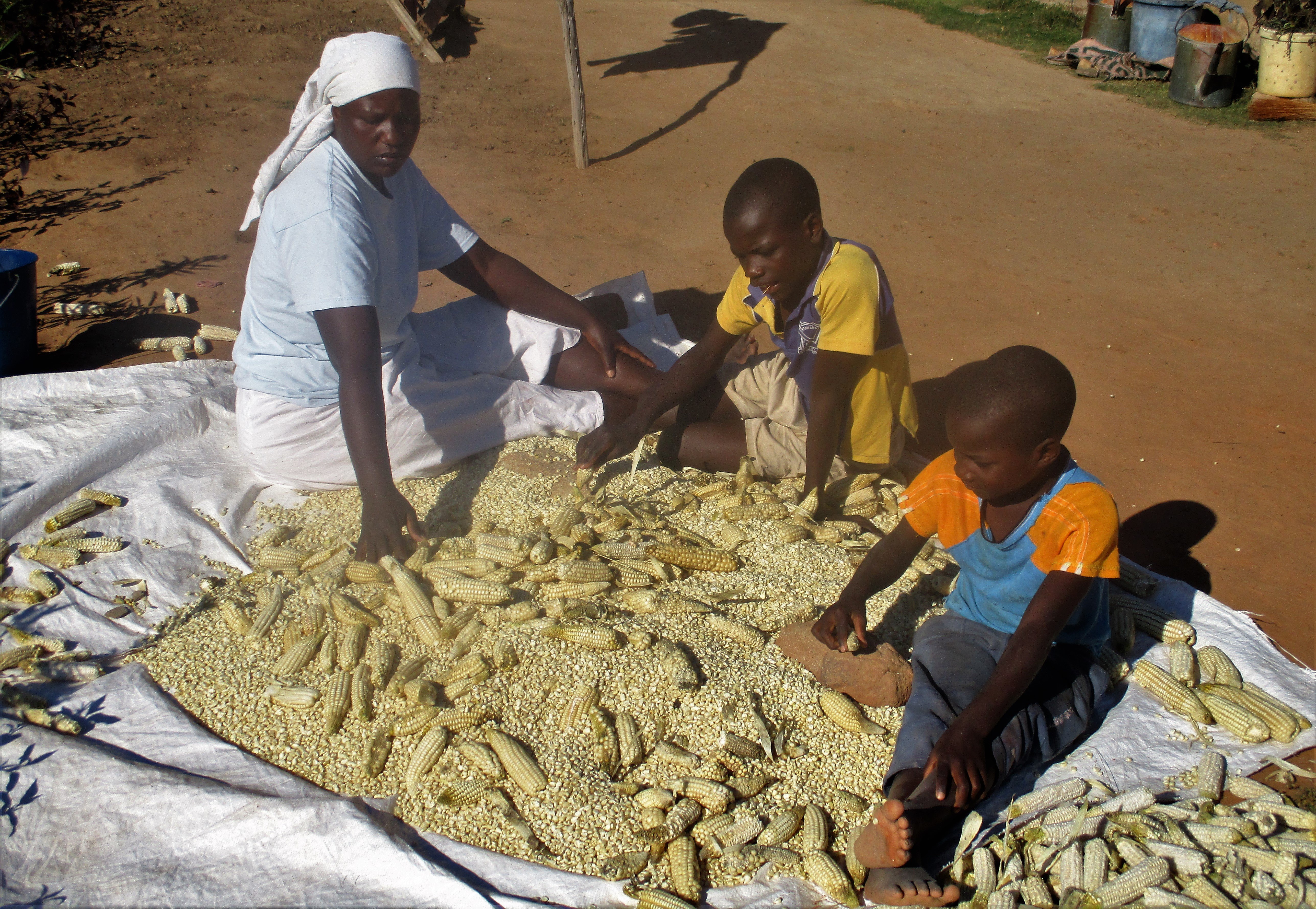 "I have no cattle to plough with since all the livestock my family had was taken away by late husband's relatives when he died three years ago," Magaya told IRIN. "My two boys help me dig the basins, but it is difficult to prepare enough land and my harvests have always been poor."
For the last two years, every September, she and her children have dug the basins in about an acre of hard, dry soil and then gathered what wild grass they could find in the overgrazed area to use as mulch.
Since Magaya's field is not fenced, roaming livestock trample on the basins and termites eat up the mulch, forcing her to start again when the rains start falling. But by that time material for mulch is hard, if not impossible, to come by.
So poor was her maize yield after the last season that Magaya has resolved to work in her neighbour's field next year, bartering her own labour for the use of animals to start tilling her own plot again.
Wonder Chabikwa, the president of Zimbabwe Commercial Farmers Union (ZCFU), told IRIN it is now time to think again: "There is [a] need to reconsider the whole CA strategy for it to work because, as it stands, it has not achieved much."
tm/am/ag