"Don't open the door under any circumstances," shouts Iraqi special forces soldier Salem, as his Humvee climbs over the wreckage of Mosul's Old City. "Daesh run out from houses and side streets and blow themselves up anytime."
Large military vehicles were never supposed to be part of the battle for the Old City – its ancient streets are too narrow. But the intensity of the airstrikes in the final stages of the offensive against so-called Islamic State has been so great that armoured bulldozers now plough their way through.
Iraq's armed forces are still battling for the final area of the city held by IS, known in Arabic by the acronym "Daesh".
The extent of the destruction is shocking. Most buildings are just empty facades, many flattened to rubble. When a group of civilians – mostly women and children – appears beneath rising pillars of smoke from the battlefield beyond, their presence is like a miracle. It seems inconceivable anyone could have made it out of this terrible landscape alive.
They move towards the Humvee like zombies, arms outstretched, begging for water in the 42-degree afternoon heat. "Don't open the door," Salem warns. "Yesterday, two Daesh women blew themselves up amongst fleeing people." 
IS militants, including suicide bombers, are hiding amongst Mosul citizens trying to escape both IS and the heavy fighting, and now no one can be trusted. 
Despite his own warning, Salem hands out the three small bottles of hot water he finds rolling around inside the Humvee. As he opens the window, the awful stench of rotting bodies fills the vehicle. Beneath crumpled houses demolished by airstrikes, bodies are rapidly decomposing in the heat, a reminder of the death met by many who remained in the city. 
Civilian or IS bomber?
Some 900,000 people have fled Mosul and surrounding areas since the fighting began last October, although some have since returned. "Recently, there have been a lot of women suicide bombers amongst the fleeing people," Mohammed, an Iraqi special forces intelligence officer, tells IRIN. "Today it was a Moroccan girl who was just 17 years old. She killed five women and injured more." 
There have been multiple reports of IS deploying suicide bombers, especially women, as they lose ground. Mohammed says there have been 25 confirmed cases of women blowing themselves up in the Old City. Usually disguised amongst fleeing civilians, they detonate suicide belts at army positions. Male civilians are often instructed to walk out with their shirts rolled up to clearly show they pose no danger, but cultural sensitivities mean there's no satisfactory way for male Iraqi soldiers to check women.
Doctor Ahmed, working at the nearest field hospital, 1.4 kilometres from the front line, told IRIN that suicide bombings amongst fleeing civilians had been responsible for more than 100 cases his clinic received the previous day.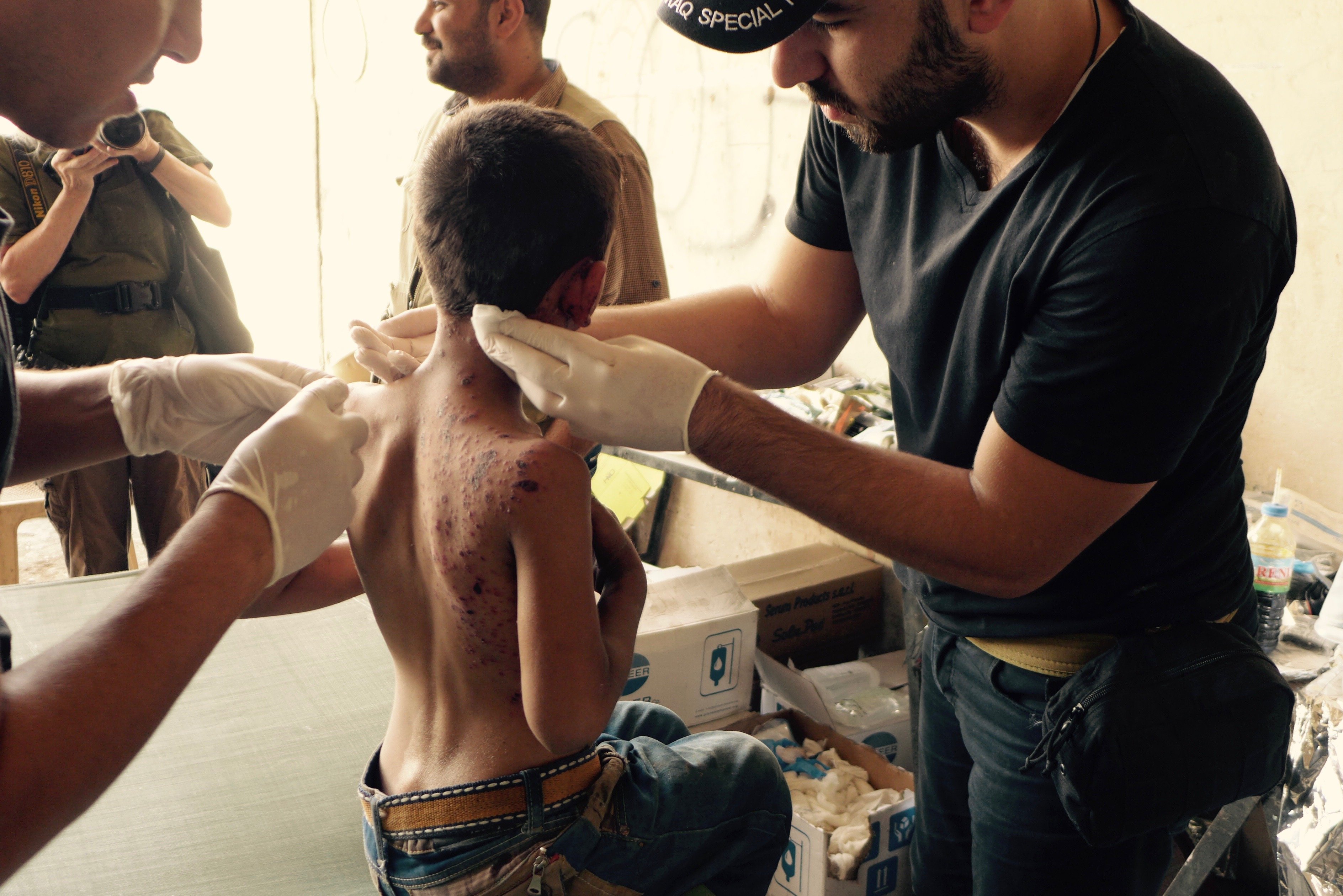 As the Humvee moves deeper into the Old City, there is scarcely enough room for the vehicle. Civilians flatten themselves against whatever exterior walls are still intact, children pressing small hands against the vehicle's windows, still pleading for water. There is nothing left to give.
Salem pulls to a standstill in a clearing near the sad stump of Mosul's al-Nuri Mosque. Famous for its leaning minaret, the 12th century mosque was destroyed two weeks ago, allegedly by IS, although the group released a video claiming it had been demolished by coalition airstrikes. 
"Stay away from any civilians," repeats Salem. "This is exactly where the two… Daesh women blew themselves up yesterday," he says, pointing out a bloodied leg lying amongst crumpled, shrapnel-riddled cars. A Humvee parked nearby – the women's reported target – is still covered in blood and bits of flesh from bodies blown apart in the explosion.
Terrible human cost 
More civilians emerge through a path carved through the rubble, traumatised and starving. The sick carry the wounded. There are few medical facilities in west Mosul and it is feared only a fraction of the casualties in the Old City have been able to escape IS-held areas to reach them; many left to die on the battlefield.
A young boy, moving barefoot across the burning-hot dirt road, supports his ailing grandfather across the uneven ground. The older man collapses beside the disembodied leg from the previous day's suicide bombing. A woman carrying a small plastic canister of well water, already half-empty, extends it towards him.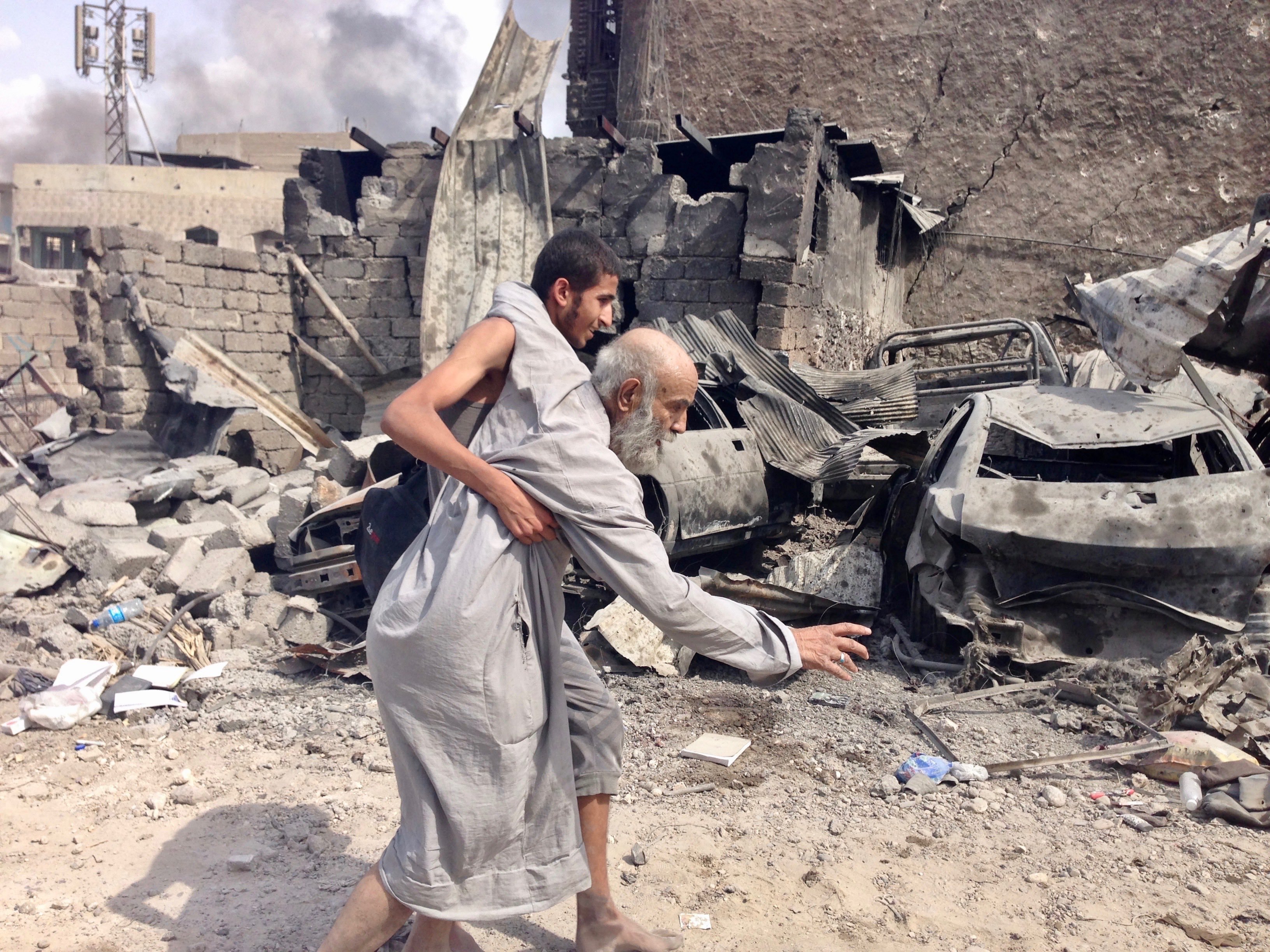 Girls' dresses are smeared with blood. Others are coated in white masonry dust from a recent airstrike. Another young man, head heavily bandaged, carries a baby wrapped tightly in a scarf.
A man plods past, carrying a badly injured boy on his back. The boy's face is burned black and red, his eyes sealed shut, and his mouth pressed into the man's shirt. His forehead and arm have been hastily wrapped in bandages, but terrible burns across his shoulders, neck, and side are still exposed to the relentless sun. His legs are so full of shrapnel wounds they look diseased.
The man's head is draped in a wet towel and he tightly grips fistfuls of his own sweat-sodden shirt to prevent the boy slipping further down his back. He looks neither to the left or the right, focused only on his difficult progress towards safety. Feeling the boy slipping, he pauses to reposition him with a gentle jolt. The boy emits a thin scream of agony and then falls silent. The two walk on. 
"Daesh kept us as human shields and kept moving us to different houses, further and further inside the old city," an old woman hoarsely mutters. "We tried to come out so many times, and today God has finally opened the door to us."
Another weeps that her dead husband still lies beneath the remains of their home. "Four floors collapsed on us, and the neighbours pulled me out but they couldn't reach him," she sobs. "We survived together for five months without proper food – just flour with bad water – but now he is all alone under the house."
Hard to help
"I try to help people coming through the front lines, climbing over the difficult terrain, but they often refuse, especially the women," says General Ali from an ISOF intelligence unit. "One girl had badly injured legs and her family couldn't carry her so I tried to help. But they follow such strict Islamic rules, they forbade me to touch her."
Shaking his head in despair, he says assurances that he had a daughter the same age, and that Iraqi forces were there to save the citizens of Mosul, made no difference. "They are completely traumatised and brainwashed," he tells IRIN. "Daesh told them the army would do terrible things to them and now they are scared and confused."
Five men carry a stretcher, upon which an injured man writhes and moans in pain. They have to rest it frequently on the ground. One stretcher-bearer, barefoot and unable to stand the pain of the hot ground, finally sits down. He tears a shirt into two strips of fabric, which he then ties around his feet, fashioning makeshift boots. The men lift the stretcher again and walk on. 
An airstrike hits just behind the mosque, shaking the ground. Pieces of metal and masonry shower down, bouncing off the Humvee. The civilians nearby, accustomed as they now are to the sounds of war, barely seem to notice. The eyes of most are utterly vacant.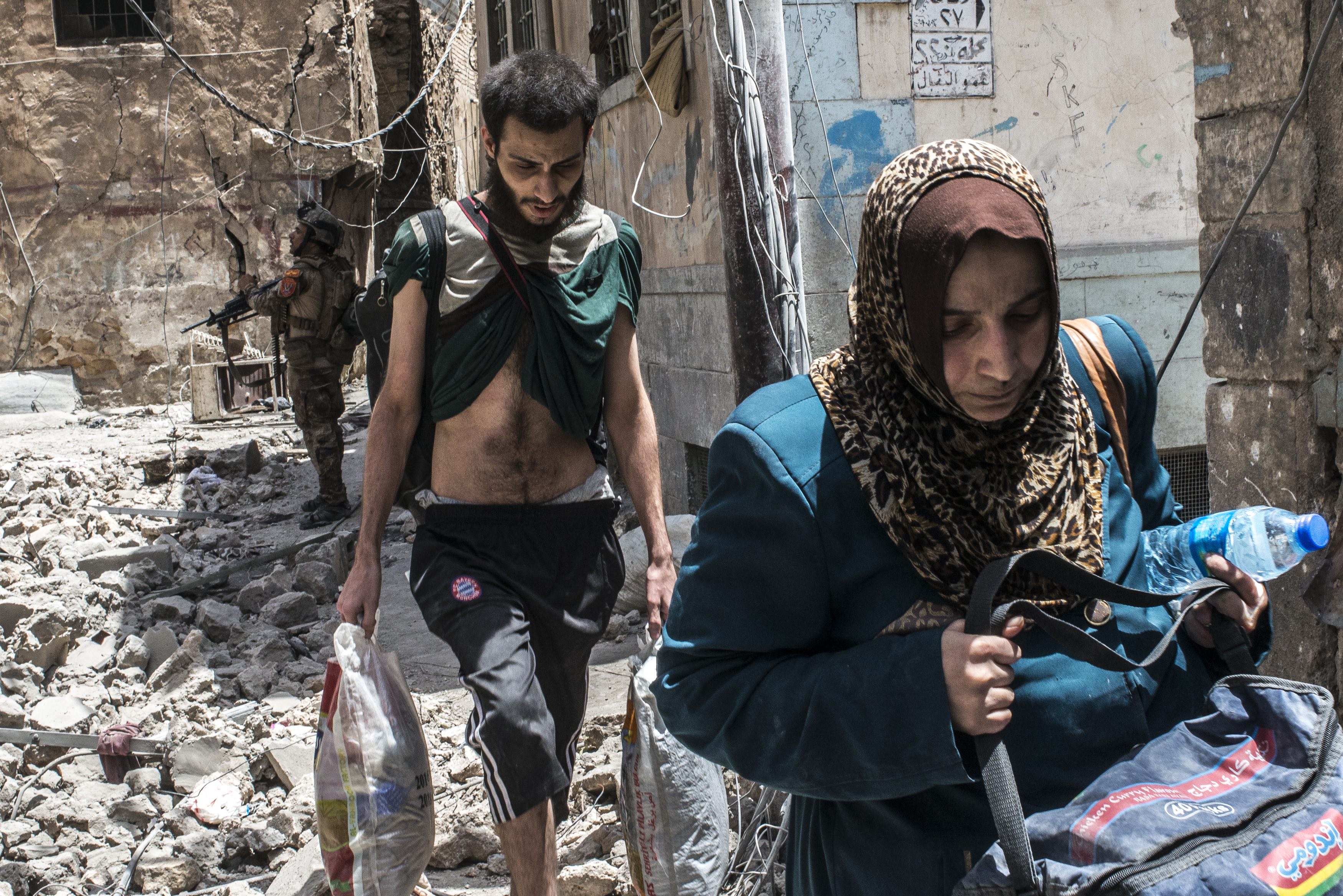 As the Humvee navigates the same route out of the Old City, Salem drives past a family sitting on a pile of crumbled bricks begging for help to transport another injured young man lying prostrate on the ground. Ambulances can't traverse this unsafe route and the man will have to wait to be carried out by other civilians. 
Salem pulls over to question someone he has identified as suspicious. The young man vehemently protests his innocence. "Was this man with Daesh?" Salem demands of the other civilians. "No, no, no," cry the women walking with him. They start weeping in protest, pawing at Salem's shirt. He speaks gently to them and drives on. 
At the end of a one-kilometre walk of hell through what remains of this part of the Old City, a screening centre awaits. This is where all men have their identities checked against an extensive military database of known IS members, and where they'll face in-depth interrogation. It's also where, amidst reports of abuse and extrajudicial killings, some still fear for their lives.
The destruction Mosul's civilians are leaving behind is horrific, and the road ahead uncertain.
tw/as/ag