Wearing nothing but underpants, his body half-wrapped in bandages, 20-year-old Mustafa is carried out of Mosul's Old City on a green plastic chair by Iraqi soldiers running through sniper fire.
Grimacing with pain, he grips the sides of the chair. His body is riddled with shrapnel injuries. Grubby white dressings are coiled around his waist, his chest, his arm, his shoulder, his leg, and his ear. His back is marred with dozens of circular wounds inflicted by hot shrapnel sent flying from an explosion.
As his green chair is placed in the shade of a broken wall, safe from the bullets of so-called Islamic State, all Mustafa can say at first is: "Alhamdulillah" (praise be to God). He gratefully gulps down some bottled water. Flies settle on open sores already turning septic on his unbandaged hand. Eventually, he recalls the morning three days ago when his family home was hit by an airstrike.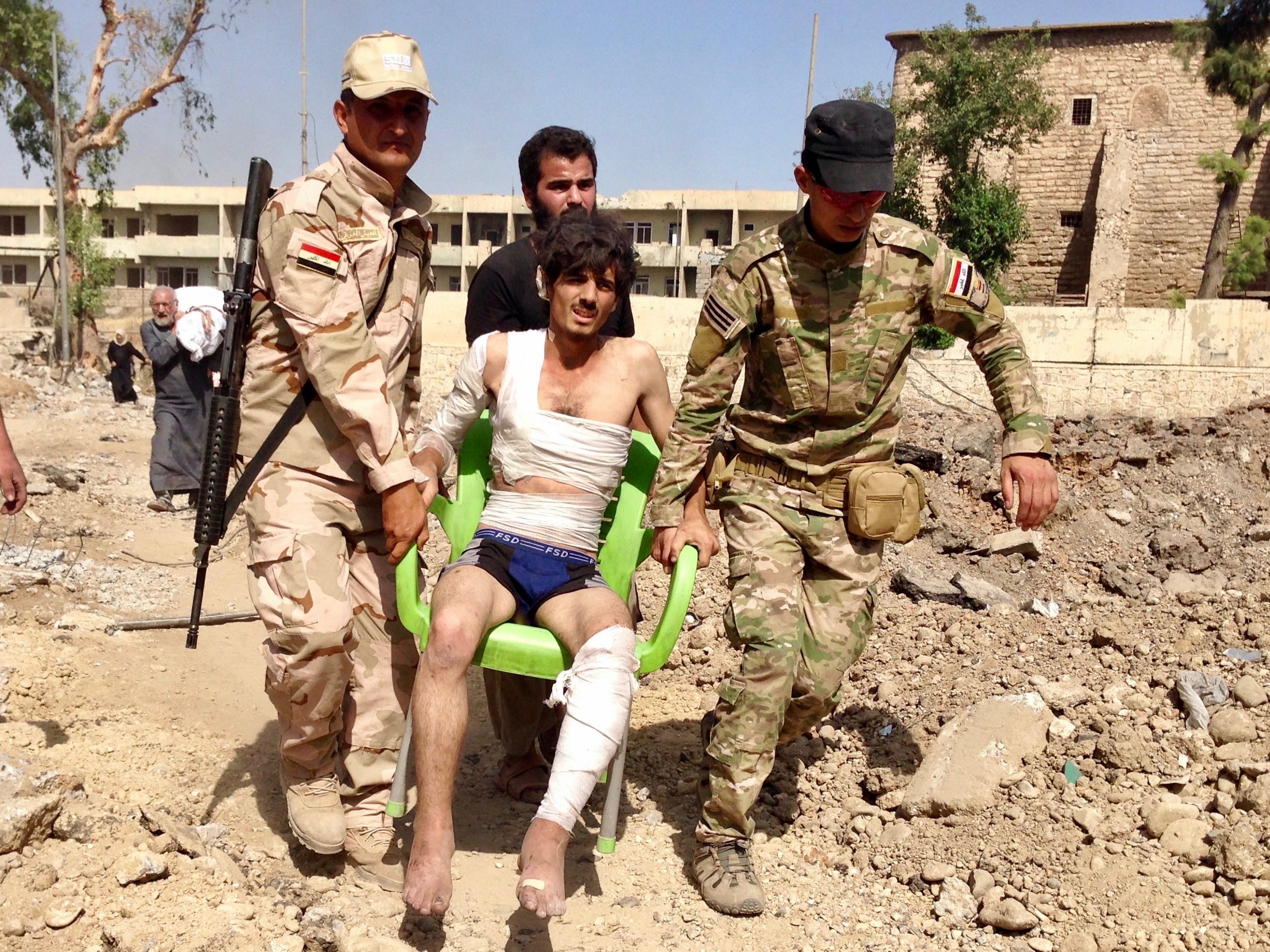 "There were 25 of us hiding in the basement and I had gone upstairs to get food from the kitchen when the rocket struck," he tells IRIN, describing how he came round – temporarily deafened, partially blinded, and seriously wounded – in the dust and ruins of the collapsed house. 
"I saw everything destroyed around me in just one second," he says. "Part of the rocket went right through the basement and lodged in the ground underneath, killing a female neighbour, who was hiding with us, and her baby."
Mustafa's civilian-built basement bunker and many others like it are legacies of the Saddam Hussein era. Now, in the bloody fight to finish off IS in one of its last strongholds in Iraq, more than 200 Mosul civilians (according to a tally of figures confirmed by the coalition and verbal accounts given to IRIN) have died while sheltering underground – many held as 'human shields' by IS. Often, homes have collapsed on top of the basements and the people hiding in them after being hit by coalition or Iraqi Air Force warplanes. 
But Mustafa and 22 of the 24 others with him managed to crawl out of the rubble alive. They are amongst thousands believed to have survived thanks to the leftovers of conflicts long gone, but not forgotten.
Bunkers built to last
Civilians fleeing Mosul told IRIN many city residents have been living underground for as long as six months, with some of the larger spaces accommodating several hundred people.
"There were 300 of us living in one basement and we prayed every day for the army to come," said a man in his 50s, hobbling on the outskirts of Mosul on a leg shattered by shrapnel.
"Each day one of us would go upstairs and look out into the street to see if the army had reached us. We waited and waited. They didn't come for so long, we almost gave up hope." 
Glancing back to where smoke rose from airstrikes falling every 10 minutes, he broke down in tears, saying: "It's just so dangerous in there."
An Iraqi soldier, 26-year-old Ahmed, said the bunkers were designed to withstand air attacks by foreign warplanes back in the 1980s and 1990s.
"They have actually saved a lot of civilians in this war," he told IRIN, descending the stairs of a house in a newly liberated district to check its basement. 
"In Saddam's time, everyone built a basement, especially during the [1990-1991 Gulf War], to protect themselves against possible US airstrikes, but many people started making them even before that, during the war with Iran 35 years ago. Just in case."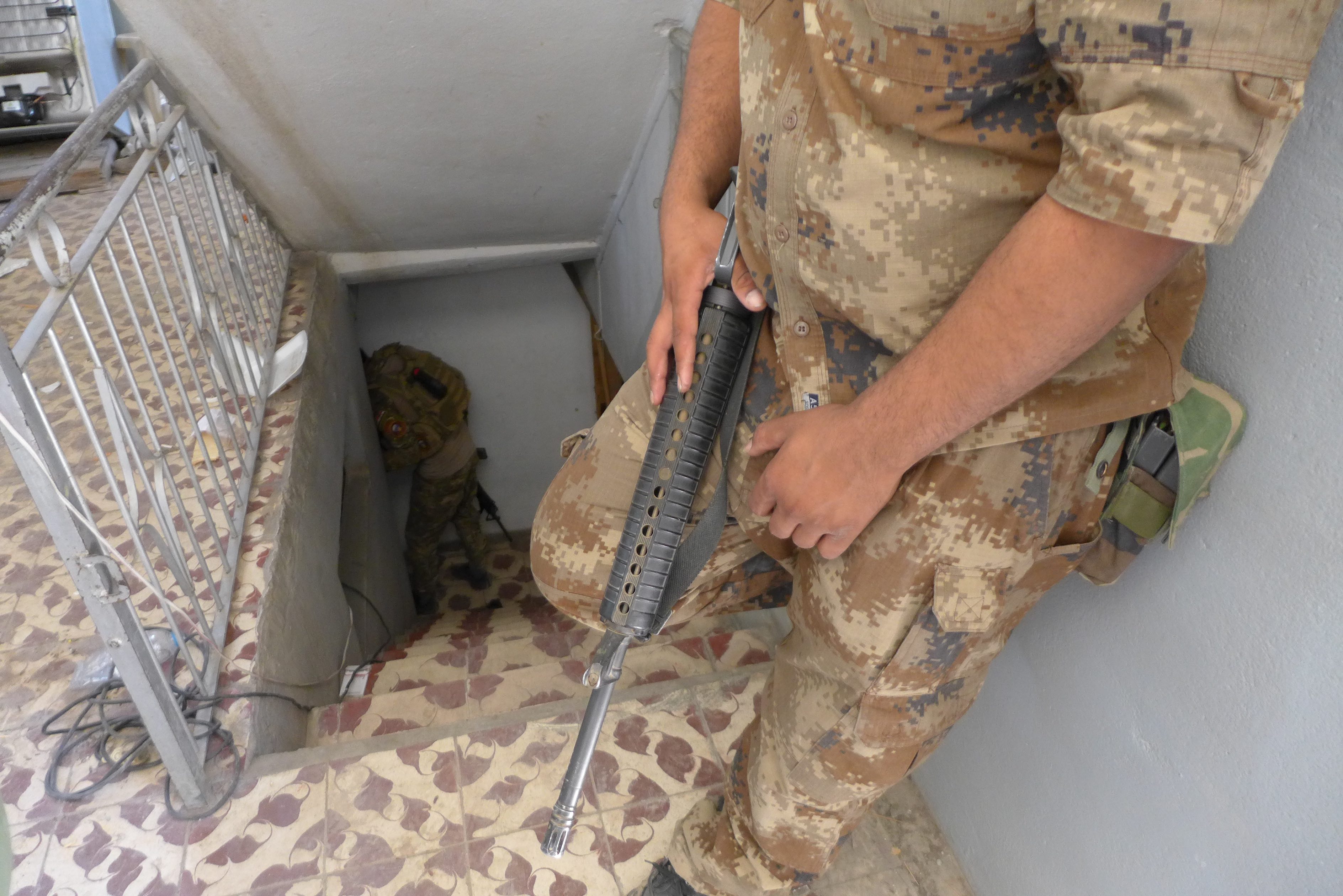 Although it wasn't possible for IRIN to enter the actual basements, which have yet to be declared safe from booby-traps or unexploded ordinance, Ahmed described them as well-built and designed to house people for long periods of time. 
He pointed out ground-level grilles running along the edge of properties, designed to draw fresh air into the underground spaces. 
"When I was at school, everyone in Erbil made a basement because it was the best chance of survival if there was an air attack from foreign forces," Kurdish soldier Mohammed, 33, recalled. 
"In Mosul and Iraqi Kurdistan, in particular, loads of us built basements because many people from both those areas were in Saddam's army [and] felt very vulnerable to air attacks. Actually, Iraqi people haven't slept feeling safe for 35 years," he said. 
The threat from IS
The UN estimates that around 100,000 civilians remain trapped inside Mosul's Old City, many forced to stay in their homes by IS as human shields against aerial bombardment. 
The underground spaces can save lives, but they also leave civilians vulnerable to both IS fighters and airstrikes. 
According to one soldier, the Iraqi military has received reports that IS is locking large groups of civilians inside the very places where they're seeking refuge. 
IRIN encountered the soldier in question holding a swaddled baby miraculously born the day before, while Mosul was under intense bombardment.
"Several hundred civilians have already escaped today, mostly women and children," he said, speaking through the window of a truck. "But they are telling us there are hundreds more inside that Daesh [IS] has locked in basements, to stop them escaping."
IRIN could not independently confirm the soldier's information.
IS are also said to be searching basements, looking for anyone with a mobile phone who could be giving information to the Iraqi forces.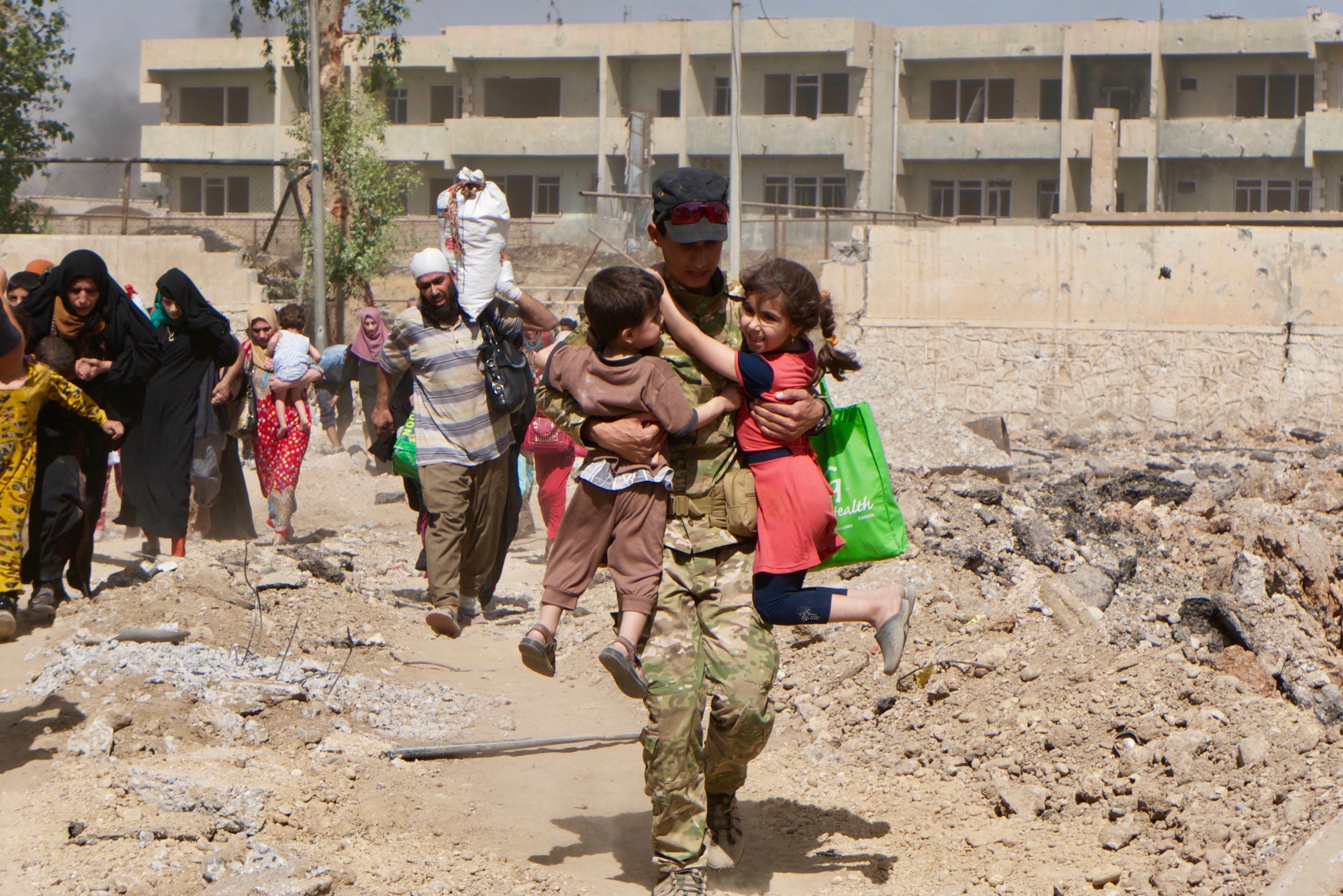 Beside a road used by fleeing civilians, a different soldier was waiting for three families he had been speaking with. He anxiously scanned the faces of each new group emerging from the city.
"They'll be out anytime now. They were just 500 meters away from here when I last spoke to them," he said, feigning confidence. Every 20 minutes, he tried to call their illicit phone. 
"I spoke to them early this morning. Their basement was about to be searched by Syrian Daesh women from the Hisbah [a women-only branch of IS's morality police] armed with 'the Biter' [a notorious metal-toothed IS instrument of torture], so they had to hide the phone."
But the soldier waited in vain. The three families did not escape from Mosul that day, and their phone remained switched off. 
The danger from above
The risk from IS is great. But the biggest threat to civilians underground may be the building above them taking a direct hit, especially in frontline or IS-held areas where rescue operations are almost impossible.
"When our houses were hit, the neighbours next door were sleeping in their basement and they were all killed," said 19-year-old Abdulrahman, who lost both his parents and his younger brother in a January airstrike in eastern Mosul. Five months later, he said, one body still lies beneath the rubble. 
IRIN was told that two weeks ago, 20 extended family members in western Mosul died after their house was struck and collapsed on the basement.
"Mosul's basements are a double-edged sword – they can be your saviour or your killer," Abdulrahman explained. "If your house isn't the target and an airstrike hits next door, you'll probably make it out alive. But if your house is the target, you'll absolutely die because of that basement. Either it will crush you, or you'll suffocate down there."
With large numbers of people often sheltering together in one underground hideout, a direct hit can result in multiple civilian deaths from a single airstrike. 
In March this year, 105 civilians sheltering in a two-roomed basement were killed by a single coalition airstrike. A report from Operation Inherent Resolve – the US-led coalition's name for the campaign against IS in Iraq and Syria – said it was because the impact had ignited IS explosives inside the building. Human Rights Watch said locals spent five days pulling bodies from the rubble but said at least 37 others, in addition to the 105, remained unaccounted for.
Now that fighting has reached the Old City and the battle for Mosul may be nearing an end, renewed concerns are being voiced regarding the reliance on airstrikes in densely populated areas. Civilian casualty counter Airwars estimates that civilian casualties from coalition airstrikes alone are eight times higher than given figures.
See: Disturbing trends in Iraq-Syria air war: A researcher's view 
"Thousands of families are trapped by ISIS in west Mosul, with its fighters preventing civilians from fleeing to safety," Lama Fakih, deputy Middle East director at Human Rights Watch, said in a statement earlier this month. "Iraqi and coalition forces should recognise that in the crowded Old City, using explosive weapons with wide area effects puts civilians at excessive risk."
In the statement, signed by five other NGOs, HRW called on warring parties to cease using heavyweight bombs and indiscriminate weapons, including locally made improvised rocket-assisted munitions, or IRAMs. 
"The civilian death toll from a series of apparent Iraqi Security Force or United States-led coalition attacks between February and April 2017 suggests that the forces took inadequate precautions to avoid civilian casualties," HRW added.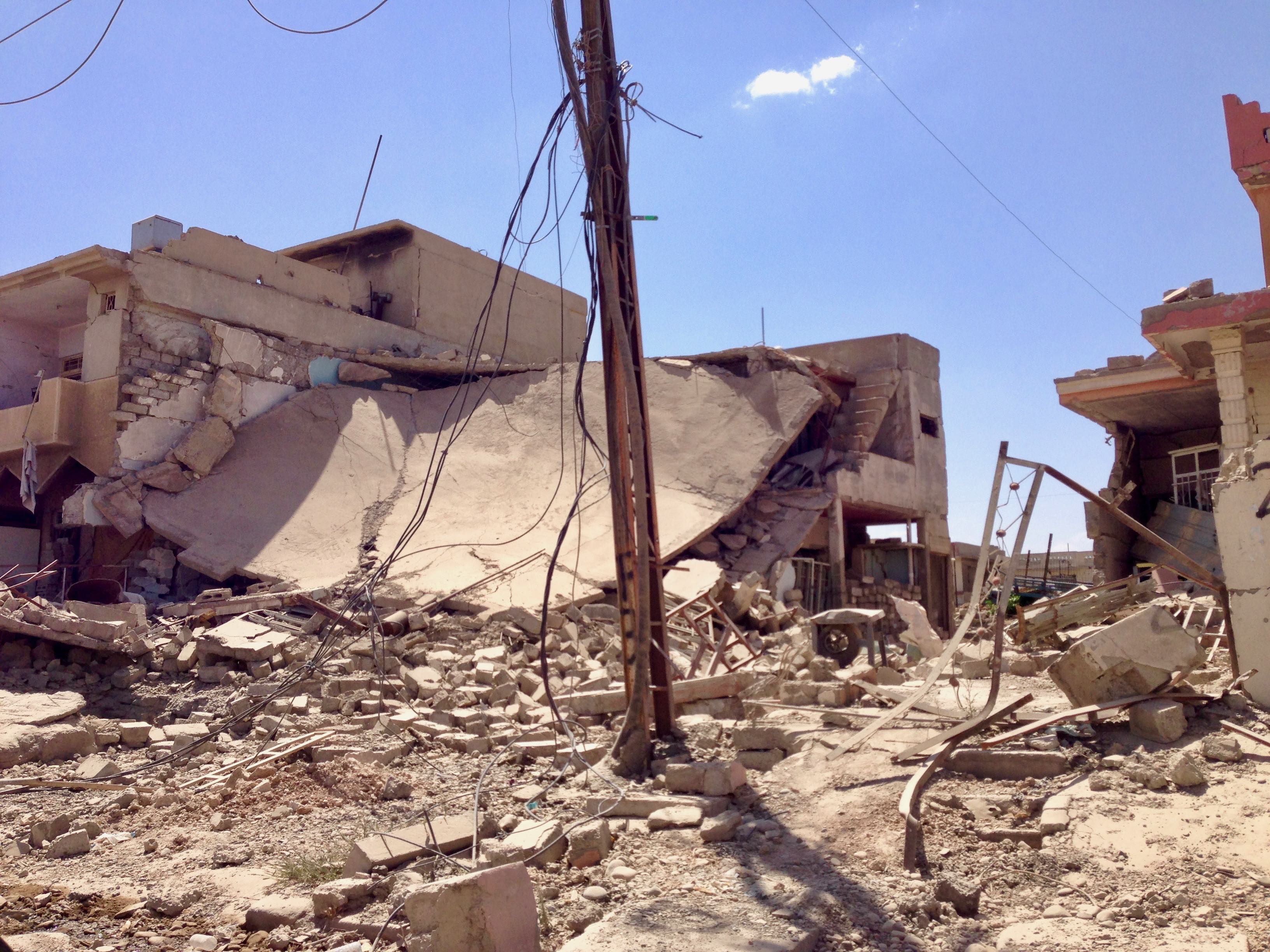 As the sun set over western Mosul, hours after more than 500 civilians escaped through one civilian corridor, an elderly man in his seventies walked slowly through the destroyed streets of Zinjili district, which were lined with upturned, bullet-riddled cars. 
He embraced soldiers and journalists, saying: "I am so happy to see you. I am so happy to see anyone."
He was, however, unable to raise a smile. 
"We spent six months living underground with bombs and missiles falling all around us. Six long months," he said, shaking his head. He trudged on into the dusk – a sad, slow figure – hoping he was walking towards his family. Not wanting to hold them up with his own slow pace as they fled the city, he had told them to go on ahead. He had no idea if they'd made it out alive.
tw/as/ag