In a dull, pre-fabricated caravan in Jordan's Zaatari refugee camp, a group of Syrian children marvel at brand-new laptops and tablets, tapping out words. In another corner, a clutch of youngsters, many in ragged clothes, watch cartoons downloaded from the Internet.
"We don't want lost generation after lost generation," says Patrick Weil, president of Libraries Without Borders, as he watches over the children. With financial support from the Alex Soros Foundation, his organisation donated this portable multimedia centre, loaded with learning tools.
Slickly designed by French designer Philippe Starck, the Ideas Box contains tablets, laptops with satellite Internet connections, a movie projector, chairs, tables, puppets and board games. Teachers hover nearby, facilitating discussion and prodding the kids to join in.
Technology-led aid projects like this one are a reaction to Syria's relentless six-year-long conflict which has pushed more than five million refugees into neighbouring Jordan, Lebanon and Turkey.
In Jordan alone, which is host to more than 655,000 registered Syrian refugees, a dizzying array of technology-led projects for refugees are rolling out with the backing of well-meaning, tech-savvy benefactors.  One initiative by Tech Tribes aims to create a tech-supported learning space for Syrian and Jordanian women. Another is developing a mobile application for refugees with mental disabilities.
Advocates of this approach say they're bringing valuable solutions to the table, but some experts more familiar with local contexts describe such programmes as expensive band-aids that deliver mixed results.
"It's hard to measure these projects and hard to evaluate," commented Sami Hourani, founder of For9a.com, a website that aggregates educational and job opportunities for young people in the region.
Hourani said there is a need for long-term, sustainable initiatives based on detailed research about refugees' educational and employment needs. He added that programmes designed without this sort of empirical backing are often guesswork and a waste of resources.
Covering the basics
According to Libraries Without Borders, the Ideas Box is a means for young refugees to pick up skills and complete correspondence courses or online training. However, many of Zaatari's young people are long out of school and working to help support their families. For them, logging enough hours with the Ideas Box to earn a degree is a tall order.
Amanda Lane, executive director of the Collateral Repair Project (CRP), a grassroots charity that works in one of Amman's poorest neighbourhoods, stressed the importance of appropriate giving. This starts, she said, by knowing what a community really needs. She gave the example of a box of Raspberry Pi computers recently donated to her organisation to help the children they work with learn to code.
"Coding? Our kids aren't even literate," she said. "IT skills are useful and there will be people who can benefit, but the vast majority need foundational skills."
After years in exile, most Syrians living in Jordan, Lebanon and Turkey have few remaining resources and restricted rights to work, while their children have often been out of school for as long as five years. Lane believes their real need is not for high-tech solutions, but for basic education and wellness programming. Her focus is on providing a safe space and experienced, professional facilitators. When children and adults come to CRP's after-school programmes, group discussions and yoga classes, they are acting on a need to feel safe and human again, she told IRIN.
"People come here, they do this, and it's like, 'For a time, I forget I'm a refugee'," said Lane.
The need to feel normal again isn't lost on those backing big-ticket tech projects for refugees.
"We give refugees the right to water, shelter [and] food, which is what they need at first, but then what about their humanity?" asked Alex Soros, who funds Ideas Boxes in several countries, including four in Jordan. "What about the thing that makes us human: cultural activity, education for those of age, the right to be treated as a human being?"
"Perhaps the future president of a peaceful Syria will use the Ideas Box to get an education and read some political theory," he added. "Maybe that's the best scenario we can hope for."
The UN's refugee agency, UNHCR, has partnered with Libraries Without Borders and the Alex Soros Foundation to deploy Ideas Boxes to camps in Burundi and Ethiopia as well as Jordan and Lebanon, and is conducting research to gauge their impact on academic performance amongst other things.
In an article warning about the need for tech companies to consult aid agencies when designing apps and websites for refugees, UNHCR cited the Ideas Box as an example of a "collaborative project" that draws on the agency's knowledge about the needs of refugees in different settings.
Tech over cash
Grassroots groups like CRP also stress the importance of proximity and detailed local knowledge when designing programmes. Those backing tech projects from afar often don't fully understand the needs they're trying to serve, or how they fit into the broader context.
Yet, the sense that those at the leading edge of technology can and should be doing something with their wealth and smarts is pervasive.
In June last year, former US President Barack Obama called on the country's private sector to "make new, measurable and significant commitments that will have a durable impact on refugees residing in the frontlines of the global refugee crisis and in countries of resettlement". More than 50 companies have responded to that call, many of them top tech companies including Facebook, Google and Microsoft. But while some have pledged cash, companies often prefer to showcase their techie know-how by developing their own bespoke "solutions".
"There's a lot of product pushing and 'what's in it for us?'," said Lane. "Tech companies are giving skills, pre-made solutions or gifts versus cash. And there are so many random, one-off projects, it's not that easy to co-ordinate."
Drop in the ocean?
For those tech-led projects that are delivering real results, the problem is often one of scale.
ReBootKamp (RBK) is a software engineer training programme run out of Amman's King Hussein Business Park. It provides trainees, about 60 percent of which are refugees, with an 18-week, thousand-hour course of English training, problem solving and programming.
On the day IRIN visited, the group was coding and flexing some serious soft skills. Two trainees delivered a "lightning talk" – short, personal presentations about issues that matter to them. Palestinian Ru'a spoke of her stomach surgery and told a group of people she didn't know a month ago, in a language she is still learning to use, how it felt to be bullied about her weight.
As the group broke up, speakers filed outside with a counsellor to talk in a smaller group while the rest returned to a group programming task.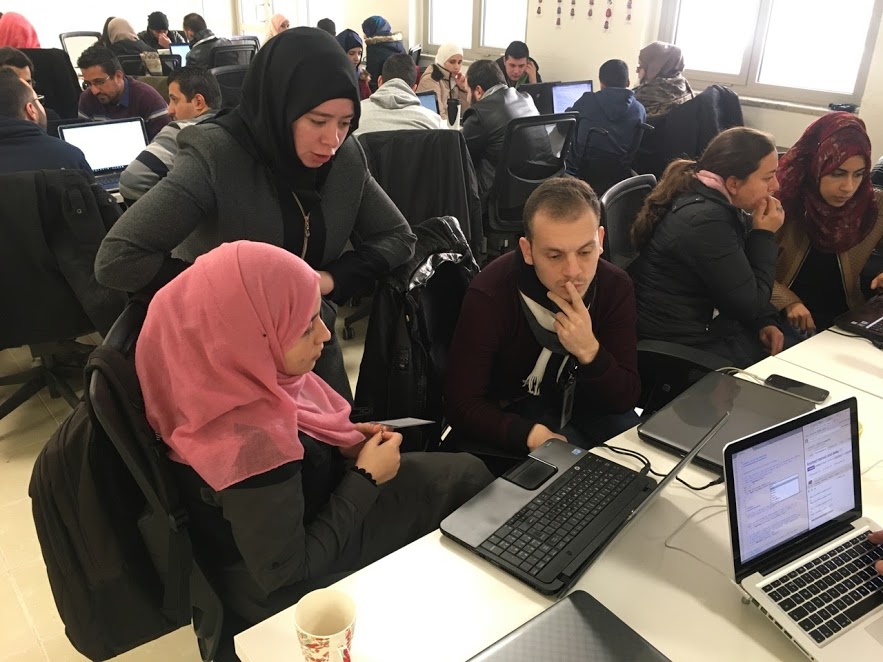 "These are self-actualisation talks," said RBK's founder Hugh Bosely, above the hubbub. "We're trying to eliminate any emotional hurdle that's getting in the way of their learning."
Jordan has 32,000 unemployed ICT graduates, with another 7,000 to 8,000 entering the job market every year. And yet, RBK's software engineers are in high demand, with blue chip companies pre-booking 200 or 300 graduates at a time.
Bosely said new RBK graduates command on average salary of $1,100 dollars or more per month compared to the Jordanian average of around $350. He attributes his students' employability to RBK's holistic approach which combines soft skills and English training with an engineering curriculum. Skilled, attentive instructors, on-site counsellors, healthy meals and a safe, warm space are also vital components. The results can be life-changing for both graduates and the families they support.
"The main thing is to get a job," said Fatima Himmami, 26, an RBK graduate from Aleppo who now works as a teacher for the programme. "Now I'm a real coder. I also develop applications, I can build websites and I support all my family members."
With 20 applicants for every spot, RBK can choose the most engaged, grounded applicants. Bosely aims for consensus builders: students who can work with and support colleagues from different countries, faiths and sects.
"We're trying to create better humans," said Bosely. "We are about producing the kind of people who will go back to their home countries and create peace."
It's a lofty goal for a programme spitting out fewer than 50 graduates every four months.
Critics say while RBK has proven its model works, for it to make a real difference, it must be able to reach more young refugees.
"The big question is, is this model scalable?" asked one aid worker familiar with the programme. "If it doesn't scale, this fantastic, high-quality solution risks being a drop in the ocean."
rfs-sew/ks