Chengetai Zonke lost much of her maize crop to drought last year. When it came to planting again, she decided to reduce her stake in what has become a recurrent climate change gamble.
At her homestead in Chiware, in Zimbabwe's northeastern Manicaland Province, the 52-year-old farmer explained why. "I've abandoned tilling the bigger fields to avoid the risk of putting more land under crops that may fail due to lack of rain or too much rain," she told IRIN. "Replanting costs money, which is scarce."
Allowing for the unpredictability of climate change turned out to be a shrewd move. After years of drought, Cyclone Dineo struck mid-February. Almost the entire country is now affected by floods, which have washed away bridges and roads and marooned some communities in the south entirely.
Almost 250 people have been killed in what President Robert Mugabe has declared a "national disaster". Nearly 2,000 more have been left homeless, while many others remain vulnerable to dams bursting or overflowing upstream.
Several weeks of heavy rain have also taken their toll on agriculture – already struggling due to a critical shortage of fertiliser and a persistent outrbeak of fall armyworm.
"Some farmers face hunger because they planted late. Their crops are waterlogged, and have been leached," said Zonke, whose own maize was affected.
Before the cyclone struck, the Zimbabwe Food Security Cluster (UN agencies, NGOs, government and donor representatives) was estimating that 43 percent of the rural population, some 4.1 million people, would be food insecure at the peak of the lean season, between January and March.
Women's work
Zonke has four children, who have all finished school, and lives with four grandchildren. As is the norm in Zimbabwe, although she has a husband, it is she who does most of the work on the family farm.
Women – like Zonke – bear the greatest burden of these erratic changes in weather patterns, as they are the mainstay of agricultural production, Leonard Unganai, a project manager with Oxfam, told IRIN.
"Most of the crops they grow, like maize, are badly affected by the occurrence of dry spells and heavy rains," he said. "In the end, it is women who get affected most, compromising their ability to produce for the household and the markets."
Nanganidzai Makoho, a programme officer with Women and Land in Zimbabwe (WILZ), a local NGO, said that if farmers – who tend to be women – plant incorrectly, they might lose a whole season's harvest. This can also lead to domestic violence, because men, who typically buy the seeds, will have expected a good return on their investment.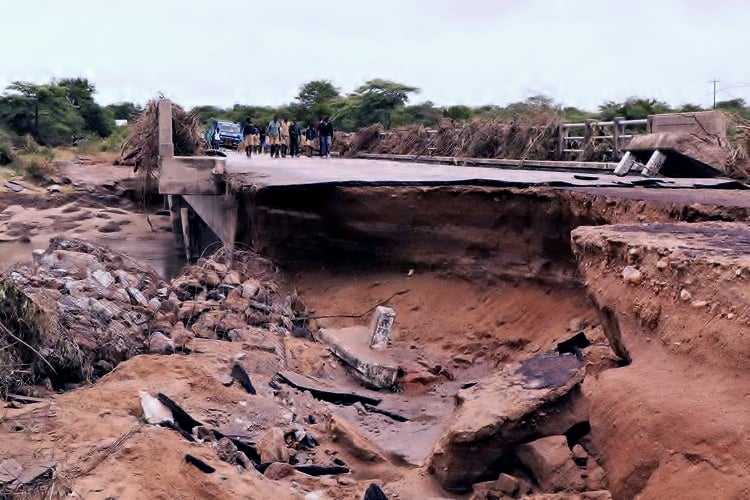 Delmah Ndlovu, who raises livestock in Bubi, a district in Matabeleland North Province, said the recent droughts meant women had to travel long distances to find water, giving them less time to work in their fields, reducing yields.
"We've witnessed unprecedented loss of pastures," she said. "Grass is dying. Even grass to thatch our houses, which we found freely in the past, is now getting scarce."
Changing rainfall patterns have led many farmers to innovate.
"We've learnt to dig filtration pits to preserve water," said Matilda Khupe, a farmer in Bulilima. "We dig the pits so that when rains come they fill the pits first, as well [as] putting gutters on the house. We use the water we collect and [the] water we use in our daily business to water trees and gardens."
Zonke has also had to learn to adapt. "We have adopted [the] cultivation of small-grain seeds on a much bigger scale than before, and new varieties of crops that are easier to grow but pay more," she said.
"Like this year, I've used retained maize seed I got from Zambia. It's very robust, and doesn't need chemicals to preserve it. If local seed companies could make such seed, farmers would be very grateful."
Responsibility, but no control
State support for small-scale farmers in Zimbabwe hasn't kept pace with the growing needs of recent years, especially with regard to water.
"There has largely been poor government investment into agriculture," said Oxfam programme officer Maggie Makanza. "Subsidy programmes have spent [lots of] money on [seed] inputs and nothing on preserving so much rain, as we have had this year.
"All of the rain is flowing into the ocean. We have not built any additional dams to harvest water, even small weirs in the local communities."
Despite reforms to land tenure, and the fact that women make up 70 percent of the rural population and account for the same proportion of agricultural labour, it is extremely rare for women to own or control land, or the assets needed to mobilise seed, fertiliser and credit.
"Most women do not have authority over the land. Hence, they can't make a decision on what to grow, where and when," explained Sharon Chipunza, another programme coordinator at WILZ. "The husbands decide, and most of the time they advocate for cash crops at the expense of food crops."
This is despite the fact, according to the UN's Food and Agricultural Organization, that when women have equal access, ownership and control over land and other productive resources, their crop yields increase by 20 to 30 percent.
Chipunza said the lack of jobs, coupled with recurrent droughts, has forced many men to migrate to towns or abroad in search of work. Women are often left with the sole responsibility of looking after families.
Many women farmers are unable to cope, admitted Zonke. But it's not just the women. Zonke said a growing number of children, especially in households where male adults are absent, were dropping out of school to help their mothers work the fields or to look for paid work.
 "Climate change is really troubling us," she said. "But we have nowhere to run to."
tz/am/ag
(TOP PHOTO: Chengetai Zonke in her maize field. Credit: Tonderayi Mukeredzi/IRIN)