Living in the Kenyan slum of Mukuru is hard enough, but when it rains it's downright miserable. Streets flood, sewage overflows, homes are inundated. 
After each bout of torrential rain, Nairobi's largest informal settlement is left a little shabbier, a little poorer, the community more insecure.
Climate projections for East Africa suggests parts of the region will receive heavier rains in the future, which will impact the most vulnerable. In the case of the Kenyan capital, that means the 60 percent of its residents currently living in informal settlements.
A walk through Mukuru is enough to appreciate the magnitude of the challenges. A courtyard turned into a pond by recent flash floods reflects the metal shacks surrounding it, now inaccessible until the water dries up. That could take weeks.
Residents cross, tiptoeing on the rocks just visible above the water to reach the main street. A short walk ahead, a bridge over the nearby river leads to the other side of the slum, where the local school is. When the river bursts its banks, the bridge becomes inaccessible, sometimes for months, and kids miss their classes.
Insecurity
Finding solutions in Mukuru is especially difficult because it is built partially on private land, which traps residents in chronic land tenure insecurity: they could be evicted and lose what little they have at any time. This doesn't encourage them to plan for the long-term. 
Aware that climate change will magnify risks, slum activists from local universities and research institutions are teaming up to take action in Mukuru, working with the residents to build resilience, and develop legal and financial tools to force accountability from public authorities.
Shadrack Mbaka, of Slum Dwellers International, is one of the brains behind the project – spurred on by the fact that "informal settlements [have] been cut out of the development plans" of the Nairobi City Council.
SDI is partnering with Strathmore University, the International Development Research Centre, Nairobi University, the Katiba Institute and Muungano wa Wanavijiji, a slum dwellers' network, to develop the research and come up with recommendations for upgrading Mukuru. 
The lack of pipe-borne water and sanitation is one major issue. Of more than 800 households surveyed in Mukuru, just four percent had access to adequate bathrooms, only seven percent had proper toilets, and just 29 percent had adequate water provision.
Christine Wayua makes a living for herself and her family by threading beads into colourful jewellery. She works from a bench outside her home in a narrow passage, off one of the main roads in Mukuru.
"Whenever it rains it's a disaster for the communities living here," she told IRIN. "There will be a lot of flooding and it's not just rainwater: it's water mixed with sewage, and the water gets into the homes." 
That can lead to the spread of waterborne diseases, like cholera, which is common in Kenya's slums.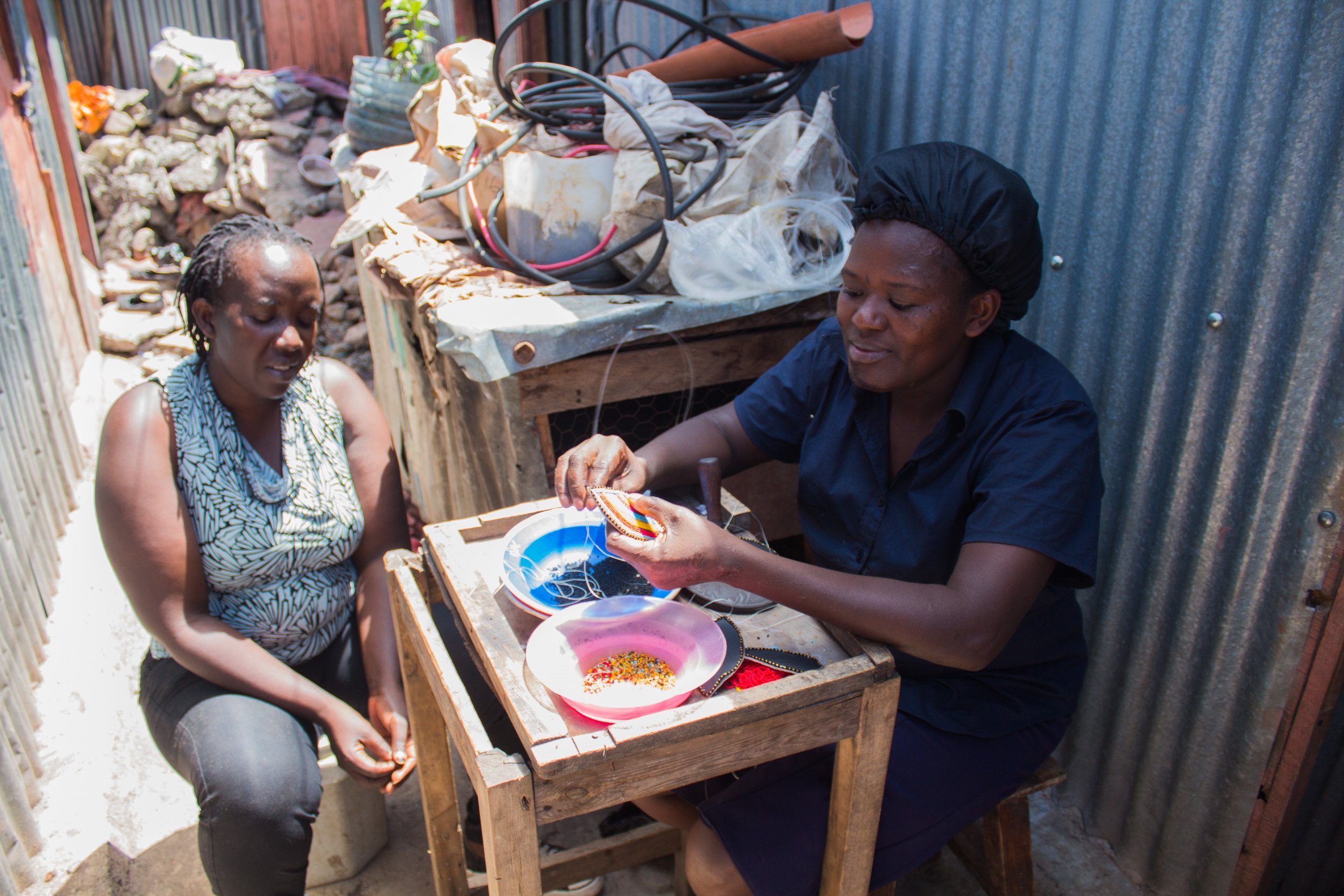 Profiling
SDI and its partners are trying to tackle the community's vulnerability from the bottom up, with the help of people like Wayua. 
First they "profiled" Mukuru, counting people and households. Then they sat down with the residents to imagine a new, better design for the community's infrastructure. With an agreed plan, they can engage the politicians, who had previously ignored their needs.
Wayua is aware of climate change, and recognises it may exacerbate the problems the community already faces. But she is pragmatic, looking to focus instead on how to prepare for the future.
In the case of Mukuru, she feels the issue boils down to land tenure. "We need more guarantees that we will be able to occupy this land in the future," she explained.
Mukuru's coalition of activists are exploring a range of strategies to improve land tenure and property rights – including converting private holdings into community land, and then establishing a Community Land Trust. The CLT will help defend constitutional rights to housing, water, health, and sanitation.
Another approach is to foster liveability, safety and affordability. This includes initiatives to improve service delivery through "community partnerships" and "community-based management structures". One target is the cartels, whose control means prices for services in Makuru, as in other slums, is higher than in Nairobi's middle-class suburbs.
"It's fundamental that people realise that the community is theirs to protect and upgrade," said Wayua.
She gave the example of a garbage point, designated as a place where the community could collectively dispose of their rubbish: "But still you will find that no one really wants to carry their garbage there, so the nearest open space they see is where they are going to dump it."
Mbaka says that engagement is growing, and will lead to behavioral change. Even garbage collection could, eventually, be a success.
Urban poor
Responding to the "complex realities in Mukuru" could help develop the "long-term solutions" to benefit the rest of Kenya's informal settlements, says a Strathmore University study.
There are 158 overcrowded informal settlements dotting Nairobi. They host the majority of the city's population, but take up just 1.6 percent of the city's land area. 
The land is marginal and disaster prone, and houses are typically flimsy. But what really drives vulnerability for the urban poor is "the lack of risk preparedness, and the capacity to respond when something bad happens", said David Dodman, an expert on resilience with the International Institute for Environment and Development. 
"You can't separate the process of rapid urban population growth, which means that more people are located in increasingly hazardous sites, from the actual changes in the climate that may be making those sites even more risky."
ldb/oa/ag
TOP PHOTO: Mukuru after the rains. By Lou del Bello