Sitting outside a cafe in Erbil, Ammar is chain-smoking despite his hacking cough. "I will never go back to Mosul, even after IS is finished," he promises. "Mosul has been ruined for me and my family forever." 
The 47-year-old father of three recalls the night in August 2014 when, within 24 hours of so-called Islamic State (IS) taking control of the city, he packed his family into the car and fled to Erbil's enclave of Ainkawa, where more than 50,000 Christians like him sought refuge. 
"We were searched at an IS checkpoint and they took everything, even my daughters' earrings," he tells IRIN. "My wife was terrified they would seize our daughters and couldn't stop shaking, even afterwards. We arrived in Erbil with just the car and my mobile phone, which I hid in my sock." 
Ammar's wife, deeply traumatised, suffered a stroke a few months later and remains partially paralysed. The only medication he can afford to buy her is paracetamol. 
"In Mosul, I had everything: a successful business – making signs for shops – a house, two cars, and a workshop. It's all destroyed now. I lost everything in an instant, just like that," Ammar says, clicking his fingers.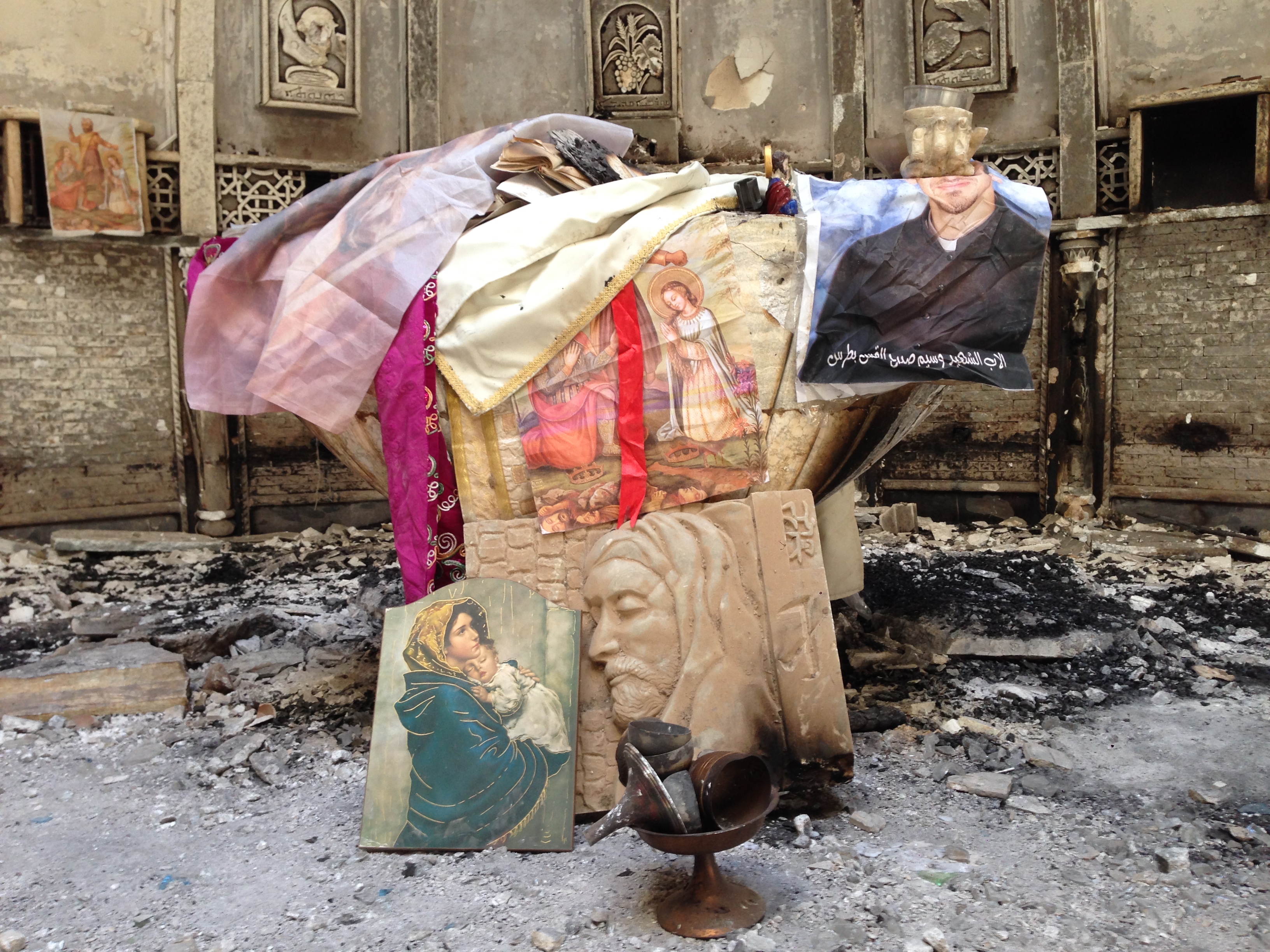 It will likely be months before Mosul itself is liberated, but, in the lead-up to the offensive on the city, Iraqi armed forces gained control of numerous outlying areas formerly under IS-control, including several Christian towns. 
However, there is little for priests and their former parishioners to return to. IS militants carried out widespread and merciless destruction, desecrating churches, looting graveyards, and burning houses. Many of Iraq's beleaguered Christians – a population estimated to be between 300,000 and 400,000, down from 1.3 million 20 years ago – are still too fearful to even contemplate returning to their homes. 
"We've lost everything and there's no future for us Christians in Iraq," says Ammar. "I think about dying and death, and I think it would be better than this."
Ruined churches, shattered lives
Not everyone feels the same as Ammar.
In Bartella, a predominantly Christian village on the eastern outskirts of Mosul, two military policemen walk through the chancel of a ruined church, its walls smoke-blackened and its pews smashed.
"When I first stepped inside this church after liberation I felt incredible, indescribable happiness," says sergeant Michael Pollos, one of the only two Christians in the Iraqi military police unit securing the village. "Really, it was like Christmas and New Year rolled into one for us. [Now] I have a deep pain inside my heart because of what happened here, but I believe we can rebuild what is broken."
IS seized control of Bartella in mid-2014, forcing its Christian inhabitants – an estimated 70 percent of the population of approximately 20,000 – into flight. Militants went on a rampage of destruction, decapitating statues, setting churches ablaze, plundering tombs, searching dusty corpses for wedding rings or gold necklaces, and destroying any homes identified as Christian.
"We were amongst the last people to leave, but we always believed that we would come back," explains Pollos. "We are people of this land and we have been living here for centuries. We used to live alongside each other in peace, but this disappeared with Islamist radicalisation. IS wanted us to convert or leave, but we wouldn't, and we won't."
He says he and his colleague, Milad Saed – the other Christian serving in Bartella – insisted on being stationed there because of the importance of keeping a Christian presence in the town. 
After the town was freed from IS, members of the Niveneh Plain Protection Units, a Christian militia that participated in the fight, fashioned a makeshift cross and placed it on top of one of the local churches.
Despite this triumphant symbolism, Pollos says many civilians know their houses have been destroyed or littered with booby-traps, and they fear they won't be able to go home.
"They can't see a future for themselves here anymore and, of course, they are frightened." 
Pollos is determined to change this perception: "It is crucial for us to be here, to help members of our community who visit to feel comfortable and confident."
Delayed return
The liberation of Christian districts has enabled some people to visit their ruined homes, businesses, and land, but with most areas still not having been cleared of explosive remnants of war, returning for good is not yet realistic. 
Qaraqosh – formerly Iraq's largest Christian town – lies 30 kilometres southeast of Mosul and was liberated in early October.

Local forces securing it say they hope people will start coming back in January. But for many of Iraq's displaced Christians, IS has made them suspicious of their former Muslim neighbours, and the presence of Christian security in the area is not enough guarantee of future safety for them to consider returning.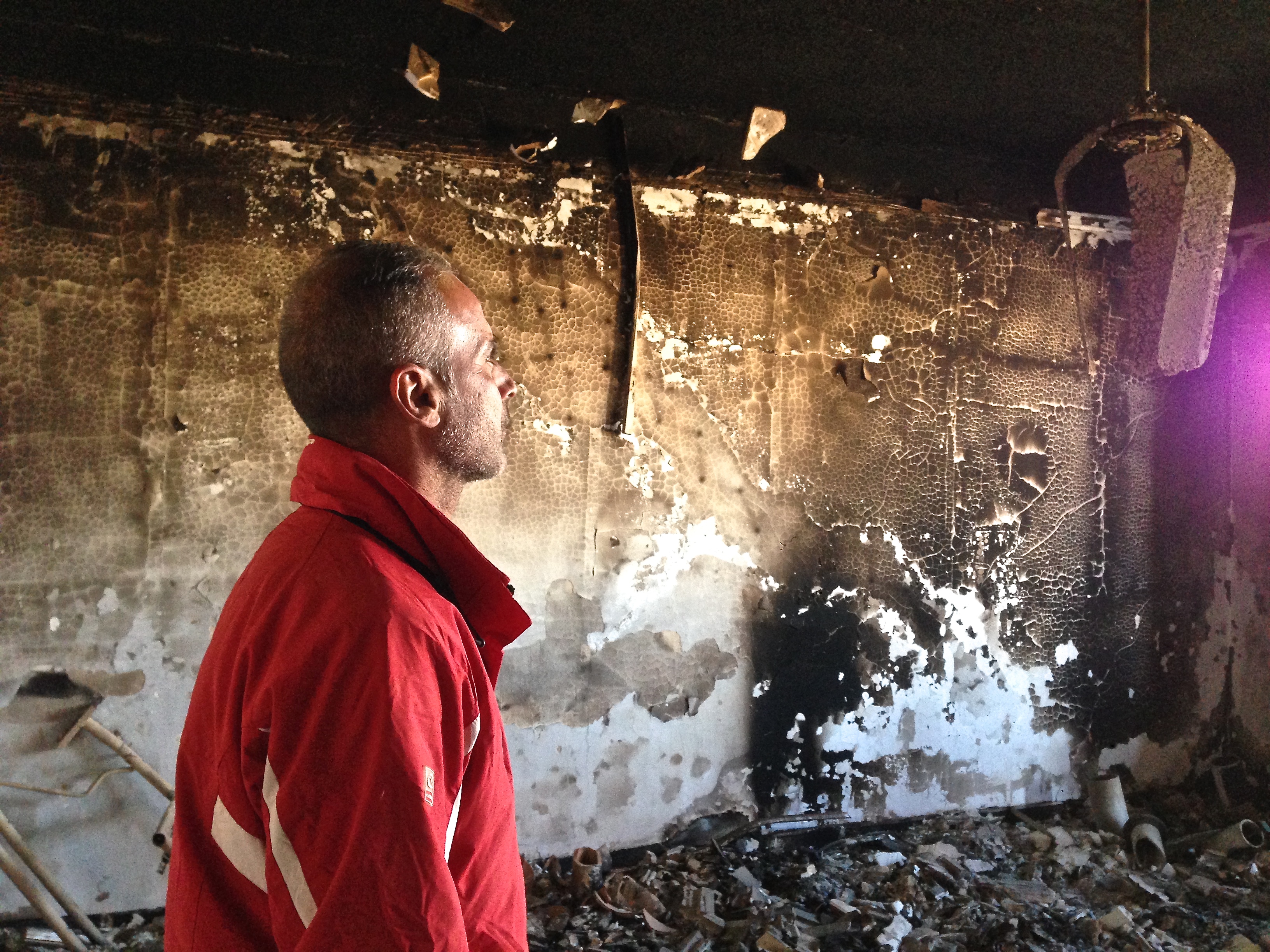 "We're not going back. It's not safe to live there amongst Muslims and I don't trust them anymore," says Neama, a 26-year-old dentist now living in Erbil. 
"They attacked us before and they will do it again. And when they come for us Christians next time, it won't be under the name of IS, it will be under a different name. Before, it was al-Qaeda, then it was IS, and next time it will be a different name, but it is always the same thing." 
But it's not just Christians who are either unable to go home or suffering in post-IS limbo.
Sunni Muslims are the object of Neama's fears, but they're also a minority in Iraq even while they form the majority of Iraq's three million displaced. Many lived under IS and now feel they're being unfairly blamed for the country's ills and kept from their homes.  
Related :  Beyond Mosul: Iraq's displacement and sectarian timebombs
But Neama is worried the situation for Iraq's smaller minorities will continue to deteriorate. Like many others, she says her family can no longer see any future for Christians in Iraq and is hoping for the opportunity to seek asylum in Europe. 
Since liberation, some of Neama's relatives have visited Qaraqosh, but only to survey the damage and see if anything can be salvaged.
Her 82-year-old grandmother Sarah says they found that all five of their extended family's homes had been looted and four of them set ablaze. "We left so suddenly, we couldn't take anything with us," she explains. "I went back with my son to see the damage and look for my traditional clothes but I couldn't find even those. Everything was gone."
Approximately one third of Qaraqosh's 50,000 residents have left Iraq since 2014, seeking asylum in other countries, according to Father George Jahola, a priest from the town. Some fled to nearby countries – Lebanon, Jordan and Turkey – but others have gone as far as Canada and Australia. 
"Even after liberation, now we are seeing the extent of the destruction, I don't think they will come back," he tells IRIN, adding that this threatened the very existence of Christianity in Iraq, which claims one of the oldest continuous Christian communities in the world. 
Hope lost
Ammar, the sign-maker, has been doing his best to carve out a new life for himself in Erbil.
He opened a small business but it proved ill-timed, just as the semi-autonomous Kurdistan Regional Government suffered a financial collapse that saw most city construction projects grind to a halt. He had to close.
Set deep in his weather-beaten face, his eyes fill with tears when he admits he recently sold his wedding ring – his last possession of any value – to pay for his daughters' university fees.
"This jacket is from the church; this shirt, these trousers – from the church," he says, tugging at his clothes. He is grateful for the handouts but finds it tough to accept what he's been reduced to, after a lifetime of hard work.
He still insists he won't go back to Mosul.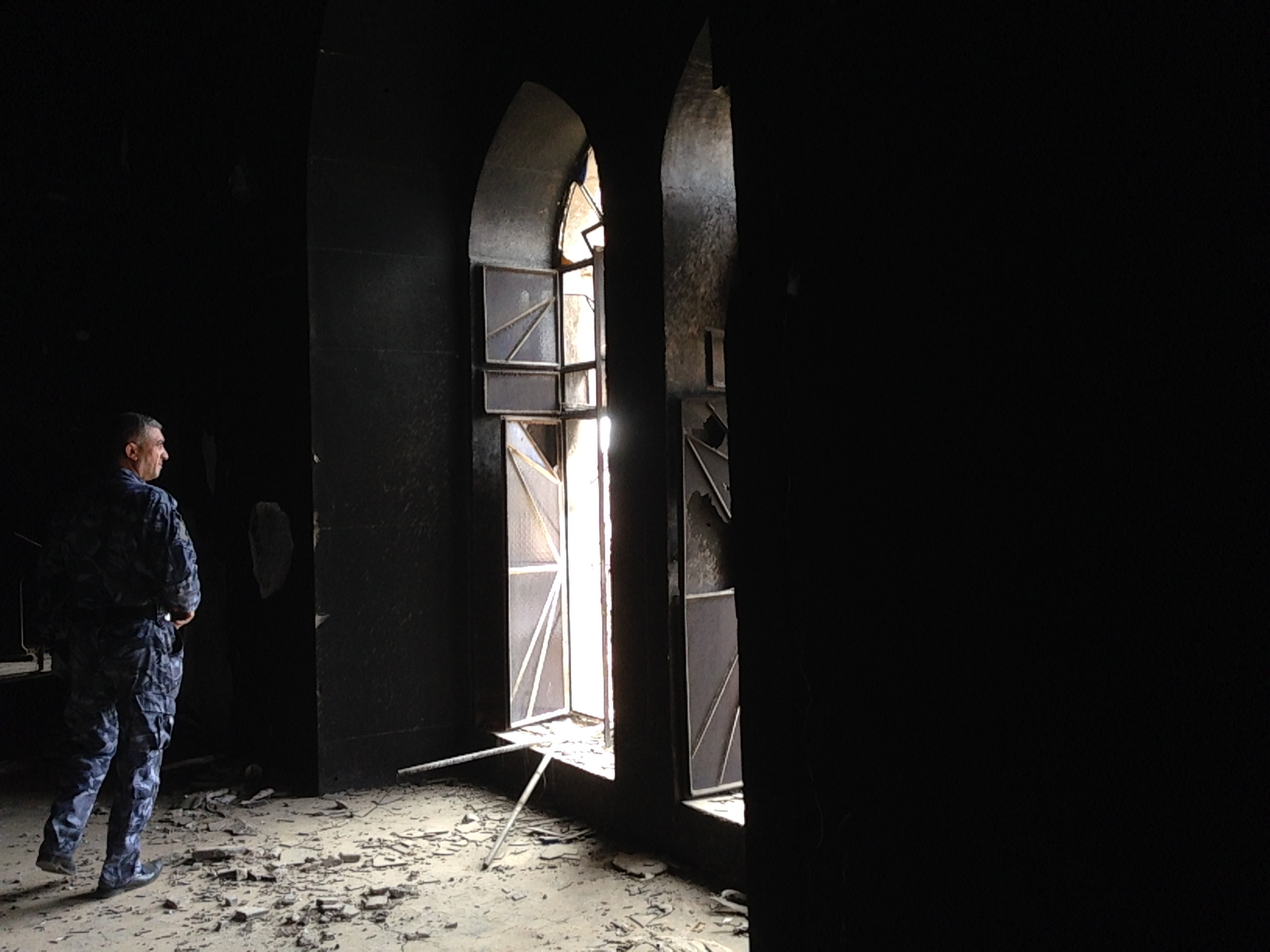 Pollos, the policeman watching over Bartella, admits that those who remain in the country fear further persecution and that what they see as previous betrayals by Muslim neighbours makes trust difficult to rebuild. 
But his determination is unshakeable.
"We don't want an exodus. We want to stay in our land, and that should be our basic right," he says. "But we need to be able to offer our people a secure situation and future – that's absolutely essential."
(TOP PHOTO: Military policeman wander through the burned-out interior of the largest chuch in Iraq, in Qaraqosh. Tom Westcott/IRIN)
tw/as/ag