In 2008, during the Battle of Sadr City five years into the Iraq War, Allen Tan came very close to being blown to pieces.
A twenty-something ordnance disposal technician with the US military, he had sent a robot to disable a bomb, one of the first he had encountered on the battlefield. But it didn't do the job. When he went to check the device, standing close by, he saw it was still hooked up to a phone, with the bomber potentially about to get on the line and detonate it.
"That means that somebody could call it at any moment," he said at his office in Phnom Penh, the Cambodian capital. "That second, you've got to do something. You just do it. That's the most exhilarating experience, actually."
It's an experience that is played out worldwide, not only in active war zones but in post-conflict countries like Cambodia, where decades of strife has left the land riddled with unexploded ordnance, or UXO. In that country alone, UXO has killed more than 60,000 people since 1979.
Related stories:

Rise in Cambodia mine casualties delays clearance
Those tasked with clearing it have a hard job, made harder by a serious dearth of training materials – often little more than textbooks and PowerPoint presentations.
"It's crappy for me to learn from a PowerPoint, nevermind people who aren't used to learning that way," said Tan.
Almost a decade on from Sadr City, Tan, now the director of applied technology with the Golden West Humanitarian Foundation, is trying to change that.  
"It's crappy for me to learn from a PowerPoint, nevermind people who aren't used to learning that way" – Tan
In a tiny factory above his office in Phnom Penh, several 3D printers produce replica munitions that he designed. While some companies have experimented with 3D printing of munitions, no one has done it on the same scale as Tan. The technique has the potential to revolutionise training for ordnance disposal technicians.
Even better than the real thing
The models, made from ABS plastic – the material used to make Lego – are built to resemble various munitions and fuses, the part of a bomb that goes through an arming sequence to set off the explosives. The replicas are so intricate that the whole anatomy of the firing mechanism can be explored and taught.
Started in 2012 with $100,000 in seed funding from the US State Department, the model munitions, known as Advanced Ordnance Training Materials, are selling rapidly. Tan's clients include the United Nations, which sends them to countries in sub-Saharan Africa. The International Committee for the Red Cross uses them in Laos, where an estimated 25 percent of villages are still contaminated with UXO left over from America's bombing campaign between 1964 and 1973.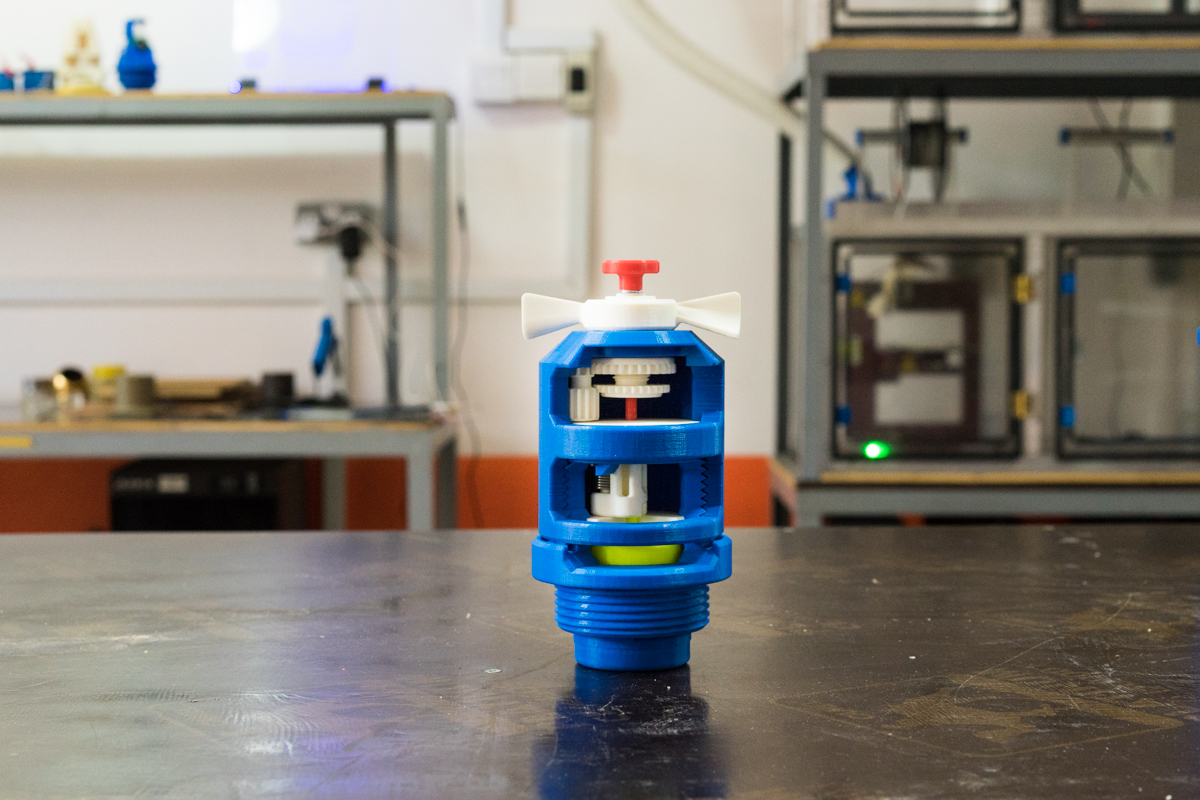 In some countries, inert munitions that have been rendered safe are an effective training tool. But they're not always available and not easily sent overseas. "You can't ship it. It is a weapons system, even after it's been deactivated; so in some countries it's still considered a weapon," said Tan.
Injection moulding – where plastic is melted and injected into a mould – is an alternative way to create replicas, but the process can be very expensive and unforgiving of mistakes. One small error can force the designer to make a whole new mould. With 3D printing, changes to the design can be made immediately and at low cost. AOTM sets are priced at $5,000 for NGOs and $7,000 for others.
The student becomes the teacher
Mark Lasley, Golden West's project manager, takes the sets to Vietnam for training sessions. While the country is littered with UXO, he said there are few experts who can render them inert.
"If I'm in Cambodia, at my training site, I have inert items that I can use and show," explained Lasley. "But when you're going to another country, you're training in another country, they usually don't have that available."
The 3D-printed munitions allow his trainees to see in detail how the bombs and fuses work, so they can be disabled and the devices moved and destroyed. 
"It's very difficult to teach them that," he said. "When you show them hands-on, they pick it up very quickly."
While the primary clientele is humanitarian, the sets have also been sent to the Navy School of Explosive Ordnance Disposal in Eglin, Florida, which trains cadets to defuse bombs.
In an email, David McKeeby, a spokesman for the US State Department's Bureau of Political-Military Affairs, praised the technology: "Thanks to Golden West's work, these low-cost and easily produced
 training models of landmines and military ordnance are making a 
difference in getting more demining technicians into the field in post-conflict countries worldwide."
In a neat piece of serendipity, one of the US military officials who bought the sets of AOTM from Tan was an instructor who trained him before he was deployed to Iraq, and long before the tiny factory on the other side of the world was even a glimmer in his imagination.
"It's come full circle," said Tan.
pm/jf/ag