Hazrat Zaman fears for the future of his seventeen children who have been denied education for more than a year since Pakistan's military launched an operation against militants, forcing thousands of families to flee their homes. 
Operation Zarb e Azb, or Sharp and Cutting Strike, is meant to clear Taliban, Al-Qaeda, and foreign militants from North Waziristan, part of the Federally Administered Tribal Areas (FATA). Militant groups have been based there for more than a decade, launching attacks not only across the border against coalition forces in Afghanistan, but also inside Pakistan. 
Among the almost one million people displaced by the offensive are tens of thousands of school age children who have not been able to attend classes since leaving home in June 2014. Many live in plastic tents scattered around the town of Bannu in Khyber-Pakhtunkhwa province, on the border with North Waziristan, where residents have fled the military operation.
Zaman first took his family over the border to Afghanistan's Khost province, but there were no schools there so he came back to Pakistan. 
"Eight months have passed and we found no school where our children could go," he said, standing outside his family's tent in Bannu. "We are completely in the dark about our children's future."
Farman Khilji, assistant director of the FATA Disaster Management Authority, said authorities are responding to the education crisis.
 "We are doing what we can do," he said. "We have set up our own schools in camps. Our teachers from North Waziristan are now on duty."
But the few schools available to displaced families are overwhelmed. 
Qismatullah, who like many people in the region uses only one name, said he was able to find a class for his two boys, but the volunteer teacher was unable to hold proper classes because he had some 400 students. 
"She was fed up. There were so many students, sitting in the open ground, a thatch roof over them," he said. "Then there was a storm and the classroom was blown away."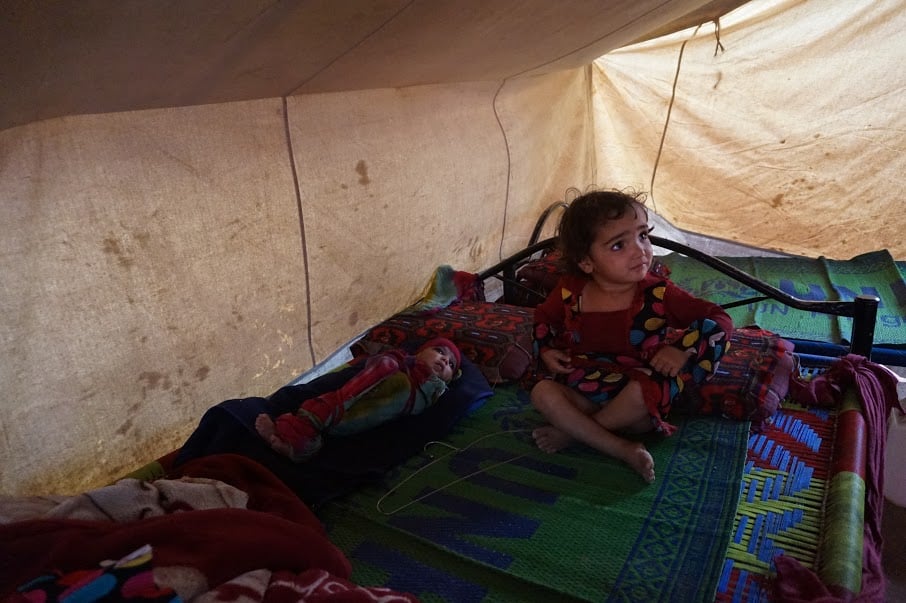 201506181126470837
His boys, aged eight and 11, haven't been to school in three months. 
High schools and colleges are also struggling with the influx of new students.  
"Already we had scarcity of resources for our own five thousand students," said Inayatullah Khan, a professor at Bannu Post Graduate College. "How can we provide education to a number that doubled with the arrival of students from North Waziristan?"
Students from the handful of areas in North Waziristan where the military has allowed residents to remain are supposed to travel to Bannu to take their exams, because the education system has been disrupted in their homes. But a military-imposed 24-hour curfew confining residents to their homes makes it impossible to travel.
Fida Khan Wazir, a tribal elder, said he tried unsuccessfully to get permission from authorities for a group of eighteen high school students from Razmak district to take their annual exams in Bannu this year. 
"How is it possible for a student to go Bannu when there is curfew? I don't know why the government is unable to understand the basic reason for militancy North Waziristan was a lack of education and unemployment," he said.
Years of disruption
Even before the current offensive, the near constant fighting regularly disrupted learning. 
Fizaullah, 16, a college student from Darpakhel, a village near North Waziristan's capital city Miran Shah, said that about every other day the military had imposed a 24-hour curfew. He estimated that he lost four and a half months of school days per year, and said some students just gave up trying to go to school. 
"My friends living outside the city, they just stopped attending," he said. "They would say, there is a curfew, or we might get shot by the army for going outside."
Teachers also stopped showing up to work because of the conflict, according to Jamshed, a college student from Mir Ali, the second largest city in North Waziristan.
"Whenever there was a drone strike in an area, the students of that area were supposed to stay home that day, because there were militants on roads after strikes and parents were afraid to let their children go to school," he said.
Nasir Khan, a college graduate from North Waziristan said the near-constant violence created an unhealthy obsession among students.
"Every student had a cell phone loaded with videos and songs of the Taliban," he said. "The only competition was which one had the most horrific fresh video."
Fears of militancy
For many students directly affected by the conflict that has raged for more than a decade in FATA, there is a temptation to put down the pen and pick up a gun. Some of those who lost friends or relatives in drone strikes, suicide bombings, or other attacks by the military or the Taliban have turned to violence themselves, part of a centuries old tradition of revenge, called "badal" or "por".
Some have looked to militant groups for weapons and training to get their revenge, said Mohammad Sultan, the head of the postgraduate college in Miran Shah.
"I had a very bright college student, Dilawar Jan. His father, Dilbar Jan, was killed by a group on charges of spying against Taliban," he said. "Dilawar Jan left his classes and joined a group of militants. I don't know whether he took revenge for his father or not but I haven't seen him since then."
Such stories are common in the region, which has been battered by bombings, battles and drone strikes.
Naseer Dawar, a journalist from Mir Ali city in North Waziristan recalled a former classmate, Mohammad Sadiq, who lost his brother when a US drone strike Abu Hamza Rabia, a top Al-Qaeda leader. A neighbouring house also collapsed, killing a few children including Sadiq's brother.
"He left the school and disappeared from our village," said Dawar. "People were saying he went to Afghanistan. But after a couple of years he appeared as a prominent Al-Qaeda facilitator in Mir Ali."
fk/uf/jf/am