Cholera outbreaks in West Africa generally trigger extra hand-washings in households and panic-buying of bleach for treating water. But beating the deadly – but easily preventable – illness requires that such hygiene practices become routine, health experts say.
Researchers with the London School of Hygiene and Tropical Medicine (LSHTM) say knowing the drivers behind behaviour and tying
hygiene messages
to those impulses is crucial for preventing cholera, which has become a recurring health emergency in West Africa.
"If we want sustainable change we need to make sure people practice things so they become habits," Jeroen Ensink of LSHTM's environmental health group told IRIN.
One way for aid agencies to do so, he said, is to dissociate hygiene messages from cholera – which is seasonal – and link them instead to general diarrhoeal disease.
Ensink also said it might be time to "re-brand" hygiene and health messages, as knowledge of cholera's causes does not always translate into new habits. "Hand-washing messages need not be just about health; they can be about: if you want to be modern, to smell nice, to be attractive to the opposite sex, use soap." The use of proper latrines can be linked to privacy instead of just proper hygiene, he added.
LSHTM has studied the impact of government and aid agency prevention and preparedness measures in Guinea and Guinea-Bissau as part of a project funded by the European Commission humanitarian aid department (ECHO).
Coherent
The ECHO project aims to build a more coherent approach to cholera control with sound preparedness and early response. And ECHO says 'quick impact' actions in vulnerable communities should be accompanied by longer-term prevention measures.
To date, emergency and development strategies fail to address the disease properly, lacking common objectives and complementary actions, ECHO says.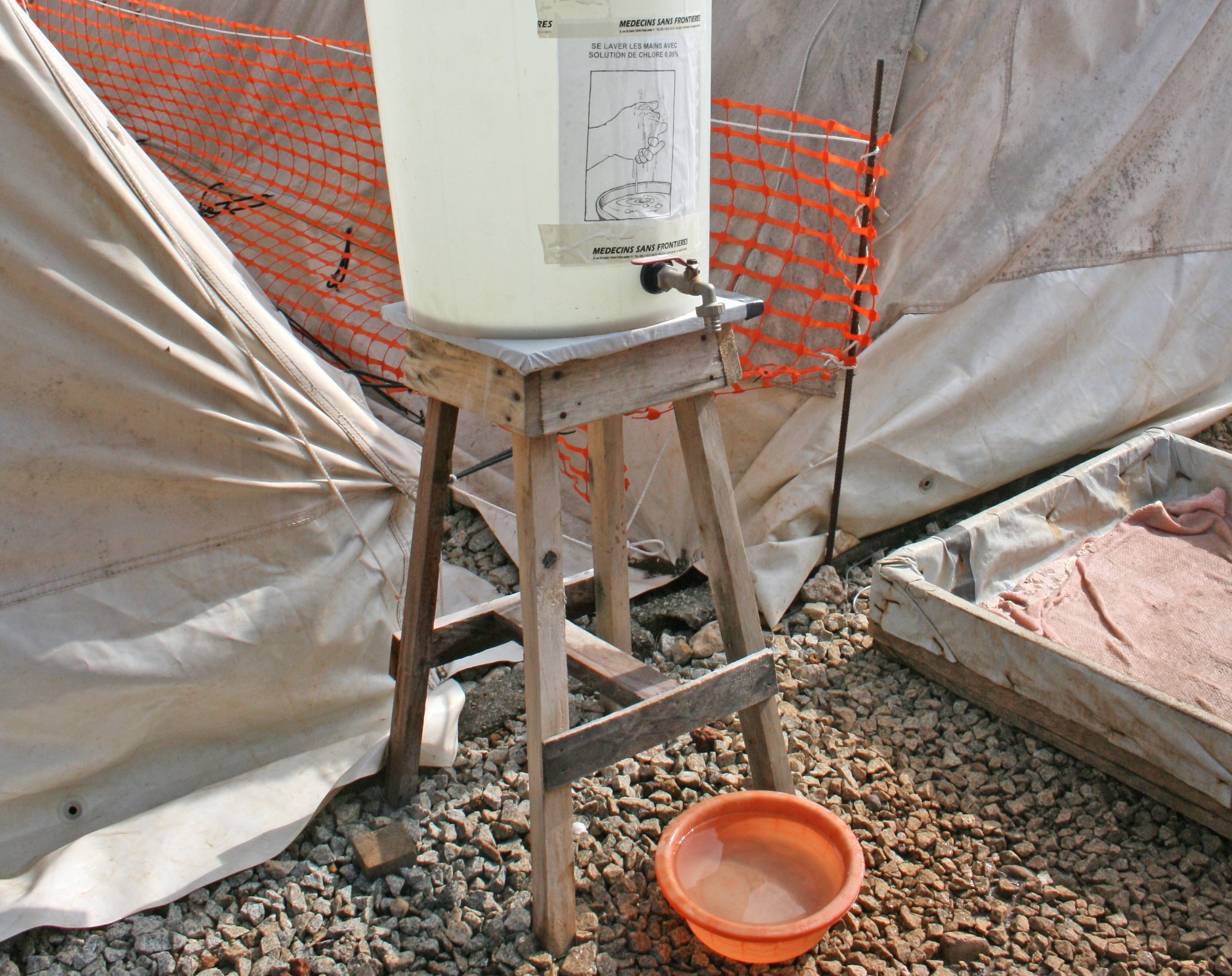 2008040724
Photo: Nancy Palus/IRIN
Area for disinfecting hands at a cholera treatment centre in the Guinea capital Conakry (file photo)
ECHO is focusing on Guinea and Guinea-Bissau, where cholera has become endemic; during 2007 and 2008 over 23,000 people were infected and 560 died in the two countries.
But all of West Africa is highly vulnerable to cholera and a regional approach is needed; ECHO and its partners will study lessons from Guinea and Guinea-Bissau to see what might be applied more widely.
As part of the ECHO-funded project UN Children's Fund and NGOs are training local health workers in responding to cholera, boosting communications strategies and developing emergency kits, which include sanitation and water purification materials, to keep outbreaks in check.
"We know that the solution to cholera is an overall improvement in water, sanitation and environmental conditions," said ECHO water and sanitation expert Francisco Gonzalez. But he said before such
significant and permanent changes
can be made, proper preparedness and response can save a lot of lives.
But to be effective anti-cholera actions must not be merely reactive, health experts say. LSTHM researchers observed in Guinea-Bissau that while most people could recite verbatim hand-washing and other hygiene messages, they apply them consistently only when cholera strikes. Changing such behaviour takes years, not months, said LSHTM's Ensink.
The World Health Organization calls cholera a principal indicator of social development. Overcrowding in poor-sanitation urban areas is a main driver of cholera. And the disease hits the poorest of the poor most heavily. With factors like poverty, rapid and unregulated urbanization and poor infrastructure all favouring cholera outbreaks, substantial socio-economic fixes are necessary to eliminate cholera as a cyclical health disaster.
aj/np
---
This article was produced by IRIN News while it was part of the United Nations Office for the Coordination of Humanitarian Affairs. Please send queries on copyright or liability to the UN. For more information: https://shop.un.org/rights-permissions