For the past five years, Laudina Mills has been selling rice meals and a popular dish of boiled beans and fried plantain known as gorbe to a mixture of businessmen and students near Accra Technical University, but the skyrocketing costs of ingredients is costing her customers and cutting into her margins.
"I used to sell a plate of rice for 5 cedis ($0.44), but now I have to sell at 10 cedis," 32-year-old Mills told The New Humanitarian as she sliced a plantain into some hot oil in Accra, Ghana's capital.
Frank Newman, a 24-year-old engineering student, is a regular customer who has to tighten his belt. "Sometimes I skip meals and have just one square meal a day," he said. 
Farmers aren't faring any better. 
"For the past two years, farmers have cut down on their production of cereals, which is the staple in most areas in the country," said Ayuba Abubakari, project manager for ActionAid Ghana, which has been working with small-scale farmers.
High fertiliser prices have forced Peter Aye, 45, to scale back his agricultural ambitions, for which he has taken loans from banks and family members. At Kumasi, some 250 kilometres northwest of Accra, he can only now cover 300 acres of land with oil palm – as well as local staples such as cassava, plantain, and maize – compared to 400 acres previously.
This is mainly due to fertiliser prices, which have been rising since 2020 and further spiked as a result of Russia's invasion of Ukraine. A bag now costs between 400-700 cedi compared to 250-350 last year, and Aye says he has to buy them from the open market because the government's subsidy programme is so inconsistent. 
Read more: Ghana's food security challenges
Ghana's agriculture is facing myriad challenges that could undermine future food security, ranging from climate change, poor infrastructure, and low levels of investment to lack of access to finance, post-harvest losses, and unsustainable farming systems.
A case in point is the government-owned National Food Buffer Stock Company Limited (NAFCO), which buys excess produce from farmers and preserves, sells, and distributes them to state institutions, including schools, and also serves as a strategic food reserve.
A lack of storage, logistical challenges, funding issues, and food price volatility have all affected its work, said NAFCO's director of communications, Emmanuel Arthur, explaining how it has been unable to stem post-harvest losses of perishable foods because it only has two facilities to store the processed products.
Worse, the supply of food to schools became so erratic that some high schools postponed their reopening by a month. 
Robert Aidoo, agricultural economist at the Kwame Nkrumah University of Science and Technology in Kumasi, said some of these challenges can be overcome, for instance by providing resources such as credit to farmers and facilities for post-harvest storage, investing in technical know-how, fixing Ghana's road network, and establishing a well-coordinated distribution network.
But a strong political will is necessary to make these changes, he added.
Others have criticised a focus on cash crops and the over-reliance on chemical fertilisers, all of which are imported and whose usage jumped more than 10-fold between 2001 and 2020.
For example, cashew nut farmers have to sell their produce – destined for export markets – before they have the income to buy food, said Rashid Abubakar Iddrisu, president of non-profit CEHDA: "When the price of cashews falls, that affects the food they have to buy."
The government has also been providing fertilisers free of charge to poor communities in the north to increase agricultural productivity.
"People became used to that to get good yields," Iddrisu explained. "So when the prices of fertilisers increased, farmers could no longer afford them, and going back to farming without fertiliser was a big challenge."
Ghana, the world's second-largest cocoa producer, is facing its worst economic crisis in a generation. Food and farming are on the front line, threatening a vicious cycle of rising hunger, malnutrition, and lower food production, as well as reduced school attendance, which can have longer-term repercussions for the country's development. 
A combination of high commodity and energy prices, excessive lending to the central government by the Bank of Ghana, a weak currency, and the economic fallout from the pandemic are to blame, according to economists and aid workers. 
Since neighbouring countries such as Togo, Burkina Faso, and Côte d'Ivoire import Ghanaian produce to supplement domestic production, the West African nation's woes could also undermine regional food security.
Consumer inflation slowed to 45% in March from a 22-year-high of 54.1% in December, but the pain continues for ordinary Ghanaians. This is partly because inflation rates for food and non-alcoholic beverages, and for cereal and cereal products, remain high: 50.8% and 68.8% respectively. 
"Everybody buys food. So if there's a problem with food prices, then it becomes a major driver of food insecurity," said Andrew Agyei-Holmes, a research fellow at the Institute of Statistical, Social and Economic Research of the University of Ghana. "[Cereals and cereal products] are what is consumed by many households," he explained.
Ghana's currency, the cedi, depreciated 40% against the US dollar last year, and the country is in the process of restructuring its debt. It stopped repayments in December, on reaching a preliminary deal with the International Monetary Fund (IMF) on a $3 billion rescue package. 
Ghana's bid is being closely watched by others in similar positions. About 60% of low-income countries and 30% of middle-income countries are currently considered at high risk of – or are already in – debt distress, according to a recent report by food systems experts. 
Rising hunger
In 1957, Ghana became the first sub-Saharan nation to gain independence from British colonial rule. It has since been hailed as one of the most politically and economically stable countries on the African continent, but the lower-middle income country is seeing an increase in people going hungry. 
"For us as a community food bank, it was quite clear that hunger was increasing because we started having this rapid growth in terms of demand for food, mostly from people in the middle class," said Elijah Amoo Addo, chef and founder of Food for All Africa. 
Servings of hot meals, which his organisation provides to vulnerable groups, jumped to over 1,000 packs a week in the second quarter of 2022, from 700 packs previously, and they are now providing between 1,100 and 1,500.
"In the rural areas where there is quite a lot of poverty, the only incentive for children to go to school is because of the meal."
The new hungry are not only those who became unemployed during the economic downturn but also people who still have jobs, according to Addo: "Almost 20% of beneficiaries currently under the hot meals programme are working, but they have not received their salaries for two to three months now."
The latest official figures showed 42% of the population – 13 million out of 30.8 million people – were eating low quality food or reduced their food intake between April and June 2022 (a decrease from 49% in the previous quarter), but vast majorities of those surveyed said they have inadequate foods (96%), are worried (95.4%), ate less (91.1%), and skipped a meal (88.5%). Nearly two in three said they had "run out" of food. 
More worryingly still, among children under five, wasting – being too thin for their height – has doubled since 2017, according to a February 2023 report by the government and two UN agencies.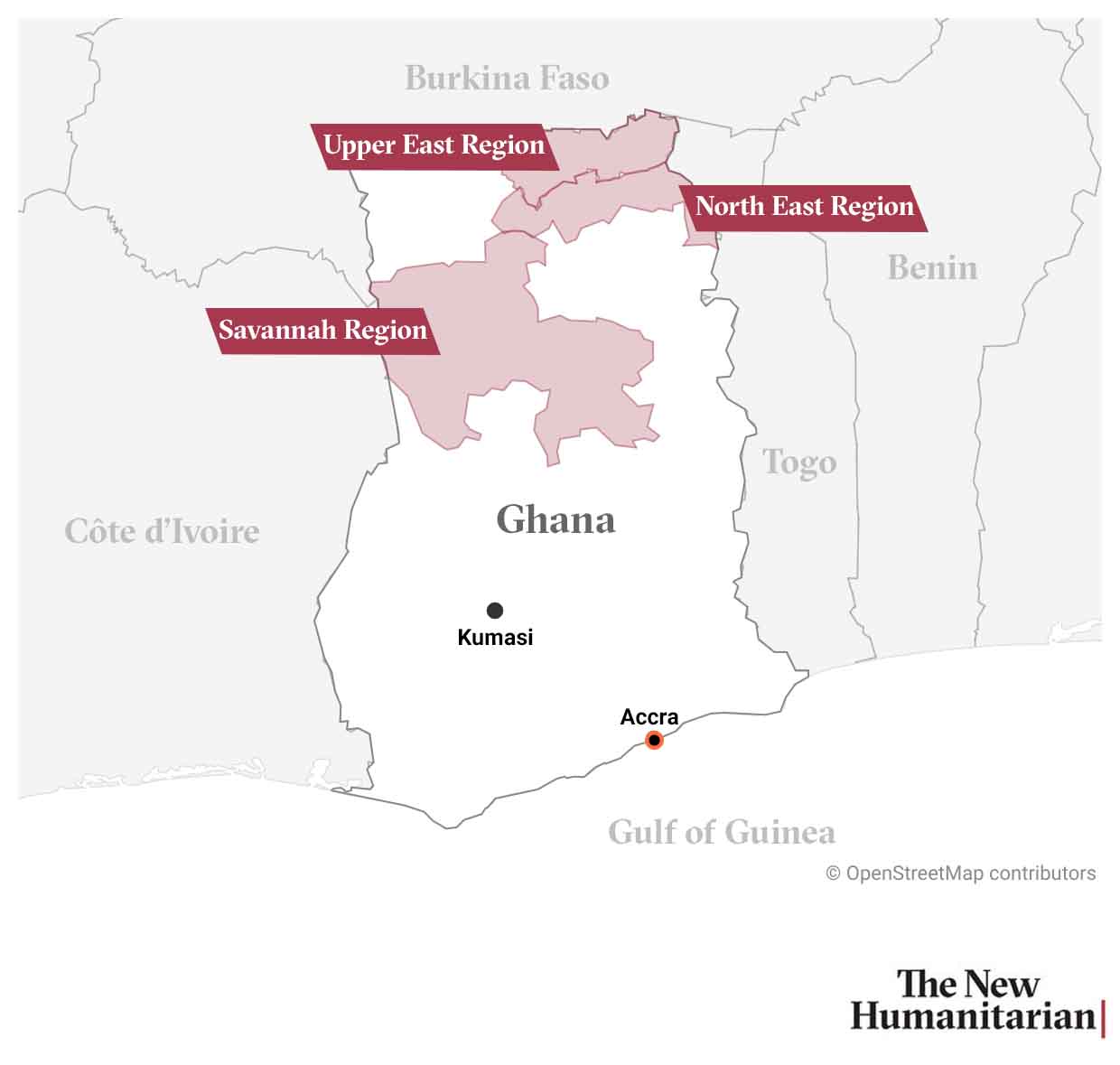 The national figures also mask geographic inequalities, as two in three people are going hungry in the worst-affected regions, such as the Upper East and the North East. 
A major cause of rising hunger is stagnant wages, said Lucia Acosta, coordinator of CEHDA, an association founded by Ghanaians who migrated to Spain that has been helping students and small-scale farmers in the Savannah Region in Ghana's northwest. 
"I am experiencing it in my daily life," Acosta said. "Comparing the price of an item with the price in my own country in Spain or in Europe, it's almost the same. But when you compare the salaries here in Ghana, it's a tenth* of the average salary in Spain."
The World Bank has said poverty in Ghana is expected to increase in the short term "due to the cumulative effects of increases in electricity and water tariffs, rising food prices and an increase in VAT (value added tax)".
The crisis is also affecting the government's school meals programme – a key initiative aimed at tackling hunger and malnutrition, and at increasing enrolment at the same time. Set up in 2005 and supervised by the Ministry of Gender, Children and Social Protection, it provides public school students with a daily meal. "In the rural areas where there is quite a lot of poverty, the only incentive for children to go to school is because of the meal," explained Addo.
The programme has been criticised for its meagre budget of one cedi ($0.09) per pupil, and for offering low-quality food. Kate Bigson, a lecturer at Wa Technical University in far northwest Ghana who led an assessment into the nutritional quality of the meals, blames this largely on the financing structure, whereby the caterers have to finance the meals up front and are reimbursed by the government later. 
After 18 years, the future of the initiative is now on the line. Local media reported that caterers in some regions recently protested and threatened to stop working after the government failed to pay them. Without sustained support, enrolment will decline and students will drop out, while well-off parents will send their children to the more expensive private schools, said Abubakari. 
"For Action Aid, we think that education is a public good and once you try to privatise it, then you widen inequality," he added. 
An unpredictable future
Abubakari believes the government should provide social protection programmes for communities, including farmers, and there should be concerted efforts for debt relief at regional and international levels because austerity measures often stipulated in bailouts prevent governments from enacting programmes to help people. 
Meanwhile, Addo recalls speaking to a 69-year-old mother in rural Ghana who relies on monthly remittances of 250 cedi to her mobile phone from her working son in Accra. 
"The government, in trying to solve the economic challenges, instituted an electronic levy on monies transferred through mobile platforms. The amount she received is reduced, yet the prices of food have doubled," he said.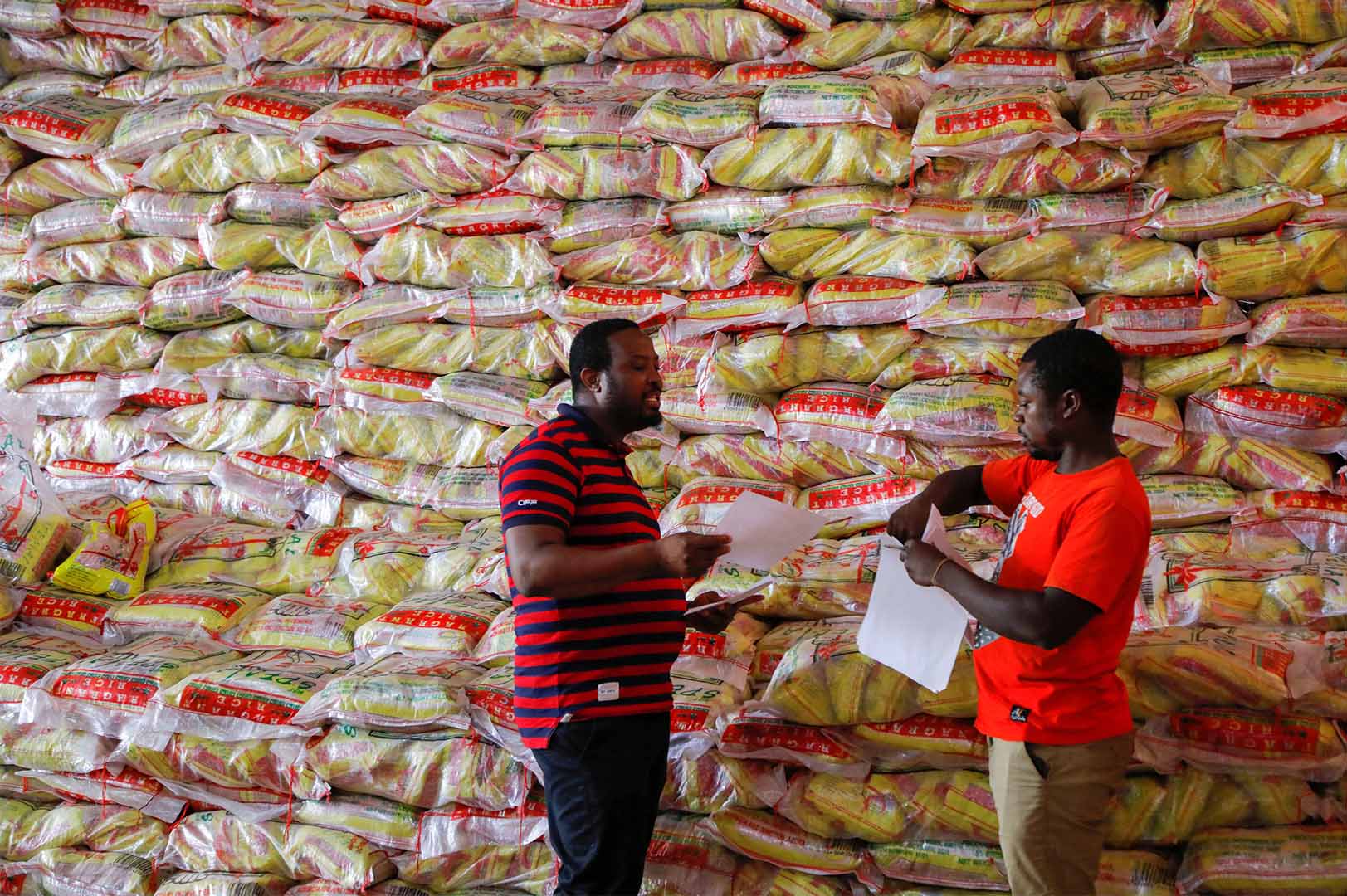 "It seems our government is not taking into consideration the fact that whatever decisions or measures they put in place would affect the ordinary and low-income citizens of Ghana. You are talking about almost half of our population."
Rashid Abubakar Iddrisu, CEHDA's president and founder, grew up in the Sawla community in northwestern Ghana where he says hunger is increasing every year as yields dwindle amid changing rainfall patterns. 
Iddrisu left Ghana years ago in search of a better life, travelling to Europe through Burkina Faso, Niger, Algeria, and Libya. Eventually he settled in Spain, only to find more hardship and poor pay. He set up CEHDA in 2007 to help people like him in Spain, but also to inform people back home of the realities of migration and provide them with livelihood opportunities. Climate change is now threatening to wreck those hopes. 
"We used to have the first rains in February. By the end of February, people were already farming and waiting for the second rain," he said. "Now, we have the first rains at the end of March. We don't know when the second rain will come." 
To build resilience, CEHDA is making its own compost, turning to local and ancestral seeds, and advocating an agroecological approach that cares for the soil and shuns chemicals. 
Action Aid, which said it has seen similar disruption in the rainfall patterns in the south, is also promoting food sovereignty and agroecology to the farmers it is supporting, most of whom are small-scale, women, and grow food for local consumption. 
Agyei-Holmes, the agricultural economist, was more optimistic, telling The New Humanitarian he even sees some opportunities to increase food production. 
In Ghana's middle belt, the first rains seem to be lasting longer while the second rains are arriving earlier, he said. This provides an opportunity to grow more crops but also a short period to dry them, but farmers are reluctant to expand production for fear of losing their harvests to spoilage, Agyei-Holmes explained. 
"So if we can address this problem of storage and drying, we can push farmers to produce in both seasons, and the total production will be something like 160% or 170% [of normal production]," he said.
For Agyei-Holmes, it's even more vital to improve Ghana's food security and agriculture because of its role in feeding other nations: "The Ghanaian situation, if it worsens, will become a problem for us, but [it will be] more problematic for our neighbours who import grains from us." 
(*An earlier version of this story incorrectly stated one fifth of the average salary in Spain. Acosta corrected her comment to reflect the difference in salary more accurately. This version was republished on 8 May 2023.)
Jessica Ahedor reported from Accra, Ghana. Thin Lei Win reported from Turin, Italy. Edited by Andrew Gully.