When President Muhammadu Buhari flew into southeastern Imo State last week to commission a handful of development projects, he was greeted by deserted streets and shuttered businesses: Residents were demonstrating against his leadership by staying at home.
Dressed in traditional Igbo attire, matching the outfit of his host, Governor Hope Uzodinma, Buhari made no mention of a nascent secessionist insurgency that seeks to pull 30 million Igbo people out of the federation – and has been met by a violent crackdown by the security forces.
"The stay-at-home [in response to Buhari's visit] was basically people saying, 'We reject the way you're treating us – and we want a turnaround'," said Clement Nwankwo, executive director of an Abuja-based rights group, the Policy and Legal Advocacy Centre.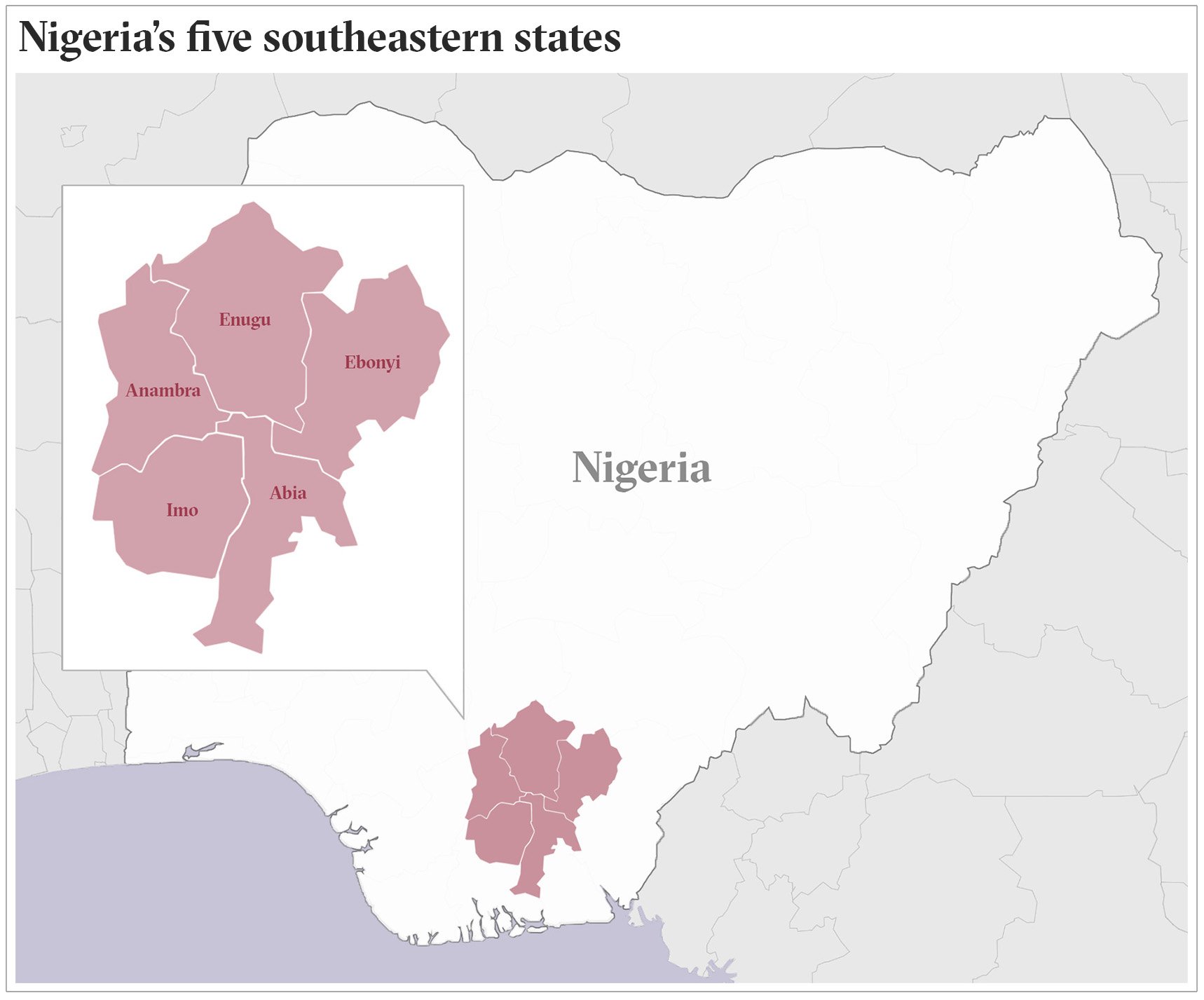 Agitation for secession – previously just polemical – has increasingly turned violent, especially in Imo. Early this year, the Eastern Security Network (ESN), the armed wing of the pro-separatist Indigenous People of Biafra (IPOB), began a series of attacks against the security forces that has killed more than 20 police officers.
In April, the federal prison in Imo State was raided and over 1,800 inmates set free. A few weeks later, Uzodinma – a member of Buhari's ruling party who was eased into office by a disputed Supreme Court ruling – was the target: His country home was raided and Rolls Royce destroyed by rocket-propelled grenades.
'Ruthless excessive force'
The federal government's response has been "ruthless excessive force", according to Amnesty International. It has documented the deaths by the security forces of at least 115 people between March and June and believes there could be hundreds more – with many of the victims unlikely to have had anything to do with ESN.
Soldiers are out in force in the southeast, staffing checkpoints on the potholed roads, scrutinising drivers and passengers as they filter slowly past sandbagged positions. The air force has also been in action, strafing alleged ESN hideouts in a densely populated region.
With the army deployed in all 36 states, Nigeria's problems are at root about a crisis of governance, noted Idayat Hassan, director of the Centre for Development and Democracy, an Abuja-based think tank.
"It's time for Nigeria to sit back and ask if force is the solution to all these problems," she told The New Humanitarian. 
In June, the government announced that IPOB leader Nnamdi Kanu was in custody. Seen as a skilled propagandist and cult figure by some, in exile since 2017, he was seized in Kenya in circumstances that remain unclear.
"It's time for Nigeria to sit back and ask if force is the solution."
Kanu has been a particularly nettlesome figure for Buhari. A British citizen, he set up Radio Biafra and live-streamed incendiary anti-Nigeria commentary to a growing audience. Arrested in 2015 for treasonable felony, he managed to jump bail and fled Nigeria in 2017 – keeping up his combative oratory.
He peddles a conspiracy theory that Buhari, a Fulani, heads a plot aimed at the "Fulanisation and Islamisation" of Nigeria. The vanguard of the scheme are said to be the well-armed Fulani pastoralists, heading deeper into the south as a consequence of climate change, where they are clashing with local farmers.
It's a notion shared well beyond the southeast, but Kanu has increasingly called for violence as a response in broadcasts described as hate speech.
His arrest has become a rallying point. Sit-at-home demonstrations are held each time he appears in court, and even some within the traditional Igbo political establishment – upstaged by his radicalism – have called for his release.
"IPOB is a creation of Buhari's failures in governance," Nwankwo told The New Humanitarian. "If you have a central and state governments that are delivering on development, on the people's needs, IPOB would be irrelevant."
A region under siege
The unrest adds to the list of violent conflicts pulling at the unity of Nigeria, including the Islamist insurgency in the northeast, widespread banditry in the northwest, farmer-herder clashes in the central region, and armed attacks in the oil-rich Niger delta.
Separatist sentiment in the southeast is driven by the region's perceived "marginalisation". It feeds on nostalgia for the rebel republic of Biafra, which broke away in 1967 and fought a bloody 30-month war for independence that left more than a million people dead – mostly from disease and starvation following a blockade by the federal government.
Many Igbos say they still feel as if they are treated as second-class citizens more than 50 years on – a sentiment they say has been aggravated by an aloof and unsympathetic Buhari. He is widely viewed as favouring his northern Muslim constituency and, as an ex-military officer who fought in the southeast, as being reflexively anti-Igbo.
"Igboland has been under siege since the end of the civil war," Nigerian academic Emmanuel Ejiogu told The New Humanitarian. "A significant majority of the people in the southeast are fed up with Nigeria."
But the region has rebounded from the devastation of the civil war, with Igbo people – who dominate retail trade – re-establishing themselves throughout Nigeria. It is the north, Buhari's home region, that is the county's poorest, according to the National Bureau of Statistics.
Nevertheless, pro-separatists argue that the five core Igbo southeastern states – Abia, Anambra, Ebonyi, Enugu, and Imo – would do better on their own, independent from the rest of Nigeria, a so-called "Biafraexit".
IPOB has repeatedly demonstrated its influence. Following Kanu's detention, the group called for weekly sit-at-home protests each Monday across the southeast, freezing business activity in cities, towns, and even village markets. The economic impact persuaded IPOB to rescind the order a few weeks later.
A threat of violence by the militants lurks, as attacks against people considered "saboteurs" of the struggle have been carried out. At least three people were beheaded near the Imo city of Orlu in July, with one head displayed in the market square. 
"A significant majority of the people in the southeast are fed up with Nigeria."
A potentially worrying sign of things to come, should the conflict deepen and sides be chosen, are the growing numbers of unemployed and angry youths flocking to join IPOB – and fears over their discipline.
Kenneth Uzoma reflects some of that unease. A driver who takes passengers from Owerri airport to destinations in the region, he says that despite IPOB cancelling the weekly sit-at-home, it's wise to be cautious.
"The government can't protect us from IPOB and IPOB can't protect us from the government," he told The New Humanitarian. "Even IPOB can't protect us from some of their own members who don't obey their directives."
Buhari's image problem
Buhari is deeply unpopular in the southeast – a region that has rejected him four times at the ballot box, even though on two of those presidential bids he had Igbo running mates.
When he finally won power in 2015, he pointed out that a region that gave him just five percent of the vote could not expect to be treated in the same way as one where he had scored 95 percent.
Within a year of taking office, more than 150 people had been killed in a military response to peaceful secessionist agitation, according to Amnesty International.
Until his trip to Owerri last week, Buhari had done little to try and win over the region. In late May, he dismissed the southeast as a landlocked "dot in a circle" and threatened to speak to people "in the language they understand" – a veiled reference to the violence of the civil war.
A region divided
There is a demographic split in Igbo opinion over unity. Support for separatism is strongest among the poor and unemployed but falls away among the more successful, according to Cheta Nwanze, the head of research at the Lagos-based SBM Intelligence consultancy.
"All of Nigeria's [insecurity] problems are actually the result of poor economic performance," Nwanze told The New Humanitarian. "It manifests in different forms in different regions: In the southeast it has manifested as IPOB."
Chukwuemeka Ojukwu, the leader of the defunct Biafra, who died in 2011, is still idolised by IPOB – even though he disavowed the further pursuit of secession on his return from exile three decades earlier.
He formed a regional party, the All-Progressives Grand Alliance, to articulate Igbo interests. His home state of Anambra is governed by the party, which has maintained its distance from IPOB.
"We understand IPOB's grievances but have reservations about their style," C. Don Adinuba, the Anambra commissioner for information, told The New Humanitarian.
IPOB has also failed to outline what the borders of a new Biafra would be, raising concerns of Igbo domination among minorities – as during the civil war. Port Harcourt, the nearest port to the southeast, is made up largely of Ikwerre, Ijaw, and Ogoni people, who have resisted IPOB.
Nwankwo sees separatism as a symptom of a deeper problem. "I don't think Nigerians want a broken country," he said. "They think the country is already broken, and they're protesting it."
Edited by Obi Anyadike.