Since a failed coup and subsequent insurgency in September 2002 split Côte d'Ivoire between a government-led south and rebel-controlled north, several peace agreements and election dates have come and gone. Here is a timeline:
24 January 2003:
French-sponsored Linas-Marcoussis Agreement is signed between the Ivoirian government, the main political parties and the rebel Forces Nouvelles, providing for the creation of a new government of national reconciliation, a clear timetable for elections, a proper disarmament campaign and rebuilding of national army.
20 March 2003:
A government of national reconciliation is formed, including representatives from opposition political parties and Forces Nouvelles, with Seydou Diarra appointed as consensus prime minister. Laurent Gbagbo became president in 2000 with a five-year mandate.
13 May 2003:
UN Security Council adopts resolution 1479 establishing the UN Mission in Côte d'Ivoire (MINUCI) with a six-month mandate to facilitate the implementation of the Linas-Marcoussis Agreement and the ceasefire.
27 February 2004:
UN Security Council adopts resolution 1528 establishing UN Operation in Côte d'Ivoire (UNOCI) for one year. Control of the forces deployed by the Economic Community of West African States (ECOWAS) and MINUCI transferred to the new mission, with UN to coordinate with French Licorne military force stationed in the country since the beginning of hostilities in September 2002.
25 March 2004:
Dozens of casualties reported after march by Group of Seven opposition parties in Abidjan despite an official ban.
27 March 2004:
Forces Nouvelles and opposition parties pull out of the government in protest at brutal behaviour of security forces and Gbagbo supporters.
30 July 2004:
West African leaders meet in the Ghanaian capital Accra to urge opposition party leaders to agree a timeline for disarmament of militia and rebels.
4 November 2004:
The Forces Armées Nationales de Côte d'Ivoire (FANCI) launches "Operation Dignité" with a major offensive against Forces Nouvelles in north.
6 November 2004:
Ivoirian Air Force bombing raid on French base at Bouaké kills nine French soldiers and one American civilian. French retaliatory airstrikes in Yamoussoukro and Abidjan destroy military aircraft and trigger wave of anti-French protests in Abidjan.
November 2004:
Then South African president Thabo Mbeki named mediator in Côte d'Ivoire by African Union.
15 November 2004:
UN Security Council Resolution 1572 supports UNOCI and French military and makes fresh appeal for peace.
6 April 2005:
Government, opposition and Forces Nouvelles representatives sign Pretoria Agreement after mini-summit chaired by Mbeki, reaffirming commitment to peace, holding of elections and a comprehensive disarmament, while condemning ceasefire violations.
29 June 2005:
The Declaration on the Implementation of the Pretoria Agreement is signed in South Africa under the auspices of the AU.
21 October 2005:
UN Security Council adopts resolution 1633, extending Gbagbo's term of office by a maximum of one year, urging the choice of a new prime minister acceptable to all parties, a roadmap for disarmament, and proper support for the preparation of free and fair elections. 
31 October 2005:
Presidential elections cancelled.
4 December 2005:
Charles Konan Banny, governor of the Central Bank of West African States (BCEAO), is appointed interim prime minister.
17 January 2006:
UN Secretary-General Kofi Annan deplores "orchestrated campaign of violence against the UN" after attacks on UN property in Abidjan and elsewhere triggered by reports of International Working Group (GIT) wanting to dissolve national assembly.
12 July 2006:
The president's party, Front Populaire Ivoirien (FPI), calls for a boycott of the voter identification hearings after violent demonstrations by the Jeunes Patriotes (pro-Gbagbo youth group) against the ID process.
6 October 2006:
An extraordinary meeting of ECOWAS leaders is held in Abuja, Nigeria, ending in recommendations for a roadmap to peace in Côte d'Ivoire.
17 October 2006:
The AU and UN Security Council extend Gbagbo's mandate by one year, in the hope that roadmap for peace can be implemented during that time.
31 October 2006:
Presidential elections cancelled.
4 March 2007:
Gbagbo and rebel leader Guillaume Soro sign the Ouagadougou peace deal under the aegis of Burkina Faso President Blaise Compaoré. The pact sets a new timetable for organizing elections in Côte d'Ivoire and reuniting the country. Compaoré becomes mediator for Côte d'Ivoire.
11 April 2007:
A quadripartite agreement to eliminate the buffer zone between government and rebel forces is signed.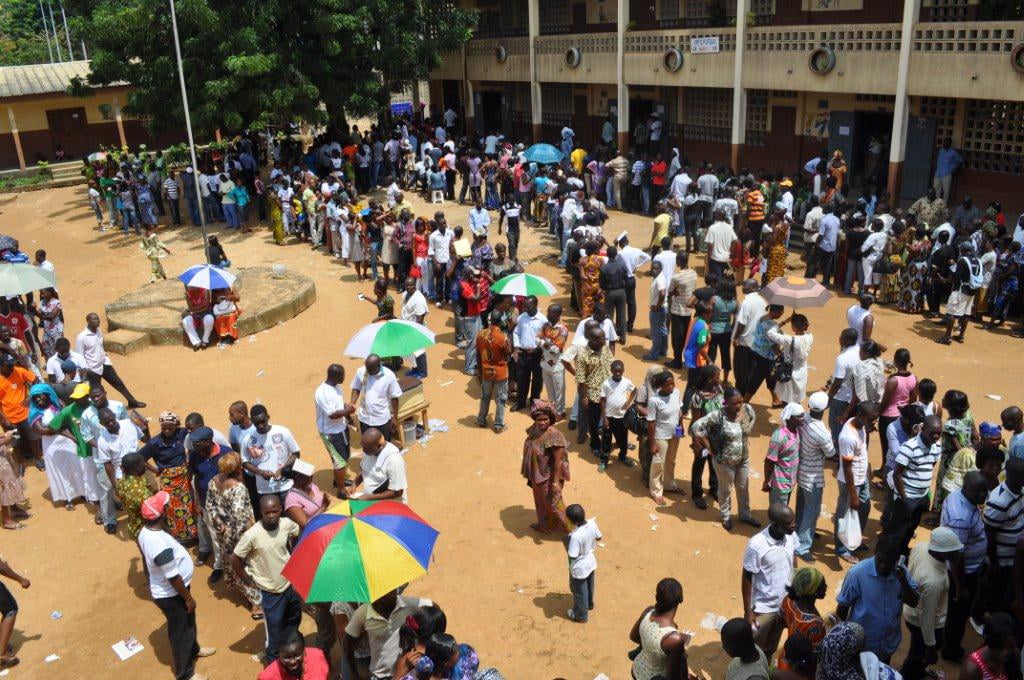 201011161406230238
Photo: Monica Mark/IRIN
Ivoirians line up to vote in presidential election
17 May 2007:
Pro-government militias, active mainly in the west, start to disarm.
29 June 2007:
Soro's aircraft is attacked in Bouaké. Four people are killed and several injured but Soro emerges unhurt. The UN mission in Côte d'Ivoire subsequently endorses his call for an independent international inquiry into the incident.
30 July 2007:
Gbagbo travels to Bouaké on his first visit to rebel territory since the September 2002 uprising. Officials burn a pile of arms, declaring "the war in Côte d'Ivoire is over".
15 October 2007:
Elections planned for November 2007 are put on hold as government warns that voter identification and registration incomplete.
27 November 2007:
Gbagbo and Soro sign a new peace accord in Ouagadougou, fixing the date for legislative and presidential elections for June 2008 latest.
15 January 2008:
UN Security Council Resolution 1795 passed, giving the Special Representative of the UN Secretary-General in Côte d'Ivoire the power to certify elections.
14 April 2008:
Council of Ministers announces presidential elections will take place on 30 November 2008 under the peace plan, as proposed by the independent electoral commission, Commission Indépendante Electorale (CEI).
April 2008:
Ivoirian Political Party Code of Conduct adopted.
30 July 2008:
Gbagbo visits rebel headquarters in Bouaké for another weapons-burning ceremony.
18 November 2008:
December elections postponed.
14 May 2009:
Soro announces elections will take place on 29 November.
26 May 2009:
Rebels controlling the north officially hand over power to civilian administrators, whose brief is to restore state control. However, rebels still retain considerable control over local economy and security forces.
16 June 2009:
CEI proposes holding elections during November or December 2009.
8 August 2009:
Paul Yao N'Dré, former minister of interior under Gbagbo, named President of Constitutional Council, amid questions over his neutrality.
16 October 2009:
CEI announces that provisional voter list will not be ready for another month.
29 October 2009:
UN Security Council Resolution 1893 warns of repeated human rights violations and renews sanctions against Côte d'Ivoire until 31 October 2010.
14 November 2009:
CEI confirms that elections will not be held on 29 November.
3 December 2009:
Burkina Faso mediators announce an election deadline of early March 2010.
9 January 2010:
Gbagbo accuses electoral commissioner Robert Beugré Mambé of fraudulently adding over 429,000 names to the electoral list of people he said were not proven to be native Ivoirians.
11 February 2010:
Voter registration is suspended. 
12 February 2010:
Gbagbo dissolves the CEI. Opposition parties call for protests. A coalition group representing leading opposition parties, Rally of Houphouétistes for Democracy and Peace (RHDP), issues a communiqué stating it no longer recognizes Gbagbo as head of state. Elections deferred again.
15-20 February 2010:
Several killed in clashes between security forces and anti-government demonstrators, notably in Gagnoa, northwest of Abidjan.
22 February 2010:
Burkina Faso president Compaoré, mediator, arrives in Abidjan.
23 February 2010:
New government named with Soro returning as prime minister but with only 16 out of 28 cabinet posts filled.
26 February 2010:
A new electoral commission is put in place, headed by former foreign minister Youssouf Bakayoko, a senior member of the opposition Parti démocratique de Côte d'Ivoire (PDCI). Opposition leader calls off demonstrations, announces acceptance of 11 positions in the new 27-member government.
22 July 2010:
Soro resigns as head of the rebel Forces Nouvelles to focus on organizing elections. 
5 August 2010:
Soro announces 31 October as new election date, the sixth since 2005.
9 September 2010:
For the first time, the three main political parties agree on a definitive electoral list. The former rebels say they are satisfied with the list of some 5.7 million voters.
22 September 2010:
Former rebels begin receiving demobilization payments.
28 September 2010:
UN votes to send an additional 500 peacekeepers to boost the 8,500 in the country.
15 October 2010:
UN Security Council extends by six months a ban on arms and rough diamond trade imposed since 2004, but lifts the ban to allow the import of "non-lethal" crowd control equipment. Financial and travel sanctions are also renewed on some individuals, including the Jeunes Patriotes leader Charles Blé Goudé, head of a pro-Gbagbo youth group.
25 October 2010:
October 29 declared a public holiday for last chance to pick up ID and electoral cards. In Abidjan, 90 percent of voter cards distributed, according to the Prime Minister's Office, and 80 percent in the rest of the country. The UN puts the figure at 85 percent and 45 percent, respectively.
27 October 2010:
The CEI says it will begin training some 66,000 polling officers just four days before the vote. Army Chief of Staff Philippe Mangou says 1,500 of a scheduled 8,000 soldiers have been deployed to maintain peace. Mangou warns that borders and airports will be closed in case of post-electoral violence.
28 October 2010:
The Convention of Civil Society (CSCI) reports incidents of racketeering at card collection centres by electoral commission officers. Reporters Without Borders says private media are showing "disturbing excesses", while state radio and TV are giving disproportionate airtime to incumbent Gbagbo.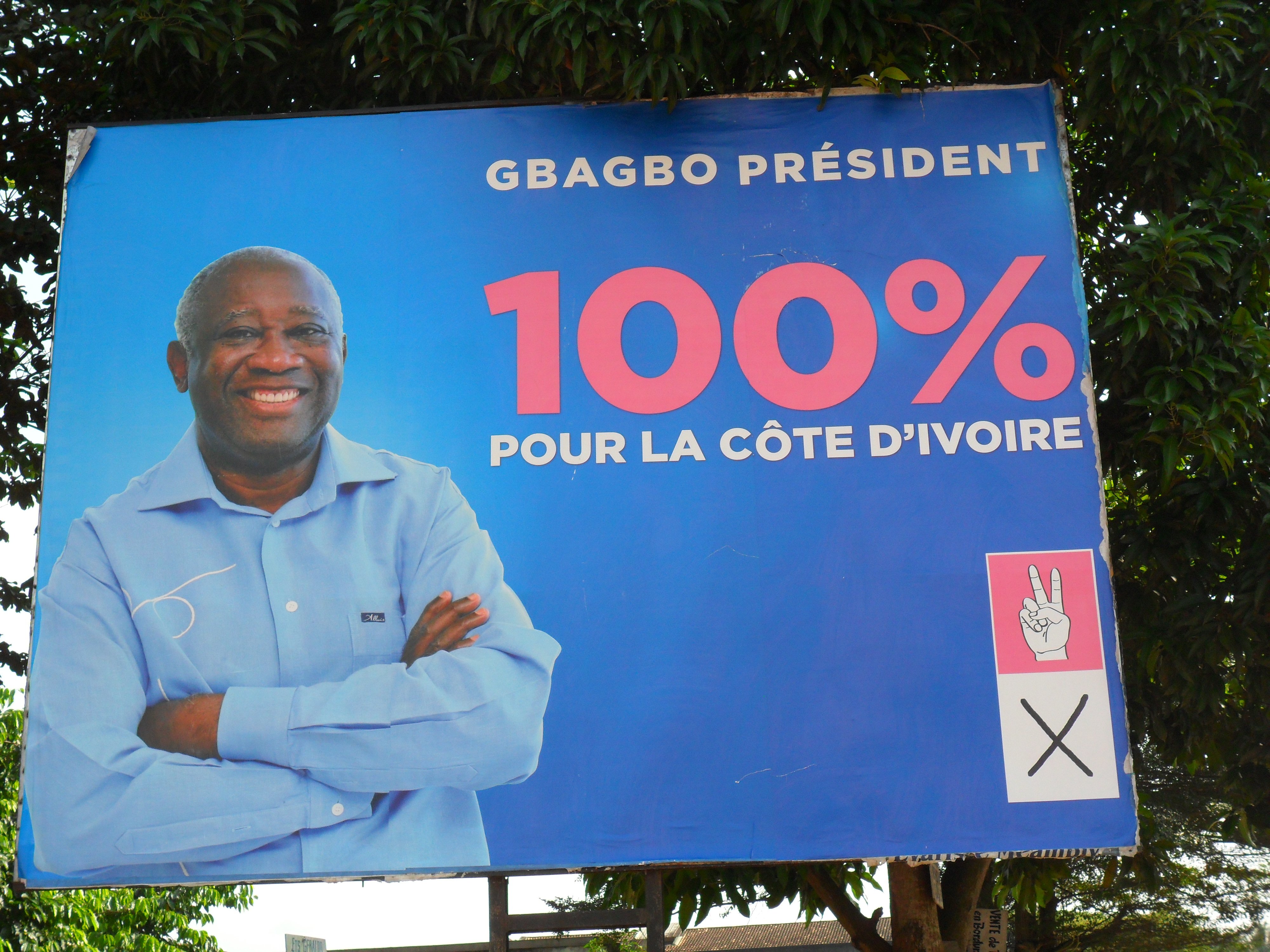 201012021947260420
Photo: Nancy Palus/IRIN
A Gbagbo campaign billboard in Abidjan
31 October 2010:
Ivoirians vote in presidential elections. From 14 candidates, the three main contenders are: Gbagbo, former president Henri Konan Bédié and former prime minister Alassane Ouattara, barred from running in past elections because of concerns (strongly dismissed by Ouattara) over his nationality.
6 November 2010:
Constitutional Council validates results of first round – leading candidates Gbagbo (38 percent) and Ouattara (32 percent) to go to a run-off.
7 November 2010:
Bédié urges opposition leaders and supporters to back Ouattara in second round.
28 November 2010:
Ivoirians vote in run-off election.
30 November 2010:
Announcement of preliminary results by CEI spokesman interrupted by pro-Gbagbo CEI official tearing up ballot papers, later denouncing announcement as "illegal".
2 December 2010:
CEI releases provisional results giving Ouattara 54 percent of the vote, 46 percent for Gbagbo. CEI challenged by Constitutional Council, with its president Paul Yao N'Dré warning in televised broadcast that CEI had not followed established guidelines. Gbagbo orders borders closed and blocks international television and radio broadcasts.
3 December 2010:
N'Dré nullifies CEI's provisional results, declaring Gbagbo the victor with 51 percent of the vote against 49 percent for Ouattara. Council discounts votes from seven departments in the north, in areas with strong support for Ouattara, because of "flagrant irregularities".
4 December 2010:
Gbagbo and Ouattara both sworn in as president within hours of one another.
5 December 2010:
Ouattara forms his government, naming Soro prime minister. Gbagbo appoints academic Gilbert Marie N'gbo Aké prime minister.
7 December 2010:
Mbeki leaves Côte d'Ivoire after two days of meetings and apparently no deal. Gbagbo forms his government, including Jeunes Patriotes leader Charles Blé Goudé as minister of youth, professional employment and education, despite Blé Goudé being on an international sanctions list. A special ECOWAS summit in Abuja takes place without Côte d'Ivoire and ends with Côte d'Ivoire being suspended and Ouattara endorsed as president.
mm/cs/np/mw
---
This article was produced by IRIN News while it was part of the United Nations Office for the Coordination of Humanitarian Affairs. Please send queries on copyright or liability to the UN. For more information: https://shop.un.org/rights-permissions