Lawyer David Abrams is an American pro-Israel activist behind a legal campaign accusing non-profits of illegally helping terrorists. In the first major case of its kind, he helped the US government win a multi-million-dollar payout from Norwegian People's Aid in April. He now has four more cases in the works, as he confirmed in a telephone interview with IRIN.
Several NGO officials, speaking only on background, given the sensitivity of the matter, told IRIN they're rattled: Abrams has found a way to make a major liability out of relatively minor interaction with US-sanctioned groups. Any NGO that applies for US funding must attest it has not provided material support to US-sanctioned groups anywhere in the world, regardless of whether US funds were involved. This, Abrams has found, can provide a legal opportunity to prosecute them for making false claims.
NPA, which did receive US funding, rejected the "fairness" of Abrams case but agreed to pay the US government $2.05 million.
Abrams, who set up his own Zionist Advocacy Center (TZAC) in 2015, claims he is acting against those giving material support to US-sanctioned groups and defending Israel's interests. He tried, and failed, to seek penalties against the Carter Center for engagements with representatives of Hamas and another Palestinian faction the US has designated as a terrorist group. He also failed to trigger action by US tax authorities against Médecins Sans Frontières for aspects of their health work with Hamas in Gaza, which the Palestinian group has governed since 2007.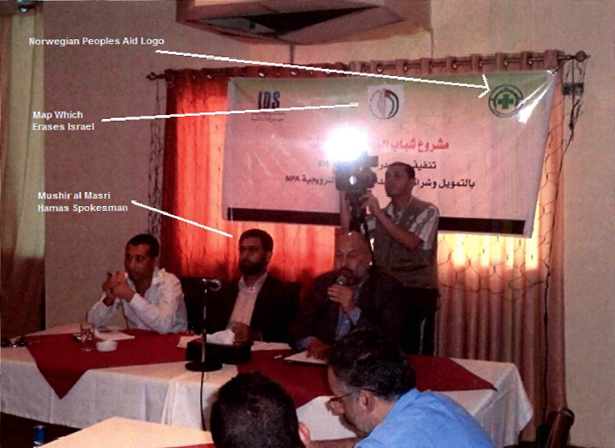 ☰ READ MORE: How NGOs are falling foul of the US "material support" law
In a 2010 ruling, the US Supreme Court broadly defined "material support" to include training and technical advice, but not holding meetings with sanctioned individuals.
Abrams worked on a case in which the American University in Beirut had to pay $700,000 for including US-sanctioned Lebanese groups in media training courses, and for simply listing another group on its website. In his case against the Carter Center, Abrams even argued that providing "refreshments" to officials of sanctioned groups was "material support".
Abrams' corporation, the Zionist Advocacy Center, started the NPA case, which the US government then took charge of, and is set to receive a $364,500 share of the settlement, under US whistleblower law. NPA was alleged to have misrepresented itself in assurances to USAID in unrelated grant paperwork for South Sudan.
NPA was charged under the US False Claims Act, which allows a private individual "with knowledge of past or present fraud on the federal government to sue on the government's behalf to recover compensatory damages, civil penalties, and triple damages", according to a book published by the American Bar Association. NPA was accused of not revealing material support to "designated" entities, in its application for USAID funds [in South Sudan] elsewhere. The case argued that NPA should have mentioned activities in Gaza and Iran that would constitute material support.
Taking a different legal approach, Abrams challenged MSF's tax-exempt status in the United States for alleged cooperation with the Hamas-run public health service in Gaza, but the Internal Revenue Service rejected his proposition. MSF declined to comment for this article.
Abrams' campaign has coincided with a more robust enforcement attitude at USAID and compliance failures in Syria to make a tough environment for NGOs working in areas controlled by US-sanctioned groups. USAID's inspector general said of the NPA case: "My office makes these cases a top priority and we will continue to investigate them aggressively."
All of this adds to a sense of foreboding among NGOs, especially those working in the West Bank and Gaza. Adding to their anxiety is the fact that an NGO may not realise it is under investigation until the legal case is in full swing: NPA's case was filed in 2015, but, the group told an interviewer, it only knew about it in September 2017.
Some 2.5 million Palestinians in the Occupied Palestinian Territories require humanitarian aid, according to the UN. NPA still supports agriculture, fishing and education projects, as well as a range of local civic groups there.
In a recent interview with IRIN, Abrams confirmed he has two more cases against NGOs already in the courts – one filed in February calling for a $150 million fine. He also said he has another two under preparation – one against an American NGO, the other involving a Middle Eastern group. The identities of the two NGOs with ongoing cases have been sealed by the court. Abrams would not divulge the identity of the other two he is investigating.
Excerpts of the interview follow, edited for length and clarity:
You had a case against MSF/Doctors Without Borders?
Well, according to my research, they had some kind of contract with Hamas so that they could operate in the hospitals in the Gaza Strip. My argument was that by contracting with Hamas, that is support of terrorism in violation of American laws. So even if there's no False Claims Act claim, my argument was that they still aren't in compliance with American laws.
Why didn't the case work out?
The IRS didn't give an explanation. They just said "We looked into this and we're not pursuing it," or something like that.
Are USAID and its Office of the Inspector General taking a tougher line on diversion to sanctioned groups?
You know, I don't know first-hand, although my sense is that it's becoming a bit of a hotter issue than it has been in the past. So I think that that's probably true; I don't know 100 percent.
Why?
I think the issue is getting more attention now. I think World Vision kind of got everyone's attention and now the issue is getting more attention. It's also possible that the work I did has contributed to that. I don't really know. [In 2016, a senior staff member of World Vision in Gaza was accused of skimming off the NGO's funds to benefit Hamas. He faces terrorism charges in an Israeli court.]
Has your campaign changed USAID policy?
I think that's a brick in the wall. And I think it's probably contributed. You know, I'm not going to claim full credit on that but I think I probably deserve a little credit, yes.
How do USAID view you?
They're fine with it. They're fine with it because they like to look at these cases and see. And they can make a determination if they think there's something there, or not.
How many of you work on this and how do you fund it?
My work is mainly me. I have the occasional intern, but I don't have a staff of people. In terms of funding, you know, it generates its own funding, because under the American law, the whistleblower or the person who brings the claim can get potentially a percentage of any settlement. So in this case against Norwegian People's Aid, I received over $300,000.
Is this your full-time job?
In terms of pro-Israel work, I also do anti-boycott work. As you may be aware, there's a movement to boycott Israel. So I do cases that involve legal challenges to those boycotts.
How would an NGO know they are involved when the cases are under seal?
If the government decides to investigate, they send an information request to the organisations. So they know they're being investigated, but they don't necessarily know that there is one of these False Claims Act cases.
These NGOs are trying to help people all over the world and now something that went on in Gaza might impact their work globally. Isn't this disproportionate?
So it doesn't seem that my government is in the business of breaking humanitarian NGOs. It seems like their mission is to get them in compliance.
Well, first of all, it seems that most humanitarian NGOs don't divert or don't get involved in these kinds of issues. But perhaps more importantly, when you look at the amount of aid that, for example, Norwegian People's Aid received from the US government, and how much they would have had to pay back... the statute can make them pay back everything, tripled. So in theory, they could have been liable for $90 million and instead they only had to pay $2 million. And if you look at that, and if you look at their financials, it's a pretty modest slap on the wrist at this point.
So it doesn't seem that my government is in the business of breaking humanitarian NGOs. It seems like their mission is to get them in compliance.
But they could be denied the possibility of future funding. It does effectively cripple them if the case goes badly, doesn't it?
If the American government went full out, went all out, then sure, but that doesn't seem to be what's happening.
Are you saying the penalties are too small?
I'm only going to talk about the Norwegian People's Aid case. Too small? That's a very interesting question. There's a couple of questions there.
You asked me is it [the penalty NPA paid] too aggressive? The answer to that is definitely not.
There's another question: could it or should it be more aggressive? That's a very interesting question. I think if it were up to me, I think it probably should be. But look, I don't make policy for the American government.
Isn't this punishing civilians just because they live in a region controlled by extremists?
I would say it's definitely possible for humanitarian organisations to pursue a strictly humanitarian agenda without getting tied up with terrorist organisations and, furthermore, without injecting themselves into the Arab-Israeli conflict.
Why do you do it?
I'm a pro-Israel advocate… Perhaps it's not a coincidence that most of these designated terrorist organisations are anti-Israel. Going after terrorism is almost the same thing as supporting Israel.
What about the future? Are there more cases on the way?
This False Claims Act business, I don't know how long that's going to go on for… NGOs seem to be taking this issue pretty seriously. I don't think there's a lot more cases. I intend to do pro-Israel work for ever.
Do you receive help from others or from Israel?
I receive no help from anyone.
bp/as/ag/js