Iraq is already in trouble – 3.3 million displaced, regular violence by so-called Islamic State, major divisions between the Shia majority and Sunni and Kurdish minorities – and it's about to get a whole lot worse before it gets better.
Mosul, the last major IS stronghold in Iraq, is the country's second largest city. It has been under the group's control since June 2014. Iraqi troops and their allies – Shia-majority militias, Kurdish forces, the United States and the United Kingdom (to name a few) – must take it back if they are to drive the self-declared caliphate out of Iraq.
The battle won't be easy, and the fates of the more than one million civilians thought to be inside lie in the balance.
Aid agencies struggled to cope with the 60,000-80,000 people displaced from Fallujah when Iraqi forces took it back from IS in June – many who fled the city were left in the desert without adequate shelter.
In sheer numbers Mosul dwarfs Fallujah, and it poses an entirely different set of challenges for a humanitarian system that is already underfunded and stressed.
As Becky Bakr Abdulla, spokeswoman for the Norwegian Refugee Council in Iraq, put it: "Fallujah is still very close to hearts and minds, and the thoughts of another one, just 10 times worse because of the amount [of people], is completely and utterly heartbreaking… Now is our chance to plan a coordinated response. Now is our chance to guarantee that people won't step from one hell into another once the battles begin."
So what exactly is the plan? And can you really be ready for the displacement of a city of more than a million?
Where will they go?
Almost all the aid officials IRIN spoke with said lessons had been learnt from Fallujah, where many said they'd been caught off guard by the exodus of tens of thousands in a matter of days.
One difference is that this time around, the UN-led system in Iraq asked for funding ahead of time, to the tune of $284 million. It has received about half of that, although a reported $100 million more was pledged at the UN General Assembly last week.
Some camps are already being built, Bruno Geddo, head of the UN's refugee agency in Iraq, told IRIN. UNHCR has planned tented camp space for more than 120,000 people, he said.
But what exactly does "planned" mean?
With Turkey claiming that the Mosul offensive will begin on 19 October, time is running out to turn such plans into reality. Many of UNHCR's planned camps are not finished and the land for some hasn't even been confirmed. Geddo said the "timeline for completion is mid-October to mid-December" – the latter end of that might be too late.
And the numbers they are preparing for are still low. The UN estimates that 700,000 people will need shelter. Geddo said that if civilians begin to flee Mosul before the camps are ready, "we will pitch up tents".
"The biggest lesson learned from Fallujah was that the tents were not ready," Geddo said.
UNHCR is planning to distribute 38,000 tents – each can house a family of six – out of which 20,000 are planned for camps and 18,000 to assist IDPs. But they only have money for 27,000 so far.
The Iraqi government has also promised 50,000 tents but, due to various issues during the Fallujah operations, aid agencies aren't counting on them.
Geddo explained that those who don't get tents will be given various "emergency shelter kits", that is hammer, nails, wire, rope, plastic sheeting, and timber to set up rudimentary structures. There are also kits for sealing off unfinished and abandoned buildings – plywood planks and the like.
Land issues
Securing the space for these new camps and additional land for those displaced to pitch these tents is another major challenge.
Many of Mosul's civilians will likely flee to territory administered by the semi-autonomous Kurdish Regional Government, which has yet to allocate enough land for this purpose.
According to a record of a recent meeting of aid agencies, the KRG is taking a wait-and-see attitude. "Land issues might not be resolved [by the government] until an emergency situation is declared, after which land can be seized", the minutes said.
Geddo said it's true that "we are not OK with land", in part because of potential tensions between the mostly Sunni Arab residents of Mosul and the Kurds in the north.
Debaga camp, which hosts 38,000 people displaced from areas around Mosul, is already overcrowded and local authorities have not yet authorised an expansion.
"The sectarian issues around [the] demography of the residents inside Mosul is adding… an extra layer of challenges to it all," said NRC's Bakr Abdulla.
Convincing local authorities to expand camp space and others to open their arms to residents of a former IS stronghold – the hope is that communities, businesspeople who need employees, and religious charities might sponsor some of those displaced – is going to take time.
Time is a luxury the relief community wishes it had more of. "The bottom line is the later the better [for the Mosul offensive], from the point of view of humanitarian assistance," Geddo said.
Security concerns
The KRG's reluctance to embrace those fleeing Mosul is based partly on legitimate security concerns. Some of those displaced may turn out to be IS fighters who are slipping away, or sympathisers.
The Kurdish and Iraqi governments insist on conducting security screenings – mostly of men – before they're allowed to move into camps or elsewhere.
Geddo said the UNHCR and others are readying shelter – bigger dormitory tents – for these sites as well, in the hope of turning a "fairly rough-and-tumble process" into one that can at least guarantee minimum access to food, water, and shelter. The women and children who may have to wait as men are screened also need to be catered for.
But the very groups who aren't keen on hosting Mosul's residents may turn out to be the gatekeepers who decide whether they're allowed to make it to the camps at all.
This was a major problem in Fallujah, as credible allegations of torture by the Shia-majority militias, known as Popular Mobilisation Forces (PMFs), emerged during the screenings. Kurdish peshmerga militias may also play a role in Mosul vetting procedures, raising similar concerns.
Aid groups are engaged in what they call "advocacy" to improve the process. They're not keen to talk about it in detail, but the ICRC's Iraq spokeswoman Sarah Alzawqari told IRIN: "We have teams who are directly talking with the authorities to make the screening better and more efficient for Mosul."
Related stories:
Najat Ali, a high-ranking Kurdish peshmerga commander, told IRIN he foresaw "a sense of chaos when the IDPs rush to Kurdistan.
"It will be hard to differentiate between innocents and IS members," he explained, adding that he was concerned "about acts of retaliation between those who suffered under IS oppression and IS collaborators".
On the other hand, civilians in IS-controlled territory are understandably worried about the role the militias might play, both in the screenings and during the battle itself.
Sheikh Azar al-Kurdy, a Kurdish tribal leader who hails from a village east of Mosul that is still under IS control (but currently lives elsewhere) told IRIN: "We don't want the PMFs to participate in liberating our city.
"There have been abuses and violations committed by [the PMFs) in some liberated cities and we don't want this to be repeated in Mosul."
But General Ali al-Hamdani, a PMF commander, told IRIN that the militias intend to fully participate in the Mosul operation. "It is a patriotic and religious duty," he said.
Planning the unknowns
Scale, speed, land, funding, and security screening amount to a formidable set of challenges.
But this is all assuming civilians will be able to leave Mosul, and that's not guaranteed. The UN's humanitarian coordinator in Iraq, Lise Grande, said last week that "civilians will be at extreme risk".
"The conditions families will be facing are terrifying. They will be at risk from crossfire, bombardments and could be used as human shields. They may be unable to flee, or, alternatively forced to run… Families may be separated. Many may be wounded or killed."
And if and when they get out, they will be desperate.
"We saw that people from Fallujah and Ramadi literally left with nothing except for the clothes they are wearing," said the ICRC's Alzawqari. "They need everything. They start from zero."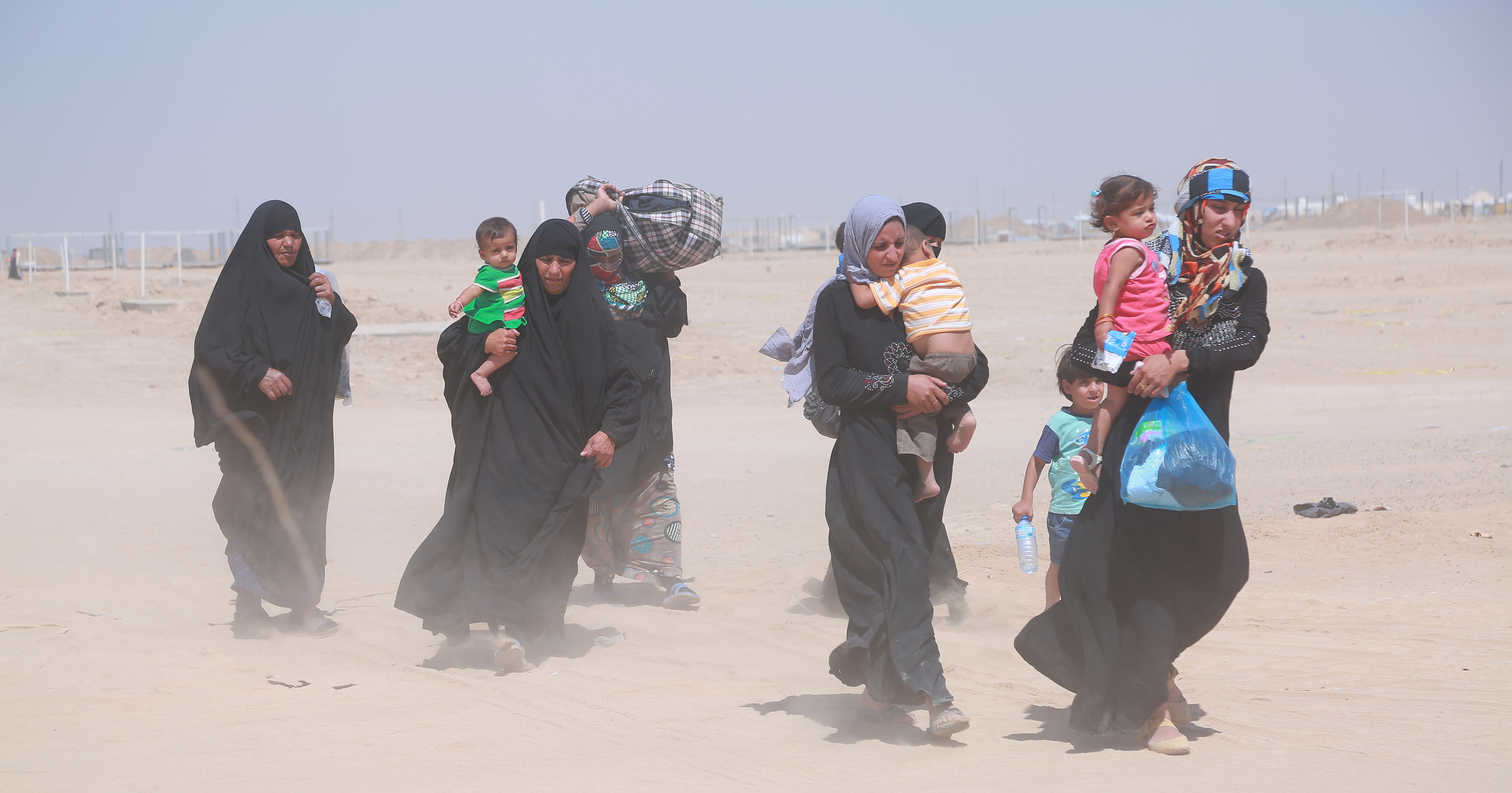 The UN is planning for IDPs to stay for a minimum of six months. They'll need more than just shelter: food, water, protection, and much more.
The short of it, as NRC's Bakr Abdulla explained, is that planning for an operation like Mosul is difficult simply because of the sheer range of possibilities.
"[We're] trying to figure out the possible scenarios, where people will be displaced to, what will happen if people are stuck inside the city during the fighting," she said.
On the upside, there are a multitude of humanitarian groups and aid agencies readying for Mosul, compared to only a few who did so for Fallujah, where access was more difficult.
Even with the extra help, NRC's Bakr Abdulla said, there's plenty to do.
"Mosul is definitely one of the things that is keeping us up at night."
as/ag
(TOP PHOTO: Asil, from Makhmour, southeast of Mosul, sits with her three children in Debaga camp. Becky Bakr Abdulla/NRC)