As another "caravan" of Central Americans, mainly from Honduras and 12,000 strong, enters Mexico, several thousand members of the group that travelled in October are still waiting on the US-Mexico border. Photographer Tomás Ayuso spent a week speaking with some of them recently in a ramshackle tent city in Tijuana.
They told him why they left Honduras – now dealing with fresh political protests – and about their tricky decisions to either apply for asylum in the United States or in Mexico.
"Deportation [back to Honduras] would be the death of us," said Mayra Santos*, describing how she and members of her family had to flee drug-related violence in Santa Barbara, a city in western Honduras.
Those who choose to request asylum in the United States must register and then wait their turn to see an asylum officer. It can take weeks, even months, to secure this preliminary interview – designed to establish if the person faces a credible fear of persecution or torture if returned to their homeland.
If they pass this and are allowed to enter the United States, they must wait again, this time for a hearing with an immigration judge. Due to a backlog of hundreds of thousands of cases, it can take years before a final decision is reached – with deportation back to their country of origin a constant threat.
☰ Read more: A system in crisis
In the past decade, migration across the southern border of the United States has undergone a dramatic change. Every year since the late 1970s US Border Patrol agents apprehended close to a million or more undocumented migrants entering the country. In 2007, that number began to fall, and last year there were just over 310,000 apprehensions – the lowest number since 1971.
At the same time, the proportion of people entering the United States from the southern border to claim asylum has increased. Ten years ago, one out of every 100 people crossing the border was seeking humanitarian protection, according to a recent report published by the Migration Policy Institute (MPI), a non-partisan think tank in Washington DC. Today that number is about one in three.
According to Jason Boyd, policy counsel at the American Immigration Lawyers Association, or AILA, the increase is being driven by ongoing humanitarian emergencies in El Salvador, Honduras, and Guatemala, an area of Central America known as the Northern Triangle. These countries have some of the highest homicide rates in the world and are wracked by gang violence, gender-based violence, extortion, and extra-judicial killings. "Many of the individuals and families arriving at the US southern border are literally fleeing for their lives," said Boyd.
But the system that is supposed to provide them protection is in crisis. Beginning in 2010 the number of asylum requests lodged in the United States started to balloon, mirroring an upward trend in global displacement. Last year, 79,000 people approached the US border saying they had a credible fear of returning to their home country, compared to 9,000 at the beginning of the decade.
The increase in credible-fear claims, as well as asylum requests made by people already in the United States, has strained the system to a "crisis point", according to the MPI report. This has led to a backlog of hundreds of thousands of cases in US immigration courts and people having to wait many months, if not years, to receive a hearing and a decision.
Some don't wait for the initial meeting and try to cross illegally in the hope of claiming asylum once inside the United States. They must navigate a border lined in places with concertina wire and patrolled by US Customs and Border Protection (CBP) agents. Journeys through less well guarded stretches of desert are long and dangerous and migrants and asylum seekers often resort to hiring smugglers, known as coyotes, to help them.
For the thousands of asylum seekers still waiting at the US-Mexico border and the thousands more set to join them, a string of policy changes by the US President Donald Trump and the government's recent five-week shutdown have all made their next steps less certain.
☰ Read more: How the US shutdown has impacted the border situation
The shutdown had already resulted in more than 40,000 cancelled immigration court hearings as of January 11, according to the Transactional Records Access Clearinghouse (TRAC) at Syracuse University. More than 80,000 individuals awaiting their day in court may have been impacted by the time the shutdown ended and hearings could restart on Monday, 28 January.
Every week an estimated 20,000 more cases are added to the active case backlog, which is already above 800,000, according to TRAC. Those whose hearings come up have already been waiting up to four years and could have to wait another three or four years until their next date is called. Only those detained are having their cases processed.
Slower processing means that border officials are also filtering in less applicants from Mexico – between 20 and 90 per day – putting further pressure on those trying to make sure there are enough food, clothing, and medical supplies at shelters across Tijuana.
For those who choose to try to make a life in Mexico, newly inaugurated Mexican President Andrés Manuel López Obrador has expanded a programme for humanitarian visas and political asylum, but Mexico too has a long backlog of claimants and has faced criticism for detaining people for long periods in squalid conditions.
The Mexican government has also launched a national jobs initiative, offering asylum seekers thousands of new positions across the country. These are mostly geared towards unskilled labour, but the government has said it will try to match an individual's skills with more specialised jobs. Almost 30,000 people claimed asylum in Mexico last year – a more than ten-fold increase since 2014.
Months of living rough has taken its toll, and a few migrants are choosing to return to Honduras. They give themselves up to Mexican migration authorities, who take them into custody and deport them. As one man who took this option, Wilmer Rosa, said: "I never had anything to begin with, so in a way I didn't lose anything by trying."
A new chance after being left for dead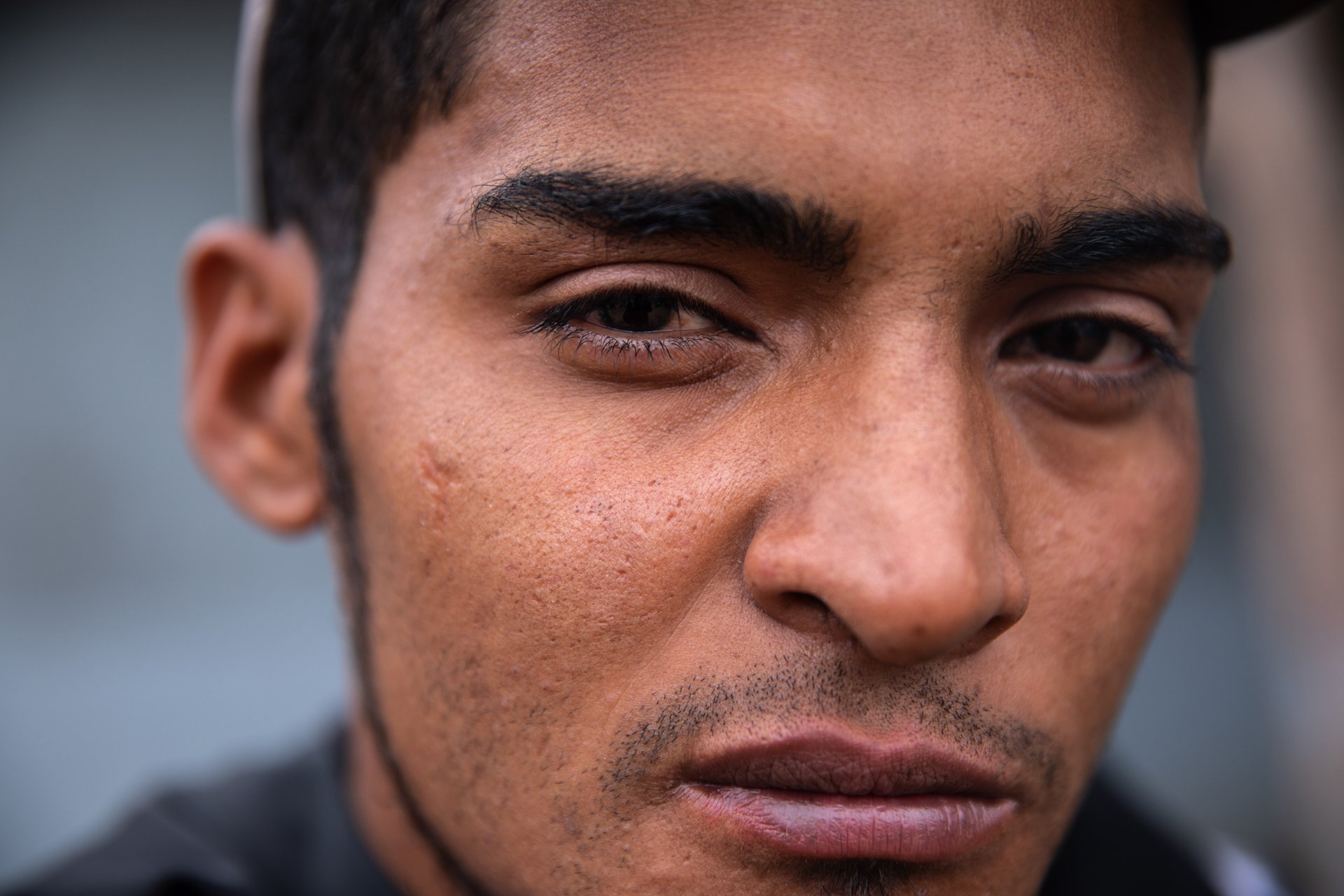 Abel Martinez, 23, from Tegucigalpa.
Abel Martinez* said he fled the Honduran capital, Tegucigalpa, after a botched execution left him on the side of the road bleeding out but not dead. For weeks, he said, a gang had been trying to recruit him to sell drugs. He refused. Finally, a gang member, a childhood friend, demanded he join, or else. Martinez said he said "no", and was shot five times in his head and torso.
Months later, he still has three slugs in his body. When Martinez left the hospital he and his mother moved to his aunt's home in southern Honduras, joining some 200,000 Hondurans displaced by violence or natural disaster. When he heard news of a caravan, he caught up with the group as it crossed into Guatemala.
Martinez has decided to stay in Mexico and is trying to get his paperwork in order so he can start a job. He must be patient as the Mexican immigration authorities in Tijuana are overwhelmed by demands for visas and work permits.
Martinez is determined to use the opportunity the caravan afforded him. "It's God's will anyway, in this life and the next," he said. "If he brought me back from the otherside, I only hope he has a purpose for me here."
Fleeing a life of forced criminality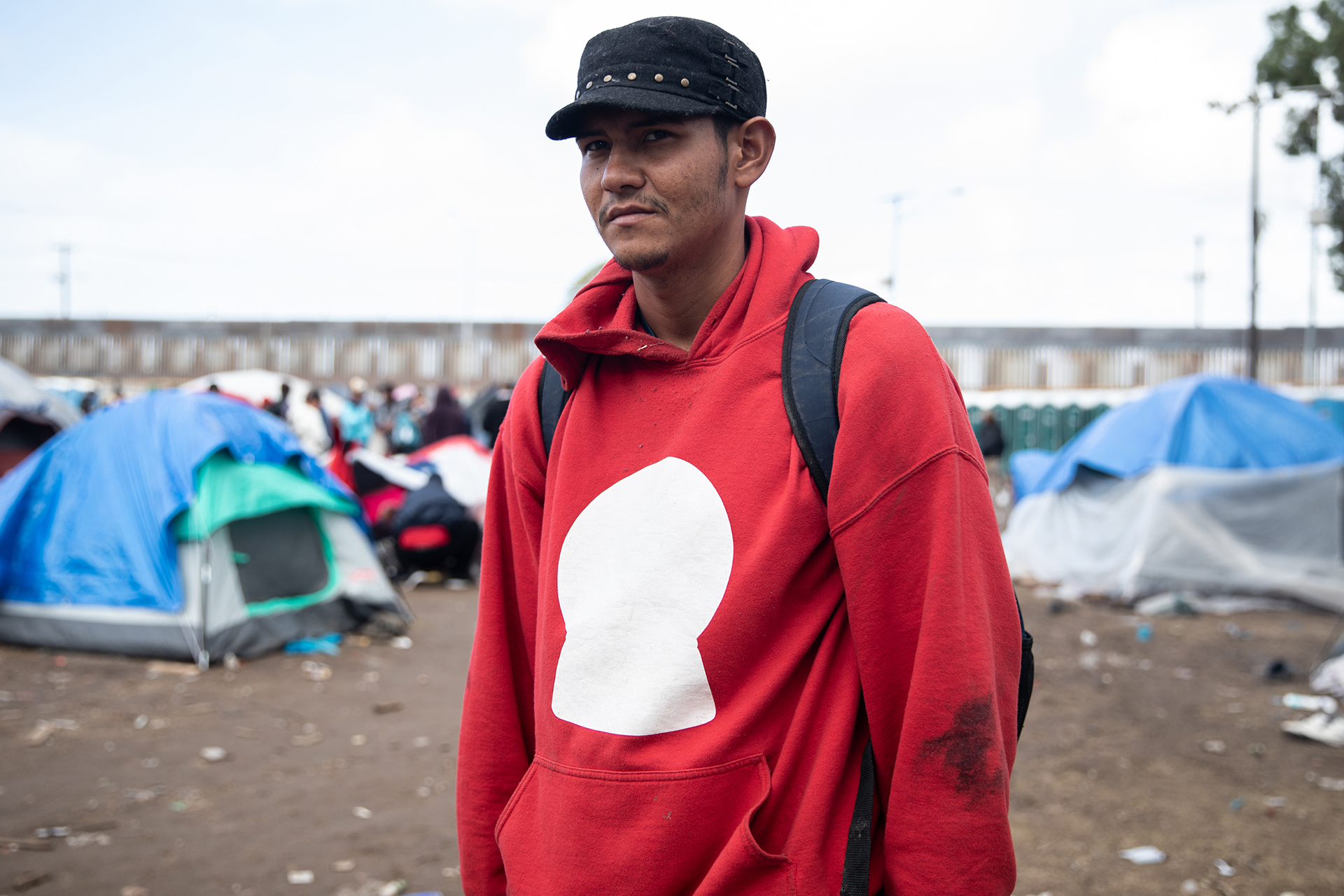 Alexander Estrada, 24, from El Progreso.
Growing up in El Progreso, near the northern city of San Pedro Sula, Alexander Estrada* watched criminal groups begin to take over urban neighbourhoods in 2014. Trafficked drugs arrived in the jungles of the Honduran east by air and were then smuggled through El Progreso to Guatemala, a key hub in the northward supply lines. Local gangs began buying cocaine from the smugglers and selling it in the city. Once only a transit country for drugs, the growth of the gangs has also helped to make more Hondurans consumers of the drugs.
A local drug lord approached Estrada to demand that he sell drugs. He had been without work for three years and agreed, worried about providing for his family. "I tried working construction, security, warehouses," he said. "But I just couldn't find anyone that would hire me." At the same time, the economy took a dive and taxes spiked, disproportionately affecting those in the middle and lower classes.
Estrada said he had been working since he was 15 and dropped out of school because education was a luxury and in Honduras one only gets a job through nepotism or other connections – which he did not have. Slinging drugs brought food to the table, but it also brought him tremendous shame. He was desperate to leave but feared repercussions from the drug gangs. When the caravan departed, Estrada fled, telling only his mother, who supported his decision.
Now, he said, he is grateful to Mexico and Mexicans for giving him safe passage and for giving him space for his own renewal. "It's been hard, but I know that by getting asylum in Mexico, I have another shot at making a living the honest way," he said, before breaking down in tears and stating what he now understood to be true. "I don't think I'll go back to Honduras again in my lifetime."
Leaving a country that failed them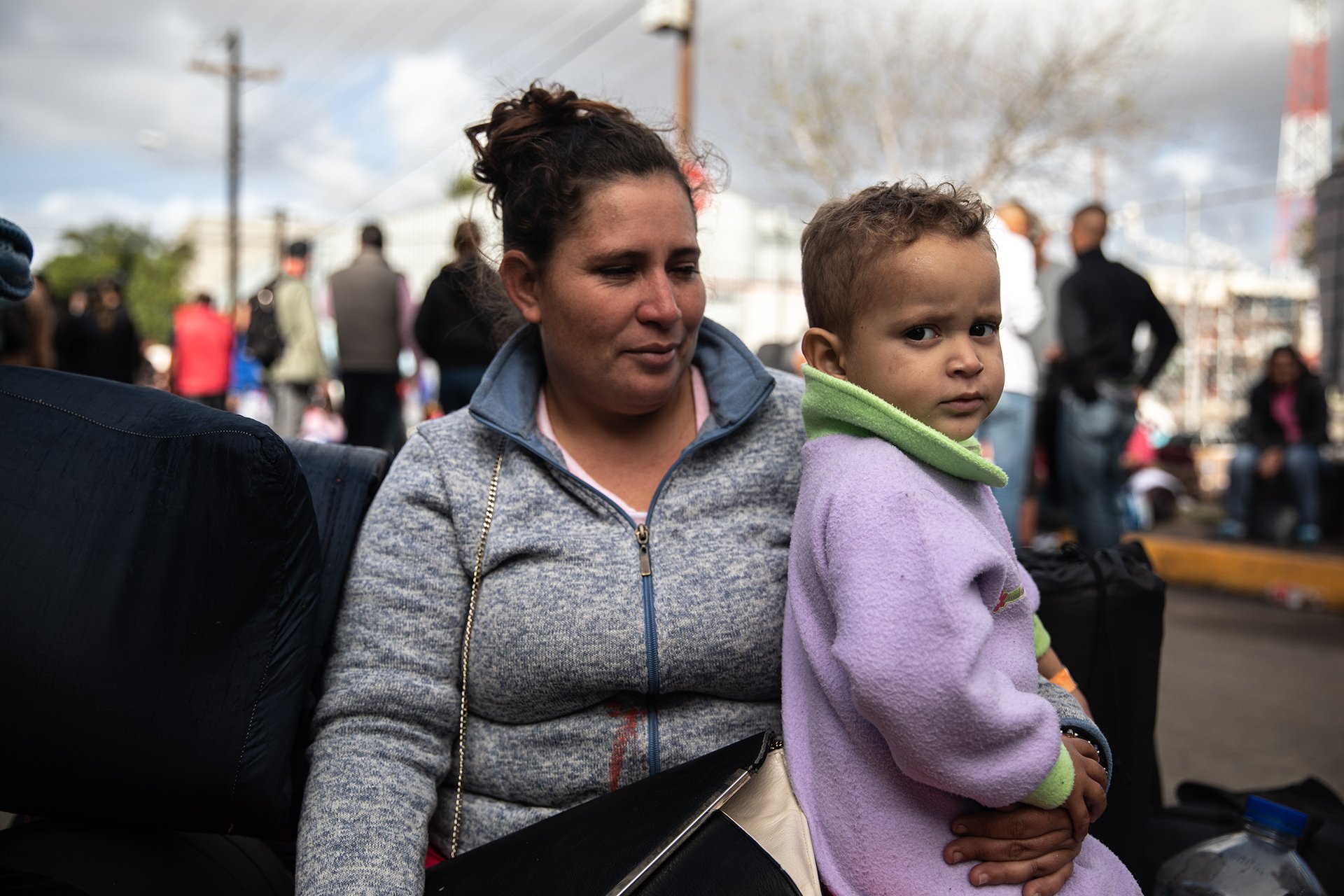 Mayra Santos, 28, and her two-year-old son, from Santa Barbara.
Mayra Santos'* said she never used to think she'd leave Honduras: she had a house and a store. But she feared that her son would grow up surrounded by men involved in drug trafficking and that he would have no choice but to join them.
Then her teenage niece, whom she adopted after her mother abandoned her, started being stalked by the local drug strongman in their western Honduran town on Santa Barbara. "It's a different country, it's a different city," Santos said, referring to the growth in drug trafficking. "We don't have anyone to look out for us. She [her niece] knew – we all knew – we had to leave."
As the threat of sexual violence grew, Santos, her son, and her niece left home for shelter in Guatemala. When the caravan set off, they joined, eager to move further from Honduras and reasoning that with so many people the northward journey could be made in relative safety.
Santos is determined to enter the United States and stay there. She has plenty of evidence of the threats her family faced: text messages from the men who hounded her niece, as well as audio notes in which the family describes the violence that was bearing down on them. Her children's future, Santos said, is no longer in Central America, as much as it pains her to accept that. The truth, she added, is that Honduras failed her family, not the other way around.
Finding love, hoping for humanitarian protection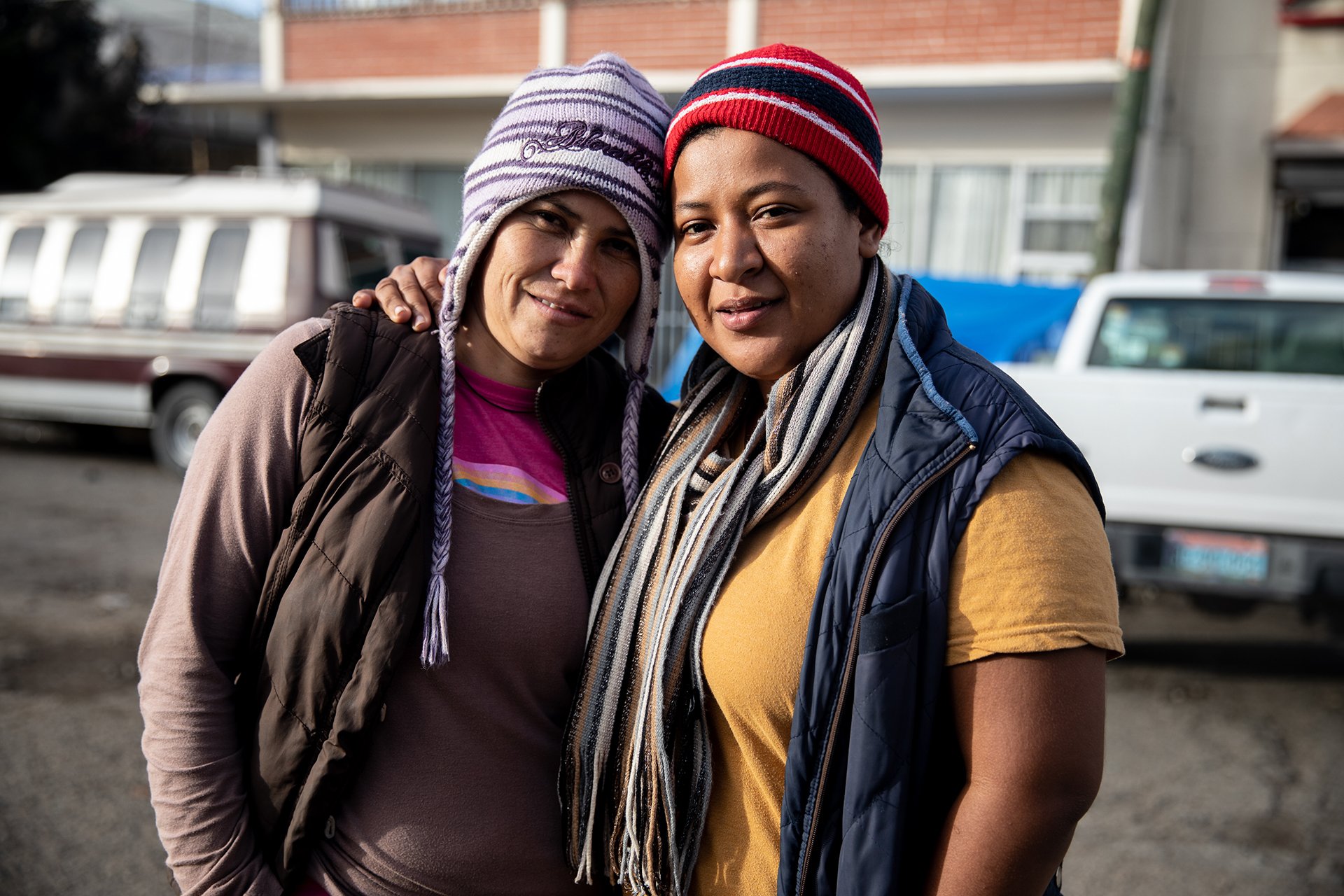 Marian Pena, 20, from Trujillo, and Xiomara Enriquez, 29, from Santa Rosa de Copan.
The couple met on the journey north, somewhere in southern Mexico. Their stories of departure, however, are very similar to those of others in the Honduran LGBTQ community – they are frequently harassed and attacked especially in the more conservative parts of the country. A string of catcalling incidents that escalated into outright threats of sexual violence pushed Marian Pena to leave her coastal city, where she said she faced daily harassment.
She, like others, said the group trek to the US-Mexico border was a lifeboat out of Honduras: "Maybe up north I can be free, and be myself; have all the opportunities I never had back home because of who I was."
Xiomara Enriquez did not openly admit her sexual identity to start with, unlike Pena. She feared the reactions of the people in her small town. But the desire to live without secrets grew more by the day. She had heard of LGBTQ Hondurans leaving the country to be able to live their lives as they chose, and that freedom appealed to her. "I wanted to be free to be who I was, to love who I wanted," she explained. "In Honduras, in a way, I could never be free. There was too much homophobia," she said.
During the group's slow crawl through Chiapas, Pena approached Enriquez and they quickly fell in love. They've since been inseparable. The couple met with American lawyers working with LGBTQ asylum seekers in Tijuana and are filing for humanitarian asylum in the United States. While waiting to have their cases heard by asylum officers at the border, they remain optimistic. "Being together during this process has made this journey that much easier," says Pena. "Without her, I don't know if I could've made it all the way here."
Taking a chance on an illegal crossing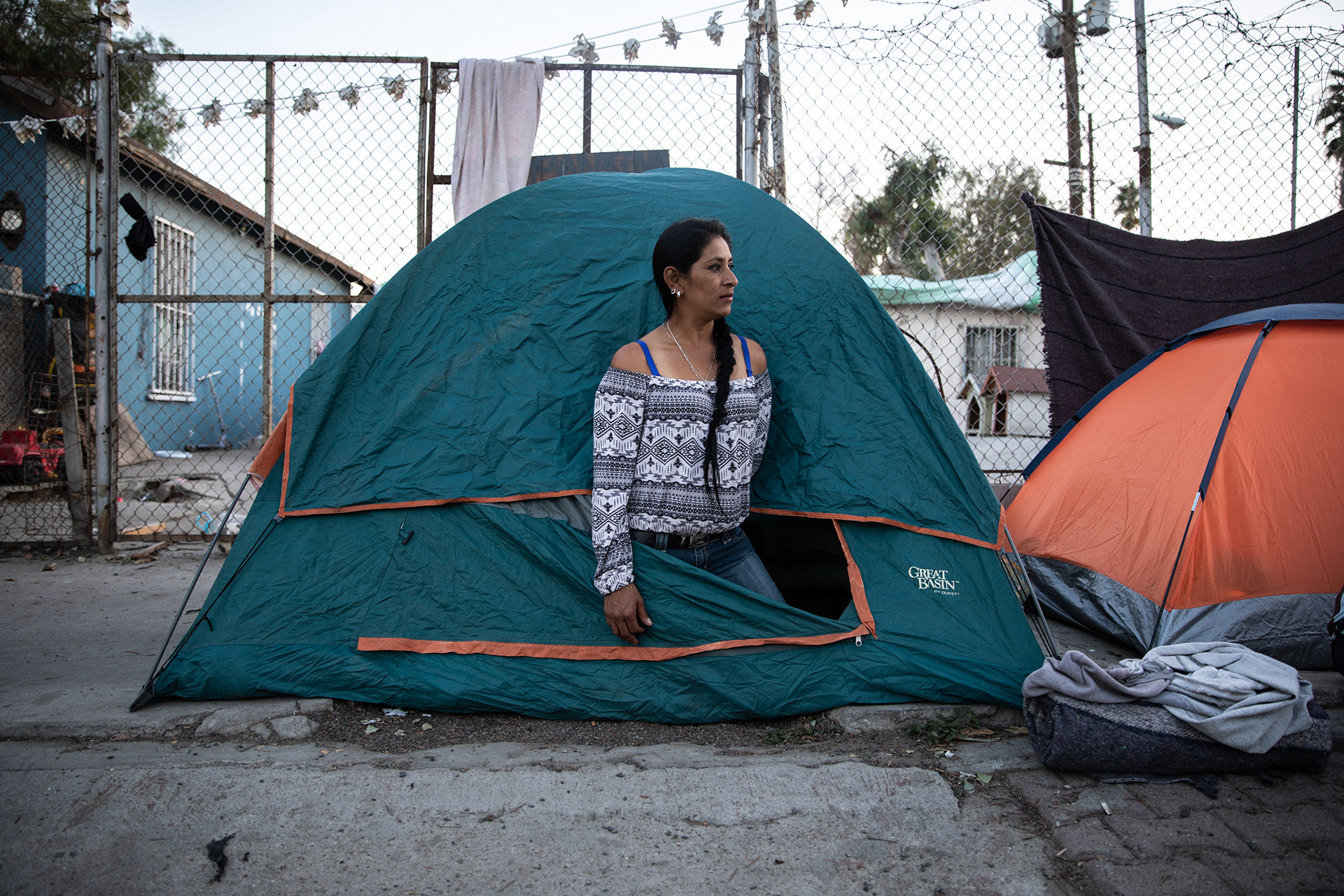 Dinora Rivera, 35 and Isaac Montufar, 12, from Santa Barbara.
Dinora Rivera's husband died suddenly in late 2017. Since then her life has been in freefall. Although she worked several jobs to support herself and her son, her financial situation was precarious. In mid-2018, the factories where Rivera worked closed and she was left without her main source of income, even as the price of basic goods and services rose.
Then the "caravan" passed through her town of Santa Barbara. "We had never seen anything like it," she recalled. "People were almost dancing on their way to the border." She had already been in talks with a local smuggler to take her to the border for several thousand dollars. Instead, she joined the group of other self-exiled Hondurans on the northward march.
In Tijuana they slept on a sidewalk, and later in a church. Unlike others seeking asylum due to death threats, Rivera's motivation is purely economic, which gives her little chance of being admitted into the United States. "Unless you know someone, you aren't going to find a job," she explained. "All we ask for is a chance at dignity, and I think in America we can find it."
Soon after this photo was taken, Rivera met men who claimed to be able to smuggle her and her son across the border. After days wrestling with the decision, she took up the offer and left with a group of other "caravanners". She hasn't been heard from since.
Returning home, on his terms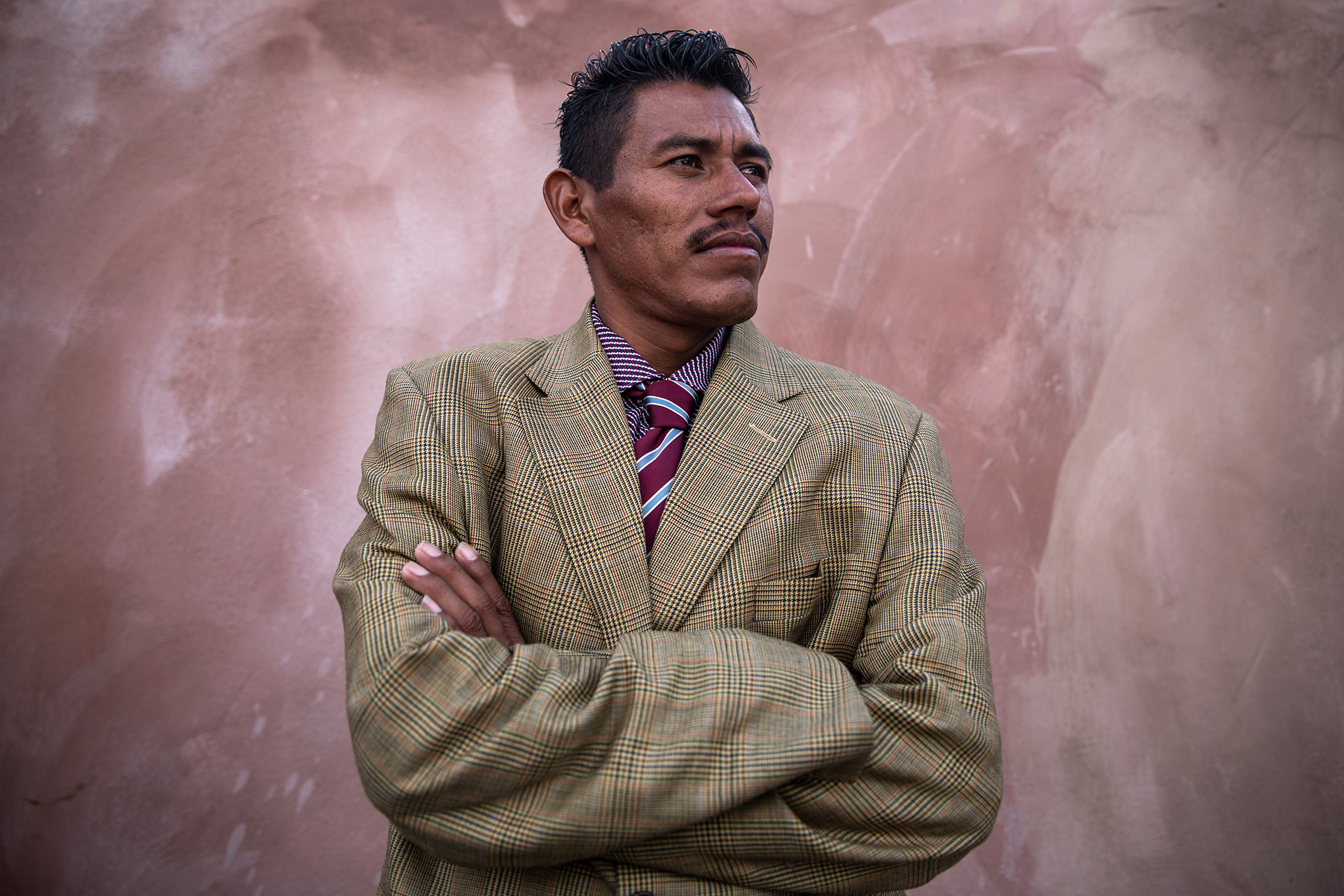 Wilmer Rosa, 32, from San Pedro Sula.
In his zoot suits and long, draping jackets, Wilmer Rosa, the sharply dressed Honduran of Tijuana, cuts a unique silhouette against the layers of donated sweaters most other migrants wear. "Just because I am displaced doesn't mean I shouldn't care for my appearance," he said. He dressed in formal attire back home, he said, and he was lucky enough to find similar items in the piles of donated clothes brought to the shelters.
In Honduras, Rosa worked at a textile plant, one of the working poor of San Pedro Sula who earn enough to buy food but little else. Two months after arriving in Mexico, he was fed up. The last straw was when he was robbed of the little money he had earned working odd jobs for a fishmonger.
The day this portrait was taken, Rosa decided it was time to hang up his dream: the stakes of crossing illegally were too high and he couldn't stand to just wait any longer. He could go back with his head held high, he reasoned. He had his health, and he saw it as a victory that he accomplished what he set out to do: walk to the border.
Rosa planned to turn himself in for deportation. He would then wait in a jail until a flight of Honduran deportees to San Pedro Sula was filled, and he'd be home after a wild two months in Mexico.
"I am happy that I am making this decision myself and not being forced to do it on someone else's terms," Rosa said.
He said his goodbyes and walked through the crowd towards the police station. Other Hondurans near the post asked him to reconsider: "C'mon man stay, you're almost there! You are going to give up at the finish line?"
But Rosa was done: he wanted to go home.
(*Name changed for security reasons)
ta/ns/wp/js/ag