Conflict killed or injured more than 10,000 civilians in Afghanistan last year – hovering near the peak of a decade-long escalation. The UN has acknowledged that the "low-intensity conflict" has escalated once more into war; the violence uproots hundreds of thousands of people from their homes each year. By some estimates, the Taliban and other militant groups have now extended their reach to 70 percent of the country.
But what do these statistics actually mean to people on the ground? Francesca Mannocchi and Alessio Romenzi spent 10 days in April and May at the Surgical Centre for War Victims, a hospital in Kabul for civilian patients. They spoke with and photographed men, women, and children whose daily lives have been interrupted by shrapnel, bullets, and landmines, as well as some of the 300 local and international staff dealing with a caseload that has spiked with the increasing violence.
Italian NGO Emergency International opened the hospital back in 2001 – the year US forces invaded to oust the Taliban. It averaged more than 12 new patients a day in 2017, its busiest year, and May 2018 was the hospital's busiest month ever, with more than 400 people treated.
"To understand the country, simply look at the numbers at this hospital," one doctor working there said. "Look at the numbers and faces of the people."
Some of those people, and their stories, follow.
"Life is like this. Your children are playing, and suddenly a bullet comes from the mountains."
Muhammad Youssef, 38, a farmer from Ghazni Province south of Kabul whose two-year-old son, Ansarullah, lost his right arm after he was hit by a bullet while playing football.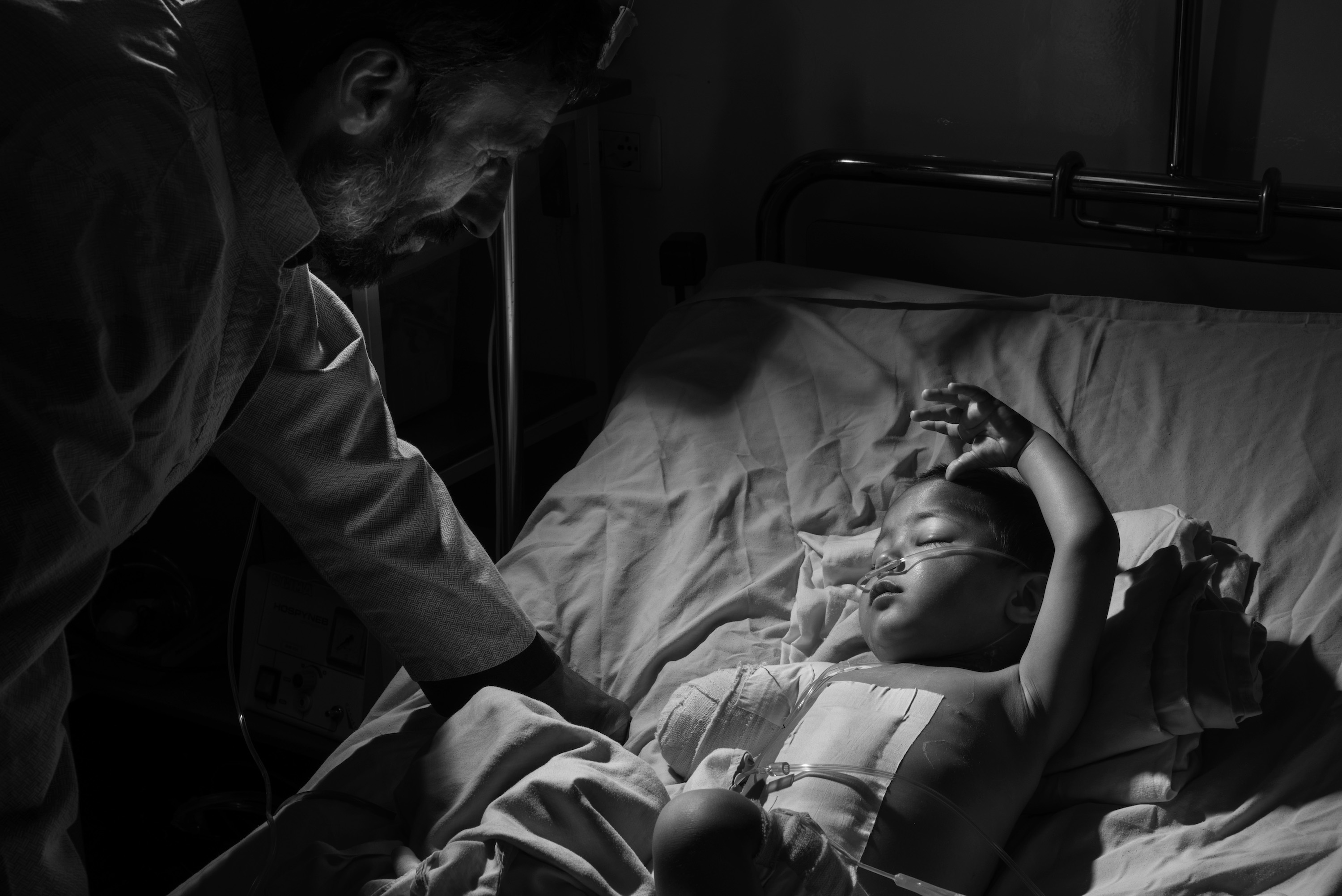 "My wife and I were working. We are farmers, humble people, and our children were playing near the house. I went back to the house. I told my wife I was going to wash, and I left the children playing football behind me.
On the mountains around our house, the Taliban and the government fight. They fight every day; government troops against the Taliban, every day. We got used to it; Afghanistan is like that.
Suddenly, while I was washing, I heard my son shout. I opened the door and saw the child run into the corridor shouting, 'Mom, mom, mom!'
He did not have an arm. He no longer had his right arm.
I picked him up and rushed to the nearest mobile clinic, and I brought him here.
It takes two and a half hours to get here from our village; two and a half hours of crying and screaming.
Doctors explained to me that the bullet came from above and from far away, because if such a big bullet hit my son at close range, it would disintegrate his body.
It took his arm off, then grazed his abdomen and his right leg.
They say he was lucky, because if it had entered his body instead, it would have crushed the vital organs. Lucky, they say.
Life is like this. Your children are playing and suddenly a bullet comes from the mountains that are so beautiful and so dangerous; a bullet comes and destroys your child's life, for no reason. And you cannot do anything. You listen to him crying and look at the eyes of a child who has already become sad and maybe they will remain sad forever."
"I think I'm lucky. I could be dead now"
Sabrai, 16, is learning to walk again. Part of her right leg had to be amputated after she stepped on a landmine.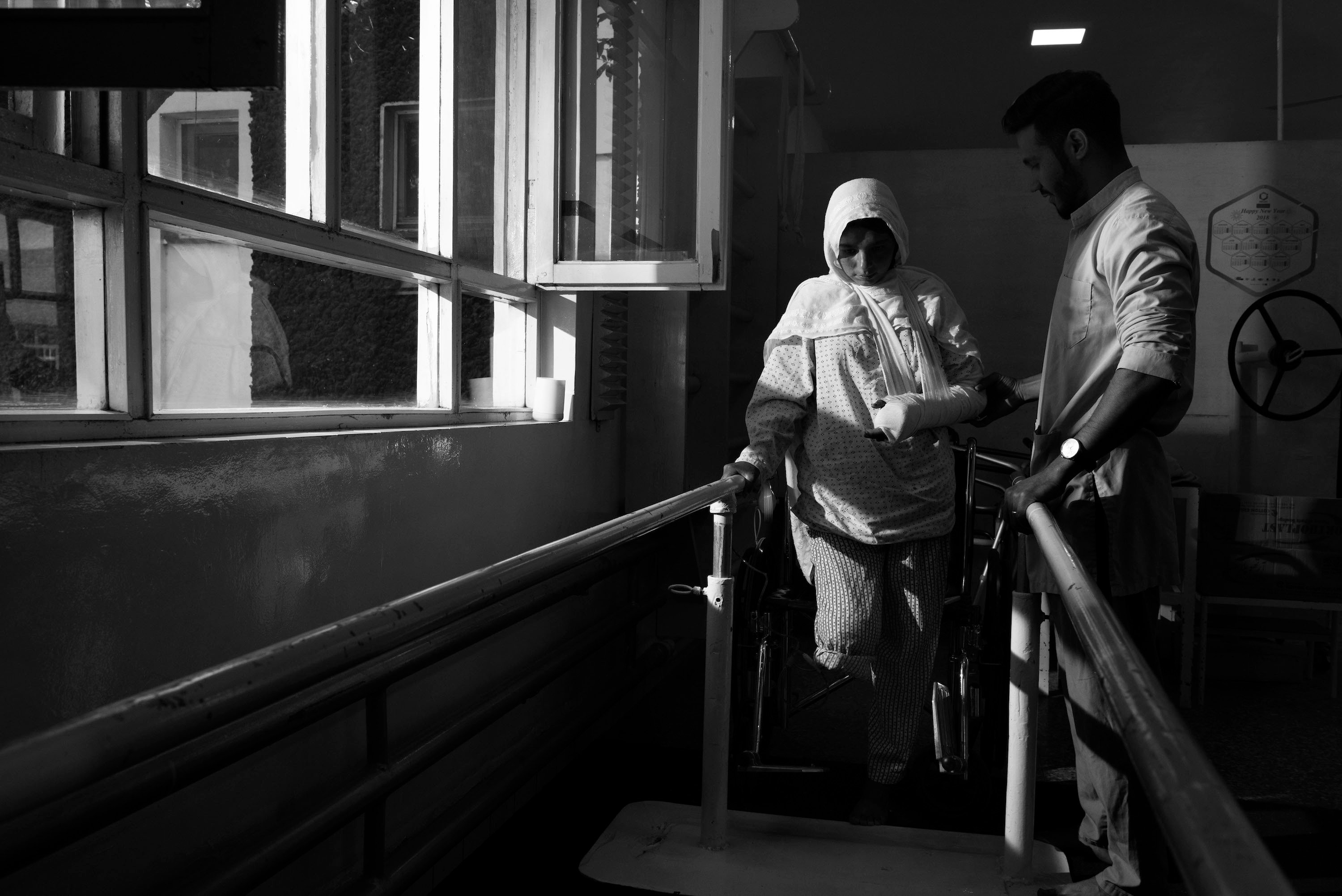 "We are nomads. We move with tents and sheep from one side of the country to another and we live on that.
I cannot read or write and I do not know anything about war. I'm just a girl.
We were setting up the tent in a place that we actually already knew. We had already been there with the sheep the year before and the year before that.
I remember there was a flowerbed, and there was a tree near the flowers that I did not remember seeing before. It's Spring. It's all beautiful now… I walked toward the tree, and as I walked I heard the explosion. When I opened my eyes, I saw that I no longer had a leg.
We were in the middle of the mountains. There was nothing nearby… Just the mountains where we graze; the hospital is not needed. But I needed it. I did not have a leg.
Then my brothers took two pieces of wood, placed them on their shoulders and laid me up there, and walked for hours, for three hours though the mountains, to take me to the hospital.
I'm just a girl, and now I'm also a burden for my family. But I think I'm lucky. I could be dead now, but I'm just missing a few fingers and a leg."
"This country can be so many different things – not just war and violence. But now I do not believe it anymore."
Ali Khan Eshag, a 28-year-old social sciences student and tailor, survived a suicide attack on a voter registration centre in Kabul, but his face was badly burned.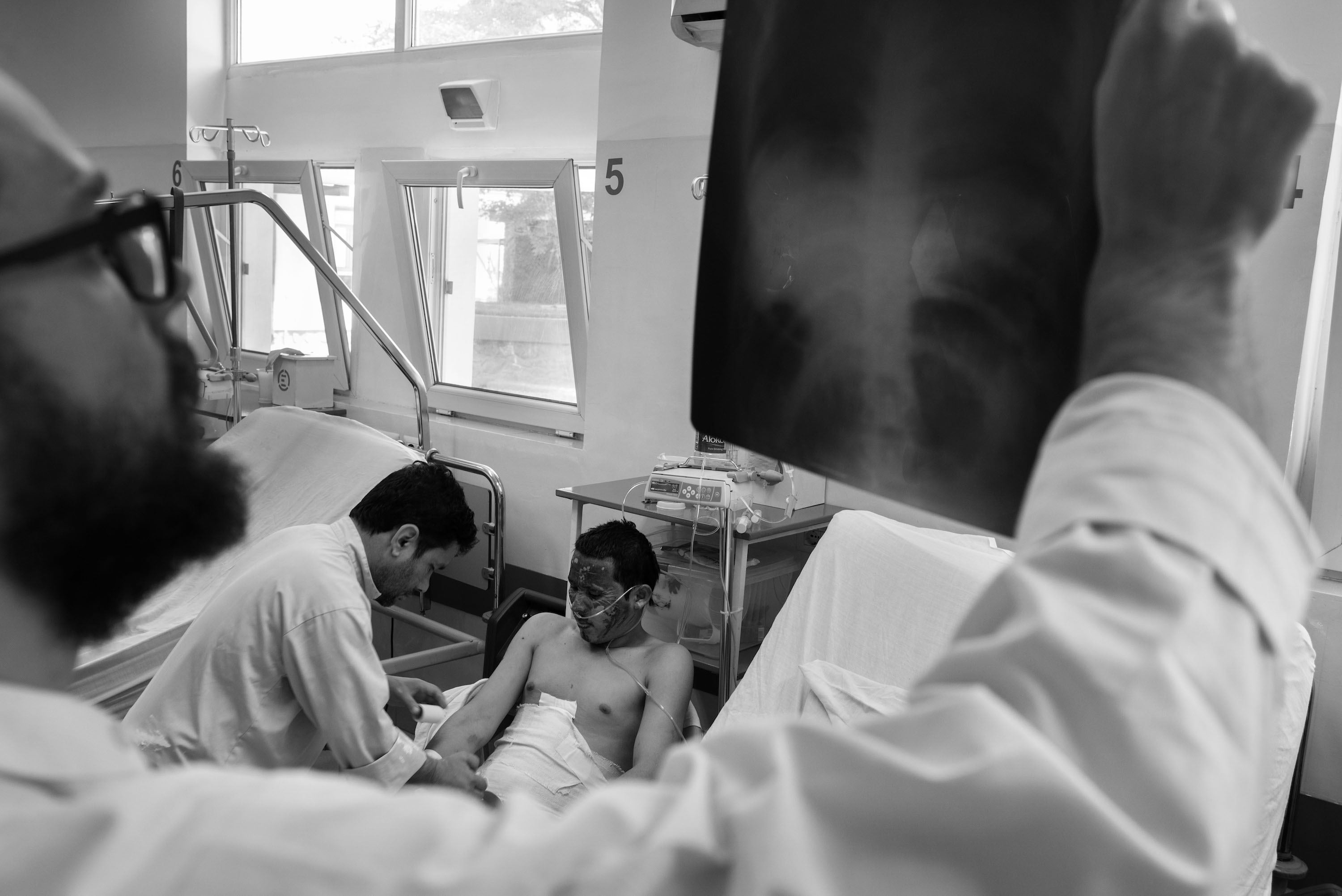 "I was on a motorcycle, like every day. I was looking for one of the places where the electoral registration cards are distributed for the next election… I went to a policeman to confirm that I could register in that office. The policeman told me 'yes', and suddenly, an explosion.
When I opened my eyes, the first thing I saw was a child screaming, and another child running through the corpses screaming, 'Mom, mom!'. Two or three policemen [were] dead beside me, and dozens of other bodies; men, women, and the children still wearing school backpacks.
At first I did not realise that my face was completely burnt. I just felt the pain in my leg, and I saw that I had been hit by shrapnel.  
After two days of hospitalisation, I looked at myself in the mirror, I saw my face and I thought, 'Nothing will be like before. My face will never be the same. My life will never be the same.'
There's no more hope for me, I think it makes no sense to continue studying.
My wife can neither read nor write. Both of us are working to let me study. I studied social sciences. We work as tailors to pay for my studies and improve our living conditions.
I studied social sciences because I wanted to deepen the history of my country and tell the traditions of all the communities. I wanted to tell the traditions of Afghanistan, to let people understand that this country can be so many different things – not just war and violence. But now I do not believe it anymore.
"Some time ago, [my wife] told me, 'For those like us it's all useless here… we should leave.'
"And I told her, 'No, let's stay here. We have to. Too many of us are going away.'
"And she said, 'Stay? What for?'
"Now, I'm desperate. We should have tried to escape from here. I wish I had left in time."
"I'm paying a very high price for having decided to stay here in Afghanistan."
Edhaiat, 38, has spent 14 years working as a surgeon at the Surgical Centre for War Victims. He asked that his full name not be published. The centre recently expanded to better handle "mass casualties" – like those from the multiple suicide bombings that tore through the capital in late April, striking a voter registration centre, then targeting journalists covering another suicide blast a week later.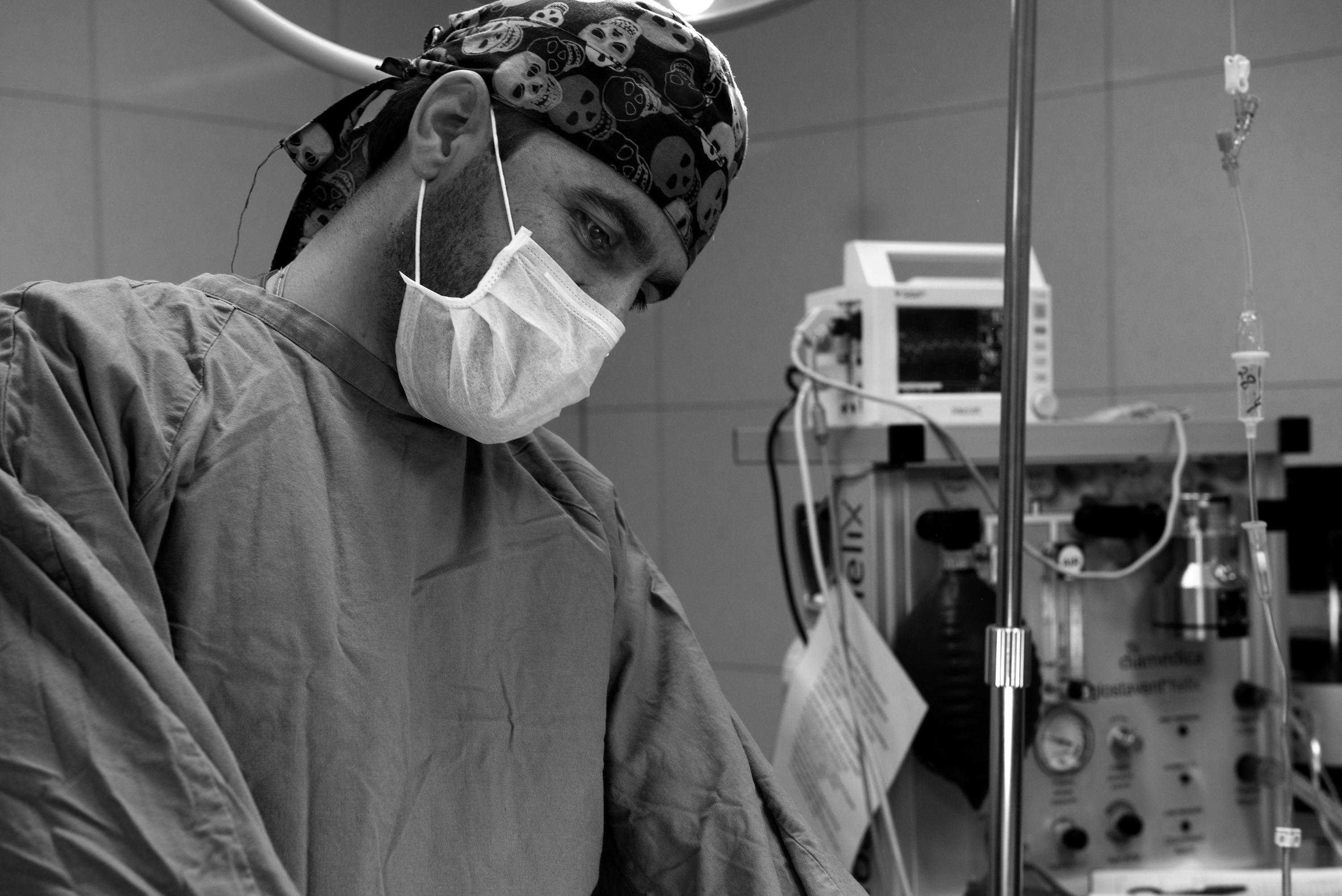 "To understand the country, simply look at the numbers at this hospital. Look at the numbers and faces of the people.
The country has changed. There is no security. Corruption is rampant in the public offices. One of the reasons for my pain is that people have completely lost hope. Day by day, people have lost trust that things can be better. They are – we all are – resigned.
A long time ago, in 2004, we had completely different feelings. But since 2014, we are living in a completely new Afghanistan. People want to escape. The best people in this country are leaving. I am still here for my family, for my mother, my father, my children, and my neighbours, my people. But I'm paying a very high price for having decided to stay here in Afghanistan.
I'm paying because I'm constantly afraid. I'm paying because I look at myself in the mirror and I feel old. I look older for the work I do. I look older because of the pressure of my work. But I stay here, because I want to be a hard-working person and because I want to instil hope in my community.
Every day I'm scared to leave the house. Yesterday, I was on duty at the hospital. At the end of the shift, I was waiting for the car. Suddenly, another car approached at speed. Security guys tried to stop it but it didn't stop. I thought, 'OK, it's over.'
I didn't move an inch. The car was very close to me and I thought, 'Better to die immediately than go through the suffering that I see every day in the hospital.' … Then the car kept going. But that fear of dying suddenly and without reason is with me every minute.
Living in Kabul means being afraid and having no real hope for the future. My eyes have seen too much pain.
Every person we receive here is like a new wound in our soul. It's not just my pain; we all feel like that. It is not normal, and it will never become normal."
"I always repeat to him: 'Don't give up.'"
Omar, 52, and his son, Nadim, 21, are shepherds from Bagram, north of Kabul. Parts of Nadim's left arm and leg were amputated after he stepped on a landmine.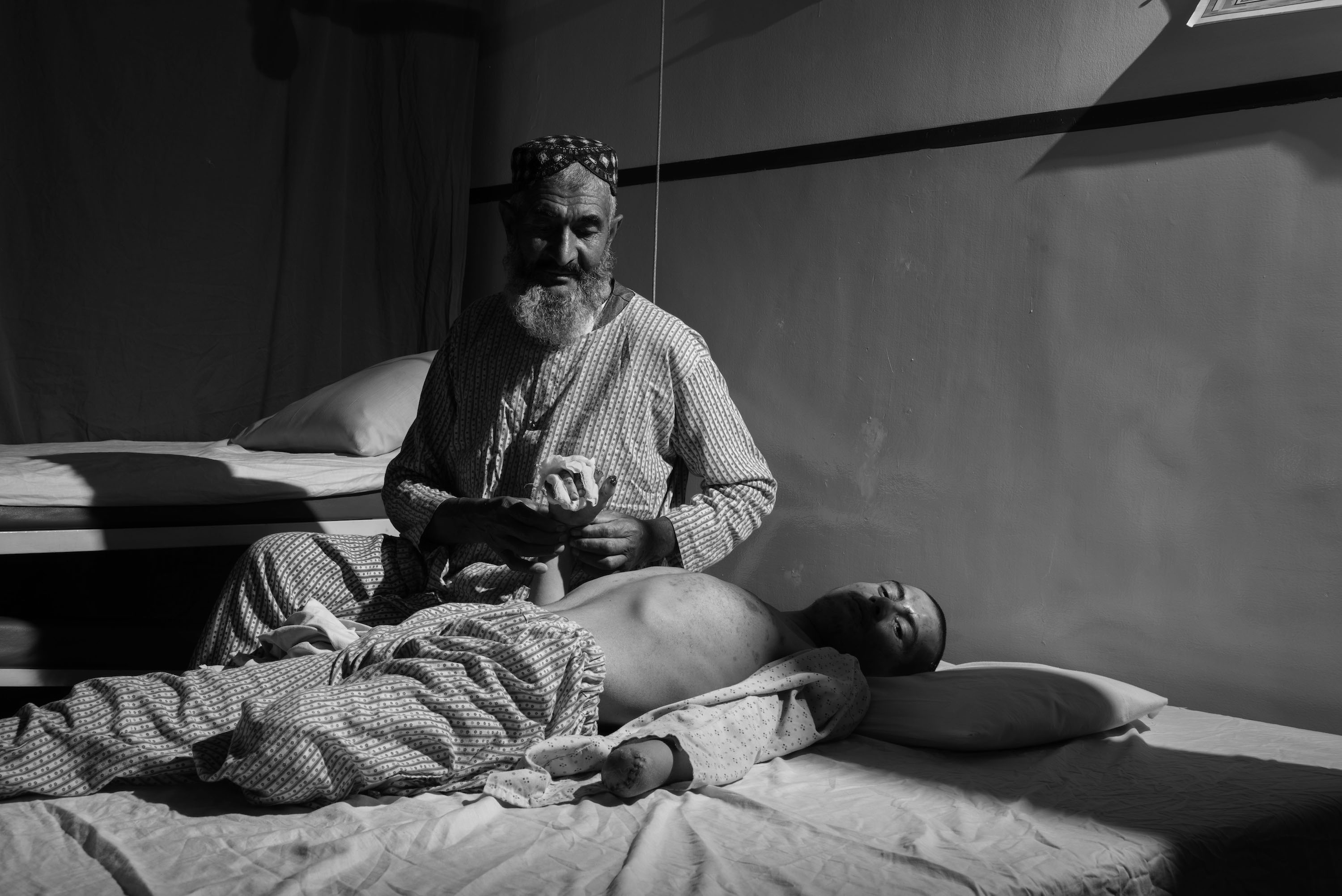 "We live by working hard. Nadim is my only child. His arms and his work are essential for me. He has always been a tireless boy.
One day, he simply walked back from the fields and a mine exploded, and now he's missing an arm and a leg.
I take care of the wounds on the fingers of the other hand, the hand that remains.
I want to be confident, because Nadim is young and he's a good boy. I want you not to give up, Nadim.
I hope the doctors will provide him with a prosthesis, and life will be normal again. I always repeat to him: 'Don't give up.'
I want him to be strong. He does not have an arm and a leg. But I am here for him."
"They fight and we are in the middle."
One morning at the hospital's entrance, a father looked on in stunned silence as doctors hovered over his two sons, lying on stretchers. The boys, aged 12 and 14, had both been shot in the head.
The father, who asked that his name not be used, said his boys were caught in crossfire that morning in Ghazni Province, where the Taliban has made recent inroads against government security forces.
The oldest boy was motionless, bleeding from the mouth and nose; he seemed to stare straight ahead as doctors worked frantically to put a breathing tube down his throat. A few minutes later, doctors told the father that his oldest son had died.
"They fight, the Taliban and the army," the father said. "They fight and we are in the middle."
(TOP PHOTO: A father whose sons were caught in crossfire between Taliban and government troops. CREDIT: Alessio Romenzi/IRIN)
fm-ar/il/js/ag