It's been a month since the 73rd session of the UN General Assembly. That's aeons in media time, almost long enough for the headlines spawned by US President Donald Trump's rebuke of the "unelected, unaccountable, global bureaucracy" that is the United Nations to have faded away.
But instead of finding dark cloud hanging over the shrinking space for multilateralism - long seen as the world's best tool for tackling our growing challenges – I am left with optimism. And that didn't exist this time last year.
On my first night in New York, I was reminded that out of the rubble of World War II emerged the UN, NATO, and the Universal Declaration of Human Rights.
"We are at a comparable moment of human history," Sasha Chanoff, executive director of RefugePoint, told a room of government officials, philanthropists, NGOs and others at one of the hundreds of side events during UNGA week. He senses something better emerging from the "cataclysmic wreckage of human life" we've seen in the last few years. So do I.
Why such optimism?
First, more people feel they have a stake in solving the world's problems. This year, I met people you would have never seen at UNGA even a few years ago (like many, I didn't attend the core proceedings. Instead, I popped in and out of side events, tapping into the conversations and debates that are shaping humanitarian crises, humanitarian response and IRIN's coverage).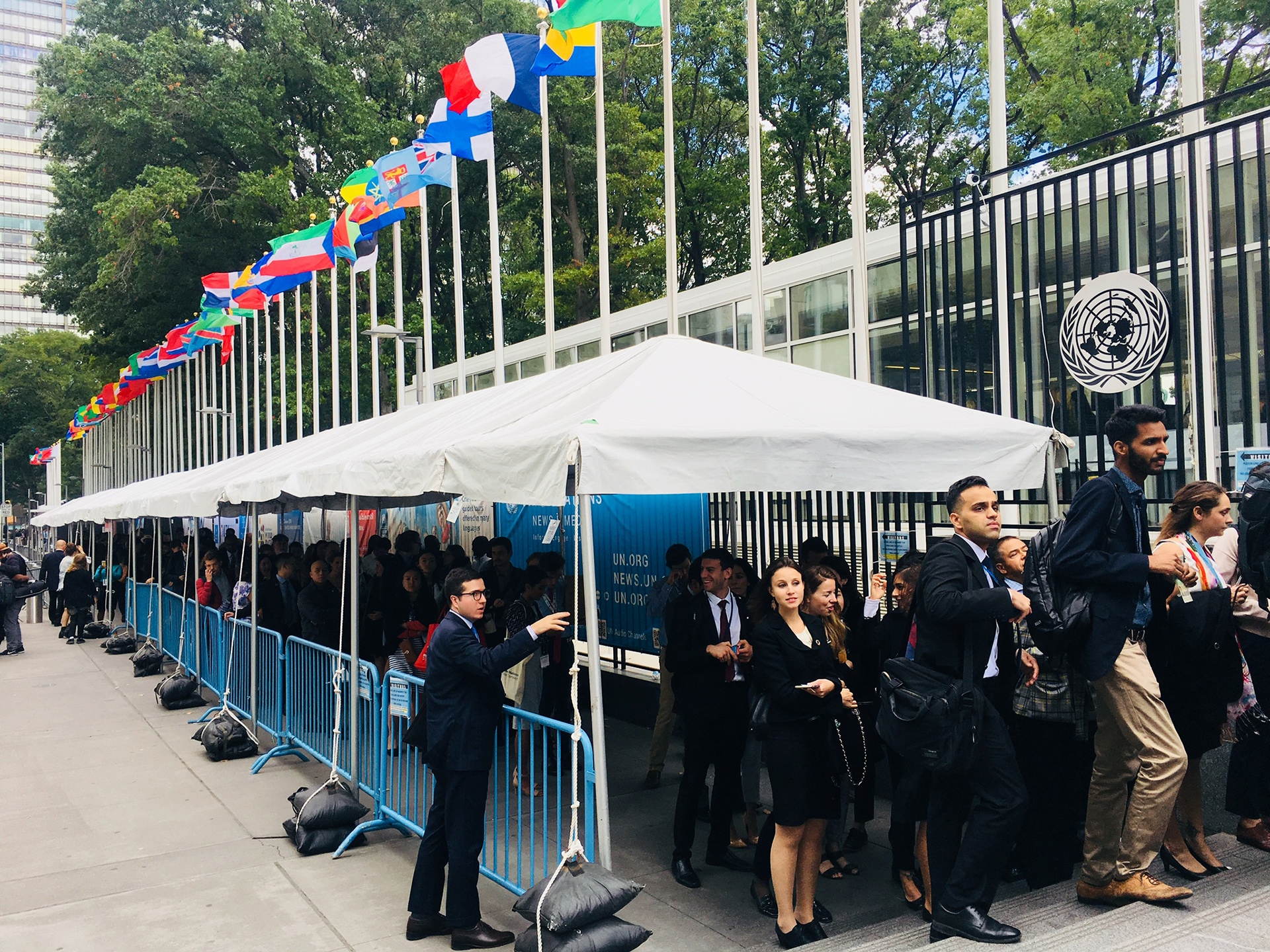 I met people representing municipalities, now at the forefront of migration and climate change challenges: "mayors are ruling the world", proclaimed the deputy mayor of Athens. I met investors looking to transform services provided by humanitarians into new initiatives for private business.
I met a private philanthropist who set up a fund to make it easier for Canadians to sponsor and resettle refugees. And at the various events, I met refugees themselves, who are now a part of the discussion rather than sitting on the sidelines while others decide their futures.
Rather than giving in to defeatism at the so-called retreat of the liberal world order, many people I met this year are doing something to improve the state of global politics and retain some sense of global solidarity.
Take Michelle Maziar, the director of immigrant affairs at the mayor's office in Atlanta. We met during a discussion about urban migration. "We call it the Trumpocalypse in our office," she said, of the current US administration. Her office's "Trumpocalypse strategy" has involved everything from cutting off the city's contract with the infamous US Immigration and Customs Enforcement (ICE) agency to putting up lights in the colours of the Mexican flag on its Independence Day to make migrants in the city feel welcome.
Then there's Lindiwe Mazibuko. At 31, she led the opposition in the South African parliament and has since founded an organization to create the next generation of ethical political leaders.
Even babies showed up. New Zealand's prime minister, Jacinda Ardern, sparked chatter online when she brought her three-month-old along. With Baby Neve on board in solving the world's problems, surely we're further ahead.
Second, the short-term horizon that used to be part and parcel of discussions about humanitarian response has been replaced by longer-term, strategic thinking.
Narratives of "need" and "vulnerability" have been replaced with words like "capacity" and "resilience". "Pathways out of dependency" is one of the new catchphrases.
I heard consensus around key issues that I believe will help people caught up in crises cope better.
Refugee self-reliance was one. The idea that the international community should focus on helping refugees become self-reliant rather than supporting them in camps for decades on end gained momentum with the launch of the Refugee Self-Reliance Initiative. Robert Hakiza, a Congolese refugee in Uganda who now leads an organization to help other refugees help themselves, told me at the launch: "Whoever invests in refugees will never regret it. Give us the support we deserve, and we will pay you back with interest."
Education during humanitarian crises was another. Even five years ago, providing education during a humanitarian crisis was much lower on the list of priorities than basics like food and shelter. But a recent "sea change", as one UNICEF official put it, has led to a recognition that education is key to providing a future to people affected by protracted crises. Since this was agreed at the World Humanitarian Summit in 2016, significant funding has materialized to support it.
New financing models have been under development for years – from social impact bonds to World Bank financing for refugees. But discussions have now gone even further. I was struck by the way Peter Maurer, president of the International Committee of the Red Cross, put it: "We need to stop using old money to address always the same old problems." The alternative? Move away from aid "spending" towards private sector "investing". What are humanitarians giving away today that the private sector could sell tomorrow?
An overwhelming focus on fragile states also drew my ear, with clear consensus now that to achieve the international darling Sustainable Development Goals, development efforts must focus on fragile states where half of the world's poor will live by 2030 (with suggestions that 50 percent of aid should be directed at the Least Developed Countries). David Miliband, president of the International Rescue Committee, calls it the "the changing geography of poverty", whereby the world is making progress overall but fragile states are heading in the opposite direction and, in the process, demanding the vast majority of humanitarian efforts year after year.
What was perhaps most surprising for me was that even private philanthropists and foundations, long focused on sectors like the arts, have begun aligning their philanthropy around some of the world's toughest problems: Fondation CHANEL has organized itself around the SDGs and refugee support has become all the rage. Increasingly, philanthropists are under pressure to take greater risk and engage in fragile states. There's also much more talk of taking the longer view: providing multi-year, more flexible funding, and working collaboratively as donors to scale their impact.
For all the cynics out there, not to worry: there remained a healthy dose of skepticism about the state of the world. In any case, most of UNGA's happenings were overshadowed by the testimony of US Supreme Court nominee (now Supreme Court Associate Justice) Brett Kavanagh, accused of sexual assault. By the time baby Neve grows up, though, perhaps the optimists will have won some ground.
You can find a few more of my interactions at UNGA on IRIN's Instagram feed.