Nikki Haley, the US ambassador to the UN, did not mince her words. "We are not waiting anymore. We need to see a change," she announced after meeting South Sudan's President Salva Kiir on a visit to Juba last month. "We have lost trust in the government."
Haley has steadily escalated her rhetoric against Kiir throughout the first year of President Donald Trump's administration. However, this rhetoric still awaits a clear policy, while the international community is continuing to back a failed power-sharing agreement instead of seeking bold alternatives to end the war.
As I wrote here a year ago, South Sudan's collapse is a product of its winner-take-all political competition in a country that is, fundamentally, a stateless union of ethnopolitical blocs. 
The volatile combustion that this radical experiment produced continues to erupt and spill over, with estimates of 100,000 killed, and 6.2 million – more than half the population – in need of aid.
Fragmentation
The downward spiral of political dissolution continues. Kiir's own political coalition continues to shrink. The rebels lack ammunition, let alone enough guns. Government soldiers go unpaid. Fighters from both groups regularly desert to Uganda for food. 
Both sides of the conflict are now more focused on internal fighting than the wider war. In Kajo Keji, in southern Equatoria, two competing opposition forces under rebel leaders Riek Machar and Thomas Cirillo Swaka recently clashed for days in a bitter turf war until the government seized the opportunity and routed both groups. 
Along the Uganda border, I met yet another wave of fleeing refugees as local elders described their failed attempts to mediate between the two rebel camps.
Meanwhile, Kiir's Dinka power base is cracking along clan lines, as evidenced in the standoff with his former army chief Paul Malong Awan, whom Kiir arrested and put under house arrest in Juba. 
It has escalated into an especially bitter feud between Kiir's Warrap and the neighbouring Dinka communities of Malong's Aweil, which supplied the bulk of Kiir's fighting force for the war against Machar's rebel SPLA-IO since 2014. 
In private, senior Juba officials readily admit the severity of the dispute, with one describing it as a "time bomb".
No end is in sight to South Sudan's misery. The deadly fighting season, when rains dry up, is fast approaching. Neighbouring countries must prepare for even more refugees.
South Sudan is politically insolvent and, if lives matter, too big to fail. If it were a bank, regulators would propose it be wound down or restructured. Since it is an African state, we prefer to keep piling it back up – each time with more and more debt of justice unpaid – and throw our hands in the air when it falls back apart. 
Trump's administration can rightly complain it was handed a lousy baton by former president Barack Obama, whose policy on South Sudan had collapsed. In the Obama administration's final months, the country it midwived to independence in 2011 was declared at risk of genocide by the UN as hundreds of thousands of refugees streamed out of the country. There was no peace process.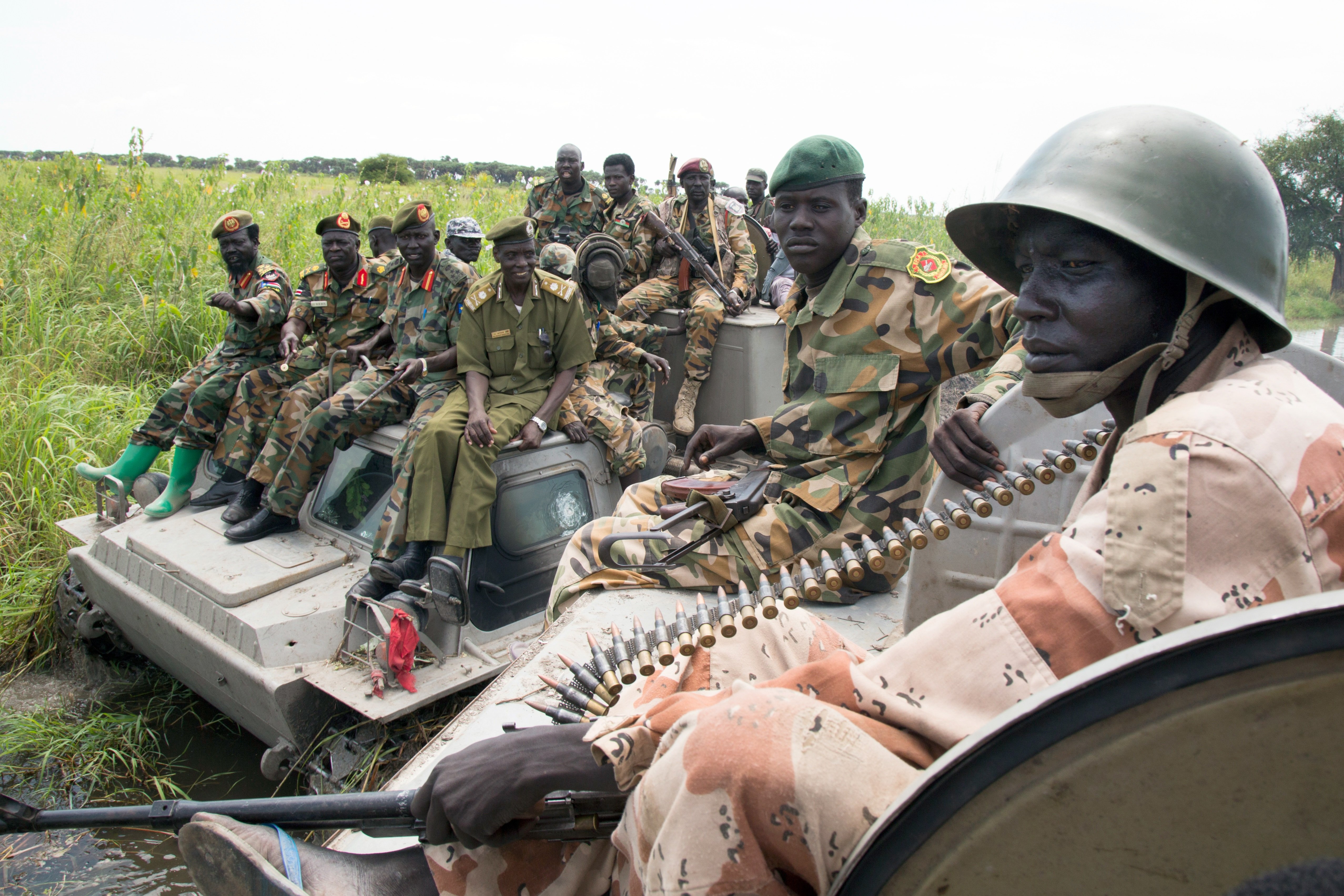 Back to IGAD
However, the United States is directing its new diplomatic energy towards pressuring South Sudan into a new push to "revitalise" the Obama administration's failed 2015 peace accord, based on the mediation of the regional Intergovernmental Authority on Development. 
The decision to continue with the embrace of the collapsed IGAD power-sharing agreement is head-scratching, since South Sudan is one area where Trump's proclivity for zigging wherever the Obama administration zagged is clearly a timely correction.
The last attempt to impose this peace accord failed in colossal fashion in July 2016, with the blast radius extending far past South Sudan's borders into Congo and Uganda as the civil war reignited.
Rather than diminishing the zero-sum fight for Juba driving the conflict, the IGAD deal upped the stakes. 
More groups mobilised across the country to join the new Kiir versus Machar structure – leading to an eruption of violence across South Sudan's Equatoria region, hitherto not widely affected, prompting a mass exodus of refugees into Uganda as Machar was driven out of Juba.
The right lesson to derive from the peace accord's collapse was that solving South Sudan's crisis by forcing Kiir and Machar together in Juba, with all their armies intact, to prepare in winner-take-all elections against each other, was a cure worse than the disease. 
The new approach from IGAD seems to assume that the previous approach only failed because it did not add enough aspiring rebel leaders into the mix.
The legacy of the last failed accord continues to reverberate. Machar's marginalisation as a result of his exile in South Africa has encouraged a further fragmenting of the opposition and growth of rival rebel groups. 
Yet Machar's SPLA-IO rebel movement, as the sole opposition signatory to the accord the world is now trying to "revitalise", is resistant to an opposition realignment. The latest turf war in Kajo Keji is just one example.
Blind alley
South Sudan's dumpsite of failed policy interventions is now so cramped that policy makers have convinced themselves they have no room to manoeuvre. 
One failed initiative rests on the aborted foundations of previous ones. Pride, bureaucratic inertia, and the realities of multilateral diplomacy prevent starting anew.
The United States remains the leading global actor on South Sudan. But US diplomacy and leverage can only be helpfully applied if there is a larger vision for South Sudan beyond hopes that a state can be built in time for democratic elections and a nation will emerge from the rubble of ethnic cleansing. 
That vision should come from the South Sudanese themselves. They regularly circulate proposals for a restructured South Sudan that decentralises governance and the power structure, a similar approach applied positively in recent years in Kenya and Somalia. Others propose formally prescribing shared sovereignty through quota allotments and rotating executives.
The outside world's main contribution to South Sudan's war has been to cement the conditions for its perpetuity. 
Clustered in regional capitals, biding their time for the next round of stalled political negotiations, South Sudan's opposition's greatest hope lies in the government imploding. 
This is the one thing the international community is most focused on preventing. International actions since 2013 have made clear that, to the rest of the world, the stability of the capital matters far more than ethnic cleansing throughout the countryside. 
The government is strengthened by the international presence and recognition; the international presence is justified by the government's predation and neglect. They are there because we are there; we are there because they are there. This is the increasingly grim logic of South Sudan. 
(TOP PHOTO: Internally Displaced People demonstrate during the visit of the US Ambassador to the United Nations Nikki Haley in Juba, South Sudan on October 25, 2017. CREDIT: Albert González Farran/IRIN)
ab/oa/ag