A week after Afghanistan's deadliest earthquake in more than two decades, survivors say they fear the aid that has reached them won't be enough to get them through the coming weeks, much less allow them to rebuild their homes in time to face the winter. 
In the days since the 5.9-magnitude earthquake struck southeastern Afghanistan in the early hours of 22 June, killing more than 1,000 people and injuring nearly 3,000 in Khost and Paktika provinces, the Taliban government, local civil society, and international aid groups, along with the UN, have rolled out a massive aid response in some areas – while others have yet to see much assistance, survivors say.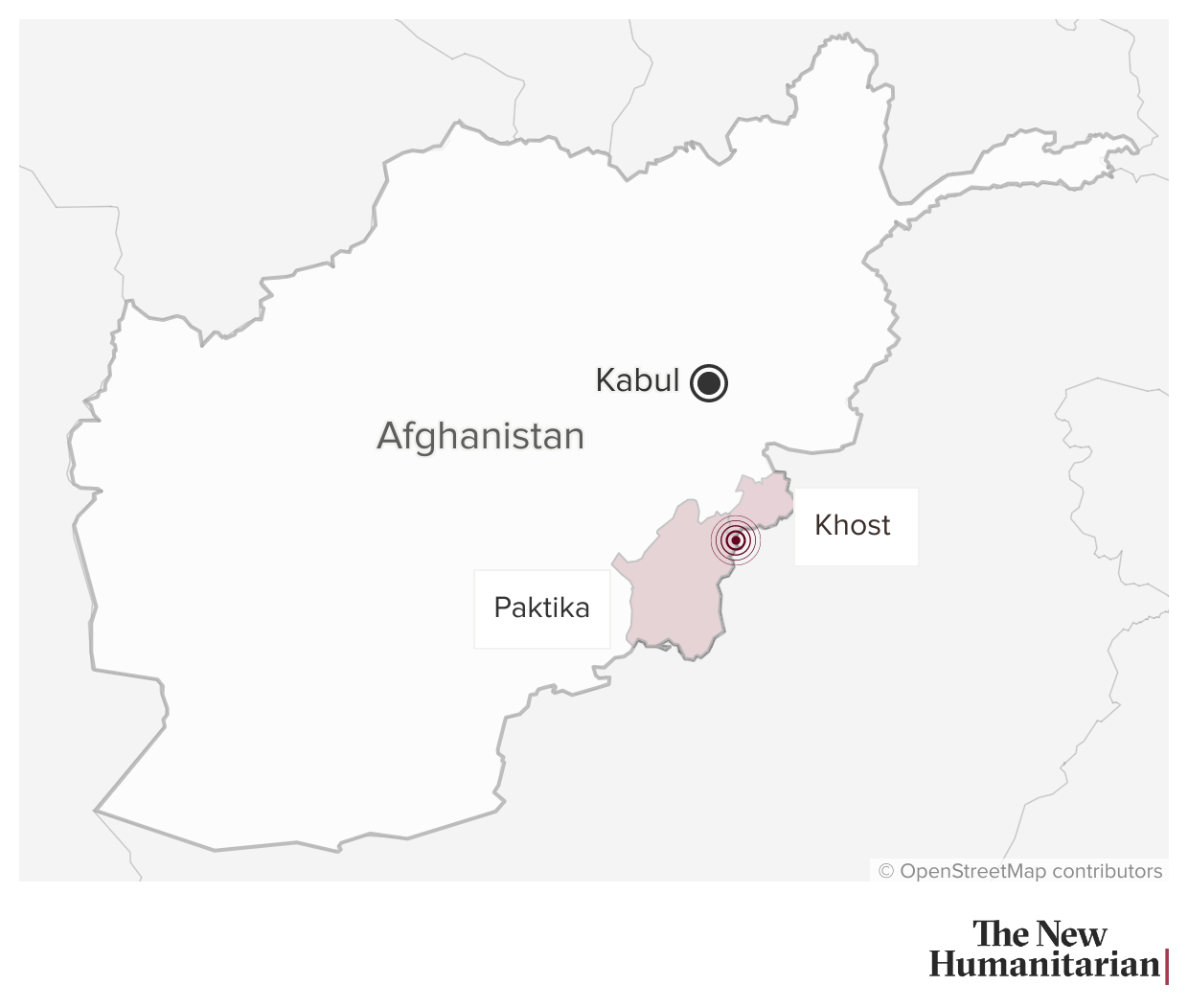 Hundreds of thousands of people across the two provinces were impacted by the quake and a second, 4.2-magnitude one that struck two days later. Thousands of homes have been destroyed, and the UN says tens of thousands more were damaged and risk collapse, particularly amid continuing aftershocks. 
"Aid has also arrived, but this aid should not be only for two or three days," said Yasin Jan, 28, speaking with The New Humanitarian in Ochlakai, a village in the Gayan district of Paktika province, on 25 June. He said he lost his father, wife, two children, four siblings, a sister-in-law, and two nieces and nephews, and six more members of his family were taken to hospital with serious injuries.
"Our houses have been turned into dust, and in a few months, winter will come; we have snowfalls here too," Jan continued. "We should get help to build our houses."
In Khanedeen village, barely a kilometre from Ochlakai, no one has been left untouched. "There were 18 houses in our village, and all turned into rubble after the earthquake," said Murad Khan, 48. 
Khan said 24 people were killed and 15 injured – many of them his family members. Standing outside the tent that now served as his home, Khan told The New Humanitarian on 25 June that the aid that had so far been provided fell far short of their need.
While the Taliban government has promised 100,000 afghanis ($1,000) to the family of each victim and 50,000 afghani to each injured person, there has been no talk of government aid for rebuilding. For those already living in a state of destitution, there is no chance of rebuilding without significant support.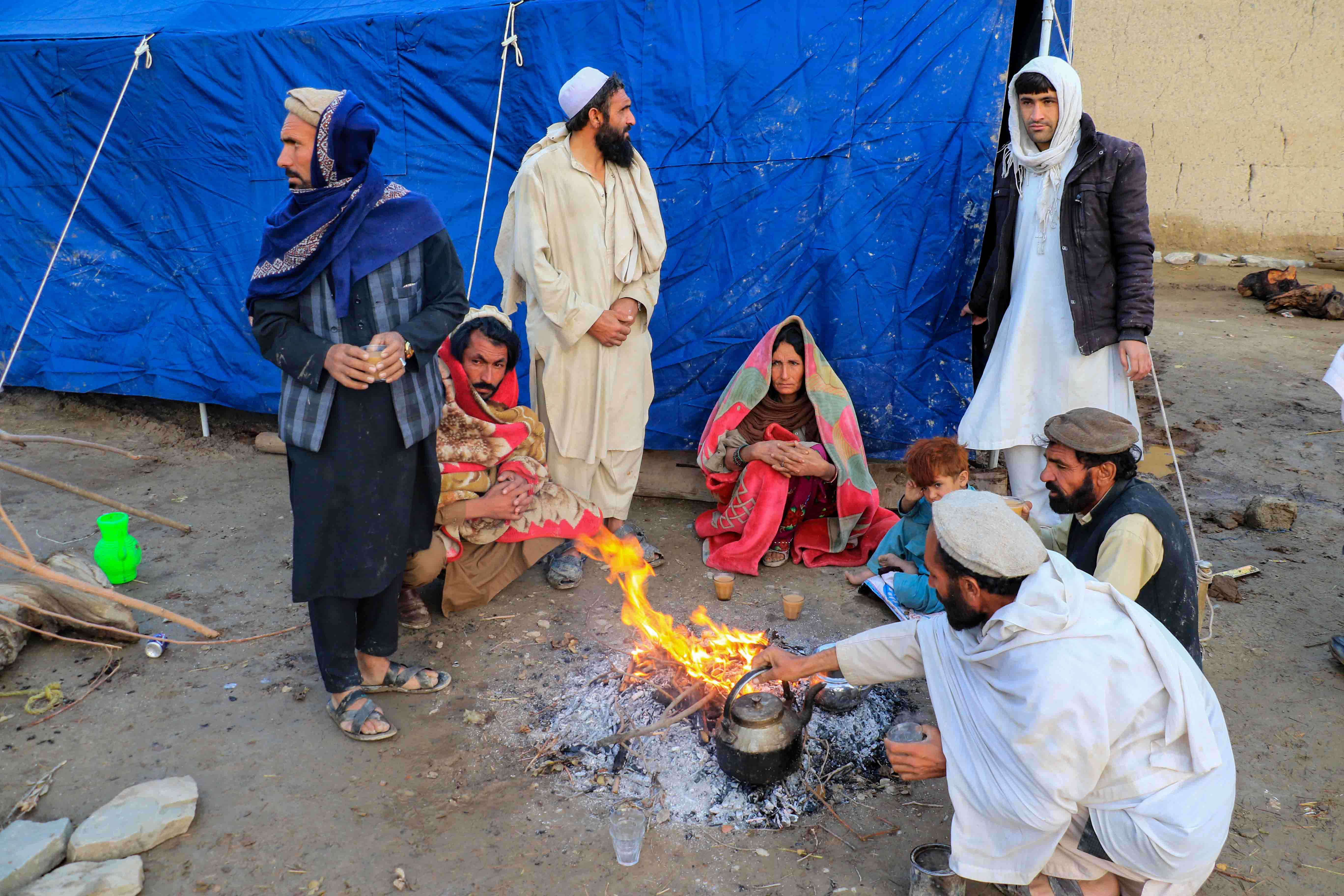 "We got some aid: some tents and household items," Khan explained. But he pointed out that between the loss of his home, his livestock, his belongings, his stored grain, and all his farm equipment he had lost thousands, even tens of thousands of dollars: "Our homes are destroyed. Villagers of the Gayan district are in dire need of houses… We are destitute. I don't have even 1,000 afghanis ($11) in my pocket. How will I construct a new house?"
On Tuesday, the US announced it would provide $55 million in relief aid. The UN, meanwhile, has called for $110 million to fund the ongoing response, with plans to reach 362,000 people over the next three months. 
UN humanitarian chief Martin Griffiths announced last week that the UN's CERF emergency fund had released $10 million for response, adding to more than $10 million from China, the EU, and other countries, but it's unclear whether the funds will be sufficient for rebuilding. 
The Taliban has called for more international aid and promised not to interfere with aid delivery, though last week Griffiths told the UN Security Council that aid was being slowed by the government. 
Hardest struck were remote villages like Ochlakai, set in the valleys between the mountains, where survivors spent much of last week retrieving bodies from piles of rubble and digging graves. Here, there are no formal roads, and severe rains last week flooded dirt tracks – making the initial rescue operation and aid deliveries difficult.
"We have urged people not to go to their homes, as there are possibilities of more quakes."
Gul Marjan, a volunteer with the Red Crescent, said flooded rivers and landslides along the roads leading from Paktika city to Ochlakai and other quake-affected areas had initially slowed the response, although the Red Crescent started sending response teams out shortly after the earthquake struck. 
"So far, we have provided tents, blankets, and dishes to displaced families," Marjan said on 25 June. "We have urged people not to go to their homes, as there are possibilities of more quakes. The tents are mounted away from the destroyed houses and mountains so they won't be hurt if there is another earthquake."
Desperate need for funding 
Deeply impoverished, many communities in Khost and Paktika provinces already faced severe hardships. In the 10 months since the US pulled out of Afghanistan and the Taliban took over, the country has been plunged into an economic crisis coupled with worsening hunger and a collapsing healthcare system. Three-quarters of government spending came from foreign aid before the pullout, which also resulted in a large exodus of humanitarian workers as well as aid programmes. Billions of dollars in Afghan assets remain frozen by the United States.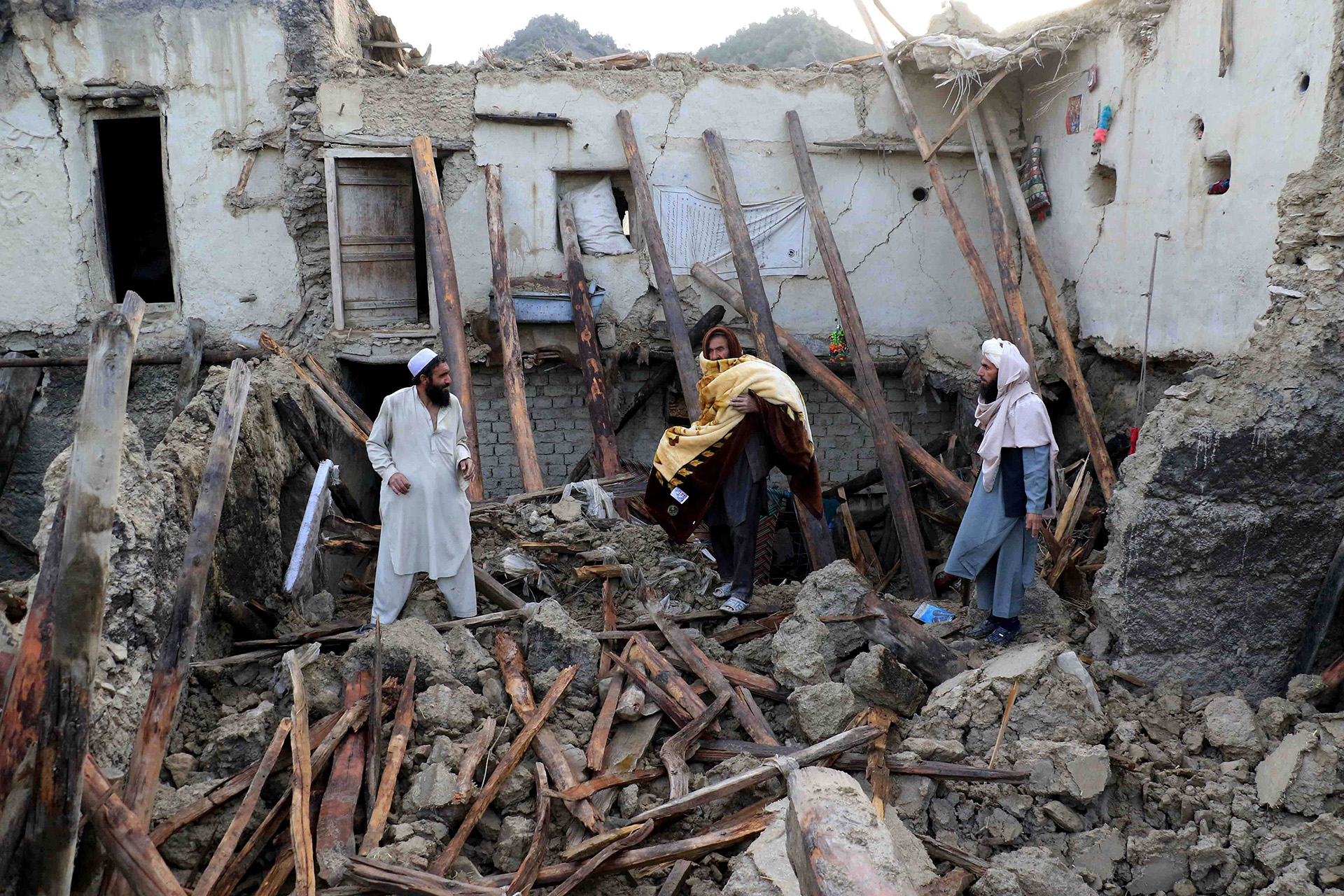 In addition to inadequate funding and poor governance, a severe and prolonged drought has battered crops and livestock. Between July 2021 and March 2022, the number of Afghans facing acute hunger rose from 14 million to 23 million – more than half the population. Some 95 percent of the country does not have enough to eat.  
In Sharan Hospital, located in the capital of Paktika province, Dr. Mohammad Yahya Weyar Ahmadzai said that more than 400 victims had arrived one day after the first earthquake hit.  
"It's a 70-bed hospital with limited resources and medicines," he noted. 
Those facing severe injuries have been transferred to hospitals in Kabul, about 250 kilometres away, and Ghazni province, about 150 kilometres away, while teams of doctors have been sent out to treat patients in villages. Though earthquake survivors have told Tolo News, the Afghan news channel, of a lack of female doctors, Dr. Ahmadzai said he believed there were enough to meet the need. 
"We have enough female doctors and nurses to care for the hospital's patients," he told The New Humanitarian. "They visit the women patients in their homes or tents if needed. Some of the female survivors are also shifted to hospitals in Kabul." 
Amid fears of an outbreak of cholera, Dr. Ahmadzai said his teams were monitoring the situation and urging local residents to wash their hands and boil water. 
In Ochlakai, entire families were wiped out in a moment. Razedin, 50, said he lost 12 members of his family, including his sons and grandsons. It took him two days to dig their bodies out from under his collapsed home. 
"All the household items were destroyed, we lost everything, our homes were ruined, and we have lost many family members," he told The New Humanitarian on 25 June. "We need urgent help from all national and international organisations."
Samiullah Popal reported from Gayan, Afghanistan. Aaquib Khan reported from Mumbai, India. Edited by Abby Seiff.