Despite a recent fourfold increase in weekly COVID-19 deaths, Haiti is still awaiting its first vaccine delivery from the international COVAX programme aimed at providing equal access to coronavirus treatment worldwide.
In contrast to Haiti's slow vaccine rollout, the Dominican Republic – the other half of the Caribbean island of Hispaniola – has administered 7.5 million doses of COVID-19 vaccines, reaching nearly 35 percent of the population. They started vaccinating on 15 February, at a time when Haiti held Carnival celebrations and eased curfews and other restrictions.
Accurately comparing the two countries is difficult, however, because the Dominican Republic has tested 19 times more than Haiti, administering almost 1.7 million tests compared to Haiti's 89,917. As of 5 July, the Dominican Republic had reported 328,942 cases and 3,857 deaths from the virus, compared with Haiti's 18,952 reported cases and 451 deaths. 
Some hospitals in Haiti don't test those who die because PCR tests can only be processed by two laboratories in the country and results can take three to four days.
"If someone dies and you didn't have time to do the test beforehand, it is difficult to count them accurately," explained Dr. Wislet André, a specialist in internal medicine at the General Hospital in Port-au-Prince.
Haiti is still waiting for 130,000 doses of the AstraZeneca vaccine that were supposed to be delivered 14 June, part of the same COVAX programme that offered the country 756,000 doses in May.
The Haitian government refused that initial shipment, citing concerns over adverse side effects like blood clotting associated with the AstraZeneca brand. The government's infrastructure to properly store the vaccine was also inadequate, although UNICEF told The New Humanitarian that 80 percent of Haiti's temperature-controlled supply chain storage had been upgraded in the last few years.
According to the World Health Organization, Haiti is one of a handful of countries that have not begun vaccination programmes. 
Haiti is among the low- and lower middle-income countries targeted by a donation of 55 million Pfizer doses from US President Joe Biden's administration, but it's unclear when Haiti will receive its first delivery. 
"We're hoping for sometime in July," Health Ministry Director General Lauré Adrien told The New Humanitarian. "When we decided to delay the 756,000 doses from the COVAX programme, we weren't in the same situation as we find ourselves today."
Haiti's National Laboratory is still waiting to hear back about samples sent to the United States to determine if the country has cases of the faster-spreading Delta variant. Both the Brazil and UK variants of the coronavirus were confirmed to be circulating in February.
Vaccine rollout timing still unclear 
UNICEF and the Ministry of Health had initially aimed to vaccinate 20 percent of the Haitian population by May, or roughly 2.5 million of the most vulnerable people, including healthcare workers and teachers. But that plan fell apart when the country rejected COVAX's first AstraZeneca shipment.
The smaller shipment now earmarked for Haiti falls short of the country's needs. 
"The 130,000 doses of AstraZeneca vaccine as part of the COVAX programme won't be enough," UNICEF Country Director Bruno Maes said. "But the priority is to get Haiti to start vaccinating as quickly as possible."
Maes said the distribution plan is ready for all 10 of the country's regional departments. But any rollout is likely to be impacted by the political unrest and escalating gang violence that has gripped the country for months, especially the capital, Port-au-Prince.
The unrest has affected a third of Port-au-Prince's territory, blocking off essential access to several parts of the city, the surrounding area, and the southern Tiburon Peninsula: Thousands of Haitians have fled their homes in the capital's Bas-Delmas and Martissant neighbourhoods due to the recent wave of gang violence.
---
---
Still, on 23 June, the Ministry of Health announced the go-ahead for the private sector to import approved vaccines: AstraZeneca, Pfizer, Moderna, and Johnson & Johnson.
Mercy Corps relaunched its coronavirus hotline in March, shifting its initial focus from fighting rumours and disinformation about the disease to dispelling similarly bad information about the vaccine. In its first iteration, the hotline reached 2.2 million users. Lynn Hector, director of communications for Mercy Corps, said most people were poorly informed about both COVID-19 and the vaccines. 
"Acceptance of the vaccine appears to have slightly improved since the reversal in the government's initial decision to refuse the AstraZeneca vaccine," Hector said. "But the misinformation is difficult to dispel." 
Adrien told The New Humanitarian it's not the government's responsibility to defend a vaccine like AstraZeneca. Rather, he said, it is better for Haiti to have more than one option. 
While the country waits, Dr. Nathalie Colas, medical director of the St. Luke Hospital in Port-au-Prince, said some doctors have travelled to the United States to get vaccinated, while others have found a way to get the shots in Haiti. 
Hospitals overwhelmed amidst unrest 
Insecurity has increased in recent weeks around Haiti's capital, causing clinics like the Médecins Sans Frontières emergency centre in Martissant to close last week, just as the pandemic reached its worst levels so far. 
Last week, St. Luke Hospital had trouble refilling oxygen tanks due to the gang violence and insecurity in the streets. At University Hospital in Mirebalais, 50 of the 73 beds designated for COVID-19 patients are full. The facility is run by Partners-in-Health (PIH), a Boston-based non-profit known as "Zanmi Lasante" in Haiti. Oxygen is also in short supply.
"The reality is that we need about 500 cylinders of oxygen per day for Mirebalais alone and we only have 274," said Elizabeth Campa, senior health and policy adviser for PIH. "COVID patients can use up to 12 oxygen cylinders a day, per patient." 
Dr. Jean William "Bill" Pape, who leads Haiti's national COVID-19 commission, said the commission hadn't been renewed since November because there had been so few cases and many hospitals had closed their coronavirus wards, but now the situation has changed.
"We are seeing the disease affecting mostly people who have some means, either the bourgeoisie or middle class," Pape said.  
In the crowded seaside slum of Cité Soleil, however, gang violence has made it difficult for people to leave their homes and get treatment. David Auguste, 20, told The New Humanitarian that he knows four neighbours who died at home from symptoms resembling the virus. 
"There aren't ambulances near us, so they couldn't get help in time," Auguste said.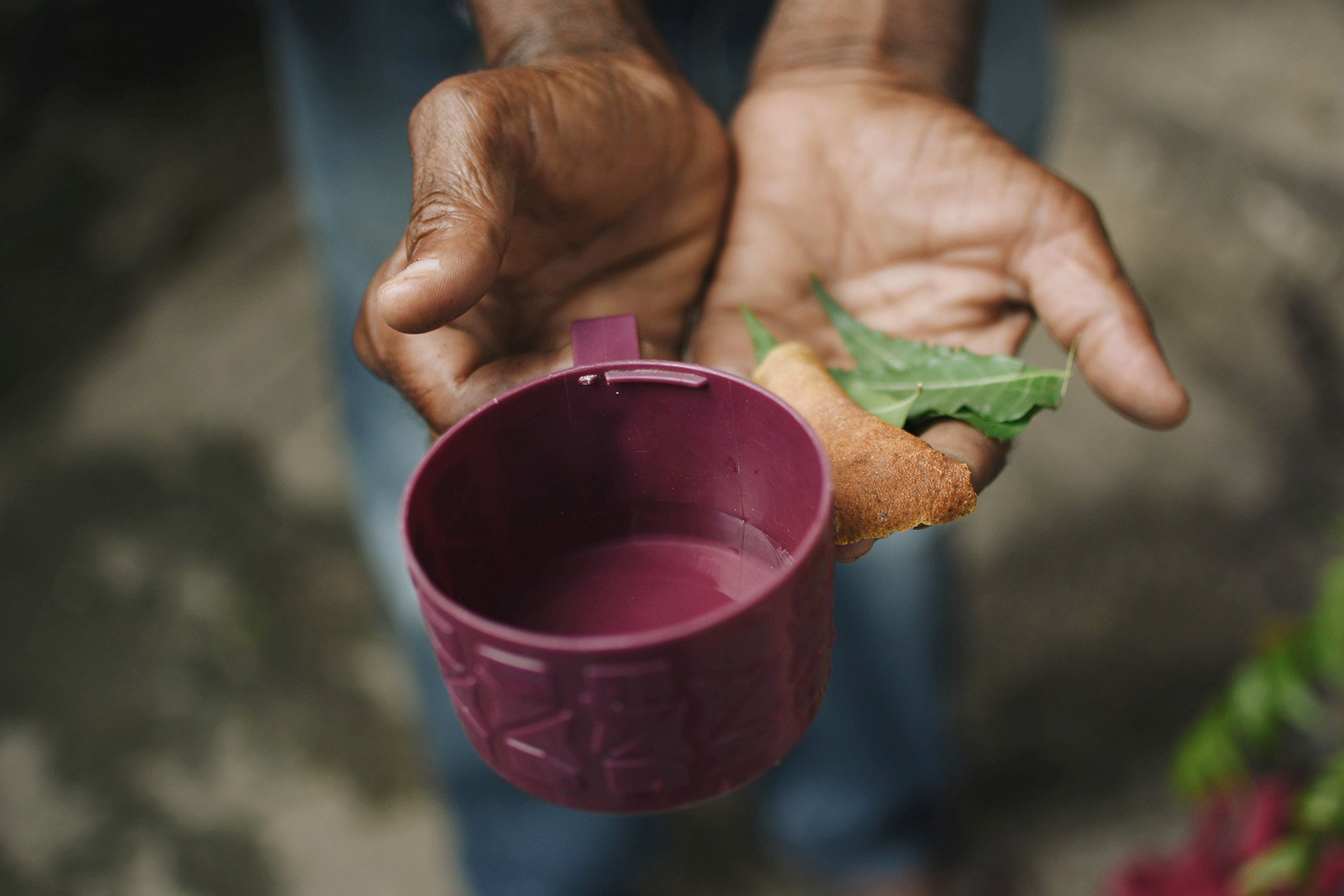 Anel Clovisna, 52, a taxi driver in the capital, said he had COVID-19 about a month ago, but stayed home and relied on natural remedies and teas. 
"Where do they expect us to find the money?" Clovisna asked. "A test could cost more than $60."
Many people hesitated to speak in detail about their families' experience with COVID-19, mostly because they didn't believe their relatives had contracted or died from the virus. Instead, they blamed any deaths on superstitious beliefs, magic, or spells. 
In July 2020, 38-year-old Linda Samedi, a mother of seven, died at the entrance of a clinic in Lascahobas – a town near the border with the Dominican Republic – as she struggled to breathe. She had been suffering from a fever and cough, and had lost her sense of smell days before – all tell-tale signs of COVID-19. Her sister, Isemanie Ilorrius, 31, insisted that magic and asthma had taken Samedi's life. 
Such beliefs persist even though many high-profile figures have contracted COVID-19 or died from it in recent months. Former president Jean-Bertrand Aristide was evacuated to Cuba on 24 June after testing positive. Esther Dorestal, the wife of former government spokesperson Eddy Jackson Alexis, also died from the disease. She was 38.
"My wife and I worked a lot together on raising awareness of COVID-19 during the first wave," Alexis told The New Humanitarian. "There aren't a lot of resources or enough communication to spread awareness of the danger." 
A report on 18 funeral homes in Port-au-Prince showed the average monthly rate of business increased 70 percent from 2019 to 2020. One, Pax Villa, said the number of funerals it conducts has doubled since February. 
"I encourage many Haitians who can to get vaccinated outside of Haiti where it is offered for free," Dr. Pape said. However, about 60 percent of the country's population lives on less than $2 a day, making travel essentially impossible.
With additional reporting and research support from Jeffrey Tran
jo/sl/ag
Read more about...