Days of heavy monsoon rains have battered Bangladesh's Rohingya camps with floods, landslides, and high winds – displacing at least 2,700 people, damaging thousands of homes, and killing a woman and a young boy.
Parts of the massive camps recorded more than 500 millimetres of rain over a three-day period last week, approaching average rainfall levels for an entire month in June or July. Humanitarian organisations in the fragile refugee settlements say they're on high alert, with more rains expected in the coming days.
The monsoon rains led to the deaths of two people last week, according to the UN's migration agency, IOM, which is co-leading UN and NGO response efforts in the camps. A seven-year-old boy drowned in a flooded drainage canal; separately, a wall collapsed on a 50-year-old woman, who later died from her injuries. Dozens of latrines and more than 120 makeshift schools have also been damaged. 
"Even moderate amounts of rain can cause landslides. And that's one of the things that has been impacting people the most," said IOM spokesman George McLeod. "These heavy rains will simply wash away entire hillsides and displace people and sometimes cause fatalities."
The recent rains were the heaviest the camp has seen since the monsoon season began in mid-June. Maria Larios, accountability coordinator for the International Federation of Red Cross and Red Crescent Societies in Cox's Bazar, said the rains have made it difficult to navigate the sprawling camps.
"It's full of mud all over," she said. "The small ponds that used to be there are now big lakes. You cannot access the camps very easily."
Larios said aid groups are conducting assessments to gauge other impacts in the camps, where almost all the refugees are entirely dependent on aid for food, healthcare, and other basic necessities. Humanitarian experts say women and girls often face added risks during disasters, particularly when access to services are more restricted and public areas become more crowded.
Shelter upgrades delayed
This is the second full monsoon season since a military crackdown in Myanmar drove more than 700,000 Rohingya into neighbouring Bangladesh in August 2017, swelling the existing refugee population to nearly one million people. 
Aid groups have recorded dozens of smaller landslides and floods in recent weeks. Since mid-April, more than 38,000 people have been affected by landslides, storms, and floods, including more than 4,400 people displaced, according to the Inter Sector Coordination Group, the body organising UN and NGO efforts for the Rohingya response.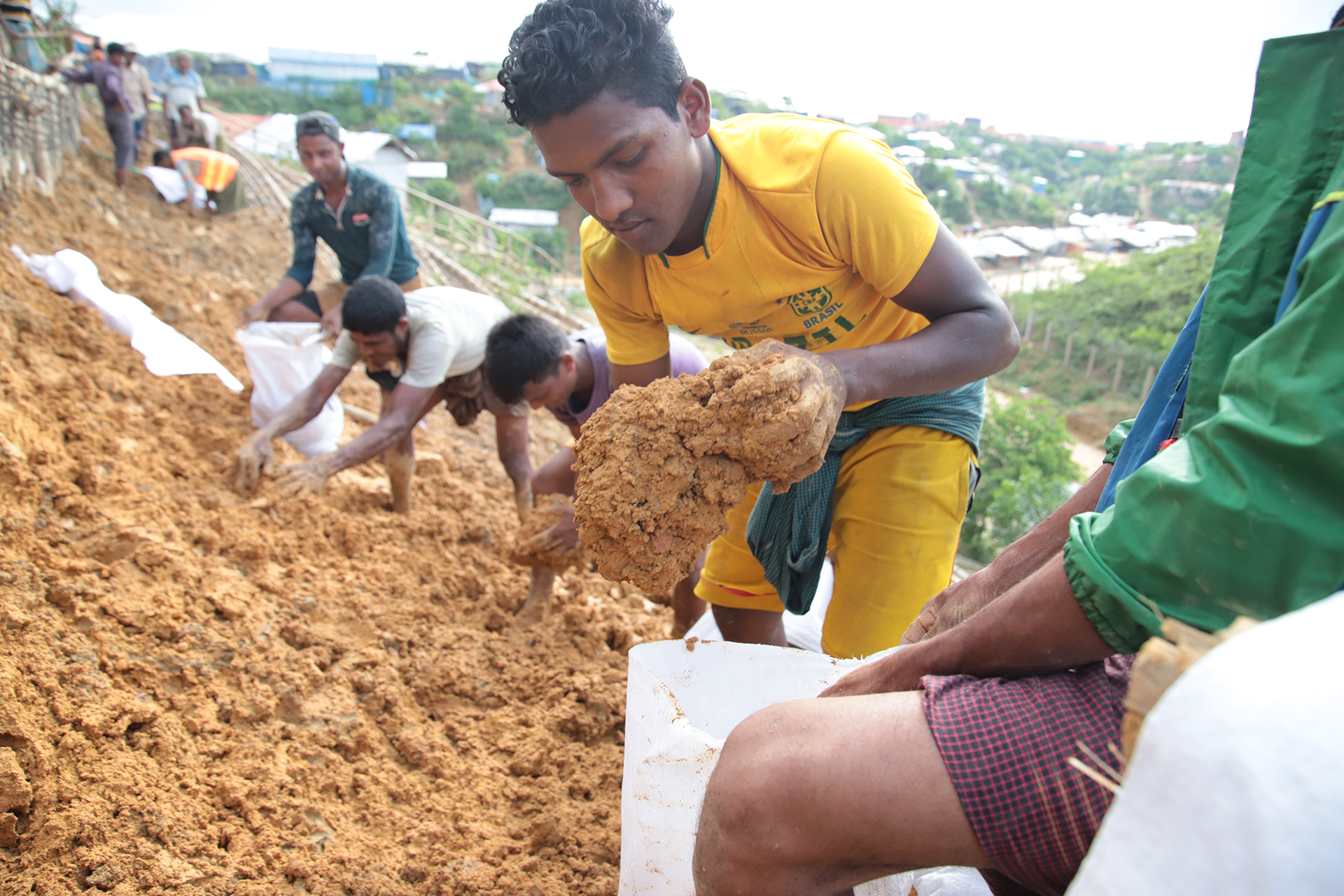 Preparing for monsoon and cyclone threats is a constant worry in the camps, where the vast majority of refugees live in exposed bamboo and tarpaulin tents carved into slippery hillsides or on flood-prone lowlands. The monsoon season typically lasts from June to October, and cyclone threats peak at the start and the tailend.
A risk analysis done before last year's monsoon season suggested rains could submerge one third of the land in the camps, and that tens of thousands of Rohingya refugees in high-risk areas could lose their homes from floods, landslides, and storms.
While worst-case scenario predictions last year didn't materialise, an evaluation of the monsoon response, released in January, pointed to coordination problems and lingering uncertainties – including what impacts days of extended heavy rainfall would have.
Aid groups and Bangladesh's government have tried to reinforce the riskiest slopes and floodplains with retaining structures and more drainage, and relocated thousands to safer areas within the camps. But there are still significant worries.
After last monsoon season, aid groups said they needed to replace or repair the bamboo in almost every shelter due to rotting wood caused by a beetle infestation. As this year's monsoon season approached, the Red Cross said more than 80 percent of the refugees were still "worryingly exposed" and in urgent need of new shelters.
The Inter Sector Coordination Group said delays to funding and the government's NGO project approval process were holding back shelter improvements: at the end of May, only 10 percent of households had received longer-term upgrades meant to make shelters more resistant to extreme weather.
And a June study by Ground Truth Solutions, which researches people in crises, found one third of Rohingya surveyed said they didn't have enough information to stay safe during the monsoon season.
(TOP PHOTO: Rohingya children walk around a landslide area at Balukhali refugee camp in Ukhia on 7 July 2019.)
il/ag