Hungary is facing renewed calls to end anti-immigration measures that critics say amount to starvation tactics, after the United Nations Human Rights Office expressed alarm last week over reports the country is denying food to detained asylum seekers on the Serbian border.
The border between non-EU member state Serbia and EU member state Hungary has become a bottleneck for thousands of migrants and asylum seekers trying to reach northern and western Europe.
In amending its asylum laws in July 2018, Hungary effectively ruled inadmissible all asylum applications made on the Serbian border and imposed separate "alien policing procedures" that in some cases include the denial of food – a practice that Human Rights Watch and others say appears to be a calculated effort to compel asylum seekers to abandon their claims and leave.
After sometimes waiting years for the opportunity, those who cross into Hungary to seek asylum end up detained by the authorities in transit zones.
After receiving an inadmissibility decision and expulsion order, some choose to stay rather than lose their chance to appeal what they regard as an unfair decision. Some have also run out of funds and consider remaining in the transit zone a better option than returning to Serbia – where they would be breaking the law by illegally returning – or taking a smuggler's route elsewhere.
"Pending the enforcement of the expulsion, adults – with the sole exception of pregnant or nursing women – are deliberately deprived of food, which can lead to malnutrition and is both detrimental to their health and inherently inhumane," UN human rights spokeswoman Ravina Shamdasani said on Friday.
"The deliberate deprivation of food is prohibited under the Mandela Rules, and violates the rights to food and to health, as well as the prohibition of torture or other cruel, inhuman or degrading treatment or punishment."
The Hungarian Helsinki Committee, a non-governmental organisation advocating for human rights in Hungary, has documented at least 13 such cases, involving 21 people, since August 2018, including the parents of an Iraqi family of five who were denied food for five days. Each incident has required the HHC to apply to the European Court of Human Rights in Strasbourg on a time-consuming, case-by-case basis to compel Hungary to provide food.
The HHC's Andras Lederer believes Hungary is clearly trying to encourage asylum seekers – who are not allowed to leave detention or the transit zones to buy their own provisions – to abandon their claims.
"In order to avoid having to look at the merits of an asylum application, if you don't give food to these people they will give up and walk out voluntarily to Serbia, and then the story is over," Lederer told The New Humanitarian. "The main point here is that these people are under the custody of the Hungarian authorities, they are responsible for them. I think it is unimaginable in 2019, in the developed Western world, that authorities systematically deprive people of food in detention."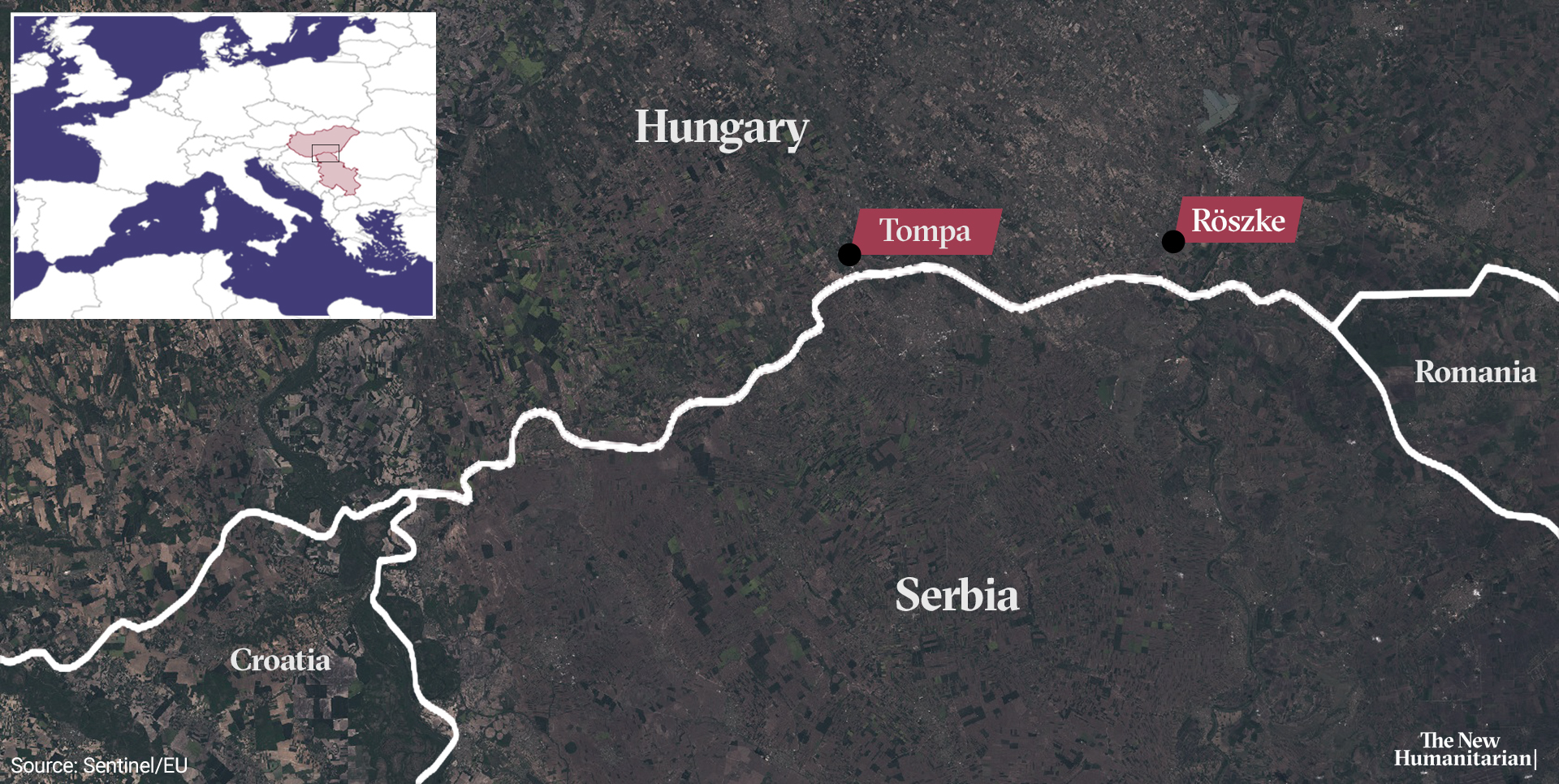 Closing the door
The Hungarian government, headed by Prime Minister Viktor Orbán of the far-right Fidesz party, has taken an increasingly tough stance on immigration.
At the height of Europe's refugee crisis in 2015, the central European state deployed military personnel and erected barbed wire fences along its southern borders with Serbia and Croatia in a bid to choke the flow of migration through its territory.
Closed facilities with restricted access – the so-called transit zones – were set up at two border crossings, Röszke and Tompa, and an opaque and informal waiting list system was arranged between Hungarian authorities and migrants and asylum seekers in Serbia.
Currently, one person is allowed into both transit zones every weekday for vetting – or one family per week. Röszke has a capacity of 450 and Tompa 250.
Asylum seekers in these transit zones stay in metal shipping containers with rudimentary facilities.
"We take the position that Hungary is not responsible for those who have not requested asylum."
The new amendments to the asylum law introduced in July 2018 stipulate that any application made by someone who arrived through a country where the subject was not in danger and could have claimed asylum can be dismissed as inadmissible. As the only way to reach the two Hungarian transit zones are from the land border with Serbia, which Budapest deems a safe third country, claims there are in effect automatically void.
TNH asked the Hungarian Immigration and Asylum Office how many positive asylum decisions had been granted for transit zone detainees since July 2018, but received no reply by the time of publication. In 2018, out of 960 asylum decisions, 590 were negative. In November, Hungary gave asylum to a fugitive former prime minister of Macedonia, wanted on corruption charges.
In a statement, Orban's spokesman Zoltan Kovacs dismissed the claims as a "line that's being aggressively pushed by the Soros-funded Human Rights Watch and Hungarian Helsinki Committee'", referring to the Hungarian-American philanthropist George Soros who has been made the subject of a government-sponsored hate campaign in the last year.
"We take the position that Hungary is not responsible for those who have not requested asylum, nor for those whose requests have been denied," Kovacs continued. "The government of Hungary accepts the necessary responsibility for those who have properly submitted an asylum request and are complying with the legal process."
'It looks like a prison, it feels like a prison'
Independent Hungarian MP Bernadett Szel, who visited the transit zones in April, told TNH the arrangements were inhumane.
"It looks like a prison, it feels like a prison, and most of the people there when I visited were children [with their families]," Szel said. "The government propaganda says that the transit zone is not closed because they can go back to Serbia any time. It's very cruel this situation; they just want to close the whole country. The international community should tell the Hungarian government that there is a certain minimum. This is not about sovereignty, it's about preserving minimum standards."
Lederer, from the HHC, said there were also instances of family members being denied food and undue pressure being put on minors.
"Imagine you were a kid and you had to decide whether to give your mother some food, or as a parent to ask your kid. I would say it's bordering on torture."
"Last year we had cases where the children were made to eat separately from the parents, who were denied food, and the guards waited until they had finished and ensured they were not bringing back any leftovers for mum and dad," Lederer said. "Imagine you were a kid and you had to decide whether to give your mother some food, or as a parent to ask your kid. I would say it's bordering on torture."
In addition to the withdrawal of food, rights groups are increasingly concerned that migrants deemed inadmissible to enter Hungary face the threat of deportation to their home countries before their asylum claim has been properly vetted.
On Tuesday, Hungary attempted to deport three families back to Afghanistan who claimed to have been denied food and medicine in the transit zone. One family was pushed back to Serbia, the mother of the second family was taken to hospital, and the rest remain in the transit zone after the European Court of Human Rights granted a temporary injunction preventing their deportation.
(TOP PHOTO: Migrants approaching the Hungarian border from Serbia, 2km from Röszke.)
ac/ag