The United States and Britain have abruptly stopped aid they fund from going through a key border crossing into Syria's northwestern Idlib province, with USAID saying the move is to prevent extremist groups from benefiting from taxes they impose on aid trucks.
The freeze puts at risk supplies that help to support hundreds of thousands of vulnerable people in Idlib, which is controlled by a patchwork of armed groups opposed to President Bashar al-Assad and faces the prospect of an assault by al-Assad's Russian-backed forces.
The unexpected instruction to aid agencies, communicated by USAID on 26 September and Britain's aid department DFID shortly after, forbids shipments from passing into Syria through the main Bab al-Hawa border point with Turkey.
A spokesperson for USAID said its "partners" should "immediately cease all use of the Bab al-Hawa (BAH) border crossing between Syria and Turkey under USAID-funded awards." USAID took the step as a "sanctioned terrorist group" is "likely incurring financial benefits from Syrian trucks accessing the BAH border crossing."
An aid official familiar with the Syria relief operation confirmed the measures to IRIN and asked for anonymity given the sensitivity of the subject. The US and Britain are two of the top four donors of humanitarian aid to Syria, according to UN data. The others are Germany and the European Union.
Tahrir al-Sham (HTS), a group sanctioned by the UN (and therefore all its member states) as well as by the United States, controls a large part of Idlib, including the Bab al-Hawa crossing.
DFID followed USAID's lead after the US government told aid groups it had concerns over "taxes" levied by the civilian arm of HTS, aid officials familiar with the humanitarian system in Syria confirmed to IRIN.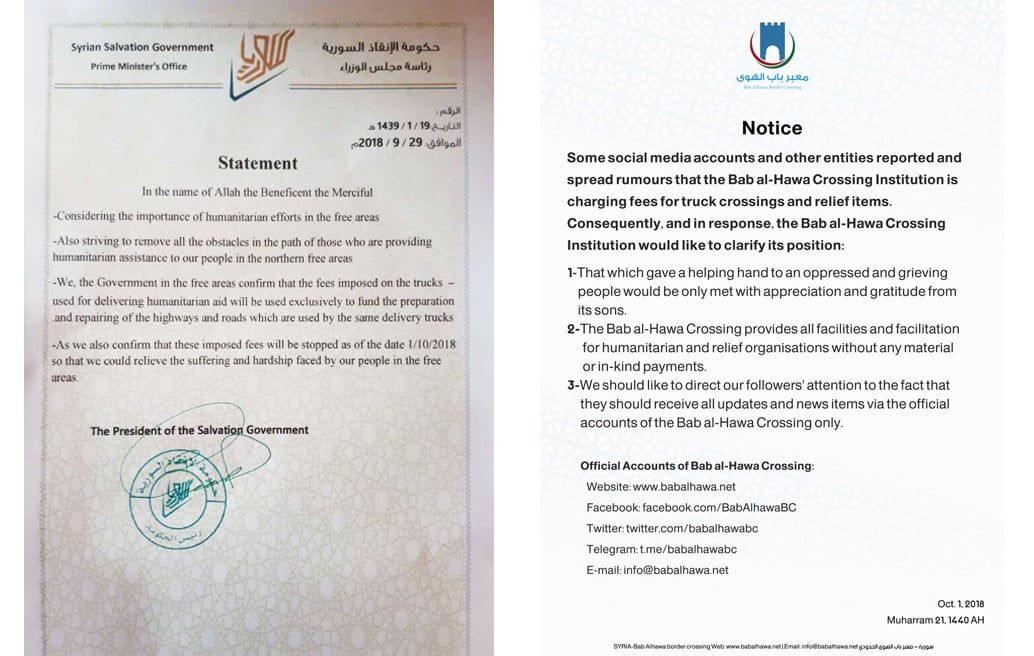 In what appeared to be a swift response to the shutdown, dual English-Arabic language statements dated 29 September from HTS's self-styled "Salvation Government", or civilian administration, said it would stop charging aid trucks as of 1 October.
The Salvation Government confirmed it had been imposing "fees" on "trucks used for delivering humanitarian aid", money that was spent on repairing and maintaining roads used by the aid trucks. The statement added that the fees would now stop so as to "relieve the suffering and hardship faced by our people".
However, what appear to be the official website, and Twitter and Facebook accounts for the administration of the Bab al-Hawa border crossing issued a statement on 1 October denying that it had charged aid trucks cash or in-kind fees.
Vital aid route for many in need
In the latter stages of Syria's war, Idlib's original population has swollen with displaced people from elsewhere in the country – about one third currently receive internationally-funded humanitarian food aid.
An estimated 2.5 million people live in rebel-controlled Idlib province and the surrounding areas (excluding the nearby Kurdish enclave of Afrin), and as many as half have been forced to flee their homes at least once. Estimates of people in all of opposition-controlled northwestern Syria have been put as high as 2.9 million.
Al-Assad's government plans to retake Idlib, but a stop-gap deal between Turkey and Russia has put off a full-scale assault that could have had a "catastrophic" impact on the vulnerable civilian population, according to the UN.
Concerns that food and other aid are being taxed or siphoned off by extremist groups have complicated aid operations in rebel-held parts of Syria this year, despite growing fears for the wellbeing of the general population.
Bab al-Hawa has changed hands several times in the Syrian war, as rebel groups fight to control its strategic position and lucrative income.
A Turkish news agency estimates that 1,500 trucks of aid enter Syria through Bab al-Hawa every month, as well as 4,000 commercial truckloads. A promotional video from the border crossing operator has a similar figure, saying 85,000 consignments pass through every year (roughly 7,000 per month).
One study said that fees and duties through the key crossing point in 2015-2016 amounted to at least $3.6 million per month.
Aid supplies from Turkey, delivered free on the basis of need, offer a safety net to the most vulnerable who lack income or resources to support themselves. Commercial trade and smuggling, both with Turkey and with the rest of Syria, provide the vast bulk of Idlib's imports.
Aid groups that do not rely on US or British funding will be unaffected by the donors' move: these include Turkish aid groups and its Red Crescent, which also provide aid within Idlib but use a different crossing point not controlled by HTS: Bab al-Salaam, further to the north. The USAID spokesperson told IRIN the Bab al-Salaam border crossing "is not impacted".
bp/as/ag